If you're a parent, you already know the drill when buying kids' meals at Jollibee or McDonald's. More often than not, your little ones are more excited to get the collectible plastic goodies than the meal itself!
McDonald's and Jollibee are the top two fast food chains that pit their toys against each other. So let's explore―McDonald's vs Jollibee. How do these two fast food giants stack up against each other in terms of toys, food, price, and more?
McDonald's vs Jollibee: Which is the Better Fast Food?
In this McDonald's vs Jollibee comparison, let's see how these two fast food chains fare and which is the better option when it comes to the different categories.
Popularity
There's no doubt about the popularity of these two fast food giants. Wherever you go, there's a Jollibee or McDonald's restaurant nearby where you can satisfy your Chickenjoy or Big Mac cravings. Still, there's something that puts one ahead of the other.
With a history dating back to 1975, Jollibee started as a Magnolia Dairy Ice Cream franchise, which was put up with ₱350,000 worth of family savings.[1] From ice cream offerings, Jollibee introduced its flagship product, the Yumburger.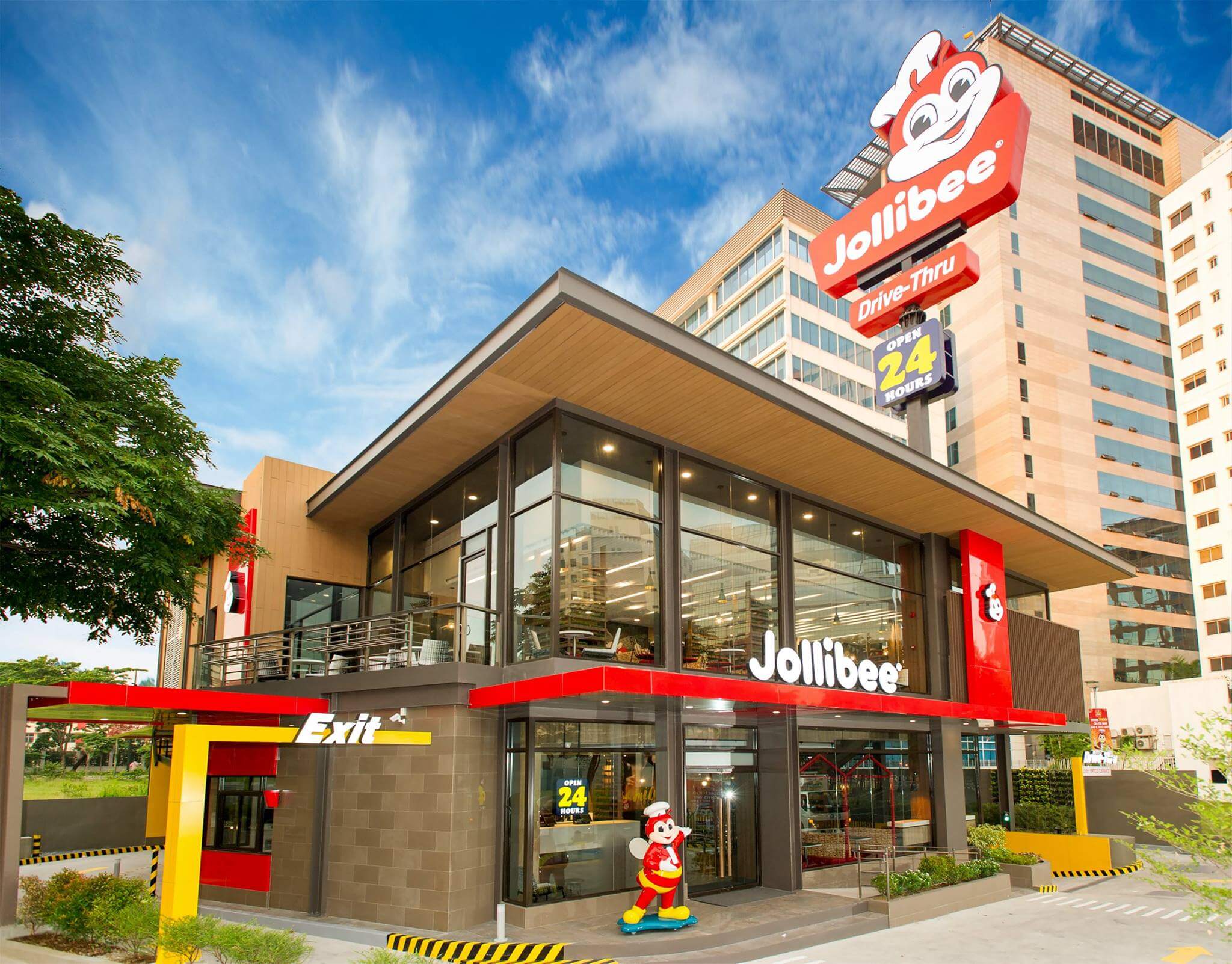 Today, Jollibee's menu has evolved and produced some of the bestsellers and perennial favorites of Pinoys, such as the Jolly Hotdog, Chickenjoy, Peach Mango Pie, Jolly Spaghetti, Burger Steak, and many others.
Jollibee is also known as the "McDonald's of the Philippines" because it's the largest and most popular fast food chain in the country, as McDonald's is in the United States.
With over 1,500 stores in 17 countries, Jollibee shows no signs of slowing down. In fact, Jollibee has plans to expand and open 500 more stores this 2022.[2] Just recently, Jollibee opened its flagship store in Times Square in New York City, its 65th store in the U.S.[3]
Meanwhile, another fast food giant from the U.S. has been close to Filipinos' hearts since the early '90s. The first McDonald's Restaurant in the Philippines opened in Cebu City and Cagayan de Oro in 1992. It became 100% Filipino-owned in 2005, with the master franchise held by Golden Arches Development Corporation.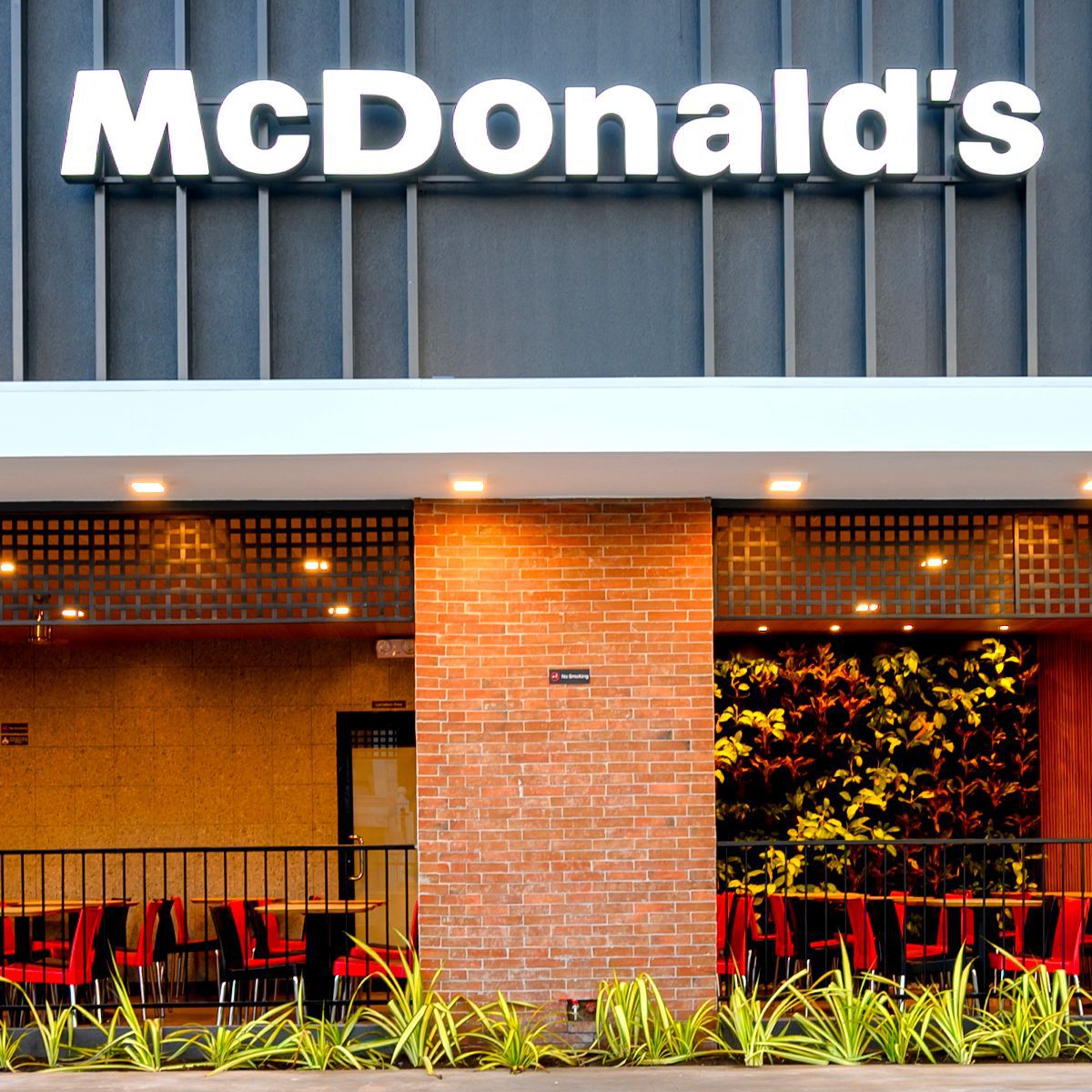 Today, McDonald's continues to serve its bestsellers like the Big Mac, Quarter Pounder, McSpaghetti, Chicken McDo, and many more, to Filipinos in over 600 branches nationwide.
In 2021, McDonald's hit a 671-store base when it opened 36 new stores in the country.[4] It also introduced its sustainable restaurant innovations last year with its Green & Good platform. The flagship store in Mandaluyong has a bike repair, e-charging station, and a bike & dine space.
However, the popularity of Jollibee is simply undeniable. With 1,184 Jollibee stores nationwide[5] to McDonald's 671, Jollibee leads in terms of visibility and accessibility. In addition, it's a Filipino brand that offers fast food items tailored and more suited to Filipino tastes and preferences. This customer intimacy makes Jollibee the clear winner in this category.
🏆 Winner: Jollibee
Food Selection
For the Jolly Kiddie Meal, you have five meal options:
Burger Steak
Chickenjoy
Jolly Spaghetti
Yumburger
6-piece Chickenjoy
Wondering what the Jollibee Kiddie Meal price is this 2022? The cheapest Kiddie Meal is the Yumburger Meal at ₱85, while the 6-piece Chickenjoy Kiddie Meal is the most expensive at ₱399.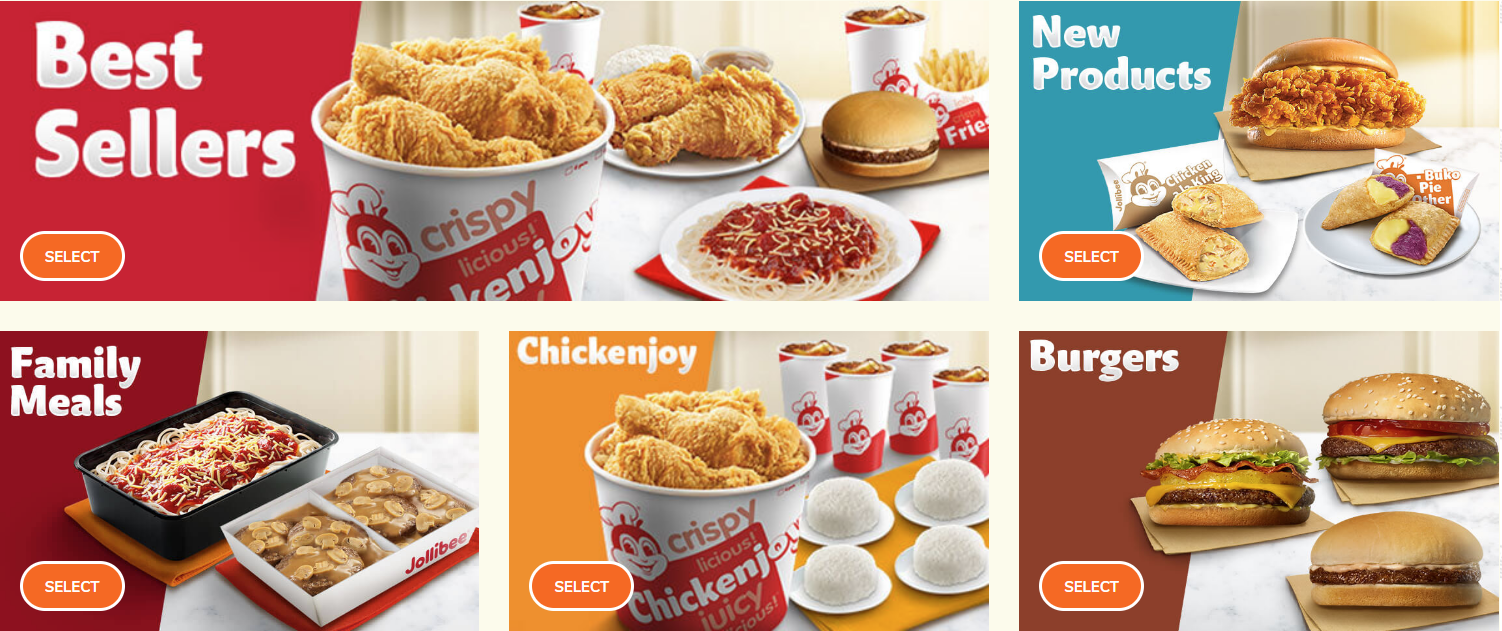 Aside from the Jolly Kiddie Meals, you can also get Jollibee meals such as the Family Meals and Super Meals. They have the Chickenjoy, Jolly Spaghetti, Burger Steak, Jolly Hotdog and Pies, burgers, palabok, fries and sides, desserts, and beverages.
The breakfast meals in Jollibee are also a bestseller. And then there are the latest additions to the Jollibee menu which include the Spicy Champ, Spicy Champ Jr., Chicken Sandwich, and Chicken ala King Pie.
Meanwhile, McDonald's offers six Happy Meal options:
1-piece Chicken McDo
4-piece Chicken McNuggets
4-piece Chicken McNuggets with 3-Cheese Dip
McSpaghetti
Cheesy Burger McDo
Burger McDo
How much is a McDo Happy Meal in the Philippines? The cheapest Happy Meal costs ₱124 (Burger McDo meal with side) while the most expensive (1-piece Chicken meal with side) costs ₱152.
If you're not ordering a Happy Meal, you can get the Group Meals with McDo burgers, fries, fried chicken, nuggets, chicken fillet ala king, spaghetti, and McFloats for sharing. McDonald's has rice bowls, desserts, McCafe drinks, and McDo Party Boxes available as well. If breakfast is your favorite meal of the day, you can also get breakfast meals in McDo.
Jollibee's Jolly Kiddie Meals are more affordable, but you only get five options. On the other hand, McDonald's offers six Happy Meal options that you can get without a side if you want more savings. But both fast food chains have many options if you're looking for non-kiddie meal options.
🏆 Winner: Tie

Toy Variety
Happy Meal vs Kiddie Meal―which is better? The toys that come with the kid's meals are the main reason kids (and kids at heart) buy them in the first place.
Over the years, McDonald's has been known for having Happy Meal toys from movie tie-ins.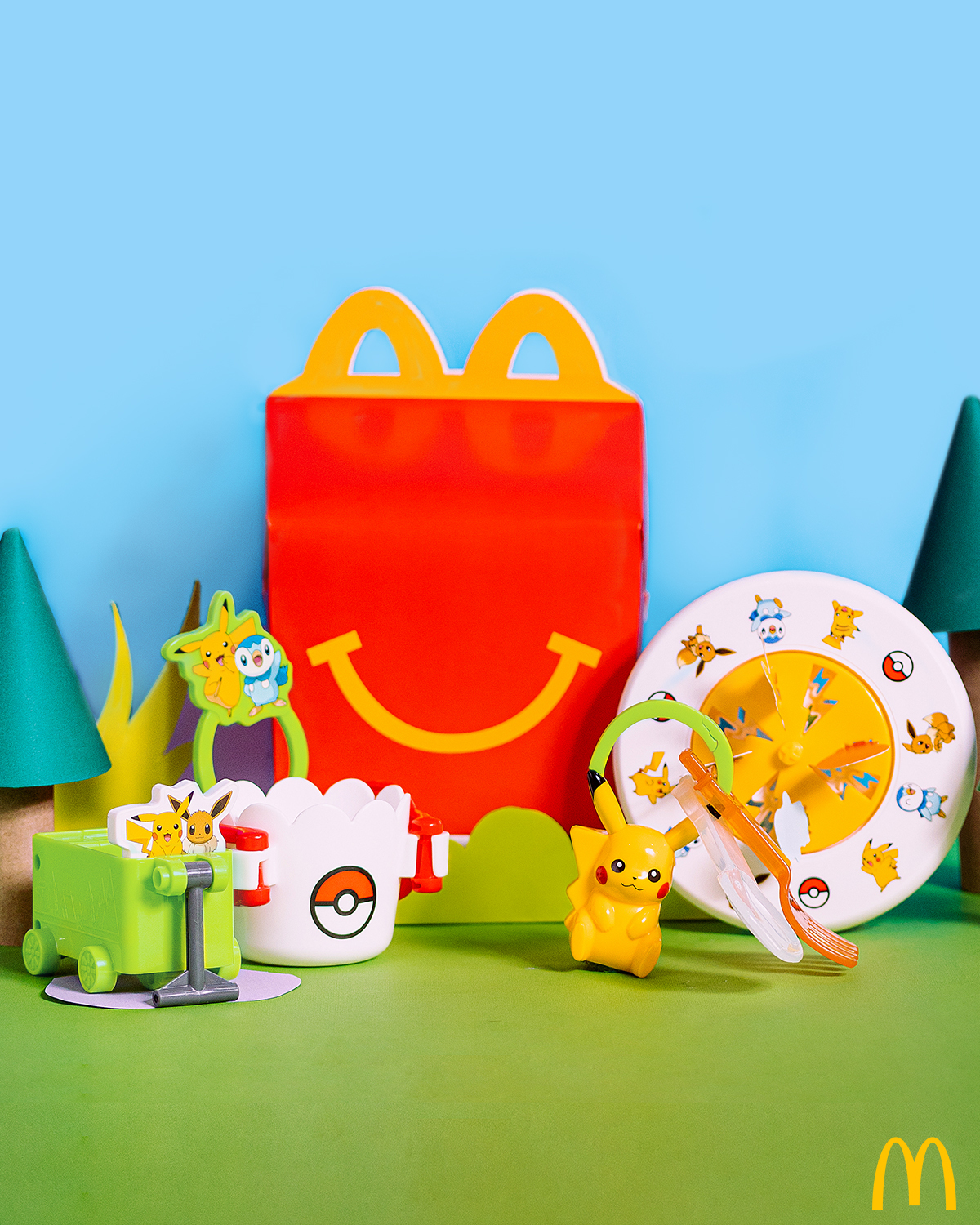 Most recently, it released toys from the movies Pokemon, Minions: Rise of Gru, Sonic the Hedgehog 2, Sing 2, and Dreamworks (the McDo Happy Meal for May 2022), just to name a few. Other notable McDo Happy Meal Toys released in the past include The Ninja Turtles, My Little Pony and Friends, Hello Kitty, Little Twin Stars, and Doraemon.
McDonald's also has the Happy Meal Readers Program, where you can choose a book instead of a toy with your Happy Meal.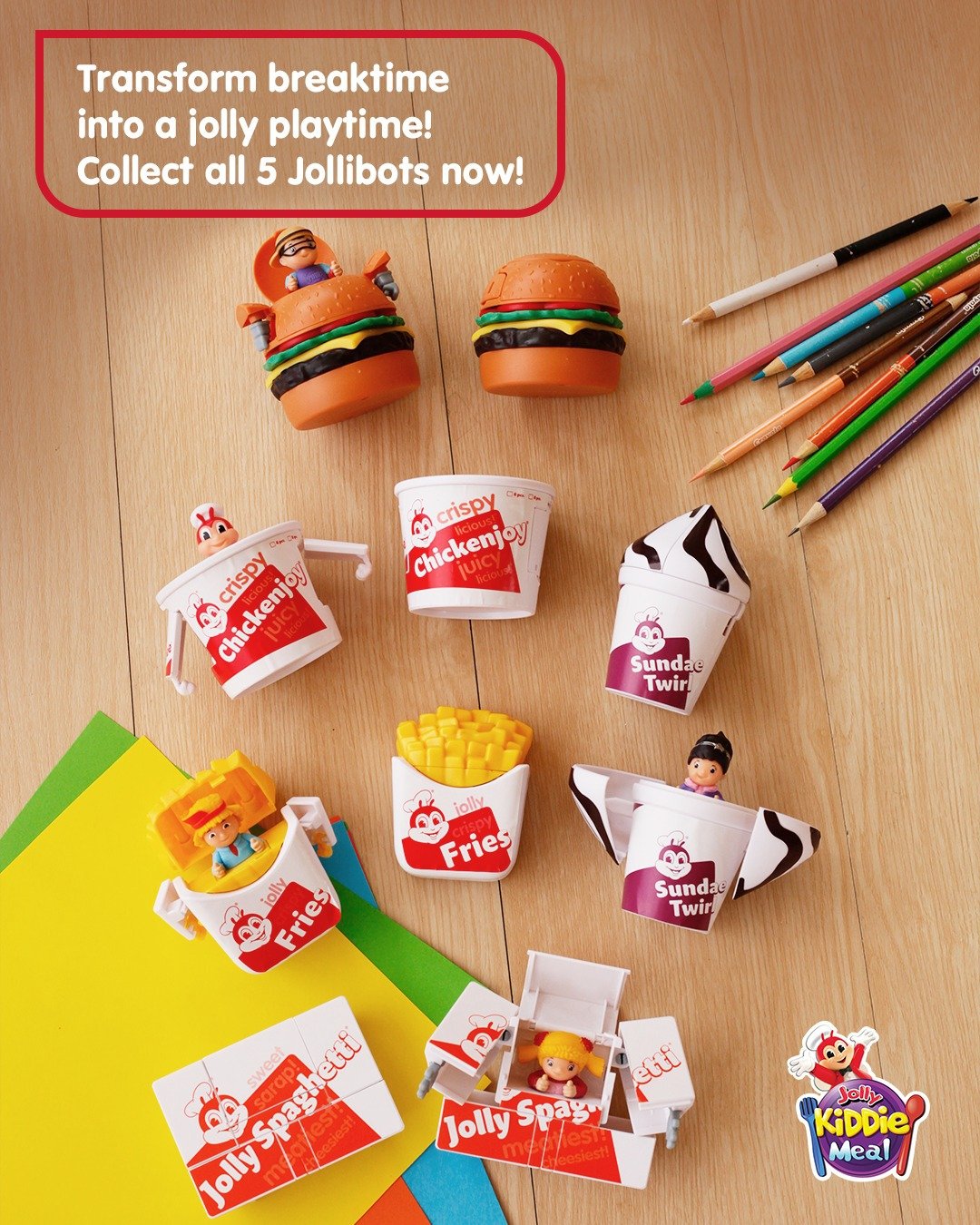 Jollibee, on the other hand, usually features Jollibee characters as their Kiddie Meal toys. Some examples include the Jollibots, the latest Jollibee Kiddie Meal toys, which are robot-themed Jollibee mascots. There are also the J-ollympic Toys and the Jolly Safari Adventure toys, which were released last year. Apart from these, Jollibee also released DC League of Super Pets, Justice League, and Kou Kou collection Kiddie Meal toys.
When it comes to toy variety, McDonald's leads with its many toy releases featuring popular characters from its movie tie-ins, truly making them irresistible to kids and even adults who collect toys. Plus, you have the option to get books instead of toys with its Happy Meal Readers Program.
But on a collectability level, Jolly Kiddie Meal toys are more fun to collect as they usually feature Jollibee characters in cute and fun themes. They're also not released as often, so they can be valuable when the promo ends.
🏆 Winner: Tie
Price
The price of a Jollibee Yumburger Meal with fries and a drink starts at ₱101, while a Burger McDo Meal, also with regular fries and drink, starts at ₱95.
If you're craving fried chicken, a 1-piece Chicken McDo Meal (with rice and drink) costs ₱117, while a 1-piece Chickenjoy Meal (with rice and drink) costs ₱105.
Fancy some Pinoy spaghetti? An order of Jolly Spaghetti (with drink) costs ₱84, while a McSpaghetti Meal (with drink) costs ₱86. Jollibee's Peach Mango Pie costs ₱38 each, while McDonald's Apple Pie costs ₱37.
Thus, there's not much disparity in McDonald's vs Jollibee meal prices.
🏆 Winner: Tie
Delivery

Whether you're ordering a solo meal or a group meal for your barkada or family, you pay a fixed delivery fee of ₱49 when you order from Jollibee or McDonald's.
Delivery fees via foodpanda or GrabFood vary on your location. But it usually starts at ₱34 via foodpanda and ₱49 via GrabFood.
🏆 Winner: Tie
Accessibility
Aside from visiting the nearest Jollibee or McDonald's branch, you can also drive-thru or take out.
Order your Jolly Kiddie Meal online via the Jollibee App or JollibeeDelivery.com. You may also call 87000 or place your order via food delivery apps like foodpanda and GrabFood.
Get your Happy Meal without leaving the house via the McDelivery PH App, the McDelivery website at mcdelivery.com.ph, or GrabFood and foodpanda. Alternatively, if you're in NCR, you can place your order over the phone by calling 8888-6236.
🏆 Winner: Tie
Promotions
Both McDonald's and Jollibee regularly offer special deals, discounts, and promos. Whether it's a website or app-exclusive promo or a branch or drive-thru discount, stay updated by following their official social media pages for announcements, mechanics, and promo codes.
🏆 Winner: Tie
| Category | McDonald's | Jollibee |
| --- | --- | --- |
| Popularity | | ✔️ |
| Food selection | ✔️ | ✔️ |
| Toy variety | ✔️ | ✔️ |
| Price | ✔️ | ✔️ |
| Delivery | ✔️ | ✔️ |
| Accessibility | ✔️ | ✔️ |
| Promotions | ✔️ | ✔️ |
| Score | 6 | 7 |
Read more: 10 Best Affordable Buffet Restaurants in Makati
McDonald's vs Jollibee: Final Thoughts
As you can see from this McDonald's vs Jollibee comparison, the two fast food giants are neck and neck in all categories except one: popularity. Jollibee won this category for the number of its branches in the country and the fact that it's a Filipino-owned fast food that offers food options that Pinoys love.
McDonald's and Jollibee dominate all the other categories, providing delicious food options, convenience, accessibility, and affordability to Pinoys. As a parent, these are important considerations. With everything so expensive these days, you want value for your money.
Jollibee may have won this round, but don't take our word for it. At the end of the day, go with your cravings or the toy your child wants. Even something as simple as bringing home a McDo Happy Meal or a Jolly Kiddie Meal can already be a core memory for many kids!

Sources: