The hallyu or Korean wave has brought not only K-pop and K-dramas to our shores. The Korean barbecue, which many thought would be just a fad, is already a fixture in the local culinary scene. You can now find unlimited samgyupsal restaurants everywhere!
Overwhelmed by all the choices? We've come up with a list of affordable unli samgyup restaurants, so you can easily plan your next food trip with family and friends.
Top

Unlimited Samgyupsal Restaurants
Feast on smoky meats, banchan, and Korean ice cream at the following unlimited samgyupsal restaurants.
🥩 Seoulgyupsal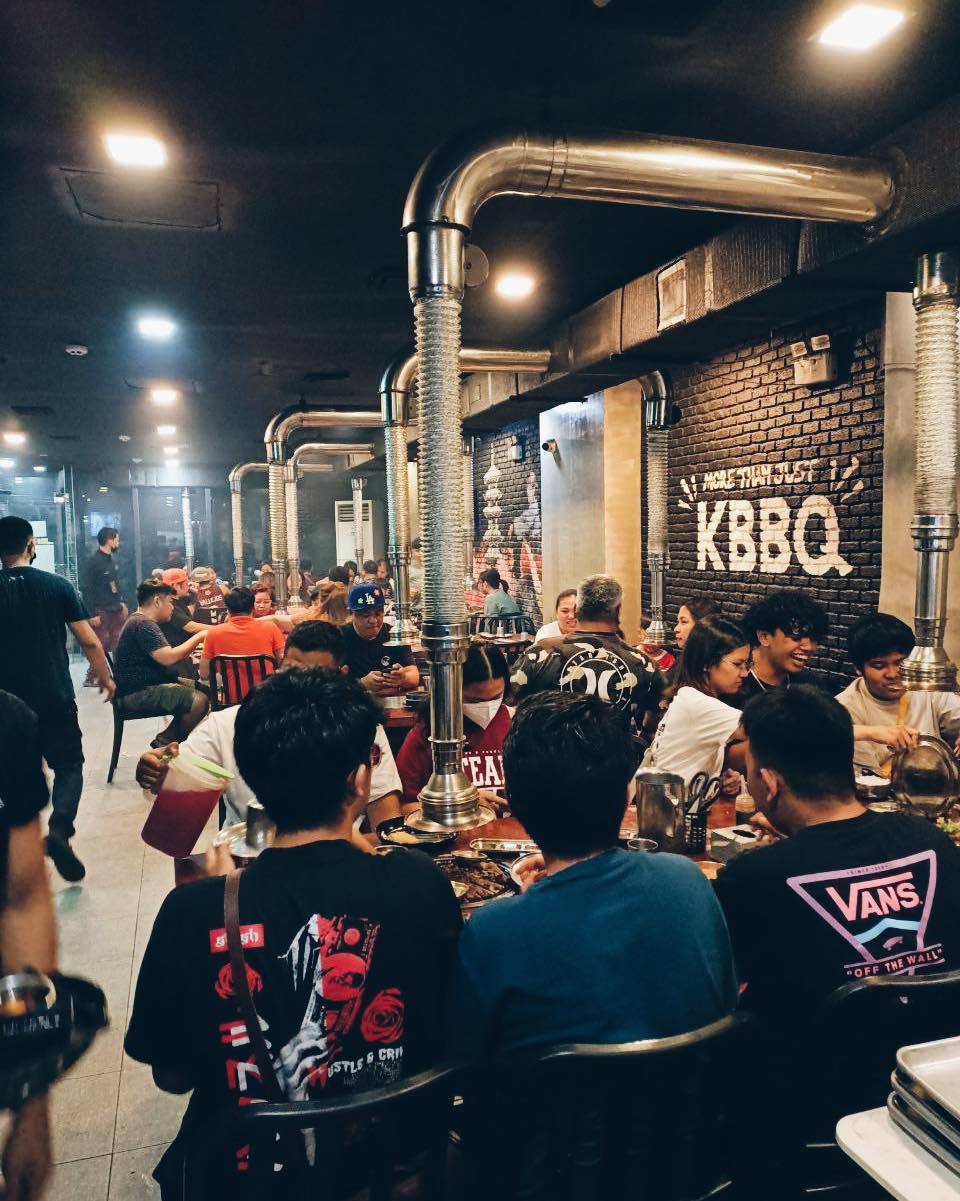 Location: Metrofocus Building, 42 Tomas Morato Ave., Quezon City
Samgyup price: ₱399 to ₱549 depending on the choice of meat
If you're looking for affordable samgyupsal in Quezon City, there's one in Tomas Morato aptly called Seoulgyupsal. Here, you can enjoy 15 types of meats, including herbed samgyupsal, daepae (thinly sliced pork), woo samgyup (thinly sliced beef), beef bulgogi, bacon, and buttered sirloin steak.
Seoulgyupsal doesn't only serve cheap samgyupsal. You can also enjoy Japanese dishes such as bento, California maki, and unlimited tonkatsu.
🥩 Premier The Samgyupsal
Locations:

Malate, Manila City

Tomas Morato, Quezon City

Assembly Grounds at The Rise, Makati City

Samgyup price: ₱478 to ₱800+ per person depending on the choice of meat
Premier The Samgyupsal is another restaurant that offers relatively affordable samgyupsal in Quezon City. How much is the samgyupsal, you ask? The samgyupsal price starts at ₱478, but if you want to feast on premium meats, prepare to shell out at least ₱800. At this price, you can enjoy US Makchang and US Galbisal.
The restaurant also serves unlimited shabu-shabu. This set includes unlimited vegetables, pork, beef, and meatballs. You can even combine shabu-shabu with unlimited grilled meat.
Premier The Samgyupsal is commended by the Restaurant Guru, one of the world's most popular websites for foodies. This is a strong testament to the shop's quality of dishes and service.
🥩 Mr. Korea Unlimited BBQ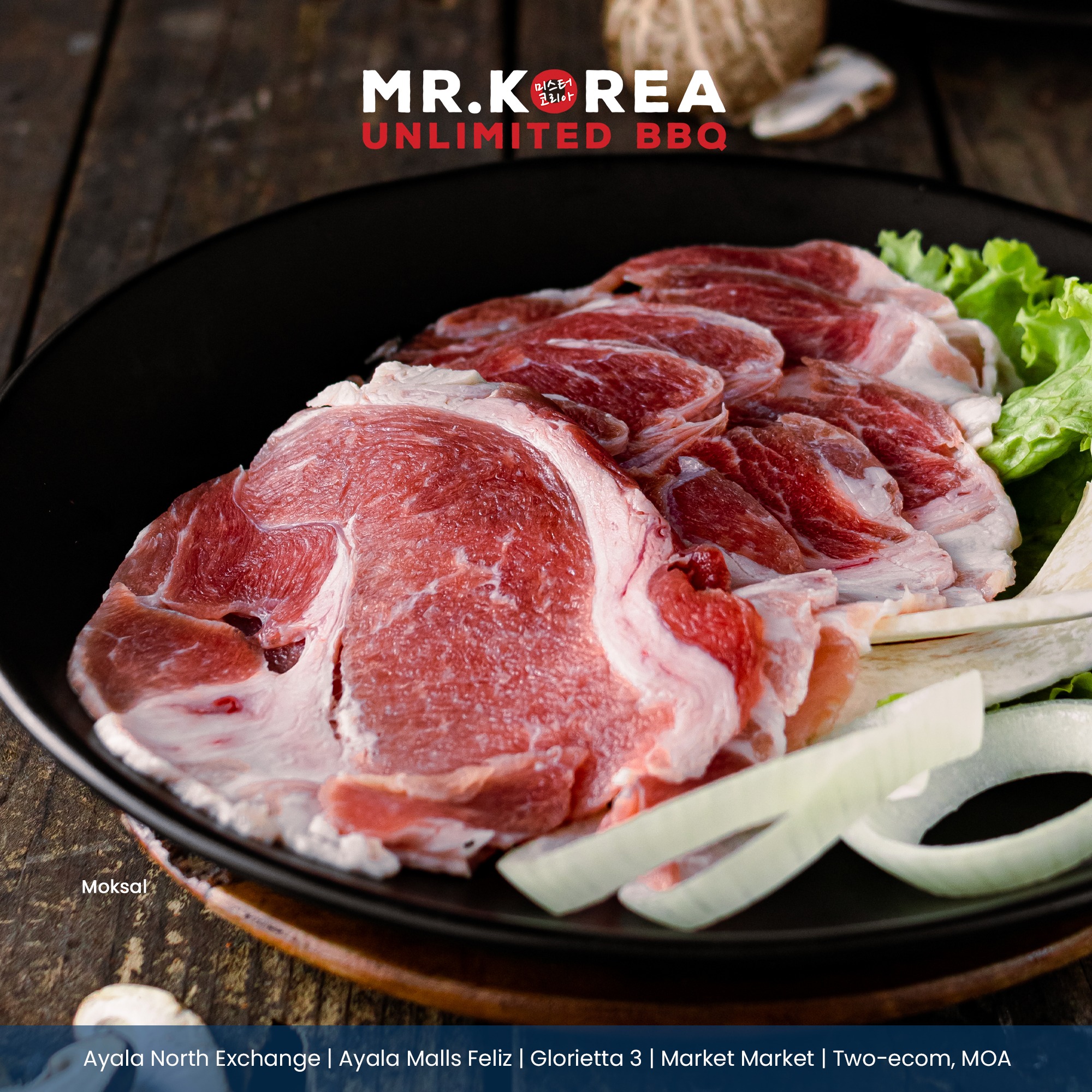 Locations:

Market! Market!, Taguig City

Glorietta, Makati City

Ayala North Exchange, Makati City

Ayala Malls Feliz, Pasig City

Two E-Com, Mall of Asia Complex, Pasay City

Samgyup price: ₱549 per person
Mr. Korea Unlimited BBQ is a restaurant that serves affordable samgyupsal in BGC. What makes this grill joint worth visiting is its selection of unique dishes. These include Asian Chili woo samgyup, spicy sesame woo samgyup, beef enoki roll, and pork jummeokbap, among others.
Mr. Korea Unlimited BBQ also offers a taste of Japan with unlimited tonkatsu. Served with freshly shredded cabbage on the side, this katsu is available in four flavors: original, togarashi, garlic parmesan, and menchi cheese.
Read more: 11 Best-Tasting Yet Affordable Ramen in Metro Manila
🥩 Samgyupsalamat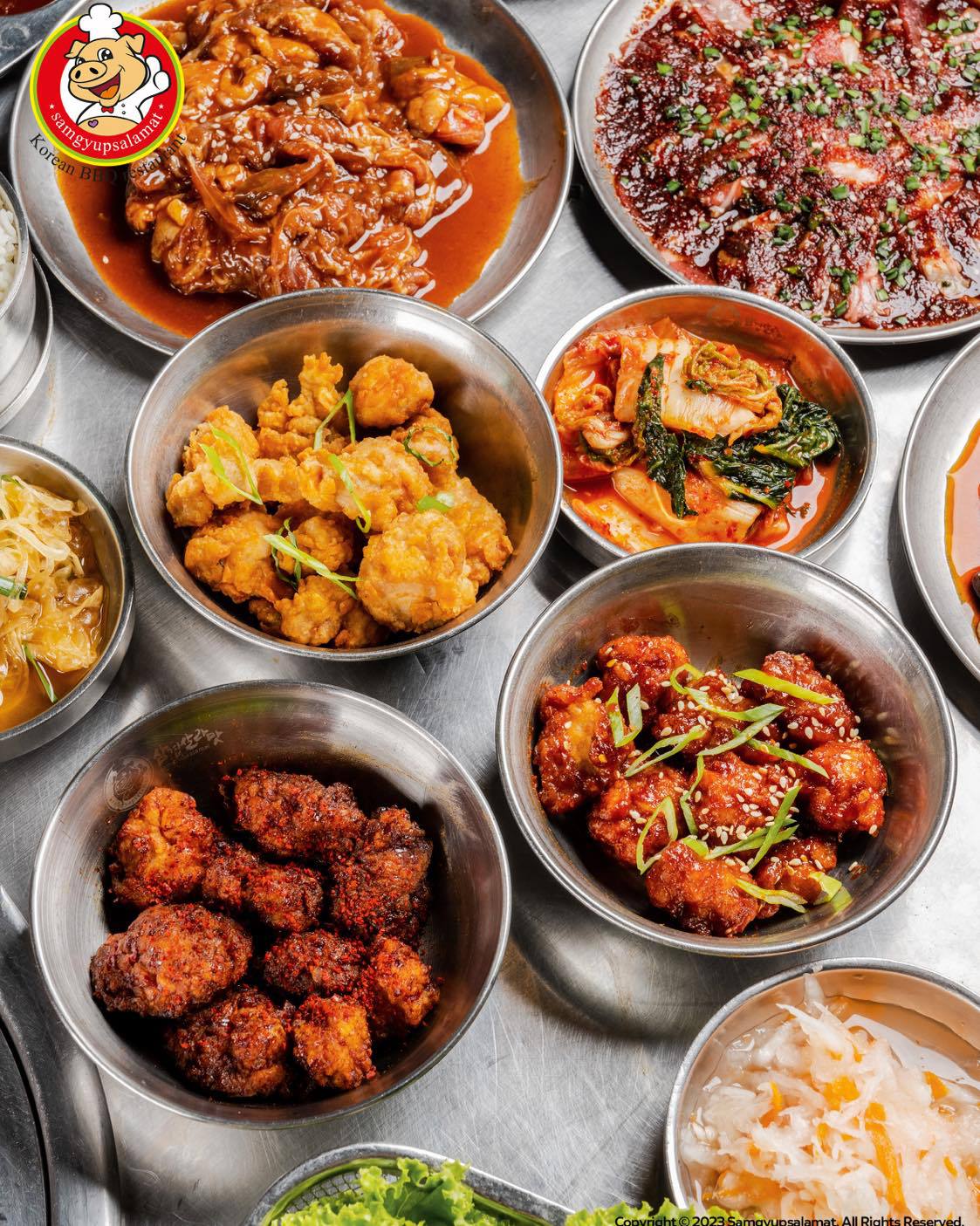 Locations:

Quezon City – Araneta Center Cubao, Banawe, Katipunan, Robinsons Doña Carmen, Fairview Terraces, Robinsons Galleria, Project 8, Trinoma, Tomas Morato, etc.
Manila – Binondo, Ermita, Malate, etc.

Samgyup price: ₱549 per person
This list won't be complete without Samgyupsalamat. Any legit K-BBQ lover has surely dined at this restaurant at some point in their lives.
Other than its wide range of meat options, the unlimited samgyupsal restaurant also offers unlimited rice, soup, cheese fondue, and iced tea. Just a note, Samgyupsalamat requires a minimum of two persons per table. If you're dining alone, you'll need to pay for two people.
🥩 Fantastic Baka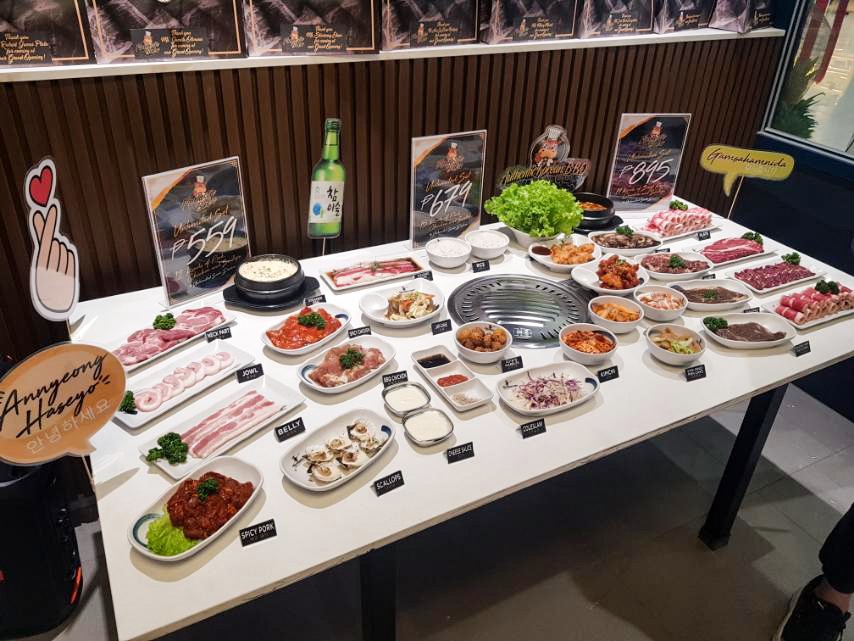 Locations:

Quezon City – ABS-CBN, SM North Towers, SM Fairview
Caloocan – SM City Grand Central
Valenzuela – SM Valenzuela

Samgyup price: ₱559 to ₱895 per person depending on the choice of meat
Don't let its name fool you. Fantastic Baka not only serves beef but also pork and chicken.
Fantastic Baka is the place to go if you're looking for some relatively affordable samgyupsal in Quezon City. For just ₱559, you already get chicken, scallops, and 12 kinds of pork. Included in this package are unlimited side dishes and drinks.
Unlimited sides include rice, cheese sauce, vegetables, coleslaw, macaroni salad, japchae, and steamed egg. Unlimited drinks, on the other hand, include blue lemonade, iced tea, and even milk tea.
🥩 Samgy Garden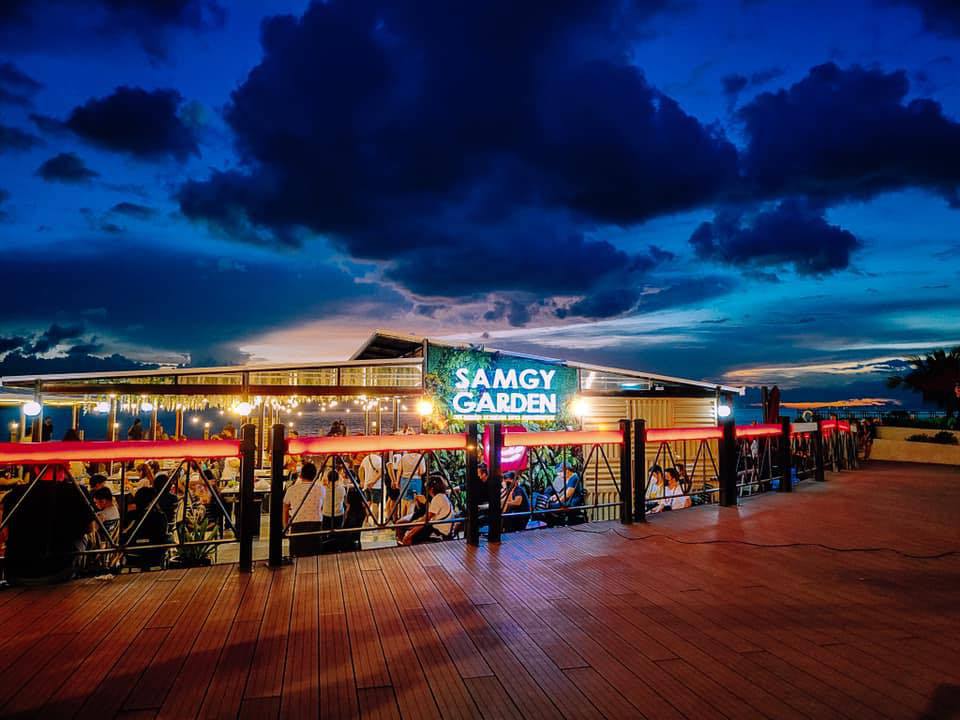 Location: Seascape Village, Atang Dela Rama, Pasay City
Samgyup price: ₱599 to ₱849 depending on the choice of meat
What's better than feasting on unlimited samgyupsal? Eating grilled meats while enjoying a view of Manila Bay! If this is right up your alley, come visit Pasay City's Samgy Garden.
This homegrown Korean restaurant mainly serves unlimited samgyupsal, but you can also enjoy unlimited shabu-shabu and seafood. If you have extra bucks to spare, avail of their highest-tier package that includes unlimited meats, seafood, and wagyu.
Pro tip: Time your visit late in the afternoon to enjoy the sunset while dining.
🥩 Sibyullee Unlimited Korean BBQ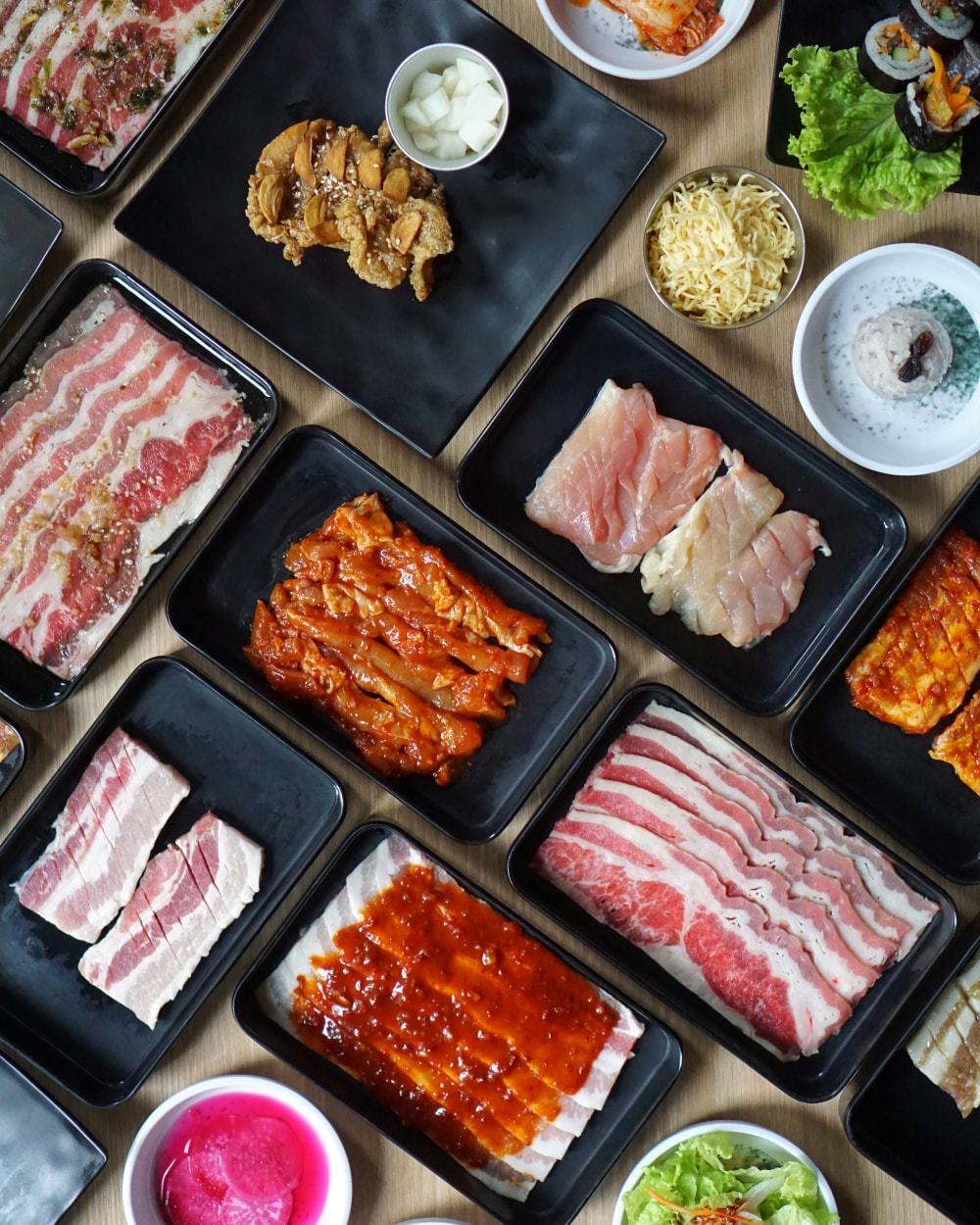 Locations:


Ayala Malls The 30th, Pasig City

Promenade Mall, Greenhills, San Juan City

Ayala Malls Manila Bay, Parañaque City

ATC Corporate Center, Muntinlupa City

Samgyup price: ₱599
Named after a small Korean village where the restaurant founder's grandmother used to shop for cooking ingredients, Sibyullee is an unlimited samgyupsal restaurant with a rather sophisticated vibe. That shouldn't come as a wonder since it is the sister restaurant of Sariwon Korean Barbecue and Soban K-Town Grill, both premium Korean barbecue shops with non-unlimited offerings.
Sibyullee's tasteful reputation is reflected in its meats, which are all sourced from the USA and Europe. Aside from barbecue, this restaurant serves Korean fare such as Korean fried chicken and Korean seafood pancake.
🥩 Matgalne Korean Restaurant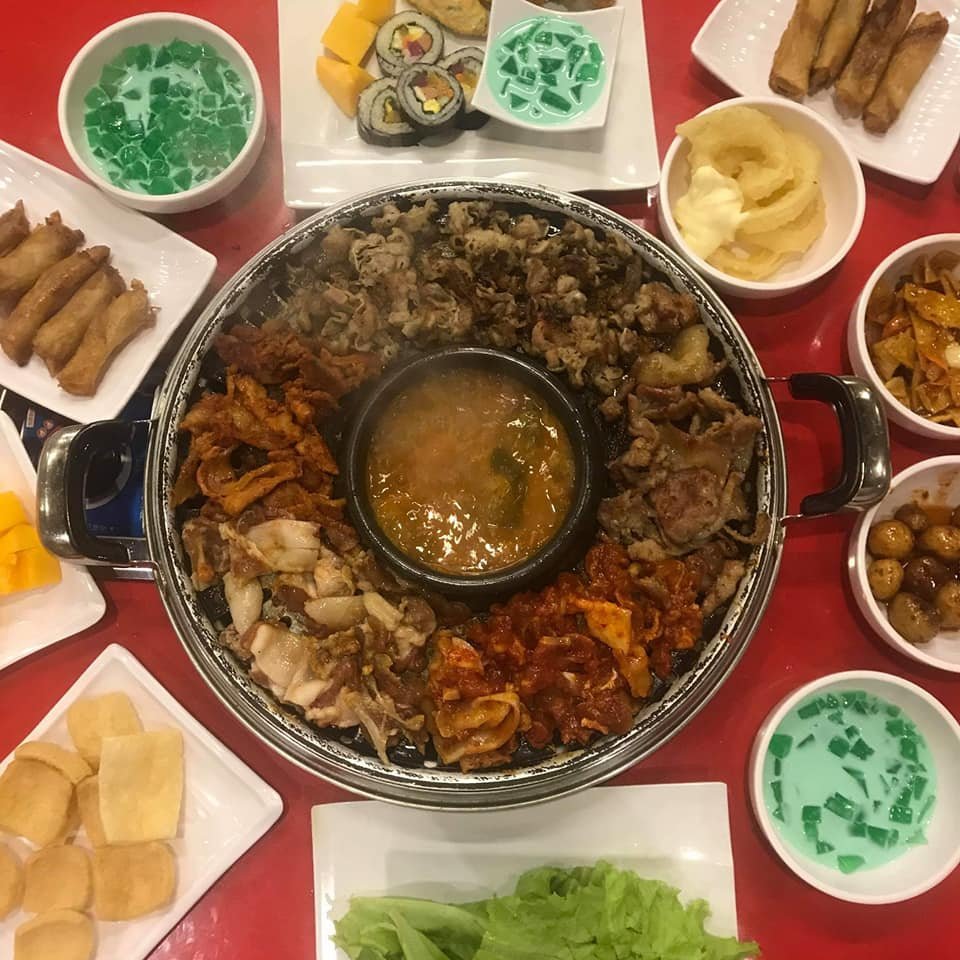 Location: 2F, A&W Building, #1 Juno Street 1630, Makati City
Prices:


Korean BBQ and Buffet – ₱599
Premium Buffet – ₱699
At some point, most foodies or K-BBQ lovers in Makati have found themselves enjoying grilled meat in the homely comfort of Matgalne. It's also a popular joint among office workers who just clocked out.
Besides the hefty servings of pork slices and beef, the side dishes range from kimchi to fried chicken and gimbap (seaweed rice rolls). The sides are prepared a la buffet style, so you have the chance to mix and match your banchan. Depending on the buffet package that you choose, you get to enjoy unlimited shrimp and cheese dip.
Read more: Best Places to Eat in Makati for Employees on a Budget
🥩 Romantic Baboy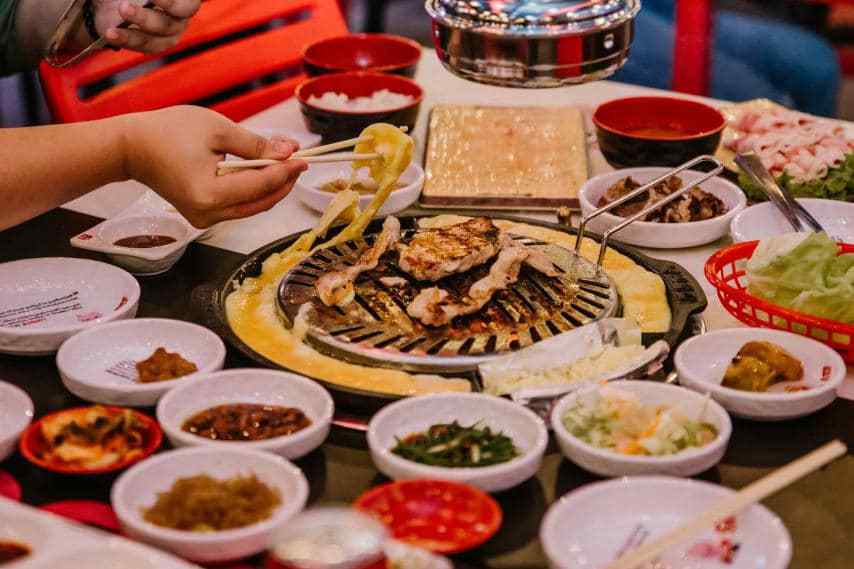 Locations:

Quezon City –

Tomas Morato, Maginhawa, Libis, Fairview Terraces, Centris, Banawe, Ali Mall, UP Town Center, Trinoma, SM North, etc.

Manila –

Recto University Belt, Binondo, etc.

Makati –

Burgundy Tower-Makati, Makati Avenue, etc.

Parañaque –

BF Homes, Better Living-Bicutan, etc.

Samgyup price: ₱649 per person
The restaurant's catchy name is very Pinoy. But the dishes Romantic Baboy serves are truly Korean!
Romantic Baboy offers a wide range of meats such as woo samgyup, seasoned pork neck, spicy beef, and bulgogi. But for those who want to try something new, this restaurant also serves shrimp, scallops, smoked duck, and smoked samgyupsal.
Love that cheese + grilled meat medley? Romantic Baboy claims that it is the first restaurant to offer that combo in the Philippines.
🥩 Jin Joo Korean Grill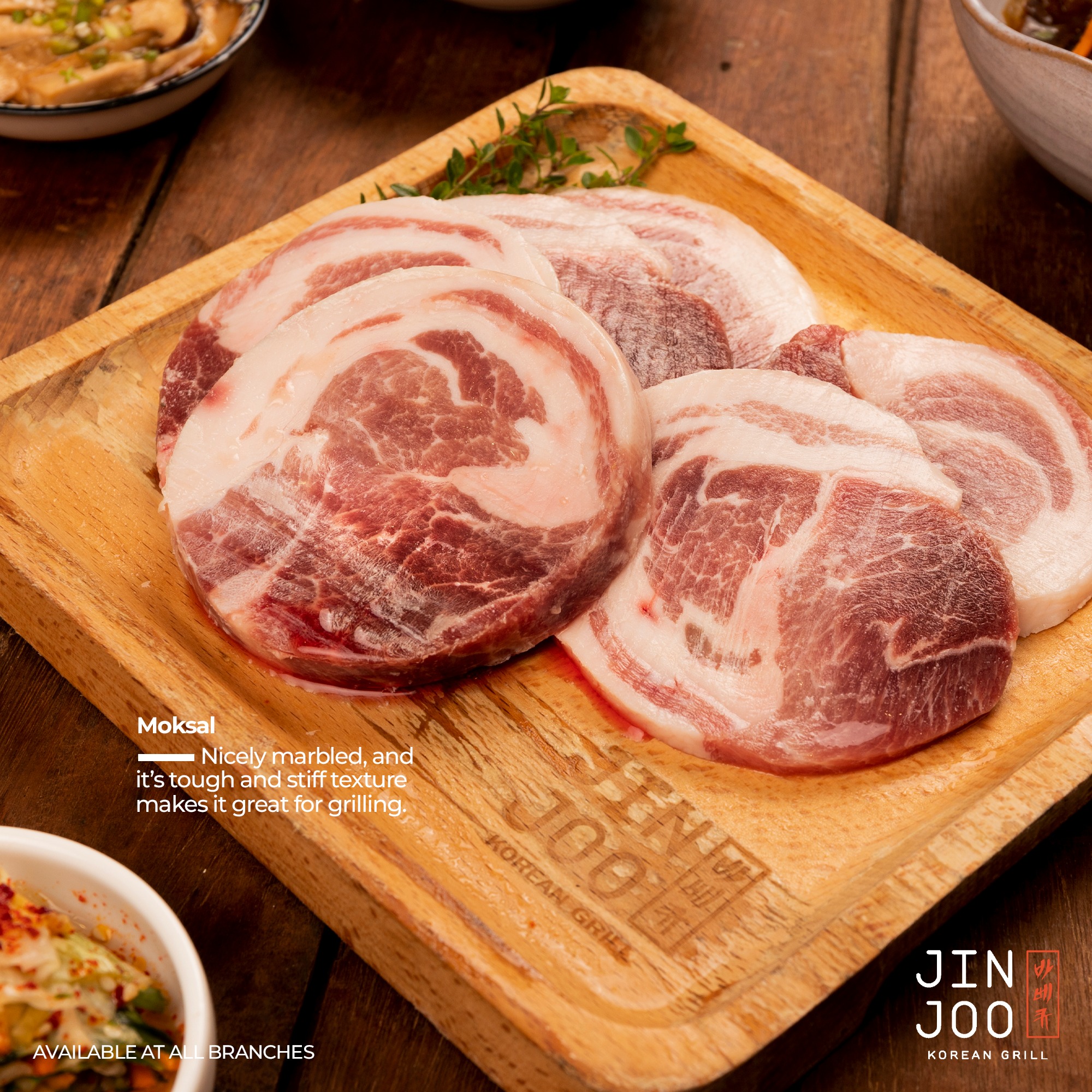 Locations:

SM Aura Premier, Taguig City

SM Mall of Asia, Pasay City

The Podium, Mandaluyong City

Eastwood Citywalk, Quezon City

Glorietta, Makati City

Samgyup price: ₱699
High-quality meats are what Jin Joo Korean Grill is known for. This unlimited samgyupsal restaurant serves USDA prime meats, which are already tasty on their own.
Other than unlimited meal packages, Jin Joo also offers ala carte or ready-to-eat meals that are good for two to three persons. Crowd favorites include fried wings, chicken pops, grilled chicken Korean salad, grilled chicken teriyaki, and japchae. Jin Joo's bibimbap, available in beef, pork, or chicken, is also perfect for sharing.
Tips to Enjoy Unlimited Samgyupsal
Want to enjoy the ultimate unlimited samgyupsal experience? Here are some hacks to try:
Skip rice and carb-rich sides (e.g., potatoes and sweet potatoes) to avoid filling yourself up quickly. Likewise, avoid drinking soda, as it will make you feel full and bloated.
Try heating or grilling the kimchi for that extra kick and flavor.
Kimchi and cheese make a good combination. Enjoy this combo with your grilled meat.
When you cook your meat, grill the plain slices first. Then cook the marinated meat.
Mix your dipping sauces. Don't be afraid to experiment!
Read more: Top 10 Food Bloggers and Their Budget Eat Spot in Metro Manila
Final Thoughts
Everybody loves Korean barbecue. These days, you'll never run out of places to go whenever your craving strikes. The list of unlimited samgyupsal above is not just for those who want to dine without boring a hole in their pocket. It's also for foodies who want to expand their horizons and try something new.
And here's a friendly reminder: just because it's unli samgyup doesn't mean you have to stuff yourself to no end. You need to pace yourself to enjoy the moment. Hwaiting!
Use the Best Credit Cards for Dining
Picked out the next unlimited samgyupsal restaurant to visit? Don't forget to bring a credit card so you can earn points, get discounts, and enjoy other perks. Check out the best credit cards for dining below:
Credit Card
Features

UnionBank Rewards Credit Card

3x points for dining and shopping in the Philippines and abroad
1 point per ₱30 spend

HSBC Red Mastercard

4x reward points on dining, online purchases, shopping, and overseas spend
1 reward point per ₱20 spend
6% rebate on your first Caltex fuel spend; 3% rebate year-round

HSBC Gold Visa Cash Back

5% cash back on dining and 0.50% cash back on all other spend
6% rebate on your first Caltex fuel spend and 3% rebate year-round
Exclusive HSBC perks in 27,000 partner establishments worldwide

BPI Amore Platinum Cashback Card

4% cash back on dining and online delivery spend
1% cash back on supermarkets and department store spend
Up to 0.3% cash back on other international and local retail spend
Exclusive perks and deals at any Ayala Malls nationwide
One of the lowest forex conversion rates at 1.85%

Security Bank Complete Cashback Mastercard

2% cashback on dining
Year-round cashback
E-commerce purchase protection

RCBC Flex Visa

2x rewards points on dining
Free purchase protection insurance
Free travel insurance worth up to ₱50,000
Sources: