While money can't buy happiness, it certainly does make life easier, especially for single parents who have mouths to feed and bills to pay. The struggle to manage finances as a single parent in this pandemic has never been more real. One money mistake can seriously set you back and affect your cash flow.
Moneymax recently asked three single parents for their top money strategies to help out other single parents who are struggling financially during this pandemic.
Pearl Gonzales is the Co-General Manager of Moneymax. At 39, she's a proud single mom to Jenson, 17 and Jacob, 11. Her monthly budget is around PHP 52,000.
Rina Ballesteros is a 37-year-old single mom and the Head of Telesales at Moneymax. She has a 16-year-old daughter, Helaena Rianne, who's currently attending senior high school at De La Salle Lipa. Rina has a monthly budget of PHP 66,500.
Ross Leonardo is a 39-year-old single dad working as an Account Development Executive at American Express. He has two boys: Elijah, 16, and Israel, 3. He spends around PHP 60,000 monthly for necessities and utility bills.
3 Single Parents in the Philippines on Managing Finances with Single Income
If you're a solo parent, you probably have a lot of questions about making a single-income budget work. Here are a few money tips from three single parents in the Philippines.
1. Set a Budget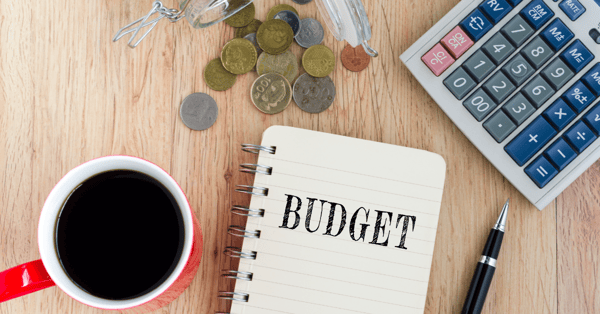 This is perhaps one of the most important single parent budget tips you should take to heart if you want to manage your money well. Aside from helping you create a spending plan, setting a family budget can help ensure you have enough funds to pay for essentials and other expenses.
For Rina, she makes sure to pay off all her financial obligations each month while setting aside a budget for groceries and other necessities. When grocery shopping, she uses her credit card because she finds it easier to track her spending this way.
"I have a list of our weekly menu and grocery needs, and I fight as hard as I can to stick only to these items," she shared. "I learned that a trip to the supermarket, especially during this pandemic, can be so expensive if you don't control the things you buy."
2. Keep Track of All Your Expenses
As the head of a household of six, Pearl also has a monthly budget that she sticks to. Moreover, she says that it's important to account for all your payables―track all your expenses and break down where your money goes.
3. Prepare for Emergencies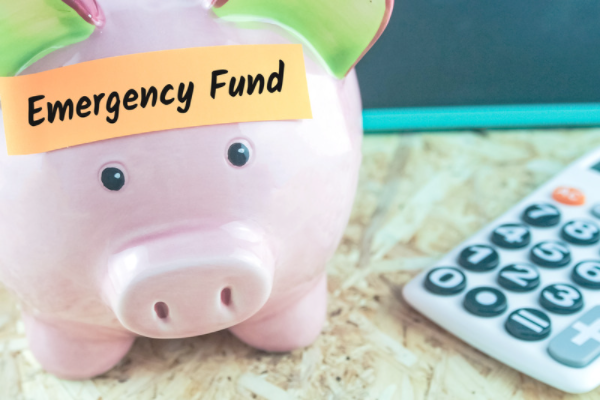 Before the pandemic, Pearl wasn't that particular with tracking her expenses. But last year was financially challenging because she received a significant pay cut in her previous job.
"My entire salary back then was already allocated for all my expenses. Wala talagang masyadong extra. That's when I realized that having an emergency fund is very important."
Pearl realized that unexpected expenses can really put a strain on your finances and derail your financial commitments, like your insurance payments or your car's monthly amortization. "They'll pile up and snowball, and then eventually you'll lose control of your finances."
4. Don't Live Beyond Your Means
Maybe it's a guy thing, but Ross admits that he's never been good at managing money. What has helped him stay on top of his finances as a solo parent, though, is being mindful of his expenses and living within his means.
What if he wants to buy something that's beyond his budget? "If ever I want to buy something, then I really save for it," Ross said. "I work outside my corporate job to earn extra money and get more funds."
5. Debt is Inevitable―What's Important is That You Pay It Off
It's everyone's financial goal to have a healthy savings account that can be dipped into when the need arises. But sometimes, our savings may still not be enough to pay for an immediate need.
This is especially true when you're trying to manage your finances as a single parent. Sooner or later, you'll incur debts when you take out a personal loan or when you make a cash advance on your credit card.
"It's inevitable to have debts, especially when you're trying to make ends meet all the time," Rina said. But she also stressed that when you have debts, you should do everything in your power to pay them off.
"This way, you have available credit when another need arises. Make sure to also include debt payments in your monthly budget."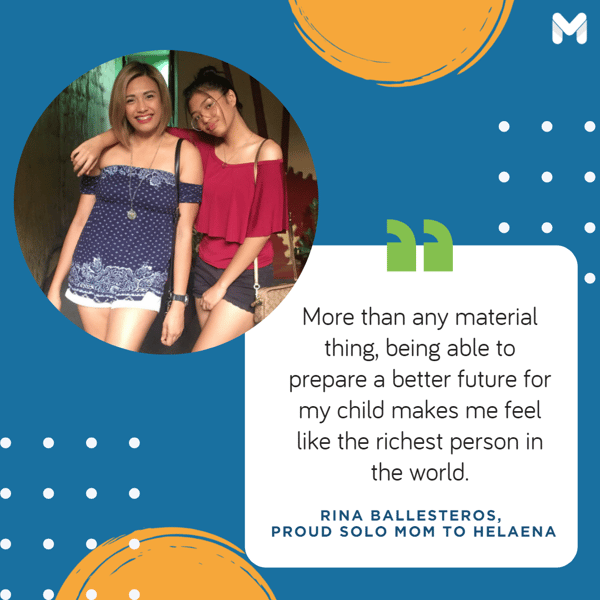 6. Borrow Only What You Can Pay
Sometimes, when you qualify for a higher personal loan amount, you just borrow this amount even if you don't need it.
But for Rina and Pearl, if they don't want to pay more, they just borrow an amount that they need since the loan payments will factor into their monthly budget.
Ross, on the other hand, tries to avoid taking out loans altogether. He believes that if you can work for it and earn it, then you don't need to get a loan. However, if it's for business purposes, a loan is a good and practical option, he said.
7. Negotiate Your Loan Payment Terms
"First, find a bank or financial institution that has the lowest interest rates," Pearl advised. "Doing this will help you with your payments in the long run."
This is why it's important to shop around and compare loan products from different loan providers. Don't just get the first loan offer you find without doing your research. If you want to save time, use comparison websites like Moneymax where you can compare loans at one go quickly, easily, and for free.
"If you have an outstanding loan that you need to pay off but can't afford, negotiate for a longer repayment term to spread out your monthly payments. Later on, you may become more liquid or have more disposable income. You can negotiate your payment terms again," Pearl said.
Related article: Ask Moneymax: I Can't Pay Off My Debt This Pandemic. What Should I Do?

8. Avail of Solo Parent Benefits
"Seven years ago, I applied for my solo parent ID," Rina shared. "It's an additional seven days of rest that I can spend with my kid! That means seven days without having to spend on gas, toll fees, and office expenses. I take advantage of my solo parent benefits[1] because when you're a single mom, any kind of help makes a lot of difference."
Is there financial assistance for single mothers in the Philippines? Well, aside from the seven parental leaves per year for solo parents who have rendered service for at least a year, solo parents and their kids can also enjoy educational benefits, such as scholarships and non-formal education programs.
Solo parents can also avail of housing benefits, such as low-cost housing projects with more liberal payment terms. Additionally, they can get medical assistance and enroll in a comprehensive healthcare program that covers their children as well. Moreover, solo parents are entitled to a flexible work schedule.
9. Save Money, Even If You Have Many Financial Obligations
Let's face it. It's so hard to save when you need to pay for a lot of things. Rina truly knows the struggle.
"It's very difficult to save when you have so many obligations in life. That's why it's important for me to save as much as I can whenever there's extra money in my budget."
To achieve her savings goals, Rina has a separate account just for her savings where she transfers small amounts whenever she can. She also made sure this savings account is not enrolled in online banking, so she won't be tempted to withdraw her savings and use it.
10. Get Insured
As cliché as it may sound, life really is full of surprises. Most of the time, these surprises can leave you broke, especially if you have no financial safety net in place. This is why our two single moms invested in life insurance.
"Keeping my life insurance updated is a priority to me," Rina said. "It keeps me secure knowing that in case of an emergency, my daughter will be protected."
Pearl is also a firm believer in life insurance. In fact, she believes in it so much that she got five life insurance policies, two of which are VUL (variable universal life) insurance.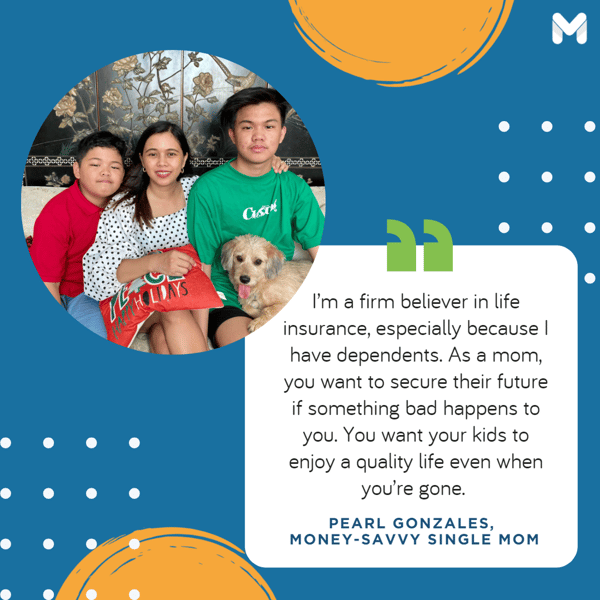 "I have five insurance policies because they address different needs at different life stages," Pearl explained. "I got my first two insurance policies after I gave birth. Kapag may anak ka, or nadagdagan ang anak mo, dapat nadadagdagan din ang insurance mo. Kasi 'yun ang responsibility mo. You're trying to protect the lifestyle that you want to provide to your kids."
No one knows what the future holds indeed. Pearl is not leaving her children's future to fate or chance. "I'm a firm believer in life insurance, especially because I have dependents. As a mom, you want to secure their future if something bad happens to you. You owe it to them. You want your kids to enjoy a quality life even when you're gone."
There's no better time to get insured than right now—during this pandemic—when our health and lives are at risk. For solo parents who are struggling to pay the insurance premiums, Pearl has this very useful piece of advice:
"I pay my insurance policies monthly so that I can allocate a budget for it, para hindi siya mabigat sa bulsa. Minsan kasi 'pag quarterly, iniisip mo, "Uy maiipon ko naman yan." Pero pagdating ng due date, parang ang laki ng babayaran. With annual payments, mas malaki rin ang chance to default dahil ang laki ng amount. Mas mahirap siya i-manage. But still, it boils down to preference, discipline, spending habits, and your budgeting style."
Read more: Starting a Family? Consider These 10 Family Insurance Types
Working and Winning on a Single Parent Budget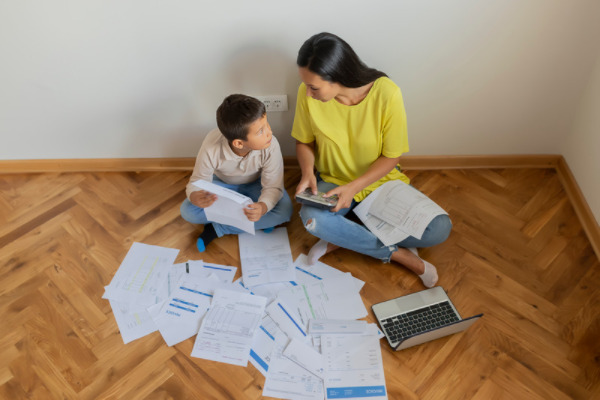 Managing your finances as a solo parent is definitely a challenge. Daily sacrifices have to be made, and a lot of belt-tightening and penny-pinching, even.
These three solo parents work hard, and they get things done. So, it's really not surprising to know that they've achieved a lot in their lives that they're truly very proud of.
Take the Risk and Take Charge
Pearl and her two sons are living comfortably now―thanks to Pearl's leap of faith all those years ago. The breakup of her marriage forced her to get out of her comfort zone, take control of her finances, and start over.
"Even if I wasn't financially ready, I took the plunge. I was able to support myself and my kids after the separation and live the life I wanted. I'm not financially dependent on my ex. It's the reason I strive so hard to do well in my career. I want to continue providing the best for my kids."
Invest in Your Child's Education
For Rina, her daughter's education is what she considers her greatest achievement. Of course, buying her own car ranks up there, too.
"Being a single mom and putting my kid to a good school is what I've always been proud of. I never imagined being able to do all these on my own―without a cent of support from her dad, by the way."
She admits that single parenting is often stressful and difficult, but it's also fulfilling and liberating. "More than any material thing, being able to prepare a better future for my child makes me feel like the richest person in the world," Rina said proudly. "I still can't believe I made it! I made it here on my own."
Hard Work Pays Off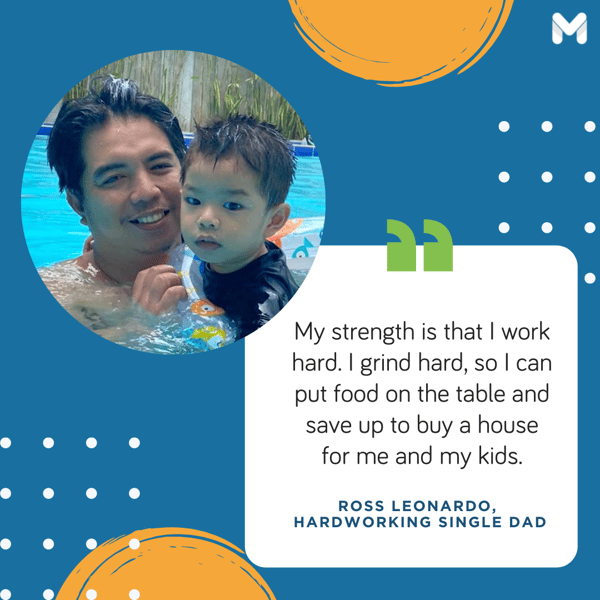 For single dad Ross, he may not be a whiz at budgeting, saving, or investing. But his superpower is his drive to work hard and provide for his children.
"I grind hard so that I can put food on the table and save up to buy a house for me and my kids," he shared.
Ross may look like a toughie, but he's a real softie, especially when it comes to his kids. Right now, aside from working his corporate job and running his own business, he's prioritizing time with his family, especially his two boys. "I value time with them. Kapag malalaki na sila, I'll beg for their time na. So I want to make memories para no regrets."
As a solo parent, Ross also has his share of proud financial achievements. A real car enthusiast, he considers being able to buy a third car―after paying off his second car―a proud achievement.
"I don't have an investment plan or insurance. But I own a small thriving business, a car restoration shop called R3 Auto Restorations. It's just a hobby that turned into a profitable business. I'm very proud of that."
Final Thoughts
Like what the famous Nelson Mandela quote says, "It always seems impossible until it's done." These three single parents in the Philippines have certainly made the seemingly impossible possible.
Although solo parenting is never easy, Rina, Pearl, and Ross are proof that being financially prepared, saving for the future, and working hard can help you stay on top of your finances and achieve financial success.

Source: [1] Republic Act 8972: Solo Parents' Welfare Act of 2000 (Philippine Commission on Women)