It's that time of year again—everyone is gearing up for the new school year! Kids are excited about meeting new teachers, making new friends, and shopping for school supplies.
Inflation recently ravaged the global economy, and the prices of school supplies weren't spared. But the good news is, there are a lot of affordable places for buying school supplies in the Philippines.
Here are some of the best places to get great deals. We also covered a few budgeting tips and hacks to maximize your budget.
Buying School Supplies: Where to Buy

Affordable Supplies

in the Philippines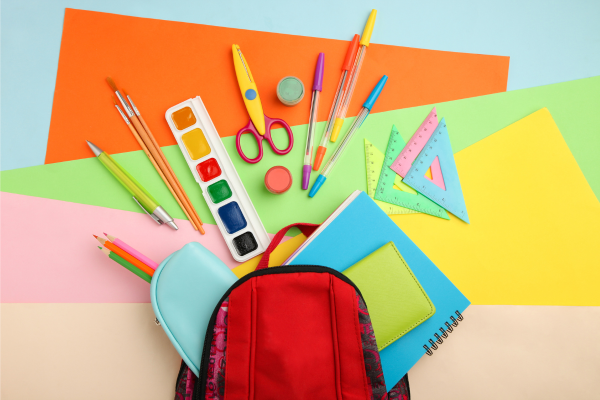 If you don't know where to buy supplies that won't break the bank, here are some physical and online shops to get you started.
📍 Divisoria
If you want to buy wholesale school supplies at an affordable price, Divisoria should be the first place on your list. The area is known for its haggling culture, so you can get even lower prices if you're willing to negotiate.
Divisoria is also centrally located and easy to get to. No wonder it's a popular destination for budget-conscious parents and students!
Prices may have recently gone up, but you'll still find cheaper deals here than at malls.
📍 Baclaran
Baclaran is one of the best places to buy school supplies in the Philippines because of its wide range of options and competitive prices. The area is known for its many stalls and shops that sell everything from textbooks to pencils and paper.
Many independent sellers offer even more variety and choice. Prices are often negotiable, so it's worth taking the time to haggle for a better deal. Whether you're looking for affordable notebooks or discount pens, it's worth the visit.
📍 Marikina Riverbanks
The Marikina Riverbanks Mall is one of the best places to buy school shoes. As the country's shoe capital, Marikina is home to high-quality and durable shoes.
Given their durability and craftsmanship, each pair is worth it. This is your chance to support local businesses as well.
You'll also find outlets inside the mall if you want to shop for branded items.
📍 Commonwealth Market
Commonwealth Market is another option for the best places to buy school supplies. From stationeries and books to uniforms and bags, there's a wide selection of school supplies. Like in Divisoria and Baclaran, you can haggle to get the lowest deals.
Wondering "Where to buy school supplies near me?" It's the ideal place to shop if you live in or near Quezon City since you can get almost everything you need and avoid hefty transportation costs.
📍 168 Mall Binondo
168 Mall in Binondo is packed with incredibly cheap deals on pens, pencils, notebooks, and other school materials, including handkerchiefs, towels, water jugs, raincoats, and more.
It's the best place to buy school supplies aside from Divisoria and Baclaran, especially if you want to get the most bang for your buck. 168 Mall is also conveniently located near several major transportation hubs, making going to and from the mall easy.
📍 Sterling (LazMall)
Sterling LazMall is one of the best places to buy school supplies online for many reasons. For one, it offers a wide variety of products and big discounts and deals. You'll get even lower prices on bulk orders, from notebooks to pencils and pad papers.
This online school supplies shop also provides free shipping on orders over a certain amount. Don't forget to claim vouchers that can help you save more on your purchases.
📍 Faber-Castell (LazMall)
Faber-Castell is one of the world's leading manufacturers of premium art supplies and stationery products. The company has been in business for over 260 years and offers many high-quality products, including pens, pencils, markers, and art supplies.
Its flagship store in Lazada is an excellent place to buy school supplies. The store offers a wide selection of products at very competitive prices and provides affordable shipping on orders, making it easy to get the supplies you need for cheap.
Whether you're looking for crayons, colored pencils, or other art supplies, Faber-Castell's LazMall store is the perfect place to shop. Buy in bulk and get all the vouchers to save more on items.
📍 Dong-A (LazMall)
Dong-A LazMall is an online school supplies store in the Philippines that offers a wide range of products at reasonable prices. It's an excellent choice for affordable art and stationery supplies. The store also has a good reputation, so you can be sure you're getting long-lasting products.
If you plan to buy products such as pens, crayons, oil pastels, and other art supplies in bulk, you'll get discounts.
Other

School Supplies Stores in the Philippines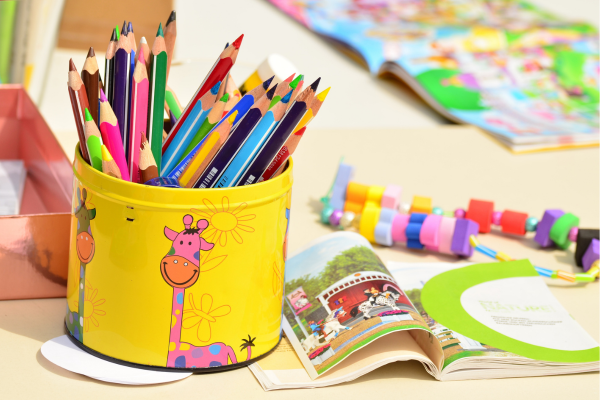 The places below offer slightly higher mall prices on school supplies. But you'll likely save money on your purchases if you shop during payday sales or shopping festivals. Visit their physical stores or shop online—whatever's convenient for you.
📍 National Bookstore
National Bookstore has been around since the 1940s, making it one of the Philippines' most loved and successful establishments. It has over 200 stores nationwide and sells over 100,000 supplies and over 90,000 books, making it your one-stop shop for all school purchases.
If you shop with your Laking National card, you can also earn ₱1 Laking National Sulit Coin for every ₱100 spent.
📍 The SM Store
Head to your nearest SM Store to buy all things school-related. Shop for bags, shoes, socks, inner garments, water tumblers, and more. Go to the stationery and school supplies section to tick off more supplies on your list, such as notebooks, paper, pencils, pens, highlighters, and more.
Watch out for back-to-school sales and save money on select items. You can avail of these discounts online or in-store.
📍 Office Warehouse
Office Warehouse has been in business since 1997, offering customers top-of-the-line school and office supplies, furniture, and products. It has over 70 outlets in Metro Manila and provides store pick-up and door-to-door delivery services.
It also offers Buy One Get One promos on popular and trusted brands, so you can enjoy significant back-to-school savings. Check out Office Warehouse to buy all your supplies in one location.
📍 Expressions
If you need to buy a wide assortment of school supplies, plus arts and crafts materials, make your way to Expressions. Shop in-store or online via MetroMart, Pandamart, or GrabMart for a hassle-free shopping experience.
Every ₱1,200 you spend entitles you to one raffle coupon for its Back to School Raffle Promo,[1] where winners can enjoy a ₱3,000 shopping spree. This promo runs until September 30, 2023.
---
🎁

Free Welcome Gift:

No Annual Fee for Life Plus Maximum Rewards for U!

Eligible card: UnionBank Rewards Credit Card
Promo period: Until November 30, 2023
Say goodbye to annual fees forever and hello to next-level rewards with your new UnionBank Rewards Card! Just apply via Moneymax and get approved within the promo period, and then meet the ₱20,000 spend requirement within 60 days from your card approval date.
This Moneymax UnionBank Rewards Credit Card No Annual Fee Promo runs until November 30 only. Per DTI Fair Trade Permit No. FTEB-172472 Series of 2023.
Note: The promo is exclusive to applicants who do not have an existing principal credit card issued by UnionBank and/or Citi.
---
Helpful Tips When

Buying School Supplies

in the Philippines
✅ Recycle Old School Supplies
Make an inventory of your children's school supplies from last year. If certain items are still in good condition, you don't have to buy new ones. Sort those that can still be reused or recycled for another school year.
Recycle unused pages from old spiral notebooks. Remove clean sheets from their binding and sew them together to make a new notebook.
Refill old pens and markers. Instead of buying new writing tools, you can save money by buying refills.
Gather old pencils. As long as they aren't broken, pencils can just be sharpened so they're good to use again.
Don't throw away your old gadgets just yet. You can still use them for online classes.
✅ Set a Budget Based on Your Supplies List
Before shopping, wait for the official school supplies list and then integrate it with your own. Creating just one list of what to buy for school supplies can save time and money.
Once you have your final list, write down the estimated price of each item and get the total. It will help you come up with a realistic budget for your back-to-school shopping.
Check the Department of Trade and Industry's (DTI) Gabay sa Pamimili ng School Supplies[2] for the complete list of suggested retail prices (SRPs) for school supplies in the Philippines.
✅ Buy in Bulk
Flea markets or tiangges in Divisoria and Baclaran are bargain hunters' favorite shopping destinations, as they offer huge discounts of 10% to 50% for wholesale school supplies. Here are some tips when shopping at tiangges:
Start your shopping early in the morning. Many sidewalk stalls open as early as 7 a.m., with some vendors offering buena mano discounts to their first customers.
Focus on areas that provide the best deals. These include flea markets along Ylaya and Tabora Streets, around New Divisoria Mall, 168 Mall, and Divisoria Market.
Shop online instead. If you want to avoid the crowd but still save money, try shopping at online tiangges.
✅ Watch Out For Back-to-School Sales and Promos
Back-to-school deals usually start in May. Use your credit card when buying school supplies to avail yourself of student discounts and promos.
On the lookout for great deals on your school supplies shopping with your credit card? Here are some promos to check out:
💳 SM Store and Mastercard's Back-to-School Promo
Eligible cards: All primary and supplementary Mastercard credit cards
Promo period: Until September 24, 2023
Get a chance to be the lucky winner of a brand-new laptop or ₱5,000 worth of SM Gift Passes.[3] Join the promo by shopping for school supplies, uniforms, books, and more at any SM Store with a minimum single-receipt spend of ₱5,000 on your Mastercard credit card.
---
Check out these credit cards:
Metrobank Platinum Mastercard®
Metrobank Titanium Mastercard®

---
🎁

Free Gift from Moneymax:

₱2,500 eGift, Xiaomi Smart Band 8, or Xiaomi Redmi Soundbar

Eligible cards: Metrobank World Mastercard®, Platinum Mastercard®, and Titanium Mastercard®
Promo period: Until December 31, 2023
How do you get an awesome Metrobank credit card welcome gift? Simple! Just apply and get approved for any eligible card through the Moneymax website. Choose from a ₱2,500 eGift voucher via Giftaway, Xiaomi Smart Band 8 smartwatch (worth ₱1,999) or Xiaomi Redmi Soundbar (worth ₱2,499) as your free special gift!
Per DTI Fair Trade Permit No. FTEB-177435 Series of 2023. Terms and conditions apply. This Moneymax Metrobank eGift/Xiaomi promo runs until December only. So hurry and apply now!
Note: Applicant must be an existing credit cardholder in good standing for at least 9 months.
---

---
🎁

Free Gift from Moneymax:

₱2,500 eGift, ₱2,500 SM Gift Pass, or Dolce Gusto Coffee Machine

Eligible cards: HSBC Red Mastercard, Gold Visa Cash Back, and Platinum Visa Rebate

Promo period: Until November 30, 2023
Not an HSBC credit cardholder yet? Apply for an HSBC card through Moneymax during the promo period (and get approved subsequently) to receive an exciting free welcome gift! Choose from a free eGift voucher worth ₱2,500, an SM Gift Pass worth ₱2,500, or a Nescafé Dolce Gusto Piccolo XS coffee machine (worth ₱5,199).
Per DTI Fair Trade Permit No. FTEB-173270 Series of 2023. Terms and conditions apply. This Moneymax HSBC Giftaway/SM Gift Pass/Dolce Gusto promo runs until November 30 only. So hurry and apply now!
---
---
🎁

Free Gift from Moneymax:

₱2,500 eGift, Sony Wireless Headphones, or De'Longhi Blade Coffee Grinder

Eligible cards: Select Security Bank credit cards
Promo period: Until December 31, 2023
Want a credit card from Security Bank? You're in for a treat if you apply and get approved for an eligible card through Moneymax and meet the minimum spend requirement. Pick your free Security Bank welcome gift: a ₱2,500 Giftaway eGift voucher, Sony WH-CH520 wireless headphones (worth ₱3,299), or a De'Longhi Blade Coffee Grinder (worth ₱3,800).
Per DTI Fair Trade Permit No. FTEB-175575 Series of 2023. Terms and conditions apply. This Moneymax Security Bank Giftaway/De'Longhi credit card promo runs until December 31 only. Apply now!
---
💳 Back-to-School with BPI
Eligible cards: All BPI credit cards
Promo period: Until September 15, 2023
If you have a BPI credit card, head to your nearest Robinsons Department Store to shop for all school needs! You can get gift certificates when you buy school supplies at participating Robinsons Department Store branches.[4]
To receive a free ₱300 gift certificate, a minimum single-receipt purchase of ₱5,000 is required. Meanwhile, you can receive a free ₱500 gift certificate for a minimum single-receipt spend of ₱10,000.
---
Check out these BPI credit cards:

BPI Amore Platinum Cashback Card

BPI Platinum Rewards Mastercard
---
✅ Buy Only High-Quality Supplies
When buying school supplies, compare prices, sizes, and quality. You're not saving money if you keep buying supplies and gadgets that will cost you in replacements or repairs. They must also be durable and last at least the whole school year.
Make sure to buy only supplies that your kids can easily and safely use. When it comes to gadgets, don't go for cheap, low-quality phones or tablets that children can easily destroy. If you want to save a few bucks, buy the flagship models from at least two years ago.
✅ Label Your Child's School Things
After buying all the school supplies on your list, put name labels on them. Write your child's name using permanent markers or make personalized name stickers. It will prevent theft or loss and make it easier for your child to identify their school things.
Buying School Supplies: FAQs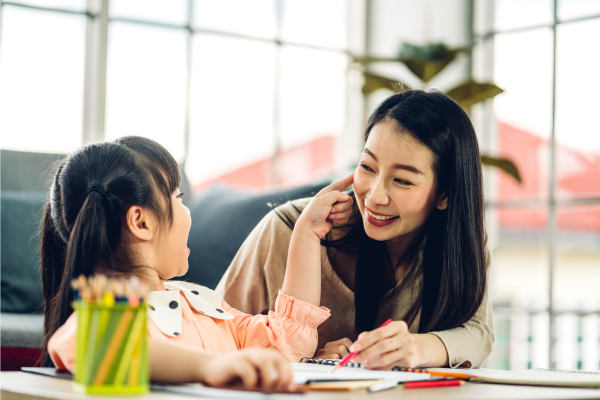 1.

Where can I buy cheap school supplies

?
Check out the above places to find cheap school supplies that fit your budget.
However, remember that investing in high-quality school supplies is better, even if they cost more. School uniforms, shoes, bags, and water bottles will be used for many years, so opt for quality over low costs.
Also, remind your child to take care of their school things so they can last for many years. For instance, show them how to correctly put books and notebooks inside their bags to avoid folds and wrinkles. Or remind them to avoid tossing their lunch boxes or water bottles carelessly to prevent damage.
2. When should I start buying school supplies?
Doing so at least a month before the school year begins is essential. It will save you time and energy and help you get better deals. Plus, if you start shopping early, you'll have plenty of time to compare prices and find the best deals.
Read more education articles:
Final Thoughts
With some preparation, you can save money while buying school supplies—especially if you take note of the best places to purchase affordable supplies.
Don't forget to set a budget based on your list. Watch out for back-to-school sales and promos. Lastly, buy only high-quality products that will last throughout the school year.
We hope these tips will help make your back-to-school shopping experience a breeze!

Sources: