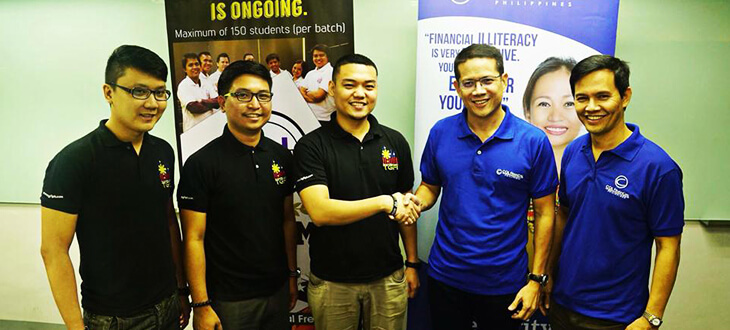 Over the years, investing has been made more available to Filipinos. Through financial literacy seminars and Facebook groups focused on money matters, more people are taking interest in their finances. Take a quick look at personal finance blogs and Facebook groups and you will see that more of our kababayans are asking the important questions.
How can I start investing? What kind of insurance should I get? What are the best stocks to buy?
The Global Filipino Investors (TGFI) Facebook group is one of the best avenues to talk about money matters. From how to apply for a stock investing account to the basics of getting life insurance, the 55,000-strong community is more than willing to welcome anyone willing to learn – beginner and expert alike.
Moneymax.ph caught up with TGFI founder, Floi Wycoco, to share his story on why he started the TGFI Facebook group and TGFI Web Academy and why he hopes every Filipino will start investing – one of his core pillars to being financially free.
Have you always been interested in personal finance?
No. When I was a fresh grad with my first job, I was an impulsive spender. The first thing I did with my first salary was to take my friends out and treat them all. On the next paycheck, I went to the casino and gambled everything. Instead of the Filipino tradition of giving a portion of my income to my parents, I kept everything to myself, and that mindset continued for the next five years, so no, during my younger years, I wasn't into personal finance.
What changed your mindset?
One day when I checked my ATM, I saw that my balance was zero. Someone pretending to be a police even went to my home to collect payments for my credit card debt. It was then that I realized I needed to do something, so I decided to look for a job with a higher pay. That started my life as an OFW in Singapore. Sadly, my lifestyle continued. The first time I received my paycheck, I bought a Php 70,000 watch. The extravagant spending continued on for 6 months, and by that time, I racked up seven digits' worth of credit card debt.
Then, I was invited to a financial literacy seminar, and that's when I realized things needed to change. I'd been working for five years, but nothing was happening – walang direksyon buhay ko. Despite my six-figure salary, I was still in debt. My wedding was also in the following month. With the seminar, I realized I needed to start budgeting and investing.
The first step is education, and that's when I realized I needed to share my stories sa mga kapwa kababayan.
How did you start investing?
Before I started investing, I used a 5-step ladder system. This system helped me prepare for investing.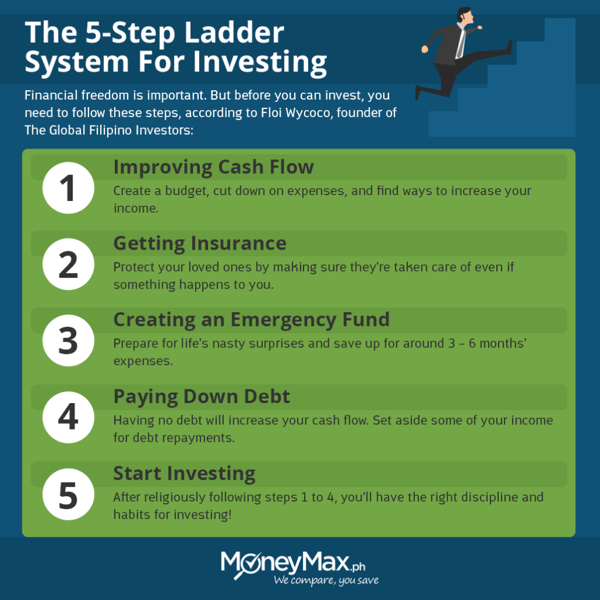 That continued during my stay in Singapore as an OFW, naging adik ako sa saving at investing. By age 25, I invested in mutual funds, stocks, and real estate. I didn't do them all at once, but I went one by one. I started with Php 5,000 in each investment, and when my Php 5,000 started to grow, I started putting in Php 20,000 and then Php 30,000.
How are your investments today after five years?
My mutual funds have a 20% annual return on investment (ROI) while my stocks are in the 30-40% range for annual ROI.
How do you pick which and where to invest in? Do you have an investment strategy?
For beginners, my best advice would be to follow and master the 5-step ladder system. All those five steps teach you the importance of discipline when it comes to your money, and this discipline translates to dealing with your investments.
When you invest in stocks and the market drops, you won't panic and sell your holdings in a snap. Because of the discipline you practiced when you were paying down debt or growing your emergency fund, you are emotionally and financially secure enough to wait it out until the market improves. Personally, when the market drops, I take the opportunity to buy more stocks at much lower prices.

Aside from the 5-step ladder process, do you practice any other strategies?
Learning is very important to me, and this is one of the reasons why I started The Global Filipino Investors (TGFI) group.
If it weren't for the seminar I attended, I probably would've never started improving my finances. The first step is education, and that's when I realized I needed to share my stories sa mga kapwa kababayan. I searched for groups on stocks and investing, but the ones I found were centered on business and entrepreneurship. That's when I started TGFI.
TGFI allows people to come in, ask questions, exchange ideas, and share their experiences. The members of the group include the country's top personal finance professionals, so that adds a touch of reliability to the community. Aside from the Facebook group, there's also the TGFI Web Academy where we produce webinars and seminars to reach more Filipinos.
What personal finance quote do you live by?
"It's not about how much you earn, but how much you save."
Final thoughts
The discipline you need in saving and budgeting trickles down to other areas in your life – investing included. You need discipline when you allocate a portion of your income to your investments, when you stay put when your investments lose value, and even when you feel the itch to withdraw your gains instead of waiting it out. We hope Floi's story gives you the inspiration to start investing. If Floi was able to get out of seven-figure debt and invest, then any Filipino can find financial freedom as well.
DISCLAIMER: Information published on this blog or elsewhere on www.moneymax.ph should be used for general information purposes only and does not constitute investment advice, performance data or any solicitation or recommendation that any security, investment product, transaction or investment strategy is suitable for any specific person. This material does not take into account your financial situation, risk tolerance level, investment experience or objectives; all of which are unique to you. Before acting on information on this blog, we suggest consulting an independent professional to advise you on the risks of any decision and the extent of any exposure to loss.
---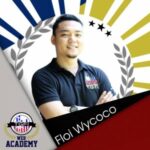 Floi Wycoco is the founder of TGFI Facebook group and TGFI Web Academy. A former OFW, attending a seminar in Singapore marked the start of his financial journey. Today, the TGFI team produces webinars and seminars focused on improving money management among Filipinos both here and abroad. If you want to know more about Floi and TGFI, check their Facebook group and website.