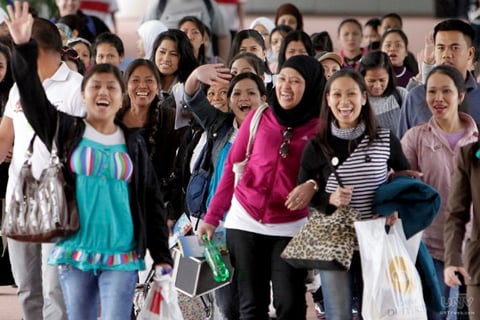 Most Filipinos get the impression that Overseas Filipino Workers (OFWs) have more savings because they earn abroad. This is not always true. Often, families with members working abroad tend to spend more and save very little—or none at all.
There is no measuring the kind of sacrifice OFWs make, working in a foreign country and leaving their families behind for the chance to earn more money and secure a better future for their loved ones. If you're are an OFW yourself, it is your responsibility, as well as your family's, to make sure that all the sacrifice and hard-earned money don't go to waste.
Read more: 4 Things OFWs Need to Know about the Current Pag-IBIG Fund Law
1. Talk to your family.
It won't make much sense if your family is so quick to spend every peso you earn. While there is nothing wrong with them enjoying the fruits of your labor, remind your family about the importance of budgeting so they won't be empty-handed in cases of emergency. Teach your kids about saving and encourage them to develop a healthy mindset about money. With your family's support behind you, you will be more inspired and motivated to do your best at work.
2. Live within your means.
Do not always give in to your wants. If your expenses take up most of your income, then you need a change in your spending habits.
Save a set percentage of your salary for savings every payday, and budget the rest for your family and your personal expenses. There is no need to deprive yourself. It would help if you put a specific portion of your income to spend at your own leisure, just as long as you don't exceed the amount you set.
If there is something very costly you want to buy that does not necessarily qualify as a "need," postpone your purchase for at least a month to give yourself time to reconsider.
3. Avoid vices.
When you are spending a large amount of money on something addictive—whether it is gambling, excessive drinking, prohibited drugs, or unnecessary shopping—it qualifies as a vice.
If you are serious about saving, you definitely need to do something to curb your spending on vices.
4. Invest your money.
If you have some extra money, consider investing in a mutual fund, a time deposit account, bonds, or stocks. Such investments offer bigger returns compared to a regular savings bank account.
Investing is a good way to make your money to work for you. Do your own research and be careful about where you invest your money to avoid being scammed.
Just like what Aya Laraya said in this podcast, we always need to save money since we are not getting any younger. Get to know more his pieces of advice about the following questions:
What is your advice for those people leaving the country, the Philippines, to work abroad because they think that working abroad is the answer to the poverty that they are suffering in the Philippines?
Why do Filipinos find it hard to keep their money in the bank?
Should I save for retirement right now?
5. Set your financial goals.
Talk to your loved ones about your goals for the future.
How many years do you intend to work abroad?
Do you want to relocate your family and live out of the Philippines?
Do you plan to return to the country after you have saved enough?
Do you plan to start your own business after your children finish their schooling?
Sit down and discuss your plans with your family so everyone is on the same page. Emphasize that you will be working as a team to achieve those financial goals.
As an OFW, saving for the future should also be one of your biggest concerns. Remember these money-saving tips and secure your family's financial future.
People who read this also liked:
13 Money-Saving Tips for the Modern Nanay
4 Things OFWs Need to Know about the Current Pag-IBIG Fund Law
Money-Saving Tips for Startup Entrepreneurs