Bills, bills, bills. There's no way to eliminate them, but you can reduce what you're paying every month. Assess your monthly expenses. If you discover, for example, that you're paying too much on your home loan, consider switching to a new loan that will help ease your financial burden.
Rather than making you sink deeper in debt, home loan refinancing can help you save money, as long as you go with a loan that offers the most favorable terms. The benefits of refinancing couldn't come at a better time when everyone is reeling from the effects of the COVID-19 crisis, such as unemployment and business losses.
Read on to know what refinancing a mortgage means and how you can use it to reduce your debt.
What is Home Loan Refinancing?
Home loan refinancing is the process of paying off an existing mortgage by replacing it with a new loan from a different lender. Ideally, the new home loan has a lower interest rate and better terms than the first one. The goal is to make your monthly or total loan repayment cheaper and easier on the budget.
Read more: Everything You Need to Know About Housing Loans in the Philippines
5 Ways to Save Money Through Home Loan Refinancing in the Philippines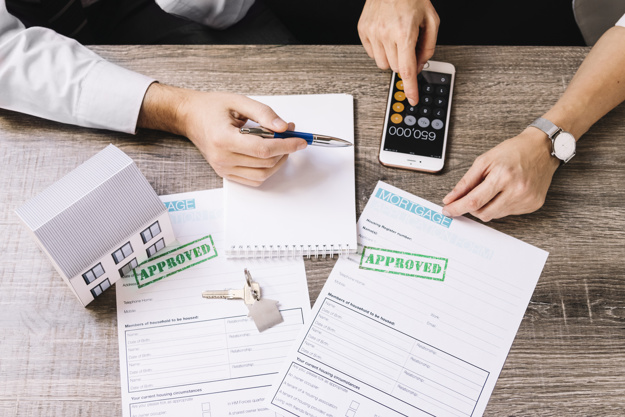 Refinancing a mortgage means borrowing money to pay off your current home loan. But there's another compelling reason to switch to a new home loan: It can lead to significant savings in the long run.
Here are several ways you can reduce your mortgage payments through refinancing your home loan.
1. Get a Lower Interest Rate
When should you refinance your mortgage? It's when interest rates drop. If home loan rates have declined since you got your loan, now is the perfect time to take advantage of a lower interest rate.
Currently, interest rates are at an all-time low. The Bangko Sentral ng Pilipinas (BSP) has cut the key interest rate to 2.25%[1]—the lowest policy rate in Philippine history—to minimize the impact of the pandemic on the economy.
What does this mean to housing loan borrowers? Banks and other lenders use the BSP rates as the basis for setting interest rates on the loans they provide, including home loans. If the BSP policy rate is low, expect mortgage rates to fall as well. For borrowers, this means more options in the market for home loans with low interest rates.
Also, if your financial situation and credit score have improved, you may qualify for a lower interest rate. Refinancing your mortgage makes sense in this case.
Home loan refinancing is ideal if it allows you to reduce your interest rate by at least 1% to 2%. This will help you pay less interest throughout your loan term. Your savings will be bigger if your loan has a long repayment period (i.e., 20 to 30 years).
2. Change to a Fixed-Rate Mortgage
If your current home loan has an adjustable or variable rate, your monthly amortization can go up or down as interest rates rise or fall due to changing market conditions. When home loan rates rise steeply, you might not afford your amortization.
Through home loan refinancing, you can switch from variable to fixed interest rate. With a fixed home loan refinance rate, you can be sure that your monthly payments will stay the same—and within your budget—regardless of what's happening in the market.
3. Reduce Your Monthly Payments
A lower interest rate on a refinanced home loan can reduce your monthly mortgage payments as well. This is the case whether the new loan term is the same or longer than the first loan.
A refinanced mortgage that provides such benefit is perfect for managing your finances if you have cash flow issues or irregular income. Keeping your monthly amortization low can help you afford your loan repayments so that you avoid incurring unpaid balances and defaulting on your loan.
For example, you borrowed PHP 1 million through a 30-year housing loan with an 8% interest rate. Using a home loan calculator, refinancing your home loan will reduce your monthly payments from PHP 7,689 to PHP 5,996—saving you PHP 1,693 per month.
Here's the sample computation from the Nook website: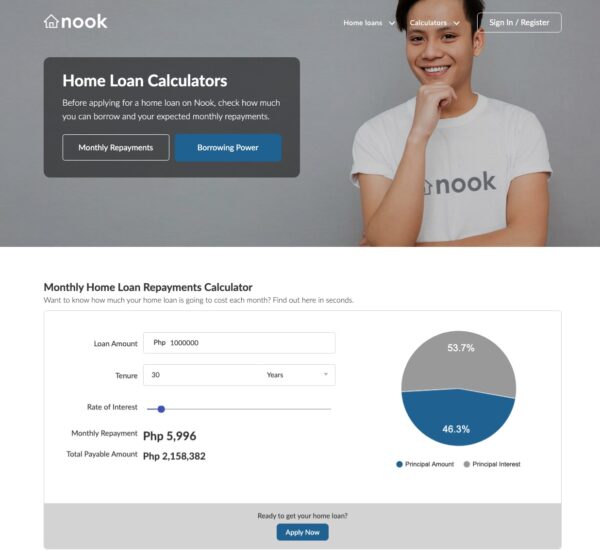 4. Shorten Your Repayment Term
If your financial goal is to pay off your home loan sooner, mortgage refinancing allows you to reduce the length of your loan repayment (e.g., from 30 years to 15 or 20 years) with a lower interest rate.
Even if you'll be paying the same or higher amortization on the refinanced loan, you're still going to save money on interest payments for fewer years.
5. Consolidate High-Interest Loans into a Low-Interest Home Loan
Like a credit card balance transfer, home loan refinancing lets you consolidate multiple high-interest debts (including personal loans, car loans, credit cards, etc.) into one mortgage with a lower interest rate.
In this sense, refinancing makes a great strategy for saving money because home loan rates are typically lower than interest rates of credit cards and personal loans.
Practically speaking, repaying just one home loan is easier to track and manage than having multiple loans.
Read more:
Final Thoughts
You can save a lot of money through home loan refinancing if it helps you achieve one or more of the benefits listed here. Your savings from a refinanced loan can be re-allocated to paying down your other debts.
To save more money, work with a trusted mortgage broker to get the right home loan for refinancing your existing loan. Nook, an online mortgage broker in the Philippines, can help make the home loan refinancing process simple for you.

Source: [1] BSP keeps interest rates at record low of 2.25% (Lopez, CNN Philippines, 2020)