When it comes to expenses, you'd do well to always expect the unexpected. Due dates, your kid's sudden expenses at school, and various emergencies can sometimes creep up on you.
In such cases, it's nice to have someone to turn to. Online lender Cash Mart offers help through its loans.
But is this company legit? What are the features of their products? And how can you apply?
Check out this comprehensive Cash Mart loan review to learn more.
What is Cash Mart?
Originally from Singapore, Cash Mart is an online lending company that offers loan products to cash-strapped Filipinos. The company claims that it is the number one online lending company in Singapore.[1]
The Cash Mart loan app is currently available on the App Store, Google Play, and Huawei AppGallery.
❓ Is Cash Mart Legit?
Yes. Cash Mart legally operates in the Philippines. It's registered with the Securities and Exchange Commission with SEC Registration No. CS201610084.[2]
Besides, Cash Mart has been operating since 1969, giving them 47 years of lending experience.
Read more: 21 Legit Online Loan Providers in the Philippines
What is a Cash Mart Loan?
A Cash Mart loan is a lending product offered to clients who are short on cash. Cash Mart offers various types of loans, depending on the client's needs. Here are some of them:
Salary loan – If the payday is a few days away and you're dealing with sudden expenses, this lending product can tide you over.
Personal loan – This loan goes beyond unexpected expenses. You can use it for other purposes, such as a vacation, wedding, home renovation, debt consolidation, gadget purchase, and more.
Car loan – Buying a car? You can get extra cash online by applying for a Cash Mart car loan.
What is Cash Mart's loan amount? You may borrow from ₱3,000 to ₱150,000. For the interest, this lender offers a competitive rate of 0.06% to 1% per day, depending on the approved loan term.
Cash Mart Loan Review: Advantages and Disadvantages of Borrowing From This Lender
Using the Cash Mart loan app for your quick cash needs comes with the following benefits:
👍 Various Loan Products to Choose From
Cash Mart offers several types of lending products, covering various emergencies and expenses. Need money for groceries? Apply for a salary loan. Planning an El Nido holiday? Go for a personal loan. You get the drift.
👍 Low Interest Rates
As mentioned, Cash Mart offers low interest rates, ranging from 0.06% to 1% per day. These are among the most competitive on the market, which means affordable repayments on your end.
👍 Easy Requirements and Quick Application Process
Applying for a Cash Mart loan isn't complicated. According to the company, you can get approved with just one ID. Moreover, the entire application process happens online. You don't have to go to the branch to file your application.
Cash disbursement, on the other hand, takes place within 24 working hours after you sign your contract.
👍 Flexible Loan Terms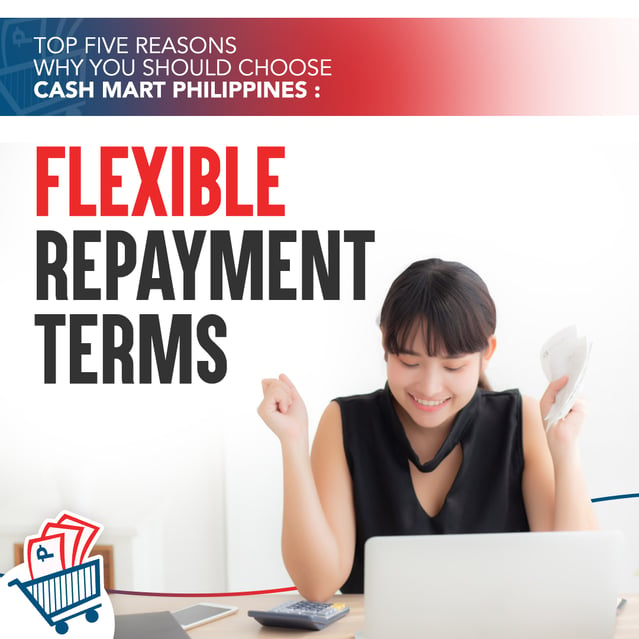 Cash Mart offers flexible loan terms, allowing you to settle your obligation based on your repayment capacity. You can choose to settle your loan weekly, bi-weekly, and monthly. Borrowers are also allowed to repay their loans earlier than their due date.
However, the Cash Mart loan app also comes with some drawbacks, such as the following:
👎 Small Initial Loan Amount
The loan amount starts at ₱3,000 only. You're allowed to increase the amount every reloan. However, that application is subject to approval.
👎 Limit on Applicant Age
Unlike other lenders, Cash Mart is pretty strict with the loan applicant's age. The cap on the borrower's age is 50 years old.
👎 Bank Account Requirement
Cash Mart requires borrowers to have a bank account, since this is where the lender deposits the cash proceeds. If you don't have one, you won't be able to avail of Cash Mart's loans.
👎 Penalty for Late Payments
The lender charges fees on late repayments. This means you'll need to shell out money on top of the principal and the interest. This is why Cash Mart encourages borrowers to pay on time.
Cash Mart Loan Review: What Their Clients Say
A lot of Cash Mart's former clients are all praises for the lender's service. One client featured on Cash Mart's website says the best part about using the lending app is the quick disbursement—she got the loan proceeds within the day.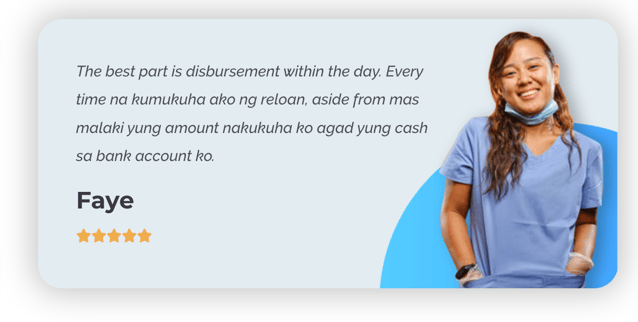 Another client featured on Cash Mart's website shared that once, he wasn't able to pay on time. Despite that, Cash Mart allowed him to avail of early renewal. He also shares that the application process is quick and the agent is easy to talk to.
A third borrower shares that she appreciates Cash Mart's early reminders on due dates. She also commends the lender's reloan feature.
However, Cash Mart also has its fair share of dissatisfied clients. As of this writing, the Cash Mart loan app has 2.2 stars on both the App Store and Google Play Store.
One reviewer on Google Play said that Cash Mart took a long time to process her application. She also shared that she didn't receive any notification as to whether her application was approved or not.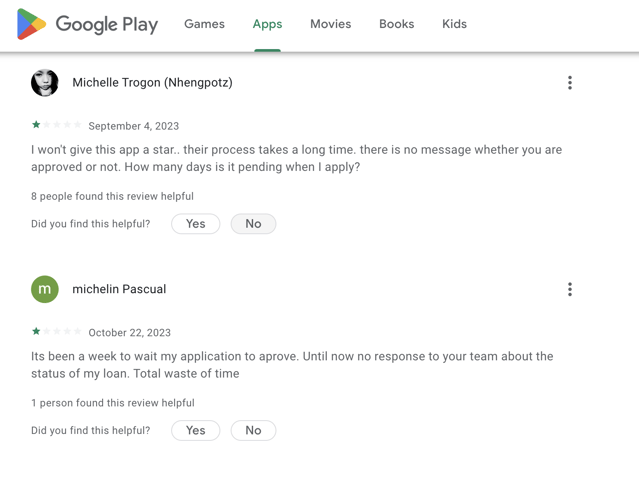 Two other reviewers also complained about the Cash Mart team's lack of response to their concerns.
Meanwhile on the App Store, two users complained about the usability of the app and the lender's slow response. One said that she kept getting the "Error wrong pin" notice while the other complained that it took them one week to receive a response from Cash Mart.

Read more:
What are the Cash Mart Loan Requirements?
Now that you've read the Cash Mart loan app review, you may be thinking of applying. Take note of the following requirements:
📌 Eligibility Requirements
Must be between 21 and 50 years old
Must be a Filipino citizen currently residing in the Philippines
Must be currently employed or self-employed
📋 Documentary Requirements
The requirements for the salary loan are divided into the following:
For Salaried and Commission-Based Applicants
Government-issued ID
Latest proof of billing
Latest one-month payslip (for personal loan and car loan)
Latest one-month statement of account (for car loan)
For Taxi and Grab Drivers
Government-issued ID
Latest one-month statement of account
Latest proof of billing (for personal loan)
For Self-Employed and Business Owners
Government-issued ID
Latest proof of billing
DTI or SEC certification
Bank statements for the last three months
Three pages of Audited Financial Statements or the latest ITR form
How to Apply for a Cash Mart Loan

The Cash Mart loan application steps are easy. Check out the following:
Download the Cash Mart loan app from the Google Play Store, the App Store, or Huawei AppGallery.
Fill out the form on your app and supply the requirements.
Wait for a call from Cash Mart's loan officers.
After you send your loan contract, you'll get the loan proceeds within the day.
Cash Mart Loan FAQs
Still got some questions about Cash Mart PH? Check out this section:
1. How to repay my Cash Mart loan?
To settle your loan, here are the steps to follow:
Visit any of the following payment centers:

Bayad
LBC
Robinsons Mall
ECPay
M Lhuillier
Cebuana Lhuillier
Palawan Express
RD Pawnshop

Fill out a payment form and name DragonPay as the biller/receiver.
Supply the control number/account number/reference number sent to your email by Cash Mart.
The following channels are also available for repayments:
GCash
7-Eleven CliQQ app
UnionBank Online and UnionBank Mobile
UnionBank over-the-counter
2. How can I apply for a reloan?
To borrow again from Cash Mart, just follow these steps:
Log into your Cash Mart mobile app.
Tap Get Loan.
Alternatively, you can send a reloan request to Cash Mart Philippines via email. Send your request to reloan@cashmart.ph.
3. Can I contact Cash Mart's Collection Department directly?
Yes. The Cash Mart contact number is 09176363298.
4. I can't sign my contract on the Cash Mart loan app. What should I do?
If you encounter this problem with the Cash Mart loan app, just send a screenshot or screen recording to care@cashmart.ph.
Read more: Ask Moneymax: What to Do When You're Threatened by Lenders? SLAP!
Final Thoughts
In this comprehensive Cash Mart loan review, you learned that this lender is a pretty good option during tough times or occasions when you just need a little financial boost.
Ready to try it out? Download the app and see how things will work for you.
If you're looking for more personal options, you can always turn to Moneymax. Our comparison platform is composed of legitimate and reputable companies offering lending products at competitive rates. Click the banner below to find the right lender for you!

Sources: