If you live in a house with adequate square footage and is subdivided by walls, there's a chance that your kitchen is hidden from the sometimes prying eyes of your guests. You have the perfect excuse not to update the look or feel of this part of the house.
But since you're reading this article, you definitely have plans to have a kitchen makeover on a budget. If you have kitchen remodeling plans in the future and don't know where to start, let the insights below guide you.
Why Go for a Kitchen Remodeling in the Philippines?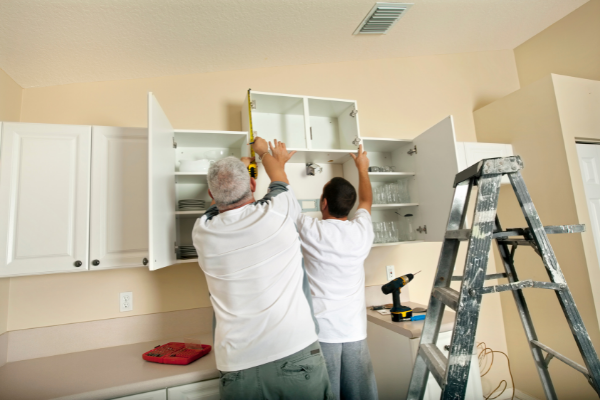 It's important to acknowledge that kitchen remodeling isn't going to be easy. It's messy, and it'll significantly disrupt your daily household activities. More importantly, it's costly.
However, there are good reasons to upgrade your kitchen. Here are some of them.
1. Improve the Functionality of Your Space
If your kitchen is grimy, crowded, and awkward, it'll surely benefit from a remodeling project. It'll allow you to get rid of the things that you don't need anymore, such as deteriorating appliances and furniture. Reconfiguration will make moving around much easier. More importantly, it'll make your kitchen a safer place to work in.
2. Expand the Space
Your growing family should be an automatic consideration for revamping your kitchen space. In a country where the dining area is often attached to the kitchen, an expansion project will result in an effortless accommodation of more family members.
In an era where many are working from home, a much bigger kitchen will provide your loved ones with an alternative work area.
3. Boost Your Property's Resale Value
The benefits of a kitchen makeover on a budget go well beyond the improvement of your cooking area's beauty and functionality. Because you can always factor renovation costs into your property's total value, your home can command a much higher resale value.
Read more: Old Home Makeover: How to Save on House Renovation Cost in the Philippines
How Much Should I Budget for My Kitchen Makeover?
The budget for a kitchen renovation project in the Philippines typically ranges from ₱10,000 to ₱200,000 (or more!). Of course, the cost will depend on the scope of the project, the type of materials you'll be using, the labor involved, and the number of appliances you'll be bringing in, among others.
Smaller kitchens, like the ones found in condos, may not be that expensive to renovate. Major upgrades, which include breaking down walls, retiling, and expansion, will definitely cost more.
Read more: Ready to Upgrade Your Home? Here's How to Finance a Home Renovation
---
🏡 Give Your Home a Makeover With #UNOnow Loan!

Need extra funds for your home improvement? You don't have to delay it if you're short on cash. Simply get a cash loan from UNO Digital Bank via Moneymax. Enjoy a fast application and approval process, plus instant loan disbursement!
Whether it's a simple appliance upgrade or a home remodeling project, UNOBank got you covered with its loan amount ranging from ₱10,000 up to ₱200,000. Apply for an #UNOnow Loan today!
---
Kitchen Makeover on a Budget: Money-Saving Tips and Tricks for Sprucing Up Your Kitchen
Now that you know the benefits of a kitchen remodeling project, it's time to dive into the actual process. Here are some ideas that you may want to consider.
1. Plan the Foot Traffic
Deciding what goes where will not only make your kitchen look organized; it'll also make for a better traffic flow, which in turn makes your kitchen much safer and even easier to use. Prioritize this step if you have kids or pets at home.
For a child-friendly design, the cooking area shouldn't be easily accessible (i.e. placed near the entryway). Otherwise, kids will cause spills or even bump into your gas range. On the other hand, your refrigerator should be placed in a central location. That way, it'll be accessible to both people who are cooking and those who just want to get their soda fix.
2. Repaint the Walls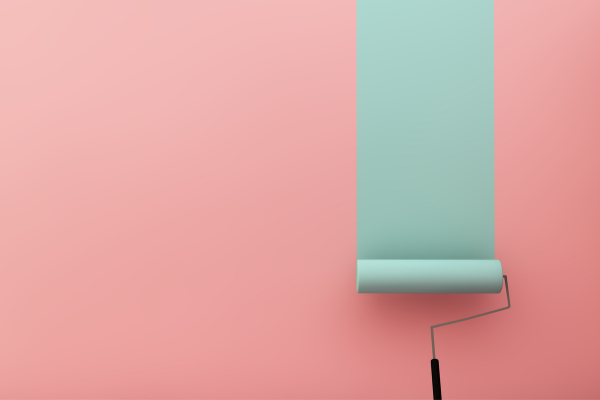 Over the years, your kitchen has accumulated grime and grease. A new coat of paint will easily solve this aesthetic problem and give a simple kitchen makeover on a budget.
Keep in mind, though, that repainting a kitchen is a much more elaborate task. This is because you need to pay attention to how the new color or texture will withstand kitchen elements, such as steam, oil, water, and general traffic. Don't skimp on quality, as you need to make sure that the new paint will last a long time.
3. Add a Backsplash
In many kitchen remodeling projects, the backsplash is often the first area that gets updated, knowing that it's often the most abused part of the room. If your kitchen doesn't have a backsplash, now's the time to get one. This covering, usually made of tiles, protects the wall behind the sink from water damage due to splashing.
This aspect of your kitchen remodeling project will make your sink wall much more interesting. You can go for a colorful or monochromatic mix of glass tiles. You may also create complex patterns.
But if you're trying to save money, just paint the surface. This is a simle kitchen makeover you can achieve on a budget. Make it stand out by choosing a bold color that can complement the rest of the kitchen (e.g. a red backsplash in a white kitchen). See to it that your paint is waterproof, too.
See more: Get Interior Design Ideas: 10 Home Improvement Shows on Netflix to Binge Watch
4. Optimize Storage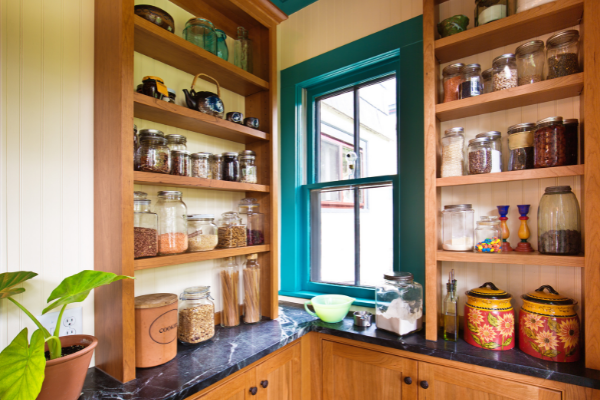 Misplaced pans, cutlery, and jars of condiments can make any kitchen look messy and awkward. With that, your kitchen must have a smart storage set-up. You can buy cheap but high-quality storage fixtures that you can assemble at home. But if you want to make the most of your kitchen's every square inch, get custom-fit cabinets and shelves.
You may also go for unconventional storage designs, such as modular racks and drainers that you can place above your sink. Floating shelves also make sense for commonly used items, such as plates and pans. Corner case baskets will help you organize your condiments and ingredients.
5. Rearrange the Furniture (or Buy New Ones)
This is technically part of your kitchen's traffic configuration. If you're not planning to buy new furniture, just rearrange them to make the most of the space.
If you have enough budget, replace your old tables, chairs, and other fixtures with new ones that actually fit the size of the existing space. While you're at it, get items that have multiple functions.
Living in a small condo?[2] Get your kitchen a movable table, which can also double as your workstation during the day.
6. Install a Countertop or an Island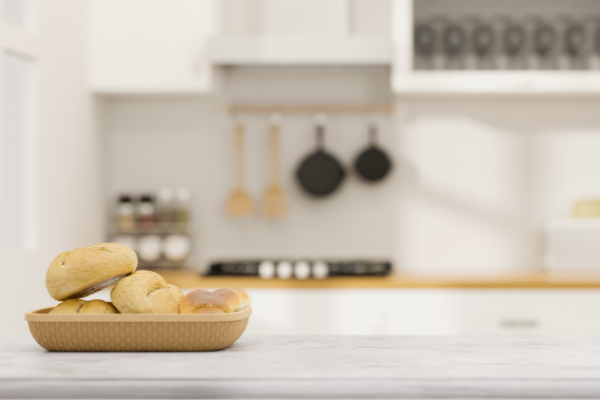 If you want to add more working space in your kitchen, countertops or slabs can be very helpful. Moreover, a countertop will provide extra storage for the things that you frequently use. If your kitchen and dining area share the same space, place the countertop between these two zones to create a clear boundary.
On the other hand, a larger room may benefit from a kitchen island. It will provide more space for seating, especially when you have guests at home. Maximize the sides of the island by turning them into open shelves where you can hold your pans, chopping boards, and other small kitchen items.
7. Light the Space Up (or Let Some Light In!)
Older kitchens tend to be poorly lit. This shouldn't be the case since you carry out a lot of delicate tasks here, such as cutting vegetables or frying food.
Replace your old lights with newer ones. This time, go for LED lights, which last longer. Opt for tri-color lights if you want to set the mood depending on your activity in the kitchen; use white light for tasks and warm white or yellow white light for more intimate family gatherings, such as dinner.
If you want to style your kitchen with lighting fixtures, choose unconventional lighting options, such as track lighting. Pendant lights also make a good option for highlighting your kitchen island or dining table.
You should also let some natural light in by having bigger windows. Complement them with chic curtains, blinds, or shades.
8. Revamp the Flooring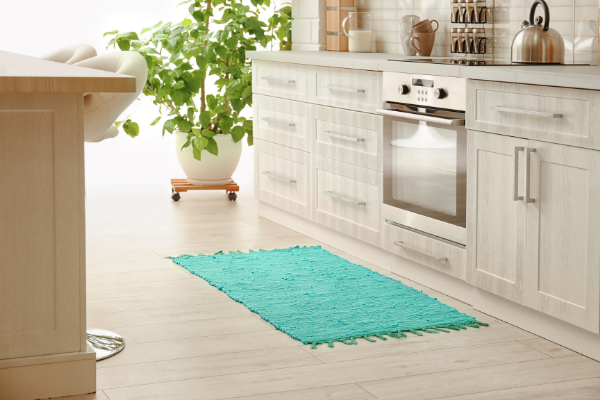 Since you're doing an overall kitchen makeover, you might as well change your flooring. A practical option is to retile the floor. Go for porcelain or granite that are exceptionally durable and can handle moisture well.
9. Replace Your Appliances
Got an ample kitchen renovation budget in the Philippines? Then, it's high time to say goodbye to your old appliances. Replacing them with newer ones will also help you save on utility bills, as more modern appliances are designed to be energy-efficient.
Since you're replacing your old units, it would be much wiser to get smart appliances for more useful functionalities. For instance, a smart fridge can coordinate schedules for every family member, create grocery lists that can be synced to your smartphone, and double as a digital whiteboard that allows you to leave messages for your family.[3] Neat, isn't it?
10. Add a Statement Piece
Just because your kitchen is a utility-centric space doesn't mean that it will stay plain and boring. Make it more interesting with a statement piece, such as a simple chandelier or a modern ceiling fan. A ventilation hood with a bold color can also make a statement. Your kitchen could also use some printed art and even plants.
Read more: Build Your Dream Home with These Home Remodeling Steps
Final Thoughts
A kitchen remodeling project won't only improve the beauty of your space but also its function and safety. You surely want your new kitchen to stand the test of time. So to ensure quality, don't skimp on materials, even if you're planning to have a kitchen makeover on a budget.
Moreover, leave the important aspects of redecoration to professionals. Otherwise, you'll end up with a redo, which will definitely be costlier.
Sources: