Whether you're a fresh graduate or even an experienced employee, you can find the career start or boost you need at a job fair. You can apply for several vacancies at multiple companies under just one roof.
It can be overwhelming and intimidating because of the other job seekers applying for the same positions. But the more job fairs you attend, the more you'll familiarize yourself with how to attend a job fair and stand out from other job seekers.
If you're looking for a change or hoping to land your first job, get busy over the next few weeks with these job fairs for 2023. Your dream job might just be waiting for you!
What is a Job Fair, and What to Expect?
A job fair is an employment facilitation strategy to fast-track the meeting of jobseekers and employers or overseas recruitment agencies in one venue at a specific date.[1] It aims to reduce the time and effort, as well as costs, on the applicant's part.
It's open to anyone seeking employment―employees seeking career changes or advancements, displaced or unemployed workers, skilled and unskilled workers, and fresh graduates.
Job Fair 2023 Philippines: Mark These Important Dates
Update those resumes and make your way to these job fairs happening in the metro.
👉 2023 Labor Day Job Fair (DOLE)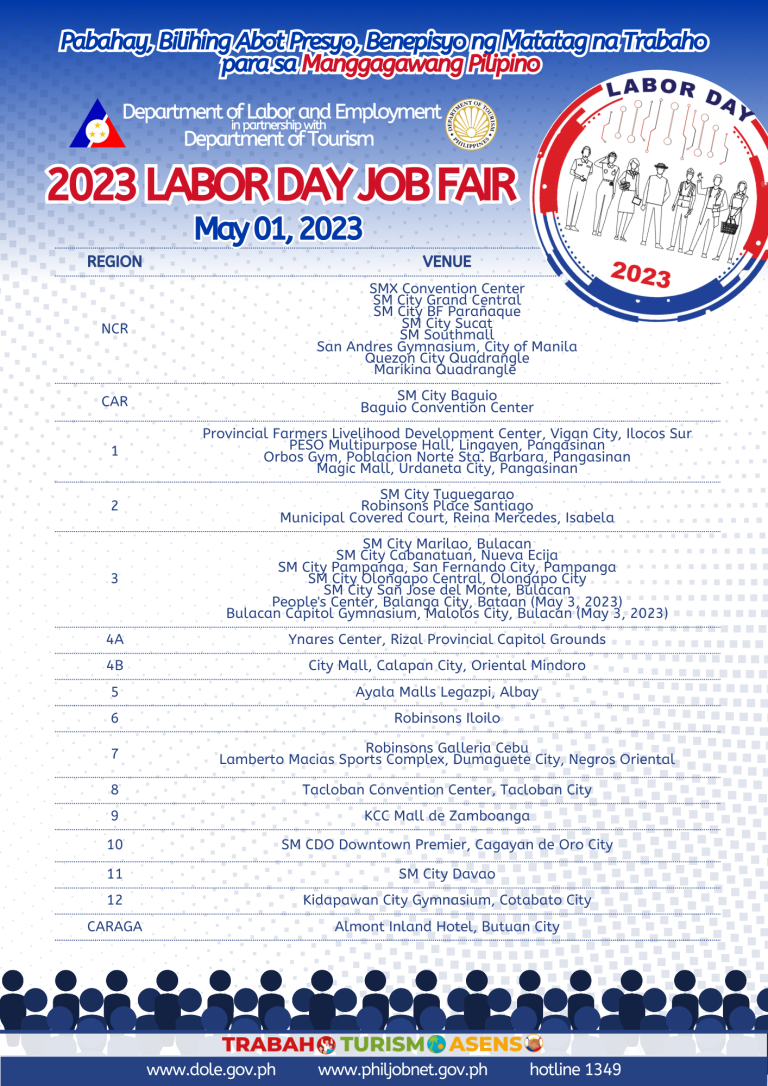 Date: May 1, 2023, 8 a.m. to 3 p.m.
Location: SMX Convention Center, SM Malls, Robinsons Malls, and other regional sites
Entrance fee: Free
Any job fairs for 2023 in Metro Manila? Free up your Labor Day as the Department of Labor and Employment (DOLE) will hold its nationwide job fairs on May 1, 2023.[2]
This May 1 job fair in 2023 will be held in different SM and Robinsons Malls and 16 regional sites in the Philippines. Proceed to the job fair sites in SMX Convention Center, SM City Grand Central, SM City BF Paranaque, SM City Sucat, SM Southmall, San Andres Gymnasium, and Marikina Quadrangle. You can also check out the job fair in Quezon City at the Quezon City Quadrangle. Or if you're looking for a job fair in Davao, head to SM City Davao and check out the available opportunities there.
This job fair in Manila is open to all jobseekers seeking opportunities in hospitality, retail, business process outsourcing, and more. Make sure to bring your job fair requirements, as you'll undergo initial interviews and might even get a job offer on the spot if you tick all the boxes.
This job fair by DOLE will also provide assistance to government workers. In line with these job fairs, DOLE will host "Kadiwa ng Pangulo Para sa Manggagawa" in partnership with the Department of Agriculture (DA) and the Department of Trade and Industry (DTI) to help workers access commodities at lower prices.
👉 San Miguel Job Fair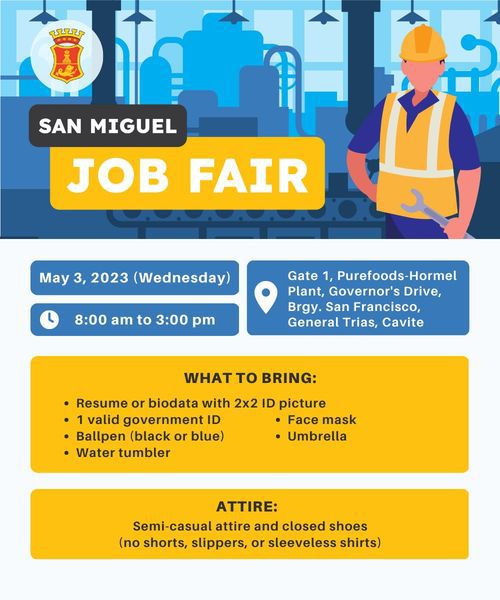 Date: May 3, 2023
Location: Purefoods-Hormel Cavite Plant, BO De Fuego, General Trias, Cavite
Entrance fee: Free
San Miguel Corporation will hold a one-day job fair on May 3, 2023, at its Purefoods-Hormel Plant in General Trias, Cavite. If you're looking for openings in sales, human resources, manufacturing, operations, logistics/supply chain, finance or audit, IT, and engineering, attend this event and send in your application.
Bring a copy of your updated resume with a 2x2 ID picture. Wear your semi-casual attire (no shorts, sleeveless shirts, and slippers), and bring your face mask.
👉 Beat the Heat: A Summer Career Fair
Date: May 5, 2023
Location: 5F ENTEC 1 Building, Nepo Complex, Teresa Street, Angeles City
Entrance fee: Free
Organized by Connext Careers, jobseekers can attend the Connext Career Fair on May 5, 2023, at the Nepo Complex in Angeles City. Aside from applying to open job positions, you can attend free seminars and participate in games.
For an updated listing of job openings, you can check out the Connext Careers official Facebook[3] page.
👉 Trabaho, Turismo, Asenso Job Fair
Date: May 11, 2023
Location: Robinsons malls and other regional sites
Entrance fee: Free
How about job fairs in the Philippines for people applying for travel and tourism jobs?
The Department of Tourism (DOT) and the DOLE will hold the third leg of the "Trabaho, Turismo, Asenso" job fair on May 11, 2023. According to Tourism Secretary Christina Frasco, the purpose of the job fair is to help the economy "recover from the lingering effects of the COVID-19 pandemic" and give the tourism workforce access to jobs matching their skills.[4]
Since DOT and DOLE started holding these career fairs in the Philippines, a total of 16,485 employment opportunities have been offered to job seekers.
👉 Magnus Job Fair
Dates:

May 25 and 26
June 22 and 23
July 27 and 28
August 24 and 24
September 21 and 22
October 26 and 27
November 16 and 17

Location: 3F Trade Hall, Starmall EDSA-Shaw
Entrance fee: Free
Another job fair you can check out until the end of the year is the Magnus Job Fair, which offers hundreds of job openings at some of the biggest companies in the Philippines. Apply personally, meet employers and hiring officers, and even get hired.
Sign up as a new applicant at the Magnus Fair website[5] for a more convenient job application.
The Magnus Job Fair will also be at WalterMart North EDSA on June 17, 2023, so check out the job openings if you're in the area.
👉 JobQuest Job Fairs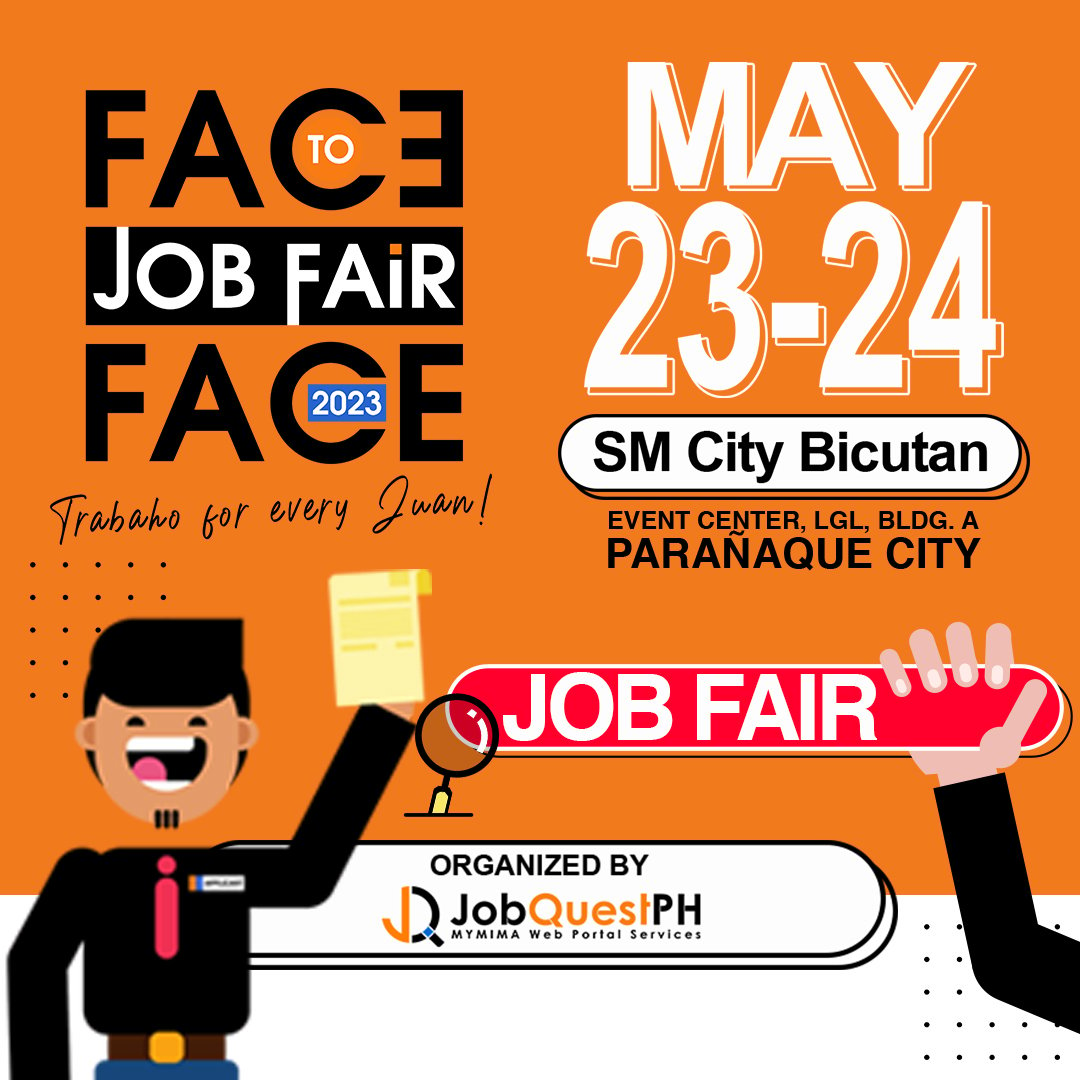 Date: May 9-10, 11-14, and 23-24, 2023
Location: Ayala Malls Cloverleaf, SM City Bicutan, and online
Entrance fee: Free
Want to attend job fairs online instead? You can do so with JobQuest's physical and virtual career fairs in May. The online job fair will be held on May 11 to 14, 2023.
There will also be face-to-face job fairs on May 9 and 10 at Ayala Malls Cloverleaf in Quezon City and on May 23 and 24 at SM City Bicutan in Paranaque.
Visit the official website[6] for more information and to register online as a JobQuest applicant.
Read more:
Job Fair 2023 FAQs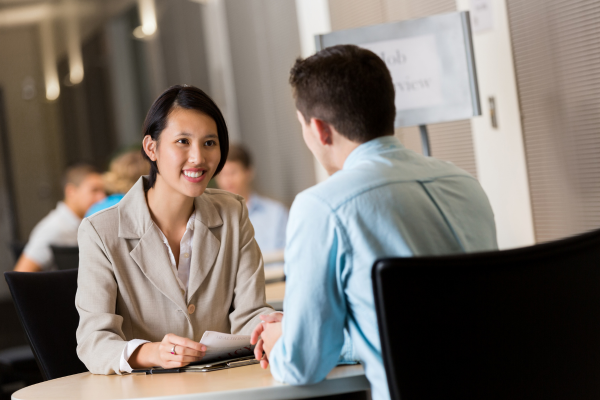 1. What is the difference between a career fair vs. a job fair?
The purpose of a job fair is to help job seekers find and land a job. Businesses, recruitment firms, and educational institutions at job fairs advertise positions they plan to fill and meet and interview candidates on the spot.
A career fair, on the other hand, is centered on more than just filling open job positions. Its goal is to entice people to work in a specific industry. Potential employees can learn more about different sectors of various industries.
A career fair typically focuses on making professional connections. It's a networking opportunity, so you must prepare your elevator pitch.
2. What is the difference between a hiring event vs. a job fair?
Although the two terms are often used interchangeably, hiring events and job fairs are pretty different in how they are set up.
At job fairs, multiple organizations or firms are looking to hire individuals with various talents, skills, and competencies. Meanwhile, only one or two companies fill specific positions at hiring events.
3. Can you get hired at a job fair?
Yes, job seekers can apply for job vacancies suited to their skills, work experiences, and qualifications. Employers will interview them; if qualified, they can get hired on the spot.
4. What to bring to a job fair?
You must attend a job fair with the mindset that you can get hired on the same day. So bring extra copies of your resume with you. For creatives, bring work samples or your professional portfolio.
Don't forget to bring your valid IDs, ID photos to attach to application forms, pens, paper, or a notepad.
Most importantly, prepare your spiel about why you're the perfect person for the position. Knowing what to do at a job fair and how to present yourself to potential employers increases your chances of going home with a new job!
5. Are there guidelines on what to wear to a job fair?
First impressions last, so it's important to dress appropriately at a job fair. Present yourself professionally by wearing the recommended dress code (double-check this in the job fair guidelines), which, in most cases, is business casual.
If you're unsure what to wear, your safest bets are pants and skirts, tops and jackets, and closed shoes. Wear your hair in a simple but neat hairstyle and use minimal makeup.
Related reading:
Final Thoughts
If you feel like this is the perfect time to explore or switch careers, know that you have many options. The first step is to go to a job fair this 2023. Use this article as your reference to plan accordingly and prepare everything you need for hassle-free job applications.

Sources: