Dead-worried about old credit card debts you haven't paid off? Stop stressing out and start dealing with them by availing of the credit card amnesty program in the Philippines.
This debt settlement program allows delinquent credit cardholders with unpaid credit card debt in the Philippines to pay off their outstanding balance at a lower interest rate and a longer repayment term. As a result, you can get back on track with your finances and improve your credit standing.
Banks like Citibank and HSBC have their own amnesty program for credit card debt. There's also a credit card amnesty program in the Philippines that consolidates cardholders' debts from different banks.
What Will Happen If You Don't Pay Your Credit Card Debt in the Philippines?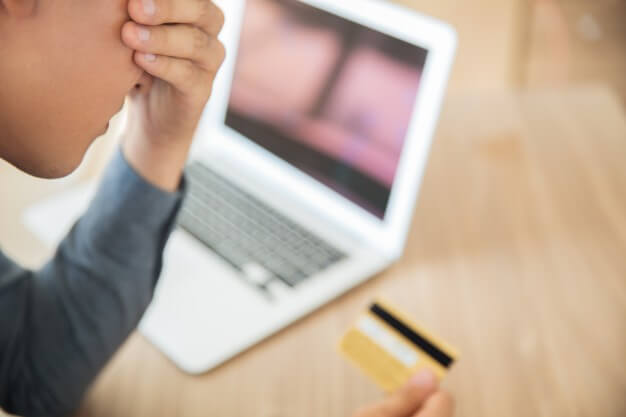 Wondering about what happens to an unpaid credit card in the Philippines? These things are likely to occur if you fail to settle your credit card balance:
The bank will give you a written notice to remind you of your unpaid credit card balance.
The bank will turn over your overdue credit card account to a third-party collection agency. You'll get calls from a collection agent to convince you to repay your debt.
Your unpaid credit card debt will hurt your credit score if your balance has exceeded 90 days past due. This will negatively affect your chances of loan and credit card approval in the future.
Read more: What Happens If You Pay Only the Minimum on Your Credit Card
Can You Be Jailed for Credit Card Debt in the Philippines?
Under the Philippine law, not paying your credit card in the Philippines won't land you in jail. Unsettled credit card debts are regarded only as a civil and not a criminal offense. Article III Section 20 of the Philippine Constitution states that "no person shall be imprisoned for debt."
However, a credit card debt lawsuit in the Philippines is possible if there's fraudulent use of credit cards. This can be subject to criminal prosecution with a corresponding jail term.
So if you keep getting calls from credit card agents threatening that you'll end up in jail, don't panic and go into hiding. There are laws that protect your rights as a consumer. Furthermore, debt collection agencies are prohibited from resorting to unfair treatment and cruel actions.
How to Deal with Credit Card Debt Collectors in the Philippines
According to the Credit Card Association of the Philippines (CCAP), debt collectors aren't supposed to threaten you, your reputation, or your property.[1] A lot of them do this over the phone or via text and emails just to get you riled up, scared, or panicked enough to pay.
Under Bangko Sentral ng Pilipinas (BSP) Circular 454 Section 7, banks, credit card companies (subsidiaries or affiliates), collection agencies, counsels, and agents are prohibited from doing the following when collecting payments for unpaid credit cards in the Philippines:
Threaten a person, their reputation, or their property with violence
Use insults or obscene language
Disclose the names of delinquent credit cardholders publicly for alleged non-payment of debts
Threaten to take actions that cannot be legally taken
Give false credit information and not communicate debt disputes
Use false representation or deceptive means to acquire credit cardholders' information or get them to pay their debts
Call the credit cardholder during unreasonable hours of the day (past 10 p.m. or before 6 a.m.) unless payment is more than 60 days past due
Should a debt collector do any of these things to you, make sure to get their consent to record all your phone calls and document your email and text exchanges.
You should also report unfair debt collection practices to your bank. This way, it can do something about its collection agencies' unethical collection methods or rules of engagement.
Also, check if the collector represents an authorized agency. Visit the CCAP website for the list of accredited debt collection agencies in the Philippines.[2]
What is the Credit Card Amnesty Program?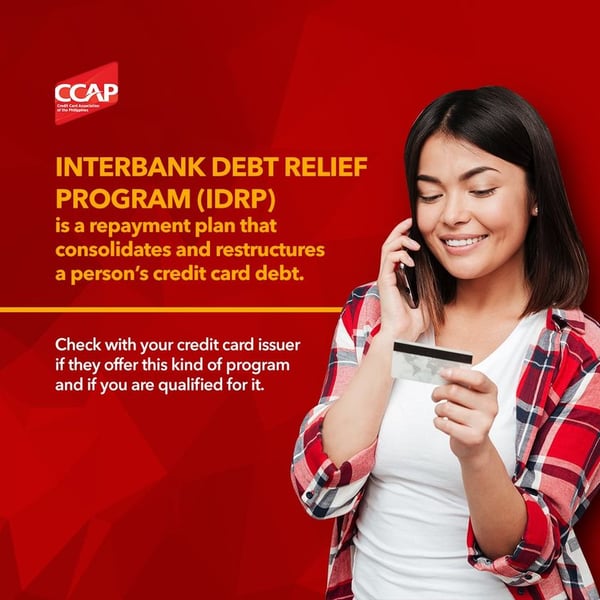 The BSP and CCAP member-banks have a debt restructuring program called the Interbank Debt Relief Program (IDRP) to help delinquent credit cardholders settle their overdue accounts.
The IDRP is a repayment plan that consolidates and restructures your credit card debts. This credit card amnesty program in the Philippines offers more affordable monthly amortizations with lower interest rates.
A debtor can enjoy the same interest rates (maximum of 1.5%) for all credit card accounts and a longer repayment term (as long as 10 years). It's a more manageable way to pay off all your credit card debts. Most importantly, it will not negatively affect your credit history.
To settle your credit card debts in the Philippines, you can apply for this amnesty program. You're qualified if you have at least ₱10,000 outstanding balance per credit card and at least ₱100,000 total credit card obligations for all credit cards.
If your bank's a participant in this amnesty program, you can submit all the documents and wait for the approval. Do note that whether your credit card is active or delinquent, you can longer use it for any kind of transaction.
Watch the quick overview of what the IDRP is and how it works in this video:
Restructured Credit Card Debt Features
Low-interest rates ranging from 0% to 1.5%
Long repayment terms ranging from 12 to 16 months (extended up to 10 years for extreme cases of credit card debt)
Same interest rates and repayment terms applied to all unpaid credit card accounts
Banks That Provide Credit Card Amnesty in the Philippines
Here are the banks that allow credit card debt restructuring under the IDRP:
AUB
Bank of Commerce
BDO
BPI
China Bank
Citibank
EastWest Bank
Equicom Savings Bank
HSBC
Maybank
Metrobank
PNB
RCBC
Security Bank
Standard Chartered Bank
UnionBank
Read more:
Who Can Apply for Credit Card Amnesty?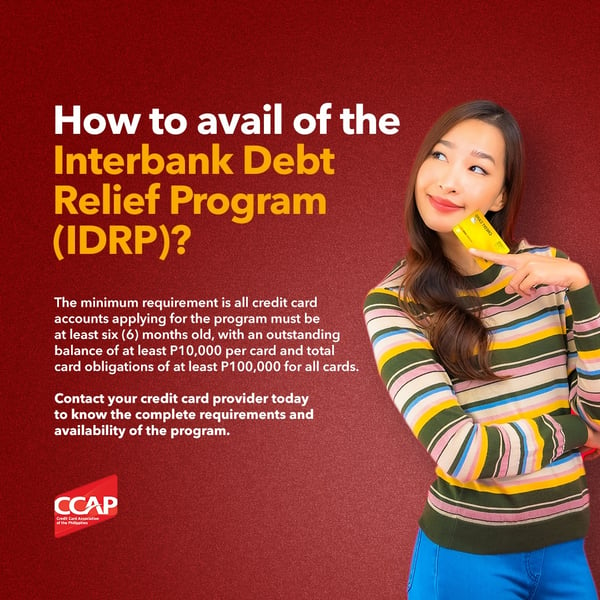 Not all credit cardholders in the Philippines qualify for credit card debt restructuring. The IDRP is open only to those who meet its strict requirements.
IDRP Eligibility Requirements
Filipino credit cardholders only
Must have at least one credit card from two of the participating banks
Unpaid credit card accounts have existed for at least six months with at least ₱10,000 outstanding balance per card and a total overdue balance of at least ₱100,000
Applicant's age plus the repayment term of the restructured credit card accounts shouldn't exceed 65 years
A co-maker or guarantor's required if the applicant exceeds the 65 combined age limit, has no income source, or earns an insufficient income to cover the monthly amortization
No IDRP application filed in the past six months
No irresponsible use, misuse, and abuse of credit card, such as purchases related to gambling, luxury, or extensive travel

How to Settle Your Debt Through a Credit Card Amnesty in the Philippines
Call your issuing bank to apply for credit card debt restructuring under the IDRP. If you have multiple credit cards from different banks, the credit card provider with the highest combined outstanding balance will be the lead bank in processing your credit card amnesty application. A representative from the lead bank will call you regarding the arrangements and application process.
So if you wish to avail of the BPI, Metrobank, or EastWest Bank credit card amnesty program in 2022, for example, just call the customer service hotline or collections department to negotiate your credit card debt and discuss a suitable payment plan.
Banks in the Philippines are generally open for a credit card debt restructuring negotiation with their delinquent customers. You just need to provide proof that you can repay our unsettled balance in installments over a longer period, which typically ranges from 12 to 60 months.
IDRP Document Requirements
Submit these documents when applying for credit card amnesty:
Accomplished application form
Valid government ID of the applicant and co-maker (if required)
Statement of income and expenses
Proof of income
a. For employed applicants: Payslips for the last three months or income tax return (ITR)
b. For self-employed applicants: Latest ITR or audited financial statement
Proof of other sources of income
IDRP Payment Agreement Contract signed by the applicant and co-maker (if applicable)
Debtor's consent form, promissory note, or post-dated checks
When applying for a credit card amnesty under the IDRP, you must declare all your outstanding credit card balances. You can't apply only for a specific credit card account.
If your application for credit card amnesty's denied, you can apply again after six months. Alternatively, you may contact your credit card issuer to inquire about its bank-specific credit card amnesty program for delinquent accounts.
HSBC Philippines Credit Card Amnesty Program
HSBC helps credit cardholders who are experiencing financial difficulties to manage their credit card payments. Cardholders are advised to contact HSBC as soon as possible and apply for a payment plan.
Here are other things you need to do:
Download the Payment Plan Application Form[3] and fill out accordingly.
Email it to collections@hsbc.com.ph. An HSBC representative will get in touch with you to discuss payment options and work out a payment plan.
You may also call the Credit Control Service - Collections Department at +632 8858 5000 from 8:30 a.m. to 5:30 p.m., Monday to Friday.
Related articles:
What Happens After Getting Approved for Credit Card Amnesty?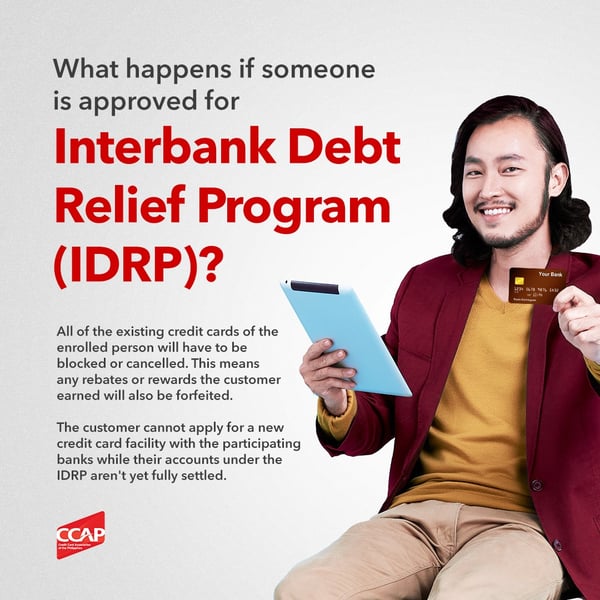 When you get approved for credit card amnesty, you can pay your monthly amortization directly to the issuing bank or any other accredited bank or payment center.
Moreover, expect these things to happen:
You'll lose all access to your existing credit card accounts—overdue or not. Your credit card issuer will block and include them in the credit card amnesty program. According to the CCAP, this prevents people from making a cash advance using a credit card to pay off another card.
The credit card issuer will also forfeit all credit card rewards, rebates, and air miles that you've earned.
You can't apply for a new credit card or loan until you've fully repaid your credit card debt.
Your name will be reported to the CCAP and credit bureaus and kept in their files, which lenders use for credit evaluations and decisions.
If you miss paying for two consecutive months, your credit card amnesty will be canceled and considered in default. The IDRP has a Default One, Default All policy, which means defaulting with one bank will cancel the IDRP arrangement with the other banks. When this happens, you can't apply again for IDRP.
How Many Years Before a Credit Card Debt is Written Off in the Philippines?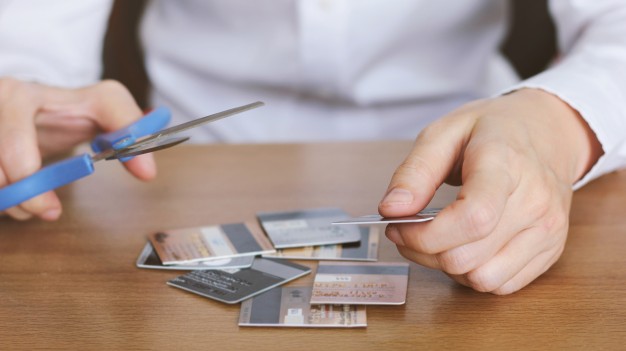 Also, what happens to unpaid credit card debt after seven years in the Philippines?
A common misconception is that unpaid credit card debts disappear after seven years. Unfortunately, records of unsettled credit card debts in the Philippines will not disappear or be written off. No matter how many years have passed, you still owe these debts to your credit card issuers.
Debt collections typically last up to seven years, which can be the reason why people think that debts are removed from the bank's database after that.
But just because you've stopped receiving calls or letters from agents doesn't mean your debts have been eliminated. Debt collection agencies can still collect payments for your old debts or simply declare them as "uncollectible accounts." When that happens, you'll fall under their negative list database systems.
The best thing to do is to settle your credit card debts as soon as possible. Once you've fully paid them off, get your clearance from the bank. This will serve as proof that you have no more unpaid credit card debts.
How Can You Get a Certificate of Full Payment for Your Credit Card Debt?
Once you've fully paid off your credit card debt, you can request a certificate of full payment either from the bank itself or from its authorized debt collection agency.
You'll need to submit the deposit slip or proof of payment and sign the clearance form as acknowledgement of receipt. Make sure to keep this certificate of clearance and save soft copies of it in case your credit record is not updated accordingly. You can just show your full payment certificate as proof that you've already settled a particular credit card debt.
Final Thoughts
Now that you know how to settle credit card debts in the Philippines, do your best to settle them ASAP. Although an unpaid credit card debt won't land you in jail, being debt-free will also give you peace of mind. Unpaid debts negatively affect your quality of life and your financial health. As much as possible, don't neglect your monthly dues and let your debts balloon to an amount you won't be able to manage.
If you do fall on hard times and are unable to pay off your credit cards, it's not the end of the world. You can avail of the IDRP or credit card amnesty programs of different banks in the Philippines to ease up your debt repayment.
And when you're debt-free, it's time to start over and get your finances back in shape. Fix your credit score and make the right financial choices this time around. Compare credit cards, so you can find one that suits your needs and budget best.

Sources: