Got into a car accident? Get the most out of your insurance policy by filing a car insurance claim. Prepare necessary documents and head to our claims assistance form for a quick and hassle-free claims request.
Below is a step-by-step guide in processing your claims request with MoneyMax.ph.
*Please note that this service is ONLY for existing MoneyMax.ph car insurance customers. If you didn't buy your policy from us but still push through with the assistance form, we will direct you to your provider.
Prepare Requirements
Secure a copy of the following documents:
1. Unit Certificate of Registration (CR)
2. Annual Registration OR
3. Driver's License of the driver in the accident
4. Incident Report (Police Report or Notarized Affidavit)
5. Pictures from the accident:
- Damaged portion unit showing plate number
- Side full view (damaged portion)
- Focus on damaged portion
6. Repair estimate (preferably from an accredited shop of your provider)
7. Medical certificate and OR of treatment (for CTPL/Bodily Injury claim)
8. Towing OR (for Towing Reimbursement)
Related: What You Need To Know About Your Towing Coverage
Head to Our Claims Assistance Form
Use our CLAIMS ASSISTANCE FORM when submitting your claims request. Just provide your complete name, email address, phone number, and answer other required fields so we can start processing your claims request.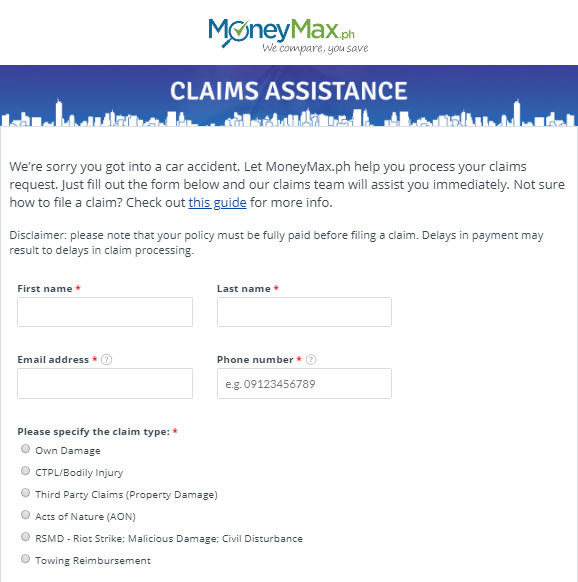 Wait for Our Claims Team to Contact You
After submitting your claims request, expect a call from one of our team members within 1-2 business days.