The hot, dry season in the Philippines can be extreme. People try different ways to cool themselves down, such as enjoying halo-halo or putting tubs of ice cubes in front of the electric fan.
Others take refuge in the cool temperatures from air conditioners. If you want an AC to beat the summer heat, do your homework first. After all, an air conditioner is a big purchase. You want to get the most out of it and avoid buyer's remorse.
We're here to help you find the AC that suits your lifestyle. Check out our tips on buying aircon in the Philippines.
Top 13 Tips on Buying an Aircon in the Philippines
From choosing the right size of the appliance to considering the airflow at your home, here are top tips on buying an aircon in the Philippines:
1. Look at Your Budget
As mentioned, an AC is a big-ticket item. Aircon prices in the Philippines range from ₱30,000 to ₱40,000 or even more. Taking that into account, you need to check your budget.
However, you don't have to empty your pockets just to afford an air-conditioning unit. Usually, appliance shops offer exclusive discounts to buyers. Check popular online appliance shops, such as Anson's, Abenson, and Robinsons Appliances, for price reductions.
On top of that, use the 0% installment feature of your credit card. Usually, this privilege applies to home appliances.
Here are some credit cards ideal for purchasing ACs and other appliances. Use them to enjoy budget-friendly installment plans, rebates, and rewards:
💳 Citi Rewards Card

Annual fee:

₱2,500 (free in the first year)
Interest rate:

3

%
Minimum monthly income requirement:

₱15,000 (for existing cardholders)
₱20,833.33 (for first-time credit cardholders)

Rewards program:

1 rewards point for every ₱30 purchase
Note: This product is sold by Union Bank of the Philippines, using certain trademarks temporarily under license from Citigroup Inc. and related group entities.

💳 BPI Amore Platinum Cashback

Annual fee:

₱5,000 (free for the first year)
Interest rate:

3%
Minimum monthly income requirement:

₱83,333
Rebates:


1% cash back on and department store
Up to 0.3% cash back on other international and local retail purchases
💳 HSBC Red Mastercard

Annual fee:

₱2,500 (free in the first year)
Interest rate:

3

%
Minimum monthly income requirement:

₱16,666.67
Rewards program:

1 rewards point per ₱20 purchase and 4 bonus points per ₱20 on overseas, online, dining, or shopping transactions
Payment plan:

0% interest on up to 36 monthly installments
💳 RCBC Flex Visa

Annual fee:

₱1,500
Interest rate:

3

%
Minimum monthly income requirement:

₱15,000
Rewards program: 2x rewards on two preferred categories
💳 PNB Platinum Mastercard

Annual fee:

₱3,000
Interest rate:

3

%
Minimum monthly income requirement:

₱50,000
Rewards program:

1 rewards point or 1 Mabuhay Mile per ₱70 purchase / ₱1 cash credit per ₱280 purchase
Payment plan:

0% interest on installments up to 24 months
2. Check Different Aircon Types in the Philippines
Not all air conditioners are created equal. There are various cooling options you can choose from based on your budget, room size, and lifestyle. Here are some types of aircon in the Philippines.
❄️ Window-type Air Conditioner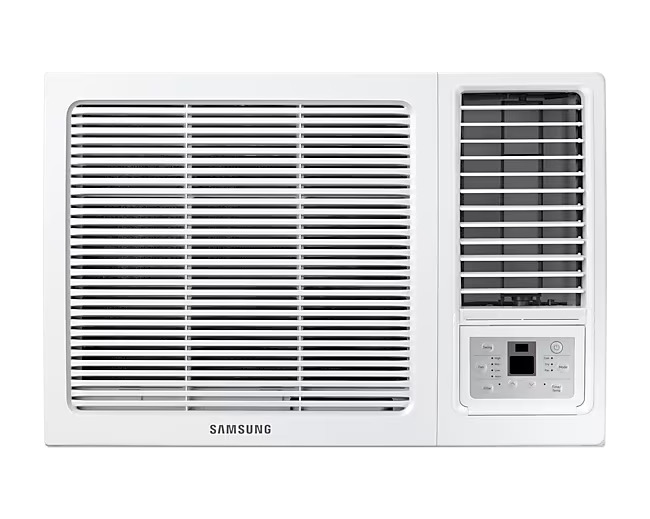 Photo: Samsung website
This relatively affordable option is installed through the windows, with the front facing indoors and the back facing outdoors. The best window-type inverter aircon in the Philippines is ideal for condos, small apartments, and bedrooms.
❄️ Wall Air Conditioner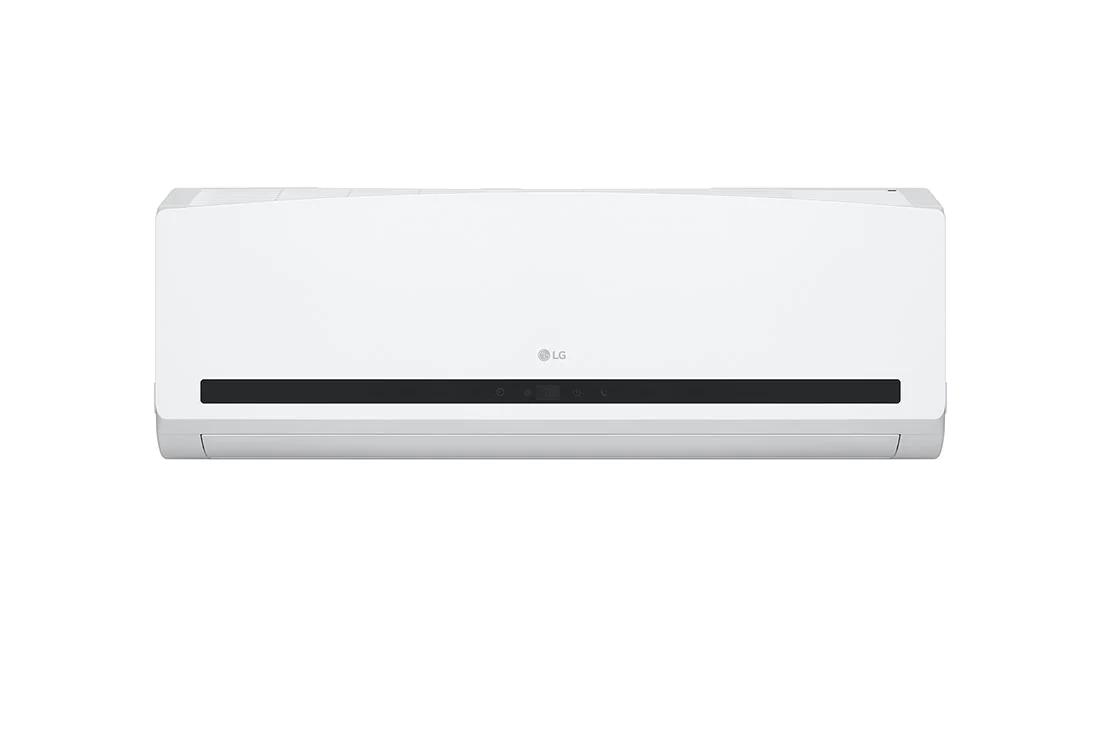 Photo: LG website
The structure and the function of the wall air conditioner are the same as the window-type AC. They only differ in the location of installation—wall air conditioners are installed through the space's wall. Nevertheless, they are also perfect for single or isolated spaces, such as bedrooms, condos, and apartments.
❄️ Split-Type Air Conditioner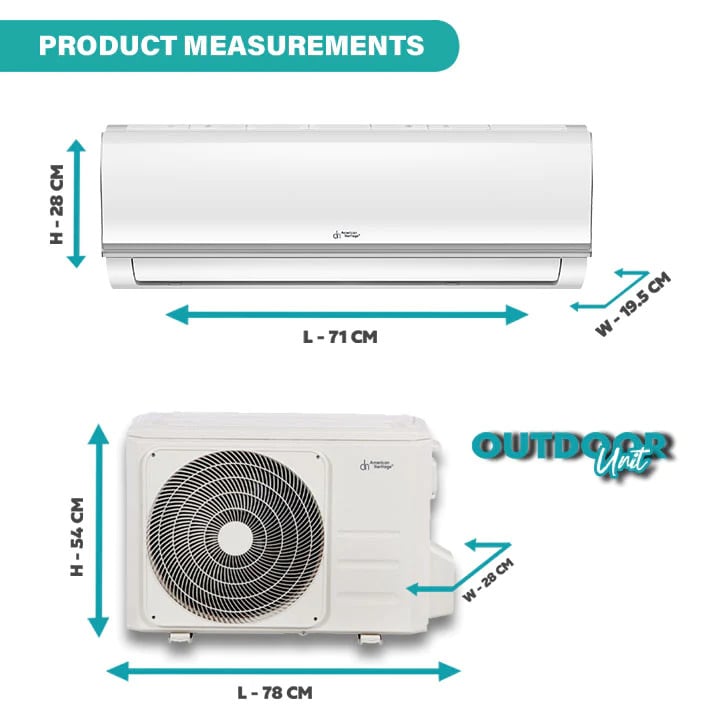 Photo: American Heritage website
Split-type systems are composed of two parts: the outdoor unit and the indoor unit. The indoor unit absorbs the heat of the room while the outdoor unit pumps cool air into the indoor unit. Split-type ACs cool the room faster and work quietly.
These are among the most energy-efficient aircons in the Philippines and are ideal for medium-sized homes and spaces.
❄️ Central Air Conditioner
Air conditioners of this type are used to cool the entirety of a space. They are ideal for large areas, such as offices and homes with lots of rooms. Central air conditioning systems come in two types, such as split and packaged.
Split central air conditioning has two components, namely the indoor and outdoor units. On the other hand, a packaged central air-conditioning system houses all the components in a single unit which is then placed outside the house or office.
❄️ Portable Air Conditioner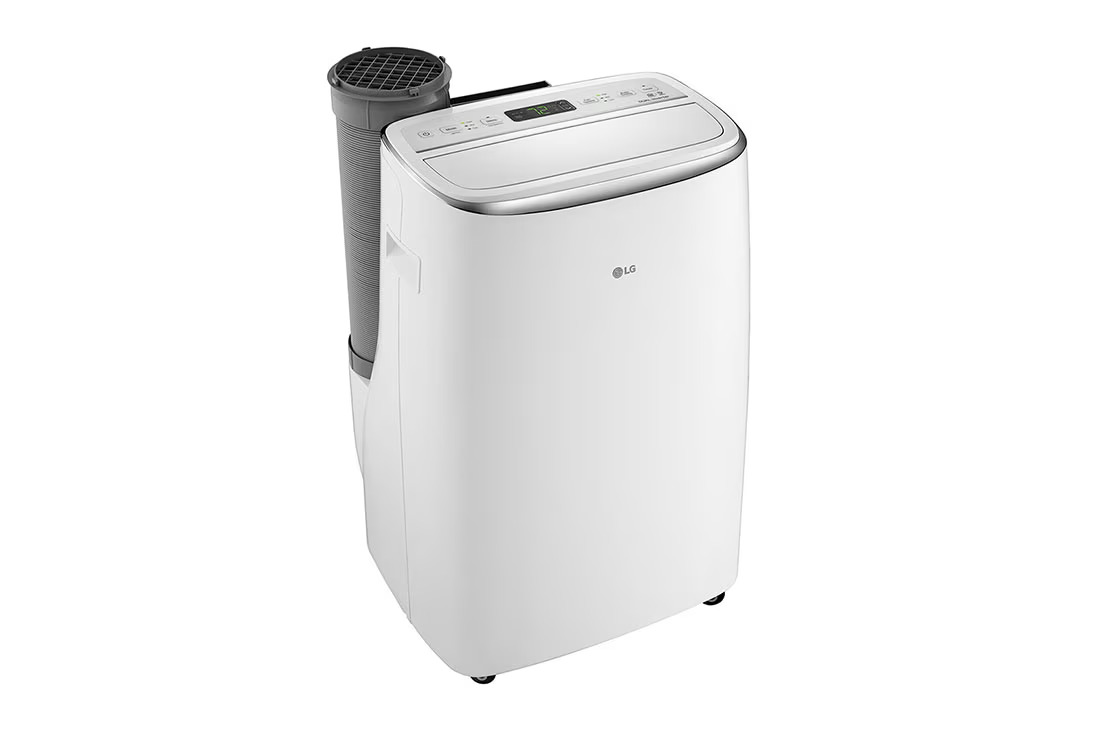 Photo: LG website
A portable air conditioner is a cooling unit that doesn't require installation. It typically sits on the floor and can be taken to other rooms when necessary. They often have wheels for quick and easy transfers.
This appliance is the best aircon for small rooms in the Philippines.
3. Decide Between an Inverter and Non-Inverter AC
There are also two general aircon types in the Philippines based on their working mechanism: inverter and non-inverter. It's important to know the difference between the two, especially if you want to save on electricity bills.
Inverter units use a compressor with a variable speed. Once the unit reaches the desired temperature, the compressor slows down. This setup consumes less power.
A non-inverter unit, meanwhile, uses a compressor with a fixed speed. It completely turns off when it reaches the desired temperature. And when the room gets too warm, it will turn on again.
The non-inverter AC's repeated turn-on and turn-off cycle actually uses a lot of power, which in turn increases your utility bill. Nevertheless, non-inverter ACs are more affordable and quite easy to maintain.
4. Pick an Energy-Efficient and Cost-Efficient Unit
When buying an air-conditioning unit, you need to think long-term. You need to look at the costs that come with owning this appliance. Now that you've checked the price of the unit, it's time to look into the utilization cost or the electric bill.
Your energy bill is primarily determined by your air conditioner's efficiency. In turn, your air conditioner's efficiency is measured by the energy efficiency ratio or EER.[1] If you have a high EER aircon, the appliance has lower power consumption.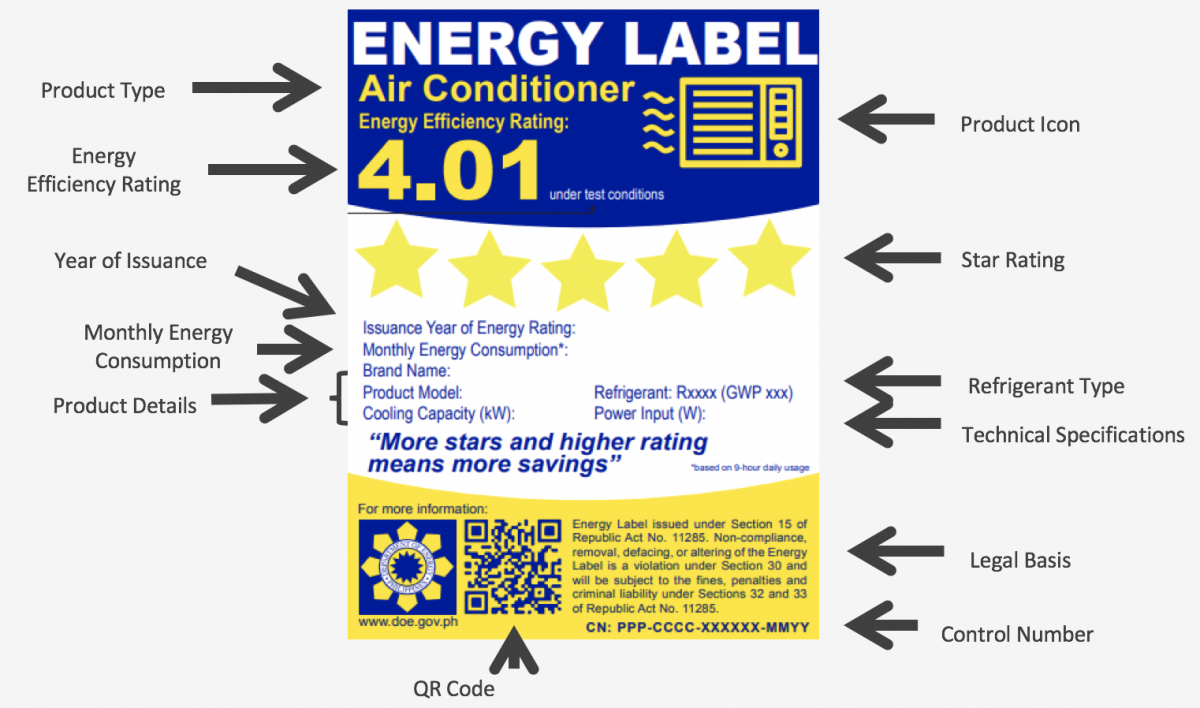 Always look for the EER rating in the Philippines when buying a new air conditioner. Check the air conditioner EER chart in the Philippines sanctioned by the Department of Energy, which bears numerical and star ratings.
When looking for the highest EER air conditioner in the Philippines, note that more stars and higher ratings mean that the appliance can give you more savings.[2]
---
🎁 Get a Free Gift with Your Successful Metrobank Personal Loan Application

Need cash for a medical emergency, starting a business, consolidating your debt, dream vacation, or home renovation? Get a Metrobank Personal Loan and enjoy low interest rates, flexible payment terms, and easy online application.
On top of these, you'll receive a reward upon successful loan disbursement! If you apply through Moneymax and get approved subsequently, you can choose between two welcome gifts: ₱5,000 GCash or a Marshall Willen wireless speaker worth ₱6,590.

Terms and conditions apply. Promo runs until June 30, 2023 only, so hurry and apply now!
---
5. Consider the Size of the Air Conditioner
One of the most important tips on buying aircon in the Philippines is to measure the size of the unit. You may get the best inverter aircon, but it will be useless if it won't fit right into your home.
Before you head to the appliance shop, take measurements of your space, especially the spot where you will install the air conditioning system.
6. Look at Your Space
In the same respect, you need to take into account the capacity of your air conditioner. The ideal horsepower (HP) of an aircon depends on the size of the space that you want to cool. If you buy a unit with less tonnage but have a large room, its electricity consumption will increase.
For instance, the best inverter window type with a capacity of .5HP can effectively cool a room measuring 10 sqm. If your AC has 2.5HP, it can cool up to 42 sqm of space. For split-type air-conditioning systems, a unit with 2.5HP can work efficiently for spaces measuring up to 43 sqm.
Other relevant matters include how the space is used, the number of people using it, the number of windows, and the insulation layers built into it.
Read more:
7. Check the Airflow at Your Home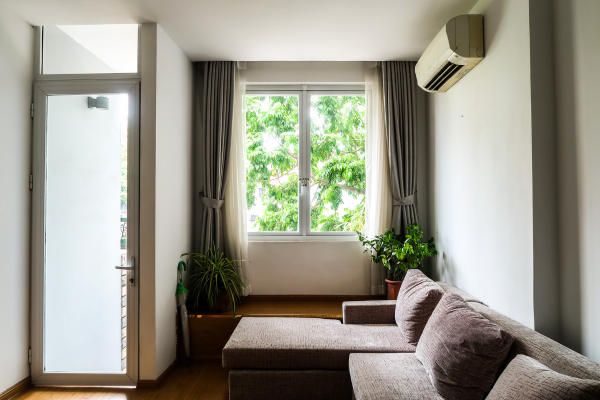 While checking the measurements of your space, you may also want to inspect the airflow in it.[3] How many walls do you have? How are the furniture pieces arranged?
If such factors make for inefficient airflow, you may want to make some adjustments. These may include rearranging your room, picking a new location for your air conditioner, or placing electric fans in strategic spots.
8. Pick a Unit with Good Filters
Your air conditioner is not only supposed to keep your home cool. It's also meant to improve the space's air quality. With regard to this, ask about the unit's filtering capabilities. Can it remove dirt and germs? Can it isolate odors? These are the questions that you should bring out in the open.
9. Ask About the Air Conditioner's Noise
Just like other appliances, air conditioners tend to produce noise when working. The whirr of the unit may make it hard for you to relax or sleep. As such, ask if the air conditioner you're planning to buy produces a lot of noise. Ideally, air conditioner noise should be within 50 decibels (dB).
10. Check the Unit's Features
Modern aircon types in the Philippines come with many features. Some have smart device integration, self-cleaning mechanisms, presence detectors, and noise level controls, among others.
It's easy to be drawn to units with the latest and most advanced features. But if you want to land the right air conditioner, focus on the specs that complement your lifestyle.
For instance, if you live alone in a small condo, an AC with a presence sensor for automatic temperature adjustment may not be necessary. It'll be just an added expense. Instead, go for a unit that you can manually control yourself.
Read more: 9 House Cleaning Services You Can Book in Metro Manila
11. Consider the Installation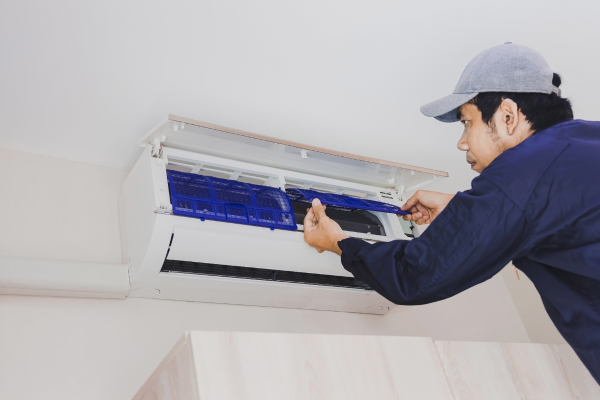 Factoring in installation is often one of the most overlooked tips on buying aircon in the Philippines. If the AC's performance is inefficient, there's a chance that the unit is improperly installed. To avoid such problems, work only with the installation service accredited by the appliance shop where bought your unit.
12. Look Into the After-Sales Service
Before you buy the air conditioner, ask about the unit's warranty. Touch on important matters, such as maintenance and after-sales services. You should also ask about the frequency of maintenance required to make sure that the air conditioning unit will work for a long time.
13. Choose a Reputable Brand
Get your cooling appliance only from the top aircon brands in the Philippines. You have the assurance that they'll work efficiently and last for a long time. Yes, they can be quite expensive, but you get what you pay for in the long run, especially if your unit doesn't consume a large amount of power.
Looking for the best aircon brand in the Philippines? Here are the most popular options:
Carrier

Samsung

Kolin

Condura

LG

Sharp

Toshiba

Midea
Final Thoughts
Choosing an air conditioner for your home can be a daunting task, especially if you're getting one for the first time. Since it's a big purchase, it's a process that you shouldn't rush. A lapse in judgment won't only cost your comfort but also your hard-earned money.
On top of sharing these tips on buying aircon in the Philippines, we strongly urge you to read product reviews and ask your appliance salesperson in-depth questions. It also won't hurt to talk to family relatives or friends who have been using air conditioners.

Sources: