Your credit report gives you an idea of your financial health, much like how your annual physical exam results reveal important details about your physical health.
Checking your credit report once a year is good for your financial wellness. It lets you know if you're creditworthy enough to be approved for loans and credit cards. This way, you'll never have to wonder whether you'll get an approval or denial from the bank each time you borrow money.
The steps on how to get credit report in Philippines is easier than you might think, especially now that the Credit Information Corporation (CIC) and its accredited credit bureau, CIBI Information Inc.[1], has launched the CIBIApp where you can register and create an account online, either through your desktop or mobile phone.
With this, Filipino consumers no longer need to travel physically to the CIC main office in Makati City to get a credit report. This move is also in line with the CIC's goal to ensure everyone's safety amid the pandemic.
How to Get Credit Report in the Philippines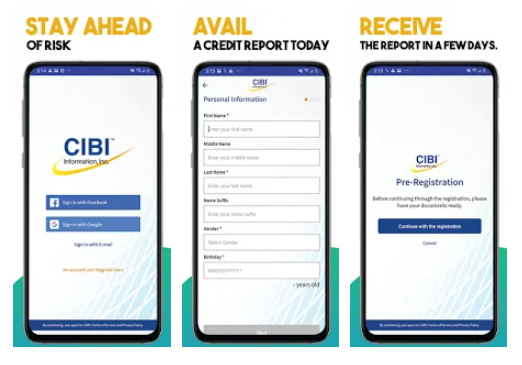 1. Access the CIBIApp on Desktop or Mobile
To request for a copy of your credit report, you first have to download the via the Google Play Store. This is for Android smartphone users only.
For desktop users, you may access the app via your web browser at cibiapp.cibi.com.ph/#/login.
2. Create an Account with CIBIApp
Register by entering your personal and contact information and by creating a username with password. You would also be asked to upload the following documents:
One primary ID (SSS, GSIS, TIN, UMID, or Driver's License)
One secondary ID (Passport, PRC ID, IBP ID, OWWA ID, Senior Citizen's ID, Voter's ID, Digitized Postal ID, SSS ID, and GSIS e-Card)
After creating an account through CIBIApp, you may schedule an appointment for online character verification via video call from Mondays to Fridays, 8:00 AM to 6:00 PM.
CIBI will send you a confirmation email, together with guidelines for the character verification process.
3. Take the CIBIApp Online Character Verification
The online character verification, also known as the Know-Your-Client (KYC) process, is important to validate your identity and ensure that only you can have access to your credit report. This is important because your credit report contains sensitive personal information.
The verifier from CIBI will initiate the video call through the MeetMe feature of the CIBIApp. Here are some tips before the video call with CIBI:
Open the application five minutes before your scheduled appointment. This is to make sure that you join the meeting on time.
Prepare the IDs you have uploaded on the registration form.
CIBI will then advise you of the payment methods.
How much would it cost me to get a credit report?
As of date, the credit bureau charges PHP 235 for a credit report with credit score as a value-added service. The report also contains the reason codes for the score which ranges from 300 to 850 with the latter being the highest.
Upon successful character verification and payment of fee, CIBI will send your credit report with credit score via email.
Read more: Credit Report vs Credit Score: Understanding the Difference

FAQs on How to Get Credit Report in the Philippines
1. Can I get my credit report even if I'm not applying for a credit card or loan?
Yes. You may access your credit report as long as you make a proper request.
Checking your credit report regularly—whether you have an immediate need for a loan or not—is actually a wise thing to do. It allows you to spot and fix any inaccurate detail or potential identity theft that could be keeping your credit score low.
2. Can anyone obtain my credit report?
No. Only you and the entities you're transacting with (e.g., banks, government agencies, utility/insurance companies, etc.) can access your credit report.
As such, you can't have someone else handle your credit report request. You have to do it yourself. Because your credit report contains sensitive personal and financial information, no other person should get a copy.
Likewise, you won't be allowed to request a copy of somebody else's credit report, not even that of your close family members.
3. Can I get my credit report online without going to the CIC?
Yes. While issuance of CIC credit reports to walk-in clients is temporarily postponed due to the COVID-19 pandemic, you may request for a copy of your credit report online, together with your credit score, through the CIBIApp developed by one of CIC's accredited credit bureau, CIBI Information Inc.
The credit report, which CIBI generates from the CIC database, will also include a credit score which can help you make informed financial decisions based on your credit history.
4. I found an error in my credit report. What should I do to correct it?
Report the incorrect data by filing a dispute online through the CIC website[2]. You can do this for free.
You'll be asked to enter your Transaction Reference Number (TRN) from the credit report you obtained from either the CIC or CIBI which should not be more than 30 days old. You should also submit documents that support your dispute. These documents will be evaluated during the investigation and verification process until the CIC issues a resolution of the dispute.
Read more related articles:
Final Thoughts
Now that you know how to get credit report, the next important step is to actually do it. Requesting a copy may not be among your priorities right now, but try to get it done before the year ends. The sooner you check your credit report, the better you can improve your credit data and your likelihood of qualifying for loans and credit cards. This is also a way for you to contribute in improving the data quality of our public credit registry.

Sources: