Dubbing itself as "The Friendly Bank,"[1] PSBank has definitely proven that it's one of the most reliable retail financial institutions in the country. It has cemented its reputation as a bank that offers reliable lending products, such as the PSBank Auto Loan and the PSBank Home Loan.
Nevertheless, PSBank is also strong in the personal loan department, especially with the PSBank Flexi Personal Loan. You can use it whenever you're short on cash or there's an unforeseen household expense.
In this article, you'll find out why this personal loan in the Philippines is unique and why it will make a good solution to your financial hitches. We've also put together a simple guide that will walk you through the PSBank Flexi Loan application process.
What is the PSBank Flexi Personal Loan?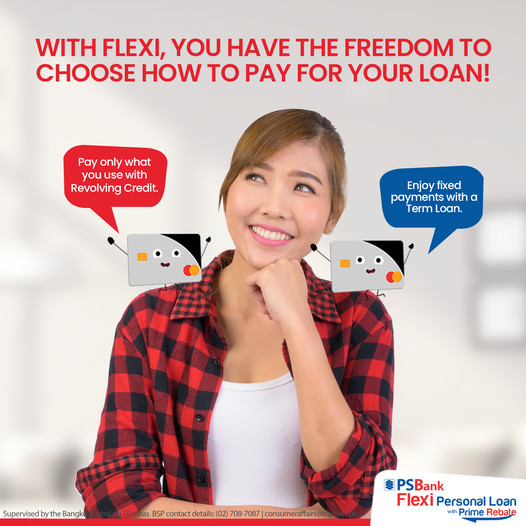 While most loan products just provide you with the cash that you need, PSBank does more than that. The PSBank Flexi Personal Loan now includes "Prime Rebate" in its name, which means that paying your monthly bills has just become more rewarding.
The bank calls the PSBank Flexi Personal Loan the first and only collateral-free personal loan product with two borrowing options: a revolving credit line and a fixed-term loan.
Here's their difference:
Revolving credit line – You get to borrow the money again once you've paid your balance.
Fixed-term loan – You pay a fixed amount over a certain period.
Where Can I Use the PSBank Flexi Personal Loan?
The PSBank Flexi Personal Loan can be used for various purposes. Once your application has been approved, you can use the proceeds to cover the following:

💸 Car Equity
The proceeds of the PSBank Flexi Personal Loan can be used to fund your car equity. In case you qualify for the highest loan amount, you can easily make your car's down payment.

💸 House Construction, Repair, or Renovation
Is your family getting big? If yes, you'll definitely need to expand your home's space. You can fund it with the money you'll get from this loan. You may also use the proceeds to repair some parts of your property or buy household items, ranging from furniture to light fixtures.

💸 Debt Repayment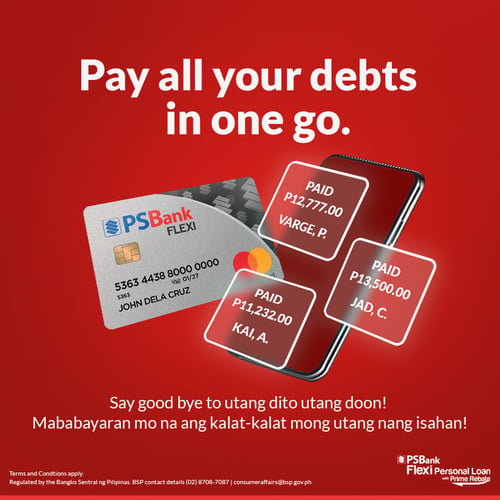 While it's not always advisable to pay debts using another debt, it makes sense if the secondary debt has a much lower interest rate. Payment of credit card balances is actually listed as one of the purposes of the PSBank Flexi Personal Loan.
💸 Real Estate Purchase
With its limited loan amount, the PSBank Flexi Personal Loan cannot obviously buy the whole property. But you can use it to pay for the down payment, thus securing your equity.
💸 Appliance Purchase
Dreaming of that smart flatscreen TV or double-door fridge? Maybe you've been meaning to switch to an inverter air conditioner? Either way, the PSBank Flexi Personal Loan can help you achieve your #ApplianceGoals! Similarly, you can use the borrowed money to buy gadgets, such as smartphones and laptop computers.
💸 Travel
Break away from the stress of your routine by going on a vacation. Book your flights and hotel with the PSBank Flexi Personal Loan. You can even use the extra cash as your allowance.
💸 Emergencies
Unforeseen expenses, such as a broken car or hospitalization of a loved one, can be resolved with easy cash from PSBank. Compared with other lending programs, this loan is a much more viable choice, thanks to its reasonable interest rates

💸 Business Capital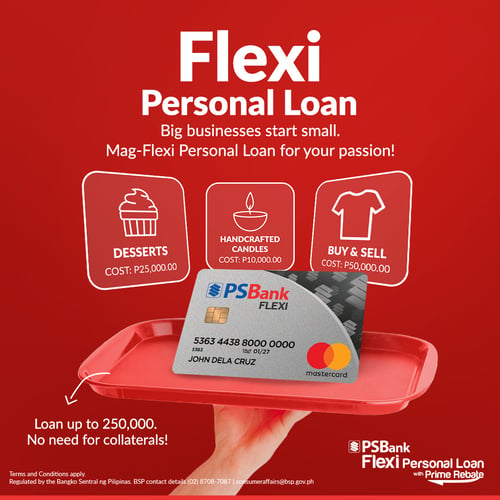 With the approved amount, you can start the business that you've been putting off for a long time. You may use the proceeds to fund your sari-sari store, online shop, or mini bakery.
What are the Benefits of the PSBank Flexi Personal Loan?
As the name suggests, flexibility is the strongest suit of the PSBank Flexi Loan. The following will detail the versatility of this loan.
👍 Functions Like a Credit Card
Because of its revolving credit feature, the PSBank Flexi Personal Loan acts like a credit card. But its edge over credit cards is that it has a much lower interest rate. PSBank will only apply the interest to the amount that you used and not to the entire credit line.
👍 No Need for Reapplication
If you go for the revolving credit feature, the payments that you made can be used again in the future or whenever the need arises. As such, you won't have to file another PSBank Flexi Loan application.
👍 Allows You to Withdraw Cash
The loan account comes with an ATM card, which means that you can withdraw cash anytime and anywhere. Just take note, though, that a cash advance will charge you a 5% fee on top of the revolving rate.
👍 Earns You Rebates
The PSBank Flexi Personal Loan also comes with rebates. This means that you can get a partial refund whenever you make an excess payment or pay ahead of your due date.
👍 Doesn't Require Any Collateral
You don't have to worry about surrendering your car's OR/CR or your land title just to get a high-value loan. The PSBank Flexi Personal Loan doesn't require any collateral to process your application.
Exploring other loan options? Here are other personal loans in the Philippines you might want to consider:
How Much Can I Borrow with the PSBank Flexi Personal Loan?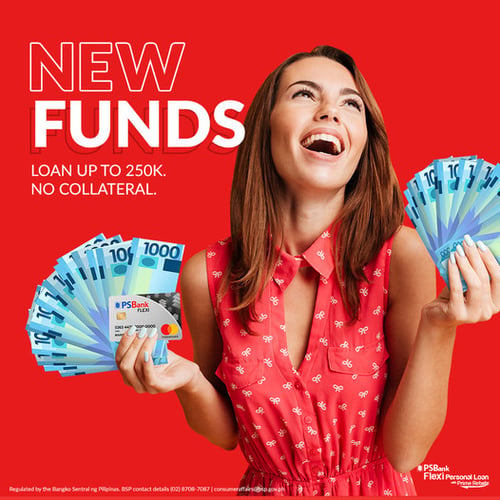 The minimum loan amount is ₱20,000, but you can borrow up to ₱250,000. Remember that the loan amount may be subjected to the validation and approval of the bank.
What is the Payment Term of the PSBank Flexi Personal Loan?
The payment terms start from 24 months up to 36 months. However, this will apply only to fixed-term loans.
What are the Interest Rates of the PSBank Flexi Personal Loan?
This will depend on the type of loan you will get. Here are the rates:
Revolving Loan: 2.5% monthly interest
Fixed-Term Loan: 1.75% monthly interest

What are the Requirements for a PSBank Flexi Loan Application?
The PSBank loan application requires you to meet the following criteria, provide the documentary requirements, and comply with the filing procedure.
Borrower's Eligibility
Before proceeding with your PSBank Flexi Loan application, you must meet the following minimum qualifications:
Filipino residing in the Philippines
Must be between 22 and 54 years old upon application
Must have at least two years of permanent work status with a one-year tenure with the current employer
If engaged in business, the business must have profitable operations for the last three years.
For employed borrowers, you must have a gross monthly income of at least ₱15,000. If self-employed, you must be earning a gross monthly income of ₱30,000.
Must have a residential landline, mobile number, business landline, and email address
Preferably an active credit cardholder
Documentary Requirements
The PSBank loan requirements aren't that complicated. You'll just have the gather the following:
Completely filled-out PSBank Flexi Loan application form
Photocopy of any of the following IDs:

SSS ID
GSIS ID
PRC ID
Driver's License
Passport
TIN ID
NBI Clearance
Firearms License
Integrated Bar of the Philippines ID

Photocopy of BIR Form 2316. For employed applicants, Form 2306 will be required
Photocopy of BIR Form 1701 for self-employed applicants
Auditor's Report and Financial Statement with BIR stamp from self-employed applicants
For credit cardholders, an original copy of the latest credit card billing statement. Keep in mind that you must be the principal cardholder.
PSBank Flexi Loan Application Guide: How to Apply Online
The PSBank Flexi Loan application steps are straightforward. After filling out the application form[3] and collating all the PSBank Flexi Personal Loan requirements, just head to the nearest PSBank branch to file your application.
Alternatively, you can apply via the PSBank website. Just remember, though, that the online application facility only accepts applications from Philippine residents.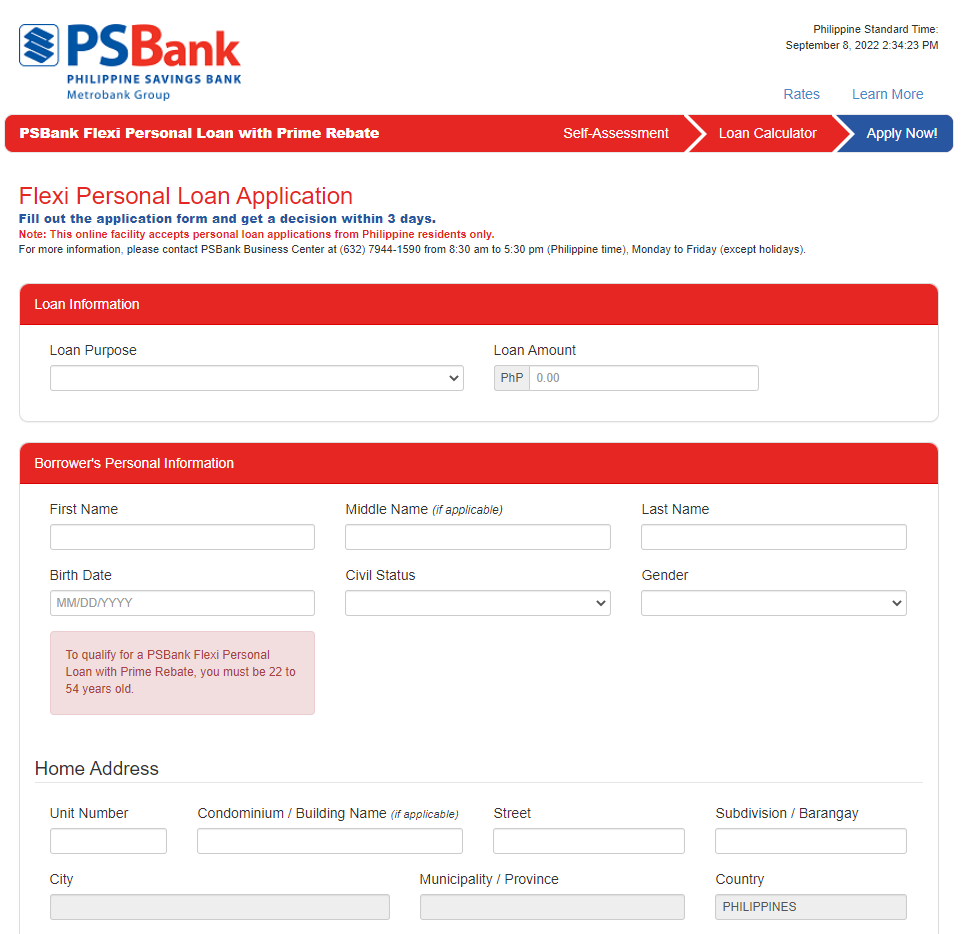 Here are the steps for the PSBank Flexi Loan application online:
Visit the PSBank Flexi Loan application page.[3]
Click the "Start Here" button.
Complete the pre-screening checklist to determine if you're qualified for the loan.
Once you're qualified, you'll be asked to either compute for sample amortization or proceed with the PSBank Flexi Loan application. Click the "Compute for Sample Amortization" button to determine your possible repayment terms. Click the "Apply for a PSBank Flexi Personal Loan Now!" if you want to complete your application.
Regardless of which button you click, you'll be directed to the online application form. Once there, provide your personal information and requirements. Then, follow the prompts to complete the application.
PSBank Personal Flexi Loan Application FAQs
If you still have a PSBank Flexi Loan inquiry, here are some answers that you might be looking for.
1. How long will it take for my PSBank Flexi Loan application to get approved?

You'll wait from five to nine days. Below is a breakdown of the PSBank Flexi Loan processing time:
One to three working days – Encoding your application and credit decision
One day – Booking of the approved PSBank Flexi Loan application upon submission of complete documentary requirements
Five to nine days – Delivery of PSBank Flexi ATM card and temporary PIN to successful applicants (five to seven working days for Metro Manila clients / seven to nine working days for provincial clients)
2. How does the Prime Rebate work?
With the PSBank Flexi Personal Loan with Prime Rebate, the rebate will be automatically applied to all new and existing term loans. You don't have to register or enroll to be part of this program.
Advanced payment: For example, settling your dues five days ahead of the due date will earn you a rebate daily from the day the payment was posted to the day before the loan's due date.
Excess payment: If there's an excess in your payment, you'll earn a rebate on a daily basis from the day the payment was posted to the day before the next due date.
Note: Prime Rebate isn't valid for zero-interest loan promos and programs.
3. How to use PSBank's online loan calculator?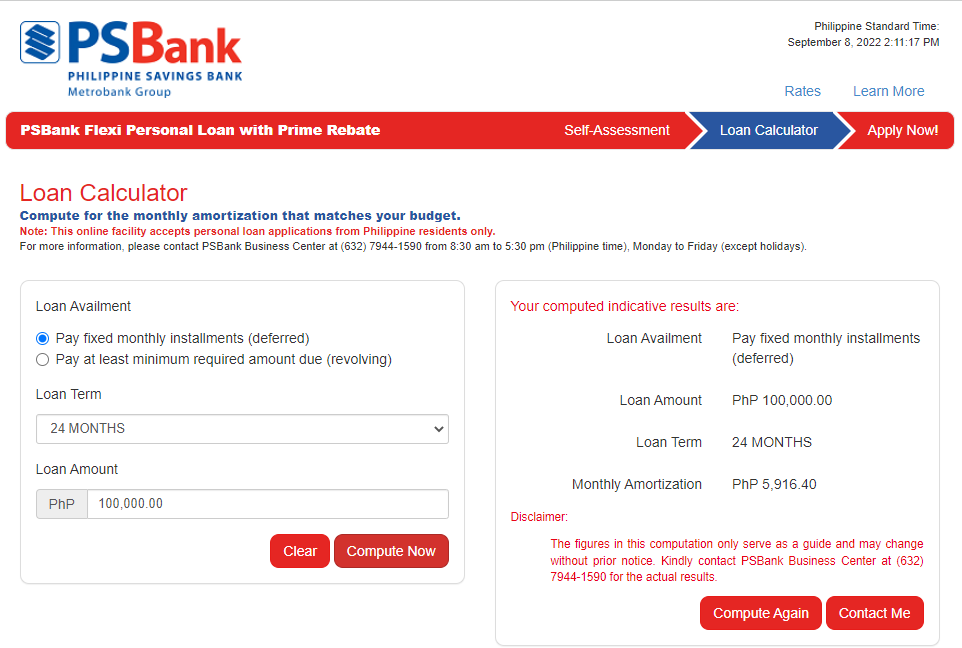 Got a PSBank Flexi Loan inquiry on amortizations? Using PSBank's personal loan calculator will help you compute the monthly amortization that suits your budget, thus managing your repayment expectations.
Here's how to use it:
Go to the official PSBank website.
Once you're on the homepage, locate the loan calculator.
From the loan calculator's dropdown menu, select Flexi Loan. Then, click the "Calculate Now" button.
On the next page, choose your repayment type and loan term, and then input the loan amount.
Then, click the "Compute Now" button.
The monthly amortization will appear on the page's right side. Click the "Compute Again" button if you want to make some changes.
If you want more details about your possible amortization, click the "Contact Me" button. You'll be then required to provide your name and contact information.
Note: You may also access the loan calculator while you're completing your application. For the computation of the revolving credit's amortization, remember that it's based on a 30-day loan term per month and only shows the minimum payments for the first year.
4. How can I activate my PSBank Flexi Personal Loan ATM Card?
Once your PSBank Flexi Loan application has been approved, you'll be issued an ATM card. You can activate it through the PSBank Customer Experience Sales Department at (632) 8845-8888 anytime, any day.
5. Does the PSBank Flexi Loan have additional charges?
Other than the monthly interest, you'll need to cover the following:
Handling fee: ₱1,500 or 1% of the approved credit line, whichever is higher
ATM service fee: This will depend on the bank. But for PSBank, balance inquiry is free while withdrawal costs ₱20.
Credit line renewal fee: A fixed amount of P₱1,500 will be charged every year or upon PSBank Flexi Loan renewal.
Penalty fee: For insufficient and late payments or non-payment of the minimum amount due, you'll be charged 5% per month.
Checkbook request fee: ₱250 but initially free for those with a credit line of ₱50,000 and up
Returned check fees: ₱2,000 for every check returned due / ₱200 overdraft charge for every ₱40,000 or a fraction of thereof per day
Card replacement fee: ₱200 for every lost or stolen card
Collection fee: 15% to 35% of the total outstanding amount will be charged in case you default. Nevertheless, this will depend on the age of your delinquency.
6. How can I pay my monthly dues?
For your convenience, PSBank allows you to settle your dues via the following channels:
Any PSBank branch nationwide
PSBank Mobile or PSBank online for enrolled accounts
Deduction from PSBank deposit account initiated by the borrower
BancNet ATMs or BancNet Online for borrowers who have deposit accounts in these banks
InstaPay
Any 7-Eleven store nationwide
GCash
7. I have a PSBank Flexi Loan inquiry. How do I contact PSBank regarding my Flexi Loan application?
If you got another question about the PSBank Flexi Loan, you can reach the bank via the following channels:
PSBank LiveChat via the bank's official website
Customer Experience Sales Department at (632) 7944-1590, 8845-8888 or 09178138330
Any PSBank branch near you
Final Thoughts
PSBank truly lives up to its reputation as "The Friendly Bank" by offering a loan product with outstanding flexibility. On top of that, the PSBank Flexi loan application procedure is very simple and straightforward, thus allowing you to save time and effort.
If you want to explore other loan options, you can do so through Moneymax. Our comparison tool lets you check different personal loan products from banks and other loan providers, thus allowing you to come up with a wise decision regarding your personal loan application.
Below is a list of other best personal loan companies. Compare your options and apply through Moneymax!
Personal Loan Provider

Minimum Loan Amount

Maximum Loan Amount

Minimum Annual Income

Approval Time

Metrobank

₱20,000

₱1 million

₱350,000

7 days

BPI



₱

20,000

₱2 million

₱

300,000

5 to 7 banking days

EasyRFC

₱

10,000

₱150,000

₱

120,000

As fast as 24 hours

Maybank



₱

50,000

₱1 million

₱

300,000

Apply online in just a few clicks

RCBC



₱

50,000

₱1 million

₱

360,000

5 to 7 banking days

SB Finance




₱30,000

₱2 million

₱180,000

5 banking days

CIMB



₱

30,000

₱1 million

₱

180,000

24 hours

HSBC



₱

30,000

₱500,000 or 3x gross monthly salary, whichever is lower

₱

168,000

5 to 7 banking days

CTBC



₱2

0,000

₱1 million

₱

180,000

3 to 5 banking days
Sources: