They say death and taxes are the only certainties in life. But with the way prices are creeping up, it appears inflation is gradually turning that duo into a trifecta. With the Philippines' year-to-date inflation clocking in at 6.4%,[1] it's no wonder consumers are getting less and less with every grocery haul.
Is there a way you could possibly be more money-savvy with your groceries? Yes, there is! First off, look for supermarkets with more competitive pricing.
To help you find the cheapest grocery store in the Philippines, here's an extensive comparison of the most popular supermarket chains available in almost any part of the metro and beyond.
Top 10 Cheapest Grocery Stores and Supermarkets in the Philippines
Which supermarket is the cheapest in the Philippines? We're here to find out. Below is a comparison of 10 of the most popular grocery stores and the retail prices of their basic grocery items.
🛒 AllDay Supermarket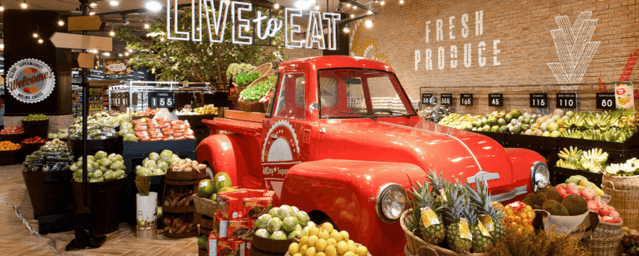 AllDay Supermarket is one of the fastest-growing store chains in the Philippines today. From its beginnings as a convenience store in Taguig City back in 2014,[2] it has grown into a full-format supermarket with 33 stores in multiple locations nationwide.
Today, you can shop at any AllDay Supermarket, whether you're in Metro Manila or other major provinces like Bulacan, Cavite, Rizal, and Iloilo, among others. If you prefer getting your groceries online, you can also avail of AllDay's online shopping service or pabili service.
Rewards and Rebates
To maximize your shopping experience at All Day Supermarket, you can join the AllRewards Program and get a membership card that earns you rewards points and gives you access to exclusive promotions, discounts, and freebies from All Day Supermarket's sister brands like AllHome, AllToys, AllSports, and Bake My Day, among others. Membership fee costs ₱150.
🛒 Ever Supermarket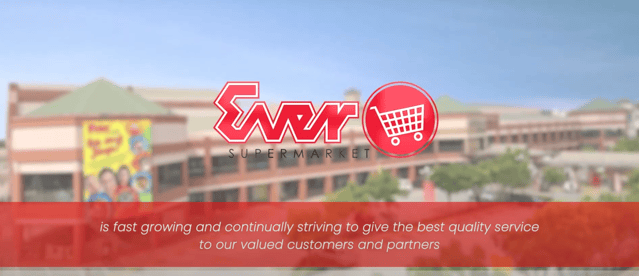 If you've lived in Metro Manila your whole life, then you must be familiar with Ever Supermarket. Established in 1972, this ever-reliable grocery store brand has expanded over the years into 40 physical stores within the metro.[3] You might even recognize its flagship store located at Ever Commonwealth Mall as a contender for the cheapest grocery store in Quezon City.
With over 50 years of experience and brand recognition, Ever Supermarket should definitely be part of your list of supermarkets to consider for your next grocery run. Aside from mastering the world of retail, Ever has also steadily improved over the years, even recently offering online delivery grocery options.
Rewards and Rebates
If you're planning to be a regular shopper at Ever Supermarket, you should definitely join its rewards program, Ever Savers Club. Owning an Ever Savers Club loyalty card earns you 1 point for every ₱200 cash spend or ₱400 non-cash spend. Just pay the ₱150 membership fee and submit accumulated Ever Supermarket receipts worth ₱4,000 within 90 days prior to application.
🛒 Landers Superstore

Another option for where to buy cheap groceries in the Philippines is Landers Superstore. This fast-growing, member-exclusive grocery store has branches in Balintawak, Otis, Cebu, Alabang West, ArcoVia, Uptown BGC, UP Town Center Katipunan, Angeles, Arca South, Nuvali, and Bacolod.[4]
Rewards and Rebates
While the membership fee is not cheap (starts at ₱700 every year), Landers membership is packed with additional perks that make it worth the price. Aside from store access, you also get access to restaurants and food places inside the Landers store. For more savings, you can use your Giftaway vouchers to shop at your nearest branch.
Other perks you can get from your Landers membership include:
Online shopping via the Landers Superstore app
Exclusive discounts of up to 50%
Low-priced medicine at the in-house pharmacy
Fuel discounts up to ₱10 per liter at Landers-Caltex gas stations
₱100 off on Solane LPG tanks
Free haircut at Federal Barbers
To get a Landers membership, follow these steps:
Download the Landers Superstore app.
From the app's dashboard, tap Be a Member.
Tap the membership type (Premium or Business) then tap New.
Fill out the form then tap Submit.
Review your cart summary, then tap Checkout.
Choose your payment method (Credit/Debit, Online Banking, or Cash on Delivery), then tap Pay.
Enter your payment details, then tap Confirm Payment.
After paying the fee, check your membership status by going back to the dashboard, tapping the hamburger menu on the upper left corner, then tapping My Membership.
🛒 Puregold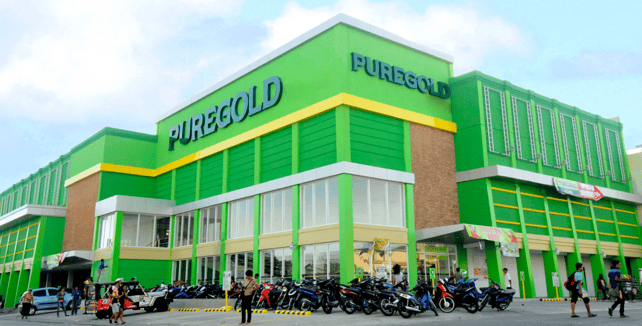 If you're searching for the cheapest grocery store in the Philippines for 2023, you should include Puregold in the mix. There's a reason why this megastore was the leading hypermarket in the Philippines in 2022 based on the number of stores, clocking in at 271 branches nationwide.[5] You can visit the nearest branch or use the Puregold mobile app to do your shopping.
From its roots back in 1998,[6] Puregold became a trusted grocery store brand because of its affordable prices—cheaper than those of grocery giants like SM Supermarket and Robinsons Supermarket. After partnering with popular brands and even TV shows, the reputation of Puregold as a cheaper shopping alternative grew over the years.
Rewards and Rebates
If you're a Puregold regular, you should take advantage of the store's robust loyalty programs. There are two programs you can join:
👉 Puregold Tindahan ni Aling Puring
Sari-sari store owners can join the Puregold Tindahan ni Aling Puring loyalty program. It consists of three tiers, each with its own point system mechanics, where one point is equal to ₱1:
Green

Minimum ₱200 purchase of participating items = 2 points
Minimum ₱200 purchase of non-participating items = 1 point

Green Elite

Minimum ₱200 purchase of participating items = 3 points
Minimum P200 purchase of non-participating items = 1 point

Gold

Minimum ₱200 purchase of participating items = 4 points
Minimum ₱200 purchase of non-participating items = 1 point
To join the Puregold Tindahan ni Aling Puring loyalty program, visit your nearest Puregold store and head to the customer service kiosk to process your application. To upgrade your membership to Green Elite or Gold, you have to meet an annual spend requirement of at least ₱750,000.
👉 Puregold Perks Loyalty Program
If you're not a sari-sari store owner but just an ordinary shopper looking for more savings, you can join the Puregold Perks loyalty program to earn points with every purchase. Head down to the customer service kiosk at your nearest Puregold branch, fill out the form, and pay the membership fee of ₱100 to start earning points on your next grocery run. Below is the point system:
Every ₱200 minimum purchase of any home, fresh, or fashion items = 1 point
Every ₱200 minimum purchase of other grocery items - 0.5 point
🛒 Robinsons Supermarket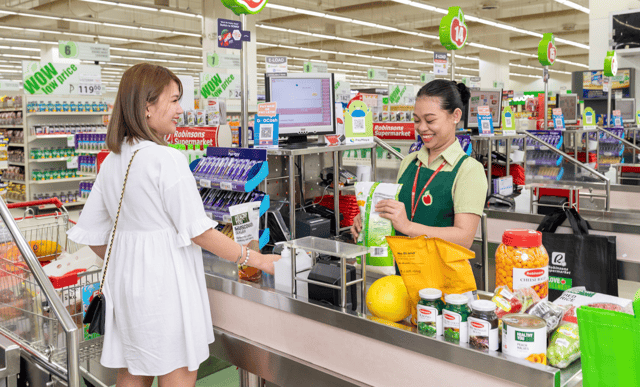 If you're looking for the cheapest grocery store in Manila, Robinsons Supermarket will always make its way into the conversation. This second-largest multi-channel retailer in the Philippines was first established in 1985 and was the first store to promote health and wellness, which proved to be a marketing success.[6]
To this day, Robinsons Supermarket is still associated with healthy grocery options. This brand uses a four-color tag system to give shoppers an indication that all food and grocery items have been certified healthy and nutritious by the Food Nutrition Research Institute (FNRI).
Moreover, you can also easily shop at any Robinsons Supermarket online through different platforms like Grab and GoCart.
Rewards and Rebates
One big reason to shop at Robinsons Supermarket is the amount of promos and discounts you can enjoy, coupled with an easy-to-access loyalty program. Since Robinsons is a partner of Go Rewards, one of the largest rewards providers in the Philippines, you can get the most out of your shopping by getting a Go Rewards card. Here are some of its perks:
First access to exclusive sales
Exclusive deals and offers from other partners
Free gift wrapping services at Robinsons Department stores
🛒 Shopwise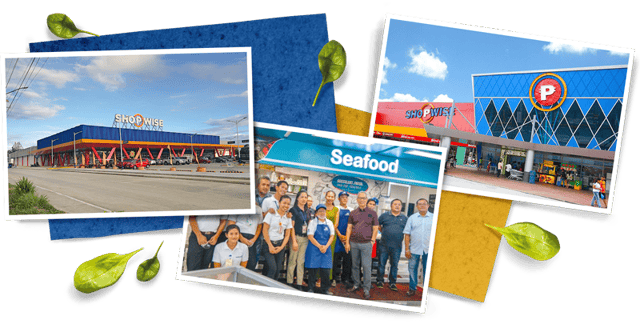 Another contender for the cheapest grocery store in the Philippines is Shopwise, one of the pioneers of the hypermarket concept in the country back in 1998.[7] Since being acquired by Rustan Supercenters, Inc. (RSCI), Shopwise has established itself as an affordable grocery alternative in Metro Manila, especially in business districts like Makati City.
Rewards and Rebates
Since Shopwise is part of RSCI's network of superstores, Go Rewards cardholders also get to enjoy exclusive perks when shopping at Shopwise. Here are some of them:
First access to exclusive sales
Exclusive deals and offers from other partners
Opportunity to be part of the exclusive Black Members Lane in any Shopwise store
Free parking for the first three hours at select Shopwise branches
🛒 SM Supermarket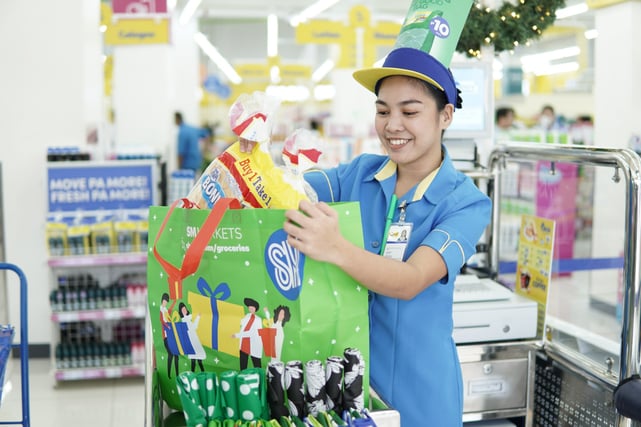 Perhaps the most renowned brand in terms of shopping in general, SM will always be on everyone's list of go-to stores. Its tagline, "We got it all for you!" is undeniably true as it owns most of the popular superstores in the Philippines, including SM Supermarket, SM Hypermarket, and Savemore. It also owns other popular stores like ACE Hardware, SM Appliances, Homeworld, Our Home, Toy Kingdom, Watsons, Kultura, Baby Company, Sports Central, and Pet Express.[8]
SM as a brand is so popular that the SM Gift Pass, the brand's very own gift certificate, has become a popular gift item for any occasion. You can use your SM Gift Pass to pay for your groceries when shopping at any SM Supermarket branch nationwide. Whether you're shopping in-store or through the online app, there are many ways to maximize your grocery shopping through promos, discounts, and rewards.
Rewards and Rebates
Knowing how and where to use SM gift passes will make your shopping experience at SM Supermarket a lot better. To maximize your grocery runs, get yourself an SM Advantage Card (SMAC), which comes in three tiers:
SMAC Start

₱200 Entertainment and SM Hotels spend = 1 SMAC point
₱500 SM Store, SM Markets, and other retail spend = 1 SMAC point

SMAC

₱200 Entertainment and SM Hotels spend = 1 SMAC point
₱250 SM Store and other retail spend = 1 SMAC point
₱500 SM Markets and other retail spend = 1 SMAC point

SMAC Prestige

₱200 Entertainment and SM Hotels spend = 1 SMAC point
₱250 SM Store and other retail spend = 1 SMAC point
₱500 SM Markets and other retail spend = 1 SMAC point
Aside from earning points with every purchase, you can also get fun perks with your SMAC like getting access to members-only sale events and scoring a 10% discount during SM's three-day sales. When you upgrade to SMAC Prestige, you can unlock even more perks like getting exclusive access to the SM Prestige Lounge (with free drinks), the priority fitting rooms at SM Stores, and the courtesy checkout lanes at SM Store and SM Markets.
To get your SMAC, you can register online or get one from customer service kiosks at any SM Store or SM Market nationwide. You need to pay the ₱200 membership fee to upgrade to SMAC. To be eligible for SMAC Prestige, you must have a cumulative spending of at least ₱150,000 within the current calendar year at any SM Store or other SM retail partners.
🛒 S&R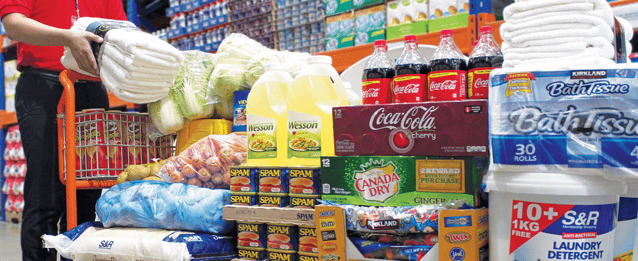 You don't have to break the bank to experience world-class grocery shopping. By being a member at S&R, you can get access to imported goods at affordable prices.
Rewards and Rebates
To be an S&R gold member, you need to prepare the following requirements and bring them to any S&R warehouse nationwide:
S&R membership application form
A photocopy of any two of the following valid IDs:

Passport
Voter's ID
Driver's License
TIN ID
Digitized SSS/GSIS/Postal ID
PRC License
Company ID
Student ID
NBI Clearance

₱700 membership fee
🛒 Super 8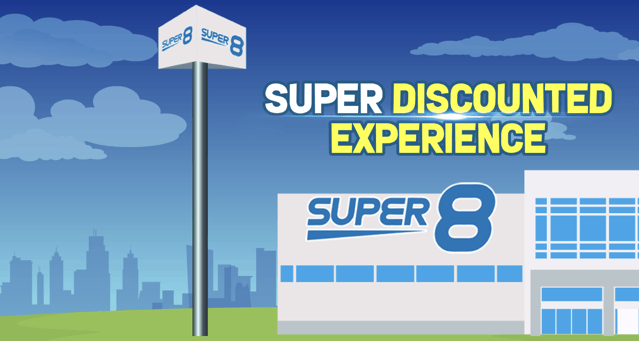 Super 8 Grocery Warehouse is another contender for the cheapest grocery store in the Philippines for 2023. Despite being relatively new to the market, Super 8 has already expanded to 75 stores nationwide just last year. Plus, this store has a functional online shopping app to further expand its services.[9]
🛒 WalterMart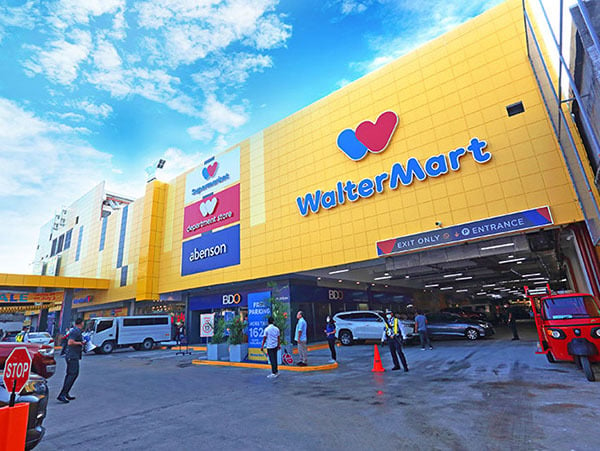 WalterMart is among the many Puregold competitors out there looking to challenge the green brand's strong hold on the market. While it's under the SM Market umbrella, WalterMart touts itself as the number one community mall in the Philippines.[10] It offers affordable prices for all essentials like groceries, home appliances, and food selections, among others.
And while WalterMart may not be as popular as some of the more prominent stores on this list, the fact that it's under SM means that you can use here your SMAC, SM Gift Pass, and other perks usually reserved for SM malls. So if there's a WalterMart branch near you, consider buying your groceries there.
Price Comparison of Items per Grocery Store
So what is the cheapest grocery store in the Philippines? Let's try to answer the question in a more tangible way. We took the most basic grocery items and compared their price listings across the ten grocery stores on this list. Check them out below.
Note: Prices are based on the cheapest available products at the time of writing and are constantly subject to change.
All Day
Ever
Lan-ders
Pure-gold
Robin-sons
Shop-wise
SM
S&R
Super 8
Walter-Mart
Baking Essentials
Cornstarch 250g
₱16
₱27
₱38.95 (400g)
₱26.30
₱23.75
₱41.50 (400g)
₱21.50
₱82.75 (1kg)
₱21.65
₱27
All Purpose Flour 400g
₱47.50
₱47.25
₱45.95 (500g)
₱43.95
₱49.50
₱42.75
₱38.50
₱309 (2.25kg)
₱43
₱41.50
Brown Sugar 500g
₱48
₱45.25
₱78 (1kg)
₱40.65
₱40.75
₱82 (1kg)
₱82 (1kg)
₱176 (2kg)
₱41.75
₱41
Dairy Products
Butter 200g
₱49
₱45
₱44.95
₱45.45
₱47.55
₱49.50
₱50
₱112
₱45
₱49
Cheese 200g
₱44.25
₱47.75
₱144.95 (440g)
₱44.20
₱47.15
₱49
₱57
₱153 (1kg)
₱43.75
₱48
Fresh Milk 1L
₱79.25
₱91
₱94.95
₱92.40
₱89.50
₱111.75
₱96.50
₱92
₱82.75
₱90.50
Fresh Produce
Cabbage 1kg
₱209
₱180
₱100.10 (700g)
₱110
₱268
₱259
₱102.20
₱229.95
N/A
₱120
Garlic 200g
₱55
₱50
₱57.75
₱47.50
₱50
₱138.75 (250g)
₱40
₱50
₱70
₱40
Onion 1kg
₱188
₱179
₱99
₱150
₱165
₱195
₱135
₱185.94
N/A
₱140
Meat Products
Ground Beef 1kg
₱359
₱324
₱349.95
₱334
₱430
₱408
₱304
₱399
₱438
₱315
Whole Chicken 1kg
₱129
₱223
₱160
₱190
₱160
₱169 (800g)
₱249.60
₱258.45
₱205
₱160
Pork Sinigang Cut 1kg
₱218
₱360
₱447.60 (1.6kg)
₱188
₱245
₱355
₱197
₱338.30
₱300
₱197
Pantry Essentials
Cooking oil 200ml
₱34
₱27.75
₱110 (1L)
₱39.40
₱44.50
₱46
₱67.50 (500ml)
₱259 (2L)
₱38.10
₱30
Patis 100ml
₱13
₱14.25
₱63 (1L)
₱8.45
₱14.75
₱11.50
₱11.50
₱132 (2 bottles)
₱8.50
₱11.50
Black pepper 10g
₱10
₱9
₱119.95 (56g)
₱9.10
₱24.50 (30g)
₱16.21
₱16.50 (25g)
₱724 (530g)
₱21.15 (30g)
₱16 (30g)
Seafood
Tilapia 1kg
₱148
₱209
₱177
₱179
₱188
₱178
₱177
₱345.74
N/A
₱182
Bangus 1kg
₱238
₱289
₱307.95
₱229
₱308
₱288
₱267
₱413.34
N/A
₱388
Shrimp 1kg
₱699
₱699
₱699.95
₱548.20
₱818
₱663.25
₱492.50
₱884
N/A
₱698
Toiletries
Body Soap 60g
₱15
₱15.50
₱47.95 (100g)
₱12.65
₱15
₱16
₱16.75
₱379 (6 pcs)
₱14.25
₱19.75
Shampoo 12ml (6 sachets)
₱36
₱32.25
₱149.95 (530ml)
₱36.50
₱35.75
₱36.25
₱36
₱369 (600ml)
₱32.50
₱37
Toothpaste 50ml
₱30
₱32.50
₱50 (113g)
₱29.05
₱60
₱61.50
₱33.75
₱199 (200g)
₱28.75
₱65
Read more: 11 Christmas Shopping Tips to Help Beat Impulse Buying
Verdict: What is the

Cheapest Grocery Store in the Philippines?
Now let's attempt to answer these questions: So saan mas mura mag-grocery? Which is cheaper, Waltermart or Puregold? And if you compare Puregold vs. Savemore prices, what comes on top as the more cost-effective option?
This shouldn't come as a surprise, but the answer is Puregold. That's right—in terms of product prices, Puregold is still the cheapest supermarket in the Philippines. If you're looking to save money on groceries, Puregold is your best bet. However, that doesn't mean that this store will always meet your every shopping need. For one, Puregold currently doesn't have an international section where not-so-common grocery items can be found.
Alternatively, if you live closer to Super 8 or WalterMart branches, you can get your groceries there instead as they also offer competitive prices. Just note that supplies may be limited, especially on produce and frozen goods.
It's also worth noting that SM still provides the most well-rounded grocery shopping experience, thanks to its competitive pricing and generous rewards program. And if you live in a business district, you can also rely on stores like AllDay and Robinsons Supermarket for your daily essentials.
Final Thoughts
It's not enough to know where the cheapest grocery store in the Philippines is. Ultimately, apart from macroeconomic conditions, your spending habits will also determine how much you save on groceries.
To elevate your shopping experience, explore credit cards as your main payment method to unlock more savings, rewards, and perks on top of what stores offer. Compare your options now via Moneymax!
| | |
| --- | --- |
| Credit Card | Grocery-Related Benefits |
| UnionBank Rewards Credit Card | Grocery rewards earn rate: 1 point per ₱30 spend |
| Metrobank Titanium Mastercard® | Grocery rewards earn rate: 2 points on online spend / 1 point for every ₱20 spend on all other categories |
| HSBC Red Mastercard | Grocery rewards earn rate: 1 point per ₱20 spend / 4x points per ₱20 online spend |
| Security Bank Complete Cashback Platinum Mastercard | Grocery cashback rate: 5% |
| Security Bank Gold Mastercard | Grocery rewards earn rate: 1 rewards point for every ₱20 spend |
| BPI Amore Cashback Card | Grocery cashback rate: 4% |
| UnionBank Gold Mastercard | Grocery cashback rate: 1% |
| RCBC Landmark Anson's | Grocery cashback rate: 5% at Landmark Supermarket |
| Robinsons Cashback Mastercard | Grocery cashback rate: Up to 3% at Robinsons Supermarket; up to 1% at other supermarkets |
Sources: