Nowadays, you don't need a broker to trade in the stock market. Thanks to technological advancements, you can now buy and sell stocks online by yourself. You also don't have to be an expert to trade using online platforms because they are now more user-friendly, and offer various tools and training materials. With online trading platforms, you can buy and sell stocks anytime, anywhere.
Interested in stock trading? One of the platforms you should explore is IQ Option. Learn how IQ Option works, the different tools it offers, and how you can start trading online.
What Is IQ Option?
IQ Option is an online trading platform that allows traders to bid on various financial instruments such as stocks, foreign exchange (forex), binary options, commodities, exchange-traded funds (ETFs), and cryptocurrencies[1]. It is one of the fastest growing online trading brands in the world with over 48,000 registered users and more than one million transactions a day.
Founded in 2013, IQ Option is based in Cyprus and is regulated by the Cyprus Securities and Exchange Commission (CySEC). IQ Option caters to traders from over 213 countries, including Malaysia, Singapore, India, and the Philippines.
Related article:
IQ Option for Beginners: 5 Financial Assets You Can Trade

Here are the various assets you can trade using IQ Option:
Commodities. You can trade on five commodities including Crude Oil Brent, Silver, Gold, Crude Oil WTI, and Platinum.
Cryptocurrency. Contract for Differences (CFDs) on 27 cryptocurrencies such as Bitcoin, Neo, Ripple, Binance Coin, Litecoin, and Zcoin.
Exchange-traded funds. CFDs on exchange-traded funds. Some of the available ETFs to trade are US Real Estate ETF, Semiconductor ETF, QQQ Trust Series 1, and Gold Miners ETF.
Forex. IQ Option offers a wide range of currency pairs. There are currently 48 forex pairs available for trading such as EUR/USD, NZD/SGD, and GBP/JPY.
Stocks. CFDs on 185 stocks. The minimum investment is $1 (approximately PHP 50) for Stocks CFDs. Some of the stock assets available on IQ Option are Apple, Amazon, Boeing, and Lyft.
Available Trading Types and Payouts
IQ Option originally started as a binary options broker, but they now let clients trade CFDs.
1. Binary Options
This financial instrument pays out a set return for your correct market prediction on an asset's price, within a specific timeframe. You may be able to get up to 95% with this option, but an unsuccessful prediction will result in investment losses. The minimum investment for trading binary options is $1 with no brokerage fee. The expiry times range from 60 seconds until the end of the month.
2. Digital Options (CFDs)
Contract for Difference is a popular form of trading where you buy and sell contracts for the difference using an online provider[2]. You have to predict the direction of the price development and open a deal based on your prediction. The outcome also depends on the direction you chose and the actual movement of the price. The payout for this trading option can go as high as 900% and the minimum investment is just $1. The expiry time ranges from 60 seconds to 15 minutes.
Read more: COL Financial Guide for Stock Investing Beginners
Different Types of IQ Option Accounts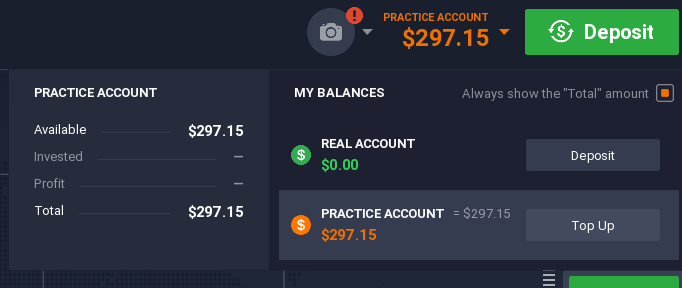 IQ Option offers three account types—Practice Account, Real Account, and VIP Account.
1. Practice Account
With this type of IQ Option account, you will receive $10,000 of free practice money so you can learn more about the platform. You can't withdraw the money, but you can use it for trading in all instruments. A practice account can help you experiment with various assets, trading time, and investment amounts. You can also top-up your practice account as there is no limit for using the fund.
2. Real Account
This a standard IQ Option account you can use for trading with real funds and withdrawals. You can still access your practice balance with this type of account. Feel free to switch between your Practice and Real Account whenever you want.
3. VIP Account
A VIP Account comes with additional IQ Option features such as a personal account manager, training materials, higher profitability rates, and exclusive offers. To get a VIP account, you have to $1,900 or an equivalent amount (around 95,000 in peso) in different currencies.

How to Use IQ Option on Desktop and Mobile
Signing up for IQ Option is free. Here's a step-by-step guide on how to use the online trading platform.
How to Create an Account
Download the IQ option app in the App Store or Google Play Store to create an account. You can also register via desktop.
Fill out the form with the necessary details such as your email address and chosen password. Make sure to create a strong account password.
IQ Option will send you a link via email to activate your account. Click the link to proceed.
You will automatically have access to both Practice and Real Accounts once your account is active.
To switch between accounts, go to the trade room and choose either a Practice or Real Account.
How to Deposit and Withdraw Funds
Before you can deposit funds to your account, you need to verify your account by providing photo identification. Accomplish this step first.
Once your account is verified, you can deposit funds to your IQ Option using the following payment methods:
Visa or Mastercard credit card/debit card
Bank transfer via BDO or Metrobank
Skrill
Bitcoin
Advcash
The minimum deposit for an IQ Option Real Account is $10 or PHP 500. There is no processing fee for depositing funds.
To withdraw your money, you need to use the same payment method you used to deposit funds. The minimum amount you can withdraw is $2 (PHP 100) and it takes three business days to process your request. A small fee may be charged, depending on your payment method.
How to Start Trading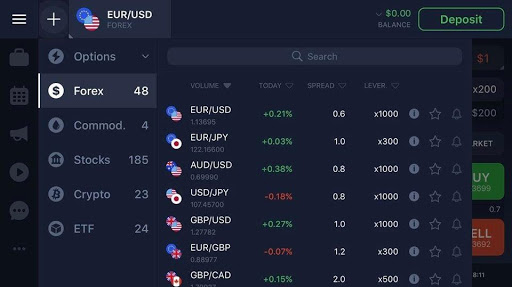 Ready to trade? You can use either your Practice or Real Account to start trading as they both have the same features. Use your Practice Account with virtual funds to improve your trading skills. When you're ready, use your Real Account to trade with real money.
To start trading, go to the traderoom and choose the account you want to use. The chart is in the center, while the buy and sell boxes are on the right-hand side. You can also see your balance at the top along with the assets you are trading.
Use the drop-down menu at the top left of the chart to choose which assets to trade. Just provide the amount of the asset you want to buy and submit your order.
The desktop view of IQ Option is similar to the mobile version. It has the same features and you can also adjust the leverage, investment, and price.
IQ Option Indicators and Order Types
IQ Option offers various order types and indicators to help you trade. These features can help you create strategies and minimize your losses.
Here are some of the order types and indicators you can use in the online trading platform:
Order Types
Multiplier Order. Lets you increase your return on investment and risk level using a coefficient.
Stop-loss Order. You can set your maximum losses with a stop-loss order. This automatically closes a trade when your set losses are reached.
Take Profit Order. Helps to indicate the amount of profit you want to reach. Your order will automatically close when it reaches your goal profit.
Trailing Stop Order. With a trailing stop order, you can set the stop price. It will move with the changes in price in the direction you set it.
Indicators
Average True Range. Displays a chosen trading asset's volatility within a period. Average True Range also lets you determine the change range quotes.
Bollinger Bands. Creates a corridor within which prices move based on moving average and standard deviations. It is one of the most popular indicators in trading.
Moving Averages. This may provide you insights into current trends. It includes simple moving averages, weighted moving averages, and exponential moving averages.
Parabolic SAR. This is similar to moving averages, but the position changes depending on the price. It also moves together with higher acceleration.
Relative Strength Index. Helps to analyze the strength of a current figure. Relative Strength Index also allows you to compare asset price growth and total price reduction.
Volume Indicator. It shows your chosen asset's quantities that were bought and sold at a given period, including interest.
Read more: 5 Stock Trading Strategies for Aspiring Traders
Final Thoughts
IQ Option is a great online trading platform for both newbie and expert traders. It is intuitive and offers various training materials and tools that can help with your trading journey. How much you earn from trading in IQ Option depends on your strategy, skills, and the amount you invest. You can use the practice account with the virtual funds to learn more about how the platform works. Once you're ready, fund your account and start trading using your real account.

Sources: