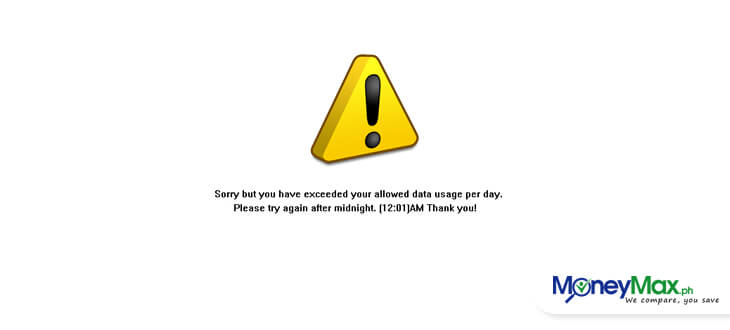 Filipinos are one of the most active Internet users in the world. Unsurprisingly, when the Fair Use Policy (FUP) was implemented by TelCo giants Smart and Globe, a large number of consumers expressed dismay. Violent reactions on Facebook and blogs, hate tweets, and internet speed screenshots are everywhere!
Read More:How to Conserve Your Internet Data Bandwidth Usage
"Caps Lock"
If you don't get their ranting, here are simpler terms for the non-techies:
Fair Use Policy is the regulation intended to control the subscribers' usage to ensure the equal distribution of service.
Data Caps or bandwidth/broadband capping is the method used in FUP by the Internet Service Provders (ISPs), network service providers and telecoms. These institutions take the control on the data usage.
Throttling is the process where the amount of data sent and received on a given channel or bandwidth is lessened.
Data capping per se is really not bad. Some countries in the world even implement their own FUP. But unfortunately, the implementation here in the Philippines punishes both the innocent and the abusive users.
Heavy users are just 3% of the total data subscribers but according to Globe, they can contribute to degradation of the network performance during peak hours.
Globe vs. Smart on Data Cap
Globe implemented a daily limit of 1 gigabyte (GB) per day or 3 GB per month (whichever comes first). On the other hand, Smart limited the daily and monthly usage to 1.5 GB. After hitting the limit, the subscriber can still access the web, but will experience browsing at 2G throttling speed only. It can massively affect media streaming and torrent downloading because it contributes to the use of bandwidth capacity.
1GB to 1.5GB is more or less equivalent to one movie streaming, about 17 hours of YouTube viewing, and more than 2000 Instagram posts on your feed. While 2G speed can just allow you to post Facebook statuses, text tweets and text emails
Today, Globe has 36.5 million users total, comprising 34.53 million Globe and TM prepaid subscribers and 1.98 million postpaid users. PLDT's cellular subscribers are 72.5 million, while Smart Communications has 24.7 million subscribers and Talk N' Text has 31.9 million. Digital Telecommuncations Philippines has 15.8 million Sun Cellular users. PLDT also has a combined broadband subscriber base of 3.3 million.
A Hindrance to Innovation?
As years pass by, world technology has is expected to revolutionize. Majority think FUP is a burden to improvement as it is delegated to limit the usage of consumers. Instead of increasing the speed, capacity and all other factors, it limits. More threatening than these is the effect of data capping can be the same as putting a barrier on economic progress and human development.
These days, marketing and advertising experts are taking the next stage to improve their ideas in promotion by tapping more people through a more personal approach which is possible through mobile browsing. That may not deliver much result, now that FUP is a big factor. This means lesser Youtube times, reduced podcast streaming, and later on lower number of Facebook likes and twitter followers to lessen the traffic.
On a personal level, consider the Law of Demand and Supply. Where is innovation when the demand of the Internet is high, but instead of upgrading the services and cables, the companies and the industry just agreed to give their customers a substandard service (supply)? That is instead of improving the product. In that case, data capping is considerably an excuse not to improve their services. For sure, that will incur lesser costs and the same profit on their part. But on the other side of the coin, consumers are having a headache paying the same amount regardless of poorer service.
Technological Disparity
The Philippines has the third-slowest Internet speed in locations surveyed in Asia and the Pacific by content delivery network Akamai, ahead of Indonesia and India. That is despite the reported 66% per quarter growth in broadband speeds in the local market.
One of the problems is that FUP can be considered as a wrong move in a way that there is a rise of smartphone usage, smartphone apps, and other technology-related stuff.
There is a rapid upsurge in messaging applications such as FaceTime, WeChat, iMessage, Skype, Viber, LINE, and many others that people use to communicate around the world. The effect of data cap is indisputably significant that it will soon change the way people work, much more to Filipinos, across all the industries.
Option for Options?
Will there be an option? Are there options for other services? Plans? Or TelCos? What will happen to the consumers who are already in the middle of their lock-in contracts? Are they allowed to downgrade their plans without paying anything? Will this FUP push through amidst Filipino's demand?
If you do a thorough research, data capping doesn't have to do with network congestion. Network congestion happens when a lot of people are in the same site that their servers cannot accommodate. It doesn't relate to the volume of downloads or data being transferred. A problem here in the country is that there is lack in regulation and competition. The lack of players in the industry can lead to conspiracy by the big players. If more companies entered the local market, it would force these two to help improve the country's internet service, rather than cap it.
What do you think?
Read more: Internet in the Philippines: Why Is It Slow and Expensive?