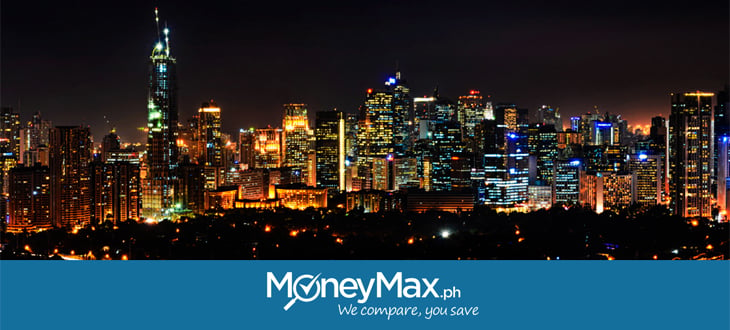 How will you survive in the Wall Street of the Philippines? If you only have a meager allowance to get you through the next pay day and you don't have a credit card to swipe, you're probably thinking that your only choice is to wake up extra early and prepare the day's packed lunch. Before you even decide to stock up on your favorite instant meals, here is a shortlist of places that offer cheap, scrumptious, best-tasting meals within Makati's central business district. You can also check out our list of 10 best eats at BGC for under Php 300.
Read More: 10 Best Affordable Buffet Restaurants in Makati
10. Family Mart's Katsudon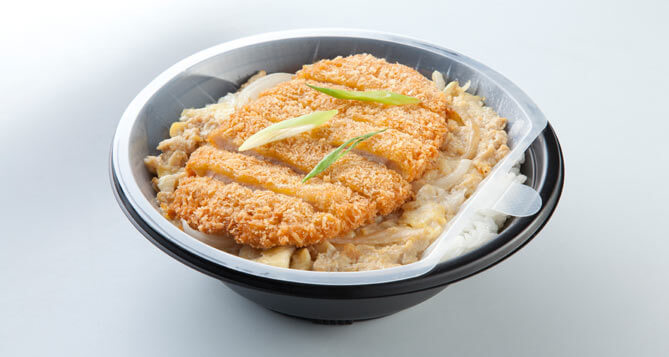 Don't have enough time for lunch? Family Mart's grab-and-go Katsudon meal is too hard to pass up! It's like your normal Katsudon in a Japanese restaurant for a cheaper price. The sushi tray is also worth-trying.
Budget: Php125.00 for Katsudon, Php99.00 for Sushi Tray
Locations: Glorietta, Glorietta 5, Alco Bldg., Dela Rosa 1, Alphaland, The Grand Midori, Global Enterprise, Makati Bel-Air, Dela Rosa Carpark 3rd Level, One Central, Beneficial Life, Park Square
9. Bugong Roast Chicken's Roast Chicken Meal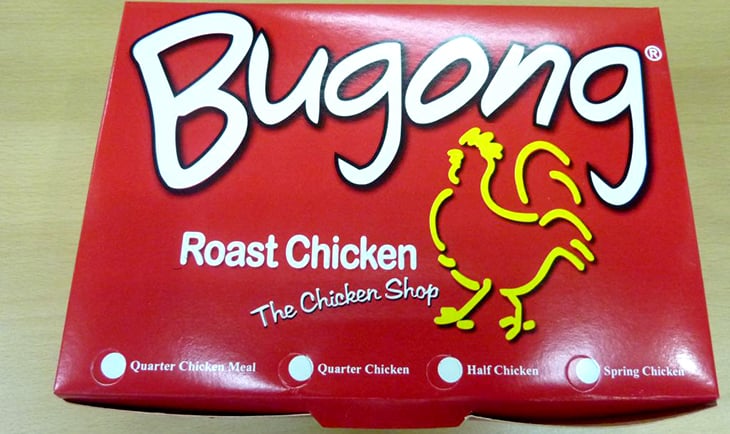 Source: food.silkenhut.com
Drop the fast-food chicken meals and head out to Bugong Roast Chicken. Get a hefty serving of a quarter roast chicken meal with rice and your choice of sauce. Kick it up a notch with the Chicken, Bread, and Salsa meal which includes a quarter roast chicken, Mexican Fresh Salsa, and your choice of bread.
Budget: Php128.00 with Poori, Php142.00 with Tortilla
Location: Dela Rosa Carpark 1, Dela Rosa St., Legazpi Village, Makati City
8. Commune's Organic Pinoy Veggie Dishes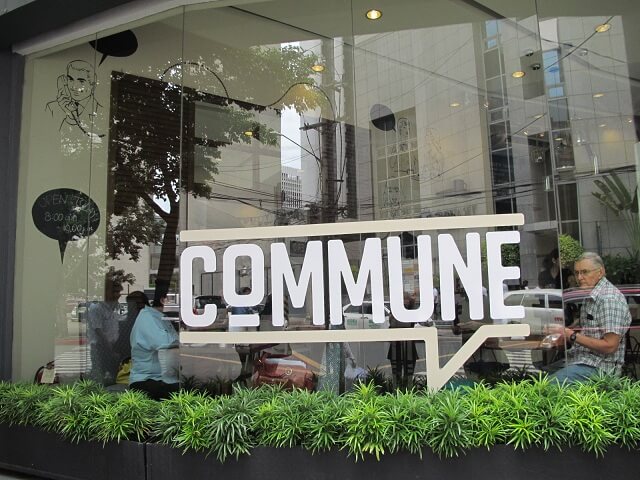 Organic vegetables are just special, but more so if the restaurant you go to has its very own organic farm in Amadeo, Cavite. Commune serves four organic vegetable dishes such as gising gising, pinakbet, fresh lumpia, and sigarilyas sa gata. However, these dishes are subject to harvest, so you need to ask for "Today's Harvest." If you have extra money, Commune is well-known for serving great coffee with 3D art.
Budget: Php90.00+ for Today's Harvest, Php18.00-Php50.00+ for Rice
Location: Liberty Plaza, 102 H.V. Dela Costa Street, Salcedo Village, Makati City
7. Bellychon's Cebu Lechon Belly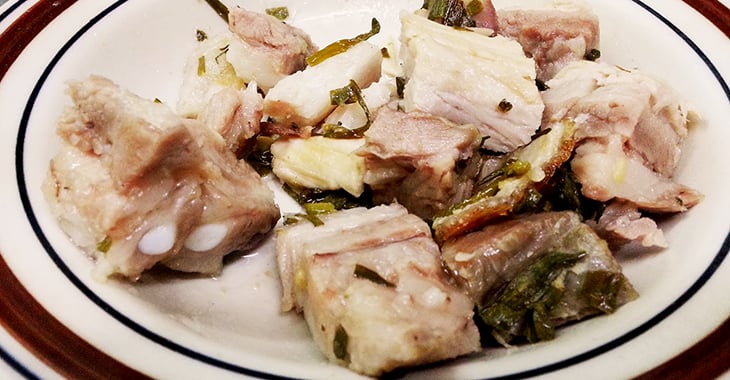 Source: aviewfromtheleftie.blogspot.com
There's definitely no need to travel all the way to Cebu to get a serving of "the best pig in the world" (in the words of Anthony Bourdain). Find your way through your senses to Greenbelt's lechon budget meal. The aromatic flavor from the lemongrass makes it really intoxicating. According to some food bloggers, the perfectly-roasted pork belly of Bellychon is better than the original Lechon Cebu which took a beating from an hour flight to Manila.
Budget: Php120.00 for a Bellychon meal
Location: G/F Greenbelt 1, 170 Legaspi St., Legazpi Village, Makati City
6. Adobo Connection's Crispy Adobo Flakes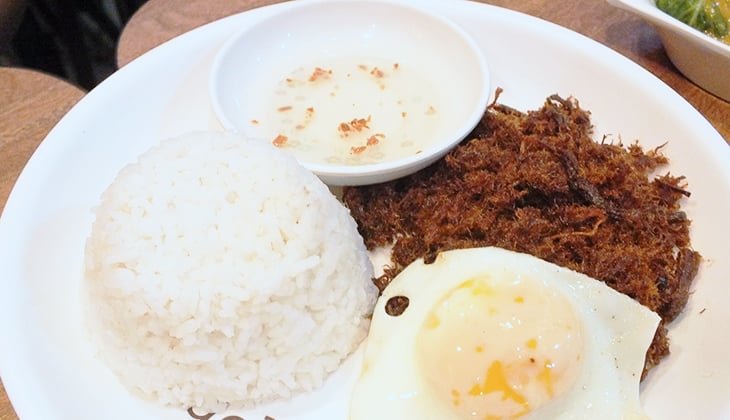 For all things adobo, you definitely have to go to Adobo Connection. They serve traditional and cheesy adobo at cheap prices. One of the bestsellers is their crispy adobo flakes meal which easily gets sold out.
Budget: Php99.00 for Crispy Adobo Flakes, Php109.00 for Traditional Adobo, Php119.00 for Cheesy Adobo
Location: Dela Rosa Carpark, Dela Rosa St., Legazpi Village, Makati City; B/Ment, Food Court, SM City Makati, E. Drive Corner Hotel Dr., Makati City
5. Warung Indo's Kwie Tiaw and Ayam Penyet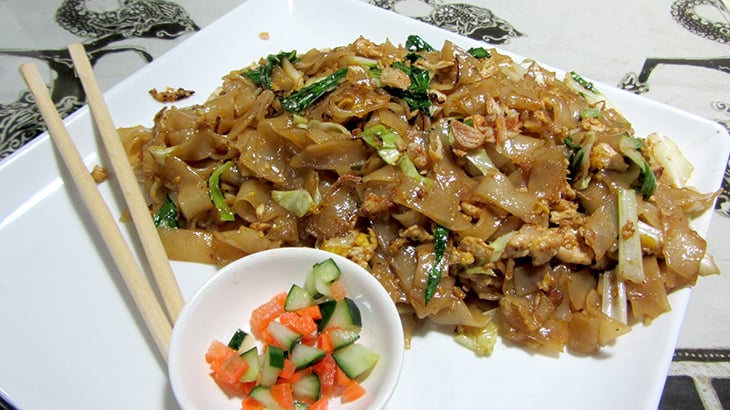 Source: food.silkenhut.com
Looking for a hole-in-the-wall resto in Makati? Warung Indo serves authentic Chinese-Indonesian dishes. Try the Traditional Indonesian Marinated Fried Chicken or Ayam Penyet and the Fried Glass Noodles with Chicken or Bihon Goreng Ayam. The Spicy Kwie Tiaw Chicken is a must-try too! If you want to eat something light and tasty, order the Vegetable Salad, Tempe, Tofu with Peanut Sauce or Pecal Ala Medan.
Budget: Php180.00 for Chicken, Php180.00 for Fried Glass Noodles, Php180.00 for Salad
Location: Ground Floor, LPL Manor, 116 Salcedo Village, L.P. Leviste St., Makati City
4. Rodic's Diner's Famous Tapsilog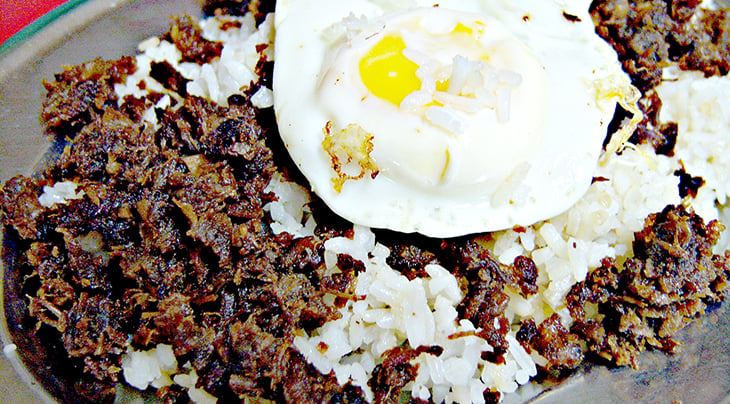 Source: startledcat.blogspot.com
Experience a no-frills dining experience at Rodic's. Most people go there for their famous tapa. They also serve baconsilog, hamsilog, liempo silog, chicken barbecue silog, sizzling sisig, and bangusilog.
Budget: Php80.00-Php95.00
Location: Salcedo Street, Legaspi Village, Makati City
3. 101 Hawker Food House's Specialties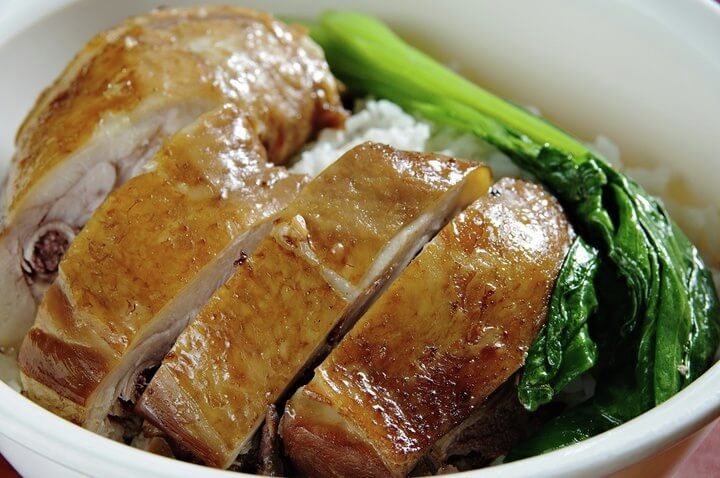 If you have been to Singapore, you probably know about the hawker centre which offers really good food at affordable prices. FYI, Makati is home to 101 Hawker Food House, a local version of Singapore's hawker centre which is being run by Rex and Red Chua. Chef Rex Chua formerly worked at Grand Hyatt Singapore, Michelangelos' Singapore, and Dusit Thani Manila among others. For an authentic hawker experience, get the chicken rice (as they call it in SG) or hainanese chicken.
Budget: Php100.00 for House Specialties (topping), Php160.00 for House Specialties (short order)
Location: Unit 102 Campos Rueda Building; 101 Urban Ave., near corner Buendia and Ayala Ave., Makati City
2. Banapple's Pasta and Rice Meals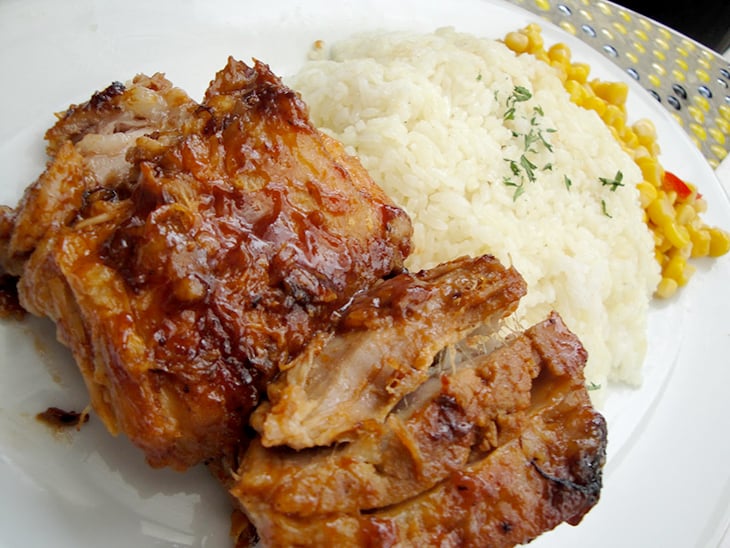 Source: paydayfoodtrips.blogspot.com
From sandwiches to Pinoy favorites, you can never go wrong with Banapple. The Migs Gallabergher is a juicy and herby all-beef burger with a generous serving of melted cheese, mozzarella, and special sauce. The Glazed Pork Tocino and Garlic Beef Tapa meals are also to die for. Did I mention the creamed parsley egg that is just divine?
Budget: Php180.00 for Migs Gallabergher, Php 170.00 for Glazed Pork Tocino, Php185.00 for Garlic Beef Tapa
Location: Ayala Triangle Gardens, Makati City
1. Jolli Jeep's Chicken Sisig Meal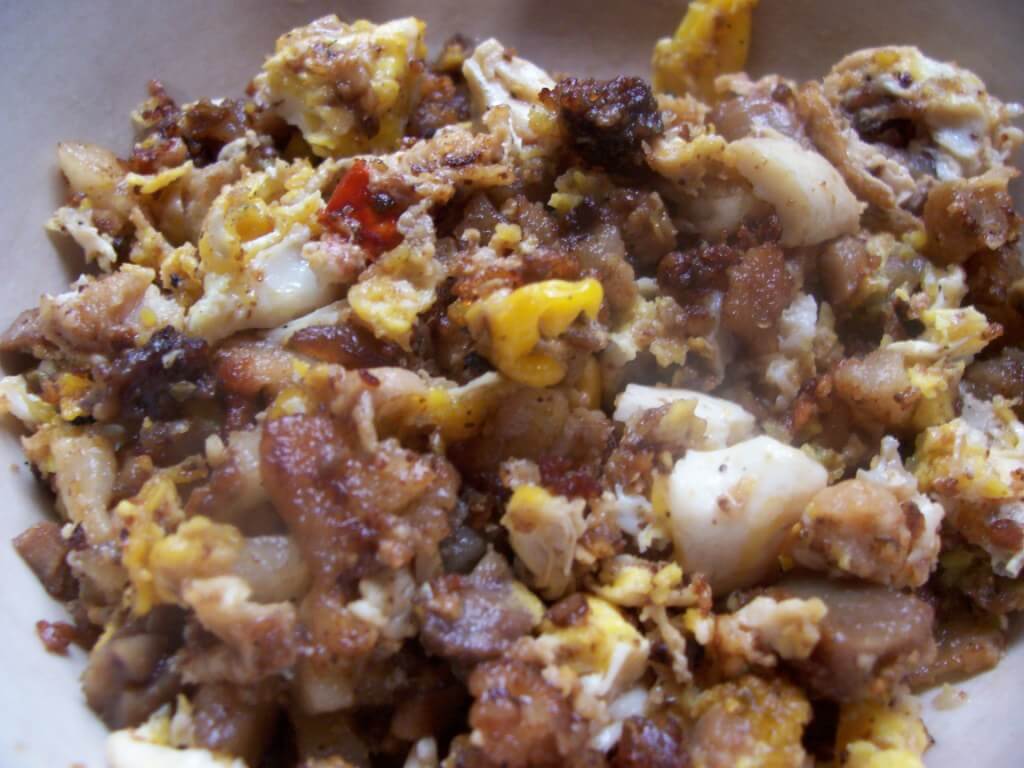 Jolli Jeep deserves the top spot for obvious reasons: it's Makati's own version of karinderya or turo-turo. The food stands were identically designed to offer affordable home-cooked Filipino meals along the busy streets of the city. It's quite a blockbuster during lunchtime, and one particular stall in Esteban St. near CEU Makati offers the best tasting chicken-sisig, as glorified by locals and expats alike. Jolli Jeep-patron Bjarke Jensen says, "The sisig is great, a slight bit rustic, but still very tasteful and in well-sized portions. Definitely not too greasy." For a Danish guy to fall in line for sisig, it surely is a must-try.
Budget: Php57.00, additional Php20.00 for a fruit shake
Location: Esteban St. and other streets of Makati
Where do you go out for lunch? Do you know some more places in Makati for cheap and delicious eats? Comment below!
People who read this also liked:
Restaurants with Freebies for Birthday Celebrants,
Brunch? Five Restaurants that serve Cocktails,
Cheap Unlimited Samgyupsal in Metro Manila