Seeking greener pastures abroad? Looking for jobs and working abroad come with certain risks. If you're not careful enough, you might wipe out several years' worth of savings or be buried in debt when you fall prey to an illegal recruiter.
Also, if you leave the country as an undocumented worker[1] and without going through the legal process (locally known as TNT or tago ng tago), you'll be prone to being exploited by abusive employers. You won't also enjoy the government protection and benefits for Overseas Filipino Workers (OFWs).
This is where government agencies, such as the POEA, play a crucial and active role. The POEA is tasked to protect aspiring OFWs even before they get hired and start working abroad. All applicants for overseas jobs go through the POEA for processing their documents.
Know what the POEA can do for you and its services available to Filipinos who are seeking employment abroad.
What is POEA?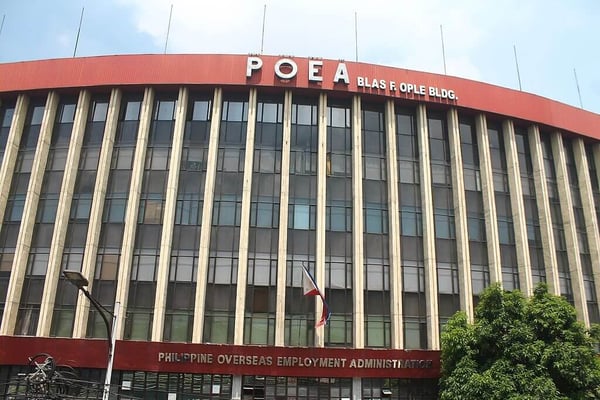 The Philippine Overseas Employment Administration (POEA), an attached agency of the Department of Labor and Employment (DOLE), manages the country's overseas employment program.
The agency helps secure the best employment terms for Filipino migrant workers and protects their rights to fair and ethical recruitment practices. It is also mainly responsible for regulating all recruitment agencies in the Philippines.
The POEA works closely with the Overseas Workers Welfare Administration (OWWA), its sister agency, to promote the welfare of OFWs. While they share the same goals and are both supervised by DOLE, these two agencies differ in their roles. The POEA provides services to help aspiring OFWs achieve legal status through proper documentation before leaving the country for overseas work. On the other hand, OWWA handles concerns of OFWs who are already working abroad.
What Does the POEA Do?
Anti-illegal Recruitment and OFW Protection:
Issuing licenses to recruit and place overseas workers to private recruitment agencies (for land-based workers) and manning agencies (for sea-based workers)
Monitoring and supervising recruitment and manning agencies
Supervising the government's anti-illegal recruitment program and conducting anti-illegal recruitment seminars nationwide
Disseminating information about illegal recruiters, job scams, laws in other countries, and other overseas employment-related matters
Ensuring that Filipino workers are deployed only in countries that protect OFW rights (which are certified by the Department of Foreign Affairs), as required by the Amended Migrant Workers Act.
Providing legal assistance to illegal recruitment victims (filing cases, prosecuting illegal recruiters, and closing down erring agencies)
Providing repatriation assistance to displaced OFWs

Overseas Employment Facilitation:
Accrediting foreign employers who hire OFWs
Approval of job orders or requests for workers
Conducting pre-employment orientation seminars
Evaluating and processing employment contracts
Upholding Philippine Migration and Overseas Employment Laws:
Hearing and deciding on cases and complaints filed against recruitment and manning agencies, employers, and OFWs for alleged violation of POEA rules and regulations (except for money claims)
Taking disciplinary actions against employers and workers who violate Philippine migration laws and regulations
Four Key POEA Services for Prospective OFWs
1. Recruitment Agency Status Verification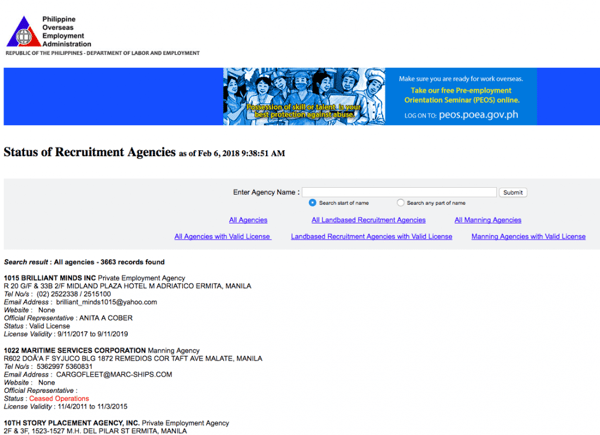 How will you know whether a recruitment agency you're dealing with is a legitimate business or a scam? You can check an agency's status through the POEA website[2] (Note: This POEA online facility may not work sometimes. If you get an error message, try checking the page again later.)
At the POEA site's homepage, just type the name of your recruitment agency in the "Status of Recruitment Agencies" search box and then click the Search button. For POEA-licensed agencies, the results page will show the agency name, address, contact information, status, and license validity period.
This POEA online facility also has a full list of Philippine recruitment agencies that are licensed, suspended, and permanently banned or closed down.
2. POEA Pre-Employment Orientation Seminar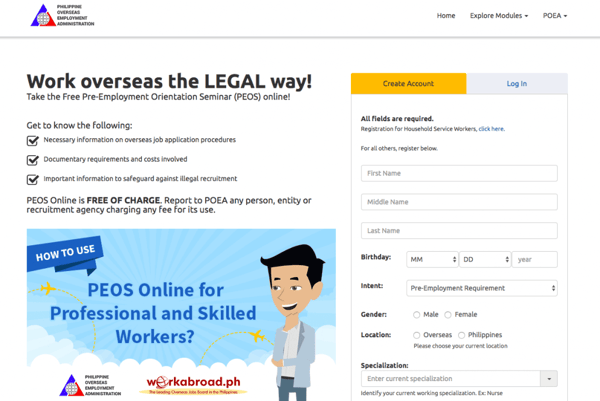 All Filipinos who are considering to work abroad must take the Pre-Employment Orientation Seminar (PEOS)[3]. It is part of the government's public information campaign against illegal recruitment.
PEOS is a free online learning tool composed of eight self-learning modules that educate prospective OFWs about everything they need to know about overseas employment, including the following:
The pros and cons of working abroad
Guidelines and legal procedures of overseas job applications
Required documents and fees for overseas job applications
How to avoid being a victim of illegal recruitment
Government services that prospective and hired OFWs can avail of
The PEOS is different from the Pre-Departure Orientation Seminar (PDOS), which is also required for OFWs and conducted by OWWA. PDOS is for Filipinos who are already hired and are about to leave to work abroad, while PEOS is for those who are still considering their options and gathering information about overseas employment.
The government requires OFWs to take both the PEOS and PDOS as part of their preparations for working abroad.
3. Frontline Services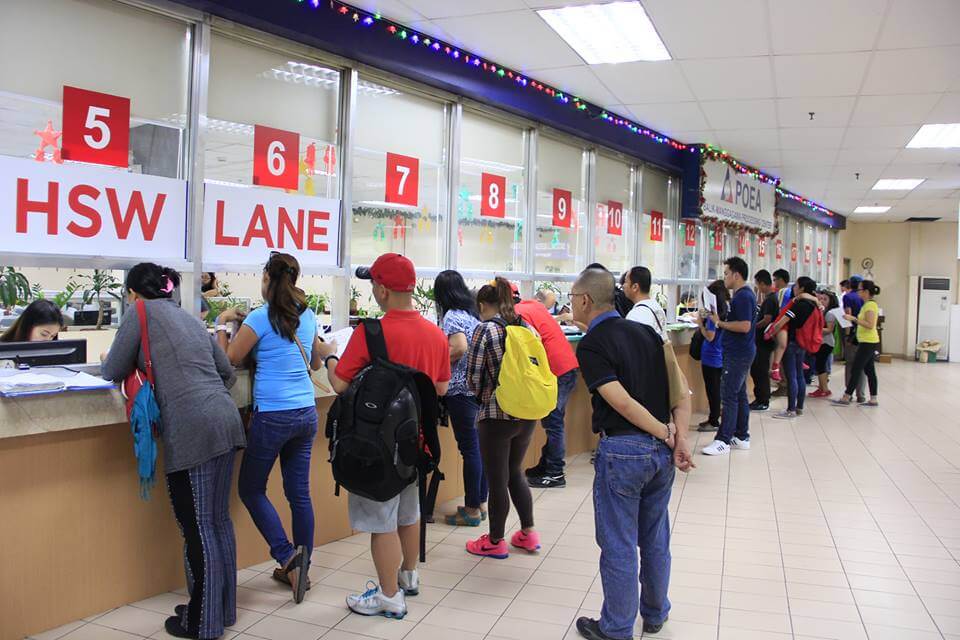 If you want to work abroad, it's important to have yourself properly documented at the POEA before you leave the country. Doing so will give you a legal status as an OFW, entitling you to the protection, assistance, and services that the Philippine government provides to migrant workers.
The POEA is the agency you must go to for the following processes:
Registration of land-based applicants for overseas employment
Registration of Seafarer's Registration Certificate applicants
Documentation of land-based name hires or direct hires[4]
Hiring and placement of government-hired workers
In addition to its registration and documentation services, the POEA also accommodates requests for information or assistance from the general public via the Public Information and Assistance Center.
Anyone who wants to file a complaint against an agency for recruitment violation may do so at the POEA's Docket and Enforcement Division.
4. Overseas Employment Certificate Processing
The POEA is in charge of processing the Overseas Employment Certificate (OEC). This document is a proof that the holder is a documented OFW who is permitted to leave the Philippines to work abroad.
An OEC serves as an exit pass that an OFW presents to the immigration officer at the airport. This document exempts an OFW from paying the terminal fee and travel tax when shown to the airline counter. It's also a proof of payment of Pag-IBIG and PhilHealth contributions, as well as the POEA processing and OWWA membership fees.
Lastly, since the OEC certifies that the bearer is an OFW with a legal status, it is often a requirement for OFWs who are applying for housing loans and personal loans in the Philippines.
You can apply for an OEC in the Philippines at the POEA main office or any POEA regional office[5]. Bring your valid passport with working visa and proof of OWWA membership. The OFW info sheet, which is also an OEC application requirement, can be accomplished on-site.
Related: BM Online System Guide for Balik Manggagawa OFWs
Final Thoughts
Need more information about POEA services, illegal recruitment, and other OFW matters? Contact the POEA via email (info@poea.gov.ph) or its hotline numbers (722 1144 and 722 1155).

Sources: