As of June 16, 2021, the World Health Organization listed 5,389 new COVID-19 cases in the Philippines.[1] This number will keep on changing depending on how Filipinos are protecting themselves against the virus. Indeed, life is not certain. But if there's one thing this pandemic has taught everyone, it's the importance of having a health insurance plan.
PhilHealth is the government arm responsible for providing Filipinos with medical assistance and health benefits. For employed PhilHealth members, their company's HR department handles the application requirements and process, as well as contribution payments. For the unemployed and members of the informal economy, application and membership contributions are done by the member under PhilHealth voluntary membership.
What is PhilHealth Voluntary Membership?
PhilHealth voluntary membership refers to the privilege extended to individuals who are not formally employed by a registered company or by an employer in the Philippines. Unlike employed individuals who get automatic membership, voluntary members register and pay for their contributions on their own.
Who Can Apply as a PhilHealth Voluntary Member?
Any Filipino who doesn't have a fixed employment term and is not a senior citizen, indigent member, or sponsored member can register as a voluntary member.
Collectively categorized as members in the informal economy, qualified voluntary PhilHealth members include the following:
Overseas Filipino Workers / Migrant Workers
Filipinos working in other countries are eligible to apply for PhilHealth voluntary membership. These can be documented and undocumented OFWs who are not citizens in their current location.
Informal Sector
These are self-earning individuals who produce or deliver goods and services. They have casual employment and don't engage in formal or contractual employment agreements.
Examples of PhilHealth members in the informal sector are tricycle drivers, jeepney operators, street vendors, and small construction workers. Those managing and working for home-based industries also belong to this category. Household helpers (kasambahay) and family drivers are excluded since their employers are mandated to register and enlist them as employees.
Self-Earning Individuals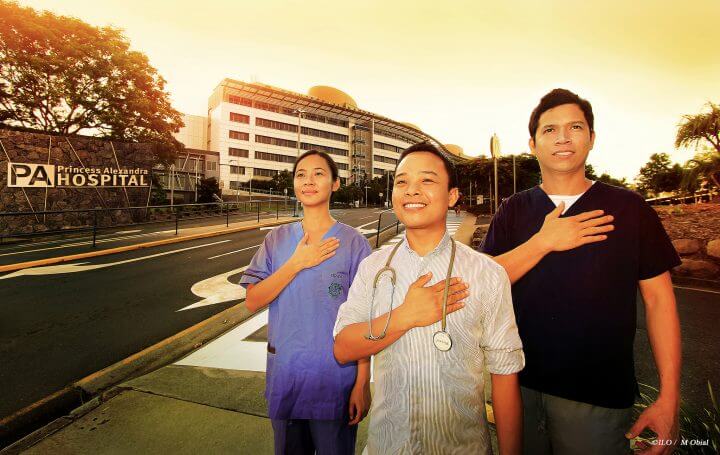 These are individuals who provide goods and services outside of employee-employer agreements. Examples are entrepreneurs, professional athletes, news correspondents, freelancers, and other professionals. They are not hired for work or do not hire someone under any formal employment agreements.
Dual Citizens
These are Filipinos who hold two citizenships or who are also a citizen of another country while maintaining their Filipino citizenship.
Naturalized Filipino Citizens
These are foreign individuals who have become Filipino citizens through naturalization made possible by the Commonwealth Act No. 473[2] or the Revised Naturalization Law.
Expatriates
These are foreign individuals who currently live in the Philippines to work. They are required to have a valid working visa or an Alien Certificate of Registration.
Who are PhilHealth Qualified Dependents of Voluntary Members?
PhilHealth for unemployed and individually paying individuals can extend their benefits to their qualified dependents at no additional cost.
These are the qualified dependents:
Legitimate spouse who is not a PhilHealth member - If the wife is a voluntary contributor, the husband automatically qualifies to enjoy the same privilege and coverage as his wife.
Children - All unmarried and unemployed children of the voluntary member who are below 21 years old qualify as dependents. This mandate covers legitimate, illegitimate, adopted, stepchild, and step-children, as long as the birth certificate indicates the name of the voluntary member as a parent.
Children who are 21 years old and above suffering from physical, mental, and any kind of disability that makes them dependent on the voluntary member for support
Children who are under voluntary member's foster care as explained in the Foster Care Act of 2012 or Republic Act 10165[3]
Parents of the voluntary member who are 60 years old and above and not enrolled as PhilHealth members. They should also not be earning a monthly income more than the amount which will be determined by PhilHealth according to the NHI Act of 2013.[4]
Parents of qualified members who have permanent disability regardless of their age and who shall be determined by PhilHealth should disability make them dependent for the members' benefits
Qualified dependents are entitled to separate coverage of up to 45 days annually. However, this separate coverage will be divided among all the enrolled dependents of the voluntary member.
It's also important to note that voluntary members should declare their dependents upon application. They should include them in the Member Data Record to ensure hassle-free benefits availments.
PhilHealth Voluntary Membership Requirements
For membership registration and dependent enrollment, PhilHealth no longer asks for supporting documents such as birth certificates or marriage contracts, as stated by PhilHealth VP Corporate Affairs Dr. Israel Francis Pargas in an interview.
A complete PhilHealth Member Registration Form (PMRF)[5] is all you need to enroll as a voluntary member.
How to Register for Voluntary Membership in a PhilHealth Office
Go to the nearest Local Health Insurance Office or PhilHealth Express outlet.
Fill out two PMRF copies.
Submit your accomplished and signed forms.
Wait for the PhilHealth Member Data Record (MDR) and ID card to be issued to you.
Using your PhilHealth ID number (PIN), pay your premium contribution to the cashier.
How to Register for PhilHealth Voluntary Membership Online
Go to the PhilHealth Electronic Registration System.
Click "PROCEED".
Read the Terms and Conditions, tick the small box below, and click "Accept."
On the online registration form, enter the required information.
Upload your document in jpeg, pdf, gif, or png format. This step is optional.
Enter the provided Captcha code, tick the small box below, and click "Submit Registration."
You'll receive instructions via email on how to complete your PhilHealth membership application. Copy the transaction number, which serves as a reference to your registration.
Disclaimer: There will be times when the online registration system undergoes maintenance and services will be unavailable. You can check for the availability of services on its website or social media channels.
PhilHealth Voluntary Membership for OFWs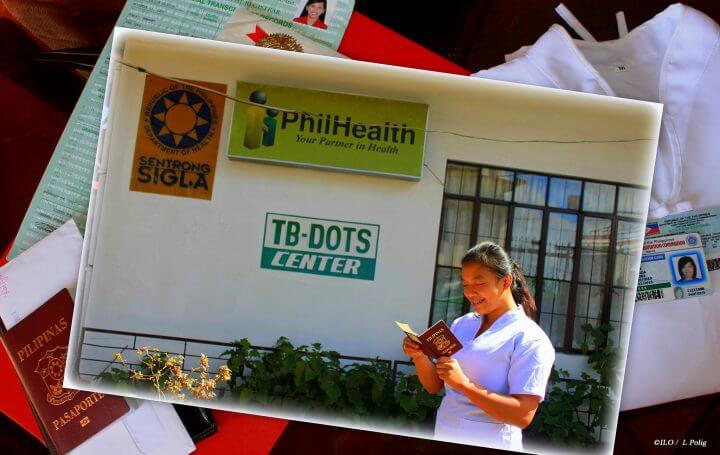 If you're taking a vacation in the Philippines, you can apply for PhilHealth voluntary membership at any Local Health Insurance Office or PhilHealth Express outlet. The PhilHealth membership application procedure is the same as that of other prospective members.
However, if you're currently abroad, you have three options for your membership registration:
Applying at any branch of PhilHealth-accredited collecting partners iRemit[6] and Ventaja Corporation[7]
Using the online registration facility
Downloading and printing the PMRF, filling it out, and sending it to ofp@philhealth.gov.ph.
Whichever method you choose, you'll need to pay the annual PhilHealth contribution to any PhilHealth office, collecting agents,[8] or the PhilHealth Operations Center at the POEA Central Office.
For any question or request, contact PhilHealth's Overseas Filipino Program (OFP) via email (ofp@philhealth.gov.ph or actioncenter@philhealth.gov.ph), OFW mobile phone (63917 512 9149), or landline (02 8441 7442).
PhilHealth Voluntary Membership Payment Schedules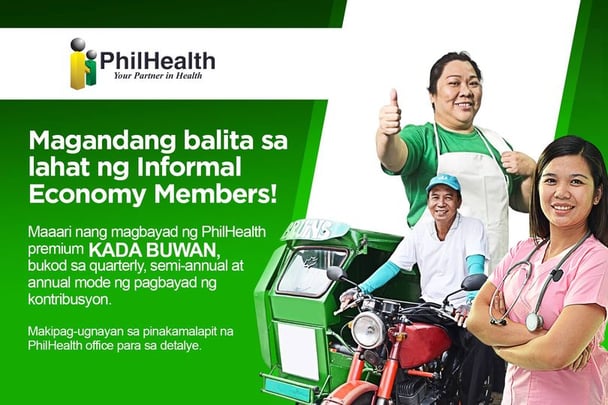 Upon registration, you can opt to pay your premium in four different schedules:
1. Monthly
If you're going to choose monthly payments, make sure to pay until the last working day of the month. For example, if you're paying for the month of February, you can pay until February 28.
2. Quarterly
Quarterly payments require you to settle your contributions for three months or one quarter. For example, if you'll be paying for the first quarter of the year, which is from January 1 to March 31, your deadline for making the payment is March 31.
3. Semi-Annual
Semi-annual payments mean you'll be paying for the entire six months (semester). For example, if you're paying for the first semester (January to June), you can pay until the last working day of the first quarter of the semester, which is March 31. In this case, you're supposed to make payments until March 31 only.
4. Yearly or Annually
If you're making a payment for one year (January to December), the deadline for your payment is March 31, which is the last working day of the first quarter of the year you're paying for. Although PhilHealth has suspended the hike in members' contributions[9] that was supposed to take effect early this year, you may refer to the contribution schedule[10] below to know how much your monthly premium contributions will be according to your monthly basic salary.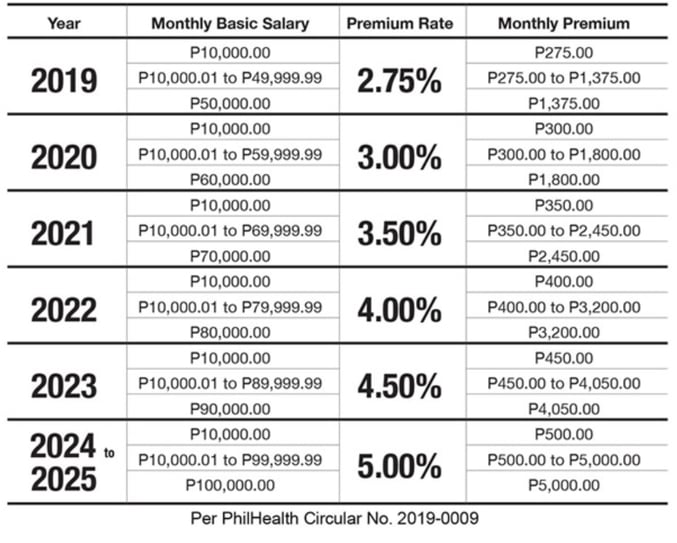 Because of the pandemic, everyone is encouraged to make payments online. They're safer and more convenient. Some of the online payment options include:
Bank of the Philippine Islands (via Bizlink)
Citibank N.A. (Citidirect)
Land Bank of the Philippines (via EPS)
Security Bank Corporation (via Digibanker)
Union Bank of the Philippines (via OneHUB) and
BancNet Inc.(via e-Gov facility)
For more information, you may check the complete list of payment channels on the PhilHealth website.
How to Update Your PhilHealth Membership Data
If you're wondering how to change your PhilHealth status from employed to voluntary online, here are the steps you should follow:
Download the PhilHealth Member Registration Form or (PMRF).
On the upper right-hand corner of the PMRF, click "For Updating."
Fill out the PMRF with the required information.
Submit the duly filled out PMRF to the nearest PhilHealth branch.
Wait for the printed version of the updated Member Data Record.
How to Change Your PhilHealth Membership Category
Based on the PhilHealth guidelines, here are three ways to continue your membership contributions.
1. From informal economy to formal economy (unemployed to employed)
Voluntary contributors can shift to formal contributions after landing employment in the Philippines. The member should provide the employer's PhilHealth Employer Number (PEN) which will be used in reporting premiums and remitting contributions.
2. Voluntary member with a land-based overseas job
The OFW should indicate his PIN when processing the registration and payment as a migrant worker.
3. Lifetime Member
If a voluntary member has made 120 contributions and more and is not employed at the age of retirement, the member can register as a Lifetime Member.
5 Things to Remember When Applying for PhilHealth Voluntary Membership
Go to the PhilHealth office early. Although PhilHealth membership registration processing takes less than a day, expect long lines and early cut-off times in some branches. Also, PhilHealth offices may operate with a skeletal workforce due to COVID-19. You should also comply with health protocols implemented in the branch you're going to visit.
Read the instructions carefully on the second page of the PMRF before filling it out.
If employed previously and already have a PIN, put a check next to "FOR UPDATING" under the PURPOSE section. You can have only one PIN in your lifetime.
Declare your dependents to maximize your PhilHealth benefits. List down the names of your qualified PhilHealth dependents when filling out the PMRF. No need to pay extra premiums for their PhilHealth coverage. When you receive your MDR, make sure it has all the names to avoid inconvenience when claiming PhilHealth benefits.
When in doubt, call PhilHealth's 24/7 interactive helpline at (02) 8441-7442.
Final Thoughts
Applying as a voluntary member of PhilHealth is easier than you'd expect. You can apply for PhilHealth voluntary membership even if you have no job as long as you can pay your monthly premiums. There's also no need to worry about PhilHealth requirements if you're unemployed. Just fill out the registration form and submit it with accurate information.
Register for PhilHealth or update your records. Do it sooner than later because you don't know when a medical emergency will happen to you or your loved ones.

Sources: