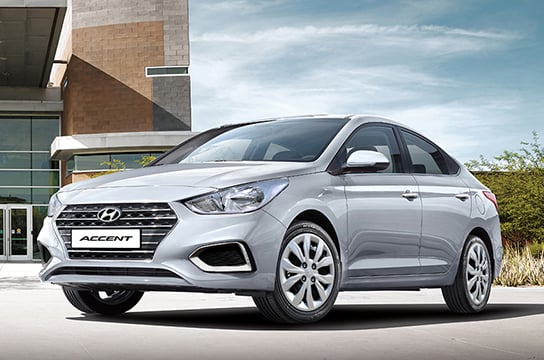 As one of the best selling cars in the Philippines for 2014, the Hyundai Accent sold 2,021 units in the first half of the year according to data from the Chamber of Automotive Manufacturers of the Philippines, Inc., or CAMPI. With its Php 648,000 price tag and performance reliability, many saw the economical and experiential value of the Accent.
It's important to stay protected while driving, and the easiest way is through auto insurance. When looking to insure your Hyundai Accent, check the 4 factors below affecting your premium. It's good to know why policies differ in coverage and pricing, so you know the best one for your Accent.
Engine
The Accent's engine size comes in two options: the 1.4L and 1.6L. The larger the engine, the more powerful it is, and the higher the premium. For the car enthusiast who wants a better acceleration rate, the 1.6 version would be preferred. Those who simply want to get from points A to B will save more with a smaller engine size.
See below for more information on the Hyundai Accent's engine system:
Accent 1.4L E CVT A/T
Performance: DOHC 16–Valve, MPI (Multi-Point Injection) Gasoline
Maximum Output: 100/6,000 (ps/rpm)
Maximum Torque: 13.6/4,000 (kg-m/rpm)
Transmission: CVT
Selling Price: Php 698,000
Accent 1.4L E 6M/T
Performance: DOHC 16–Valve, MPI (Multi-Point Injection) Gasoline
Maximum Output: 100/6,000 (ps/rpm)
Maximum Torque: 13.6/4,000 (kg-m/rpm)
Transmission: 6-speed M/T
Selling Price: Php 648,000
Read more: The Higher Costs of Lower Premiums
Transmission
Automatic cars are more expensive than manual vehicles; thus, the higher insurance rates. But what makes them pricier?
A/T cars have more complex gearboxes than M/T transmissions. Being electronically controlled as compared to a manual's person–controlled gears, automatic cars are pricier to make and maintain.
If you like the thrill of switching gears, M/T cars won't be a problem for you, and you'll pay a lower premium. If you can't imagine driving a manual, then a Php 1,000 difference in insurance rates compensates for the convenience of driving an automatic.
Model
Your premium takes into account the value of your car. Newer models are pricier than their older versions, so if you have a 2011 Hyundai Accent, you'll be paying a lower premium as compared to if you had the 2015 model.
Coverage
Comprehensive car insurances protect you from a wider range of factors compared to standard policies. If you live in a flood–prone area, paying additional rates for an 'Acts of Nature' (AoN) coverage is beneficial. If you commute during the work week and drive your Accent on weekends, you can pay a cheaper premium without an AoN policy.
At the end of the day, picking the right insurance depends on your needs.
Read more: How to Get Car Insurance for Second Hand Vehicles
Protecting Your Hyundai Accent
Unforeseen events can catch you by surprise. Imagine breaking your bumper and shelling out Php 20,000 at once? Without insurance, you're caught unprepared, and you run the risk of spending more to repairs.
See the table below for a comparison of affordable premiums for your Accent:
| | Provider 1 | Provider 2 | Provider 3 |
| --- | --- | --- | --- |
| Accent 1.4 E CVT A/T | P18,600* | P19,900* | P15,100* |
| Accent 1.4 E 6M/T | P17,400* | P18,600* | P14,200* |
Knowing the factors being taken into account gives you a clearer picture on the value your policy provides. There are instances when a higher premium is more beneficial for your situation and others when the cheaper one is better.
Compare car insurance for your Hyundai Accent through Moneymax.ph. You can also speak to a Moneymax advisor for more information about Hyundai Accent car insurance.
*prices are approximates from actual insurance providers and may still vary