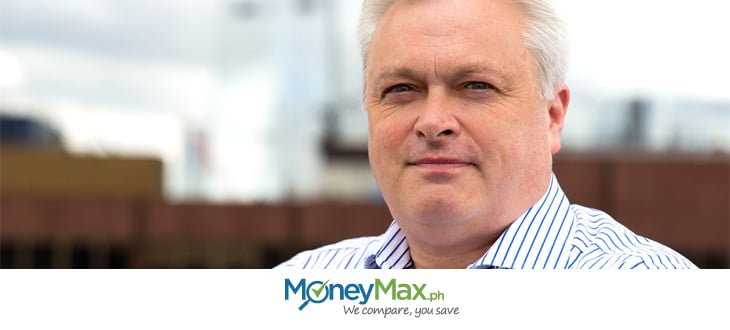 When you start investing, you're way more dependent on research and what the people who manage your finances know. When you start, you'll have a lot of questions, and these people will help guide you towards making the right investments and controlling your finances to the best of your ability.
Part of the fear most people have when it comes to investing is that they don't know how qualified these financial professionals they are working with are. You will ask exactly how these people are qualified to make decisions regarding your hard-earned money.
We sat down with Kevin Moore (Global Business Development Director) and Ken McGowan (Regional Director for APAC) of the Chartered Institute of Securities and Investments (CISI) to get their insights on financial education and how it affects the way your money moves.
Growing the Philippines' investors' landscape
The odds that a first-time investor gets bad financial advice are unfortunately high given that there are some financial industry scams prevalent in the country such as financial seminars leaned towards forced sales of real estate, groups that require low minimum investments for 40% interest in 3 months, or it may be as simple as self-declared financial gurus who have decided to give financial advice to clients without in-depth knowledge in this industry. Consumer protection, as making sure that people in financial services do have set qualifications, should be applied through making sure that who gives us advise are qualified and competent in their field.
The country's financial landscape is largely emerging but in essence, only less than 1 percent of the Filipino population is leveraging on gaining passive income through investment. Most of it is due to the lack of financial literacy. There are times when the advice people get can do more harm than good.
"That's one of the reasons improving the overall levels of financial literacy is essential. It would be far better if it complemented your knowledge of financial services."
"What investors should be guided by is what is suitable. What they should be guided by are qualified people with their best interests as part of their rationale," Kevin continued.
With a projected 6.3% growth in the country's real GDP, it's the perfect time for people to invest, whether modest or not.
Highlighting the importance of an internationally-standardized financial education system
The driving force behind the need for standardization is the growth of the financial services sector in the country. This growth is largely motivated by the BPO industry, which is projected to make approximately more than 10 percent of the nation's GDP directly employing 1.3 million Filipinos and 3.2 million more in indirect employment according to the Information Technology and Business Processing Association of the Philippines (IBPAP).
"Our core area is the people doing the processing for financial transactions in New York and elsewhere – but the work is being done here. There was also the interest between banks and regulators in international benchmark qualifications."
It becomes easier for financial professionals to work to standard benchmarks if qualifications across the board are standard. Given that the Philippines is an emerging market, more people are getting interested to pursue a professional financial career and in promoting financial literacy. Learning about the way money can work for you is one thing, but without a qualified professional to guide you, you may end up losing money because of misinformation.
"If you're going to have an active financial market, you're going to want qualified people. Using an international exam as a benchmark can give people an indicator that the professional is for the client's best interest and that they have invested on knowledge to help them grow in their career," said Ken, on bridging the gap in knowledge and for those who want to make a profession of it on benchmark qualifications.
Larger banks like BDO and BPI have expressed interest in acquiring standardized qualifications for its staff, stating that it helps with retention, and make people more employable in financial professions.
Read more: How to Save for College Education? These Extraordinary Women Share Their Experiences
Cultivating trust in the financial sector in line with growth in knowledge
A qualified financial professional is able to determine someone's ability to invest with the help of tools like risk assessments and financial statements. These are people who've studied the way the financial world moves, and like some professions, qualifying to be one means intensive study – and plenty of testing.
Unfortunately, qualifying for it in the country isn't standardized with the rest of the world. "International financial professional standards gives you some comfort that people in the UK and Shanghai for example are – broadly – speaking the same language," Kevin says of standardized qualification.
Regardless of age, it's not a sustainable model to simply have people invest in something unless it's based on trust. This is one of the most difficult things to establish between an investor and their financial professional.
First will come integrity, and while the benefits in the short term are difficult to say, it's critical that financial professionals or people working in the industry learn how to ensure that they provide the best possible (and accurate) advice to their clients.
"The country has an amazing potential talent pool, and there is an appetite among younger people for doing the right thing – and an ethical approach to doing things. And that's all around the world, not just in the Philippines."
Final Thoughts
Financial literacy and education of professionals is something that has a long-term goal of providing better quality financial advice. The work is to allow for those already in the financial industry to have a more regulated structure when it comes to putting together one's future finances.
"We cannot continue to work in an environment where our clients do not trust us," Kevin concludes. It's not just learning to do the right thing; it's being able to do things properly – regardless of your means.
CISI is a not-for-profit organization whose aim is to create a set of standard qualifications particularly in the financial professionals market.