Do you keep loose change in a piggy bank? As children, we were told to store money in our piggy banks. A lot of us went on to carry this habit into adulthood.
However, hoarding coins may have a detrimental effect on the economy––not to mention, they're heavy and inconvenient to store. To solve this, you need to know how to deposit coins at the bank in the Philippines.
In this article, you'll learn just how to do so. We also have a few tips on how to manage your loose change in case heading to the bank isn't an option for now.
Why Deposit Your Coins in the Bank?
Do banks accept coins for deposit? Yes, they do. But why should you deposit your coins into your bank account in the first place?
The answer is circulation. Keeping coins—or banknotes for that matter—in your piggy bank and not using them may result in an artificial coin shortage.[1] The Bangko Sentral ng Pilipinas (BSP) would then have to mint more coins, a process that entails significant production costs. These costs would prevent the BSP from remitting more dividends to the national government.
According to Felipe Medalla, the governor of the Bangko Sentral ng Pilipinas (BSP), coins are supposed to change hands at least once a week. But as more people tend to keep their coins at home, the recirculation rate is once every six months.[2]
When you deposit your coins at the bank, however, the bank redistributes them to different individuals and establishments, ultimately putting them in circulation.
Related reading: 6 Best Banks in the Philippines for Opening a Savings Account
How to Deposit Coins at the Bank in the Philippines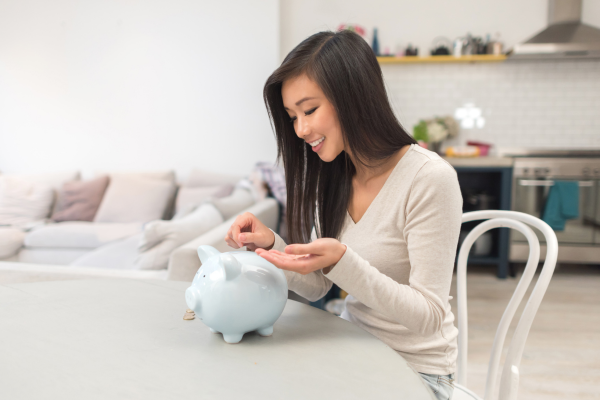 Wondering how to deposit coins at the bank in the Philippines? The process is pretty straightforward. Just go to your preferred bank and do the following:
Fill out the deposit form. State the denominations of your coins.
Head to the teller and present your deposit slip.
Count the coins and give them all to the teller. The teller will then use a coin counter to validate the amount of your deposit.
Give your passbook for the updating of records.
Notes:
Some tellers do not recommend taping your coins. Otherwise, counting your coins might take more time.
If you're depositing a huge amount, sort your coins and wrap them in paper according to denomination. Use coin wrapping paper, which is available in online shops such as Lazada. You can also use regular paper to wrap your coins.
Write the amount, your name, and contact number on the wrapper. That way, the bank can reach you in case of a discrepancy.
Related reading: Savings Account vs. Current Account: What are the Pros and Cons?
How to Deposit Coins at a Non-Bank Establishment
How should you deposit coins in case you're not visiting the bank anytime soon? You can use the BSP Coin Deposit Machine. Here's your quick primer on one of the BSP's latest projects:
👉 What is a Coin Deposit Machine in the Philippines?
Also known as CODM, the BSP Coin Deposit Machine is an instrument where you can deposit your coins and convert them into e-wallet credits or shopping vouchers. Considered a pioneering effort in Southeast Asia, this project is designed to recirculate idle coins.[3]
The BSP Coin Deposit Machine accepts all coin denominations. These include the one-, five-, 10-, 25-centavo coins and one-, five-, 10-, and 20-peso coins of the BSP Coin Series and the New Generation Currency Coin Series.
Once you deposit the coins, you can choose to exchange the deposited value for vouchers or credit it to your GCash wallet.
👉 Where Can I Find a BSP Coin Deposit Machine?
You're probably thinking, "Is there a coin deposit machine near me?"
The central bank launched this project in partnership with the country's leading malls. The BSP Coin Deposit Machine locations include the following:
SM City Fairview
SM City North EDSA
SM City San Lazaro
SM Mall of Asia
SM City Bicutan
SM City Bacoor
Robinsons Galleria Ortigas
Robinsons Place Manila
Festival Supermall
The BSP plans to deploy more machines in other SM and Robinsons retail establishments this year.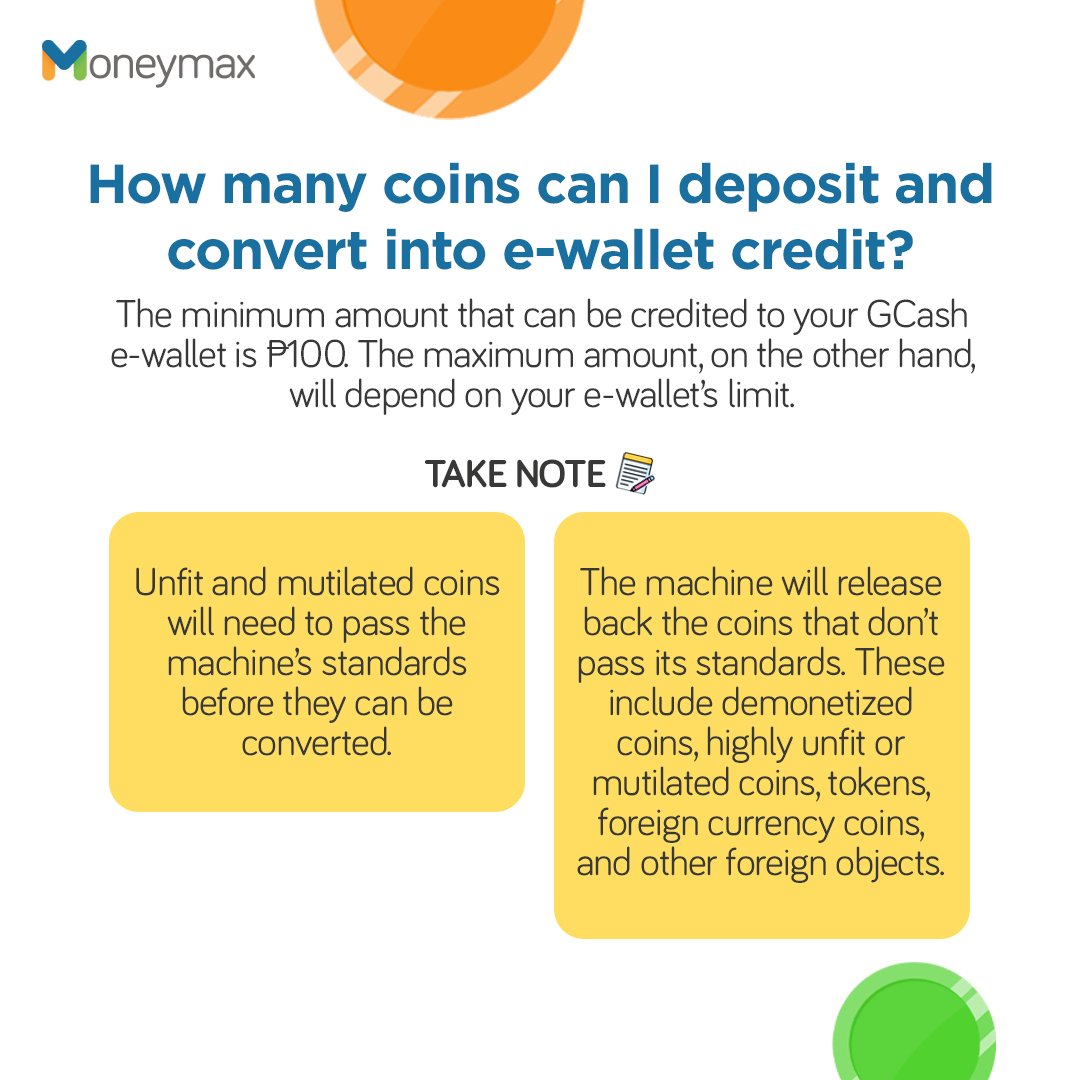 👉 How to Use the BSP Coin Deposit Machine
To use the BSP Coin Deposit Machine, here are the steps that you need to take:
Visit a mall location with a coin deposit machine.
Follow the instructions on the screen.
Drop your coins into the dedicated slot. Remember that coins cannot be retrieved once they go into the deposit machine.
Press A to start the coin count. View the denominations and the total amount of deposited coins on the screen.
Convert the deposited coins into your preferred spending mode: GCash credits or shopping vouchers.
Get the transaction receipt.
Notes:

You may convert the value into shopping vouchers only if you deposit your coins into CODMs at SM Malls or Festival Mall. Use these vouchers for transactions at SM Stores across the country. Voucher conversion doesn't have a minimum or maximum amount.
The minimum amount that can be credited to your GCash e-wallet is ₱100. The maximum amount, on the other hand, will depend on your wallet's limit.
Only fit coins or those that aren't damaged will be exchanged for the appropriate e-wallet credits or vouchers.
Unfit and mutilated coins will need to pass the machine's standards before they can be converted.
The machine will release back the coins that don't pass its standards. These include demonetized coins, highly unfit or mutilated coins, tokens, foreign currency coins, and other foreign objects.
Can't Go to The Bank Yet? Here's What to Do With Your Coins
If you can't go to the bank yet or live too far away from the malls with CODMs, manage your coins by doing the following:
💰 Exchange Your Coins at a Local Retailer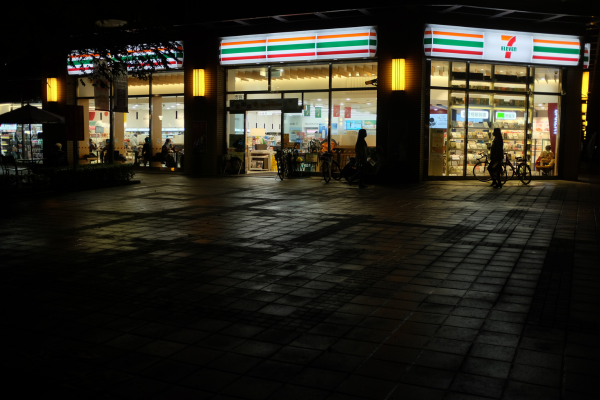 Can I exchange my coins at the bank in the Philippines? Yes! But where to change coins to bills in the Philippines if you can't go to the bank yet?
Head to your nearest sari-sari store or local retailer to exchange your coins for banknotes. You may also try your luck at a convenience store. These establishments need coins for giving exact change.
💰 Add Them to Your Digital Wallet
A lot of neighborhood stores and convenience stores offer cash-in services. Add your coins to your digital wallet by availing of such a service. This will be favorable to the store since, again, they need coins to give exact change.
💰 Give Them Away
The BSP encourages spending your coins. But there's another way to put them in circulation—giving them away. For instance, you can give your coins to carolers or kids asking for aguinaldo during Christmas.
Related reading: What Banks Are Open on Weekends? Here's a Guide for Your Weekend Banking Needs
Final Thoughts
Knowing how to deposit coins at the bank in the Philippines will not only help you keep your money safe but also put it in circulation.
The BSP Coin Deposit Machine, on the other hand, also offers a way to convert your coins into GCash credits or vouchers, which you can readily use for shopping. It's a great option if you don't want to queue at the bank and happen to live near one of the malls listed above.

Sources: