With so many perils on the road, all car owners should have the financial protection and peace of mind that comes only with the right car insurance coverage.
In this BPI MS car insurance review, learn about its features, application, claim procedures, and more to see if it's suited to your car insurance needs.
What is BPI MS Car Insurance?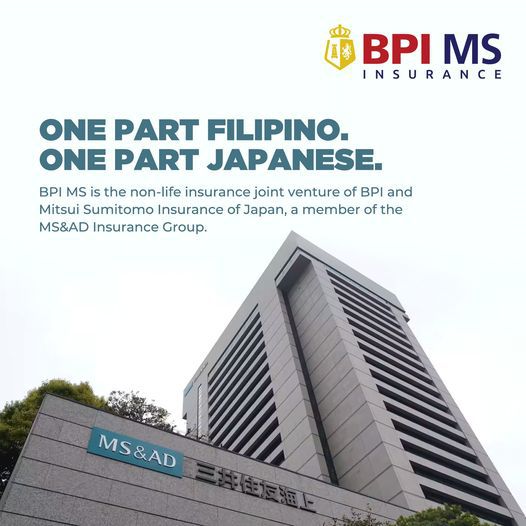 BPI MS Motor Insurance is a car insurance coverage offered by BPI MS Insurance Corporation, the non-life insurance joint venture of BPI and Mitsui Sumito, one of the biggest non-life insurance companies in Japan.
The BPI MS Comprehensive Motor Insurance provides coverage against own damage, theft, Voluntary Third Party Liability (for bodily and property injury), and personal auto accidents. It also includes 24-hour roadside assistance.
If you want a more extensive package, you can avail of the BPI MS Comprehensive Motor Insurance with Acts of Nature, which includes additional coverage against malicious damage and damage caused by fire, self-ignition, lightning, and explosions.
BPI MS Car Insurance Review: Features and Benefits
What makes BPI MS car insurance worth having? We've listed the reasons for you.
✔️ Value for Your Money
Aside from the fact that it's a car insurance product offered by one of the country's leading and most trusted insurance companies, BPI MS car insurance also provides high coverage that gives you value for your money.
✔️ Year-Round Complete Car Protection
A road accident can happen at any time. But with this insurance, you can drive and travel in peace knowing you have complete protection 24/7, all year round.
✔️ Coverage Against Natural Calamities
If you want to protect your vehicle from serious damage caused by typhoons, floods, and other natural calamities beyond your control, you can get the Acts of Nature cover for an additional premium.
✔️ Roadside Assistance
Every driver fears breaking down in the middle of the road. But with BPI MS Insurance's 24-hour roadside assistance service, you can get free, reliable towing service any time, including holidays.
✔️ Hassle-Free Payments
Aside from paying at your servicing BPI MS office or at any BPI branch nationwide, you can pay your insurance premiums conveniently via BPI Online, GCash, and Maya, just to name a few.
✔️ Installment Options
BPI MS car insurance is also easy on the pocket, as it offers installment payment options. You don't need to worry about making large one-time payments. You can opt for monthly payments with your BPI credit card (also available for RCBC, Robinsons Bank, and HSBC credit cards).
✔️ Easy Claims Procedure
When you need to make a claim, you can call the Claims Department or proceed to any BPI MS branch in the Philippines (there's a BPI MS branch in Makati, Alabang, and Quezon City if you're in Metro Manila).
To know how to make a claim with BPI MS, refer to your copy of the Motor Claims Guide, which will be given to you upon the issuance of your policy.
How Much is BPI MS Car Insurance?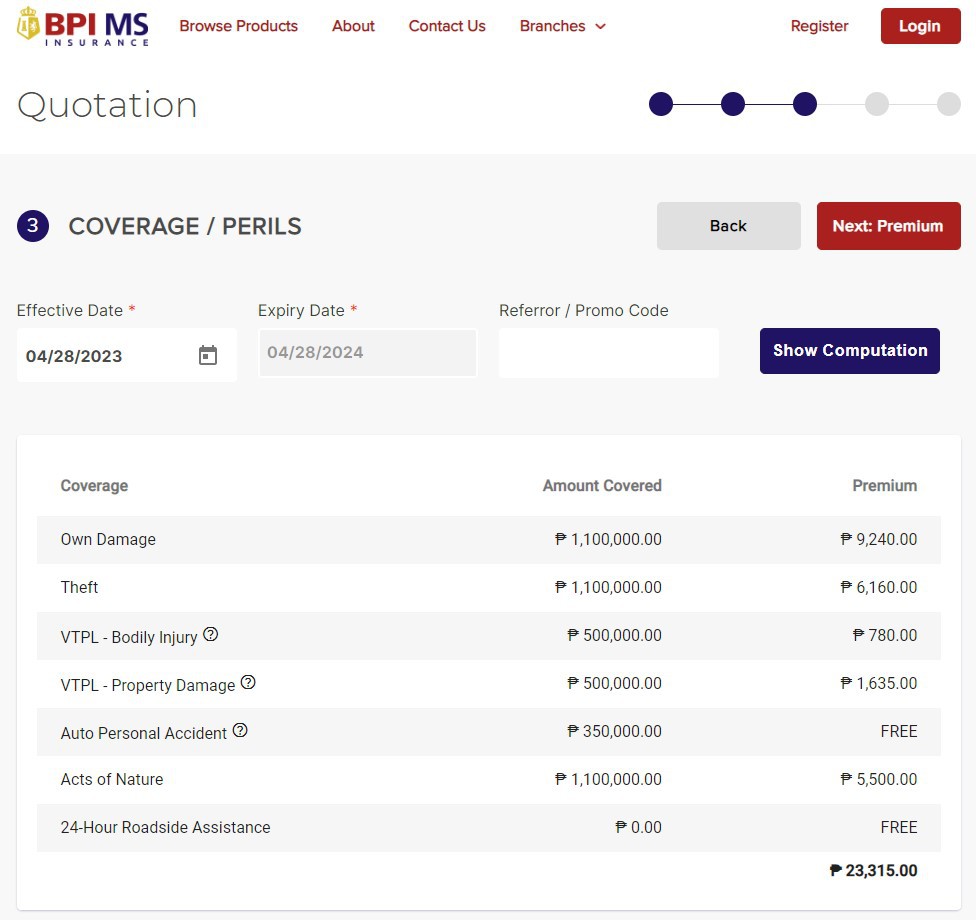 The premium will depend on the fair market value of the insured vehicle, the insurance coverage, and your chosen car insurance add-ons. You can get a sample computation online by visiting eprotect.bpims.com/quotation.
For example, a Comprehensive Motor Insurance with Acts of Nature for a brand-new 2023 Mitsubishi Xpander (1.5G GLS 2WD AT), with a purchase price of around ₱1.1 million, will have an annual premium of ₱23,315.
It comes with free 24-hour roadside assistance and Auto Personal Accident, as well as ₱1,500 towing limit and ₱7,000 authorized repair limit.
How to Purchase BPI MS Car Insurance Online
Getting a BPI MS car insurance policy isn't complicated at all. You can complete it in five easy steps and receive your e-policy immediately. Here's how: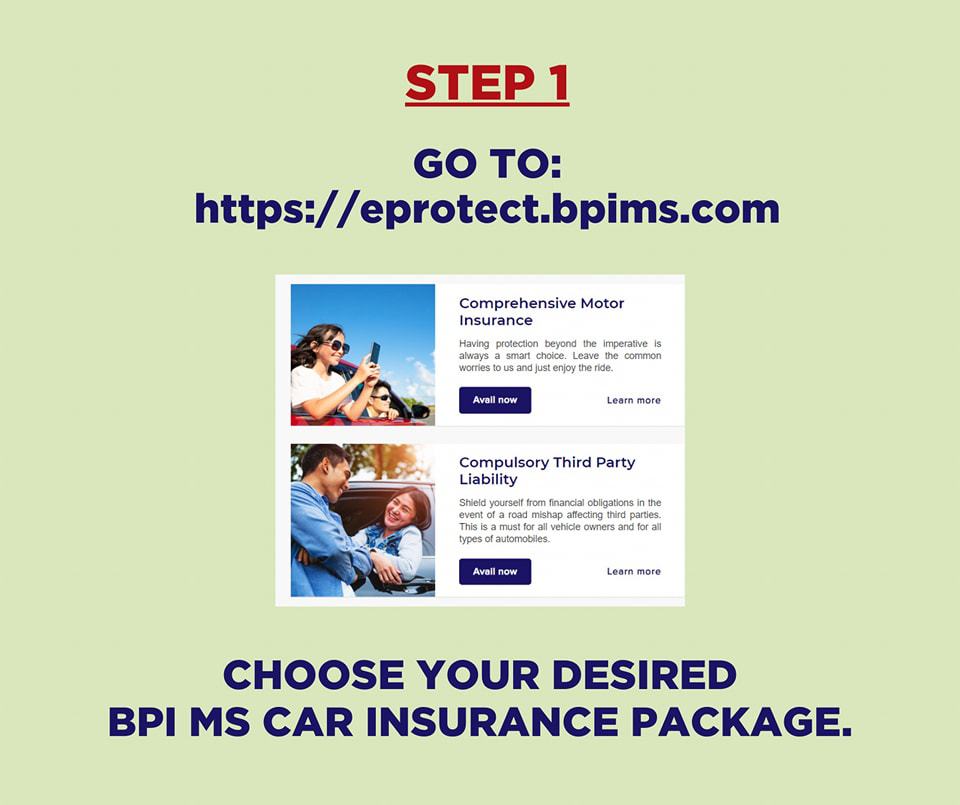 Visit the BPI MS Express Protect[1] page at eprotect.bpims.com and select Comprehensive Motor Insurance from the car insurance package options.
Fill out the online form with your vehicle details. Enter the effectivity date and click Show Computation.
Proceed with creating a BPI MS account to generate your motor insurance computation.
Upload a copy of a valid ID and enter the required information.
Choose a mode of payment and pay your car insurance premium. After which, you can download or print a copy of your e-policy.
How to Pay Your BPI MS Car Insurance Policy
There are many ways to pay for your BPI MS car insurance premiums. Choose from the convenient payment methods below:
💸 Cash/Card Payment at BPI MS and BPI Branches
Pay your annual premiums in cash over the counter at any BPI MS office or BPI branch. Take note of the following information:
BPI MS Account Number: BPI: 0011-1447-72 | BFSB: 6001-0515-02
Account Name: BPI/MS Insurance Corporation
Payment Reference Number: 16-digit payment reference
For debit or credit card payments at BPI MS offices, simply present your card to the cashier. Enter your debit card PIN to complete the transaction.
You may also charge your premium payment to your BPI credit card and avail of the Special Installment Plan. Just fill out the BPI MS Credit Card Payment Form[2] and submit it at any BPI MS office.
💸 Online Payment via BPI Online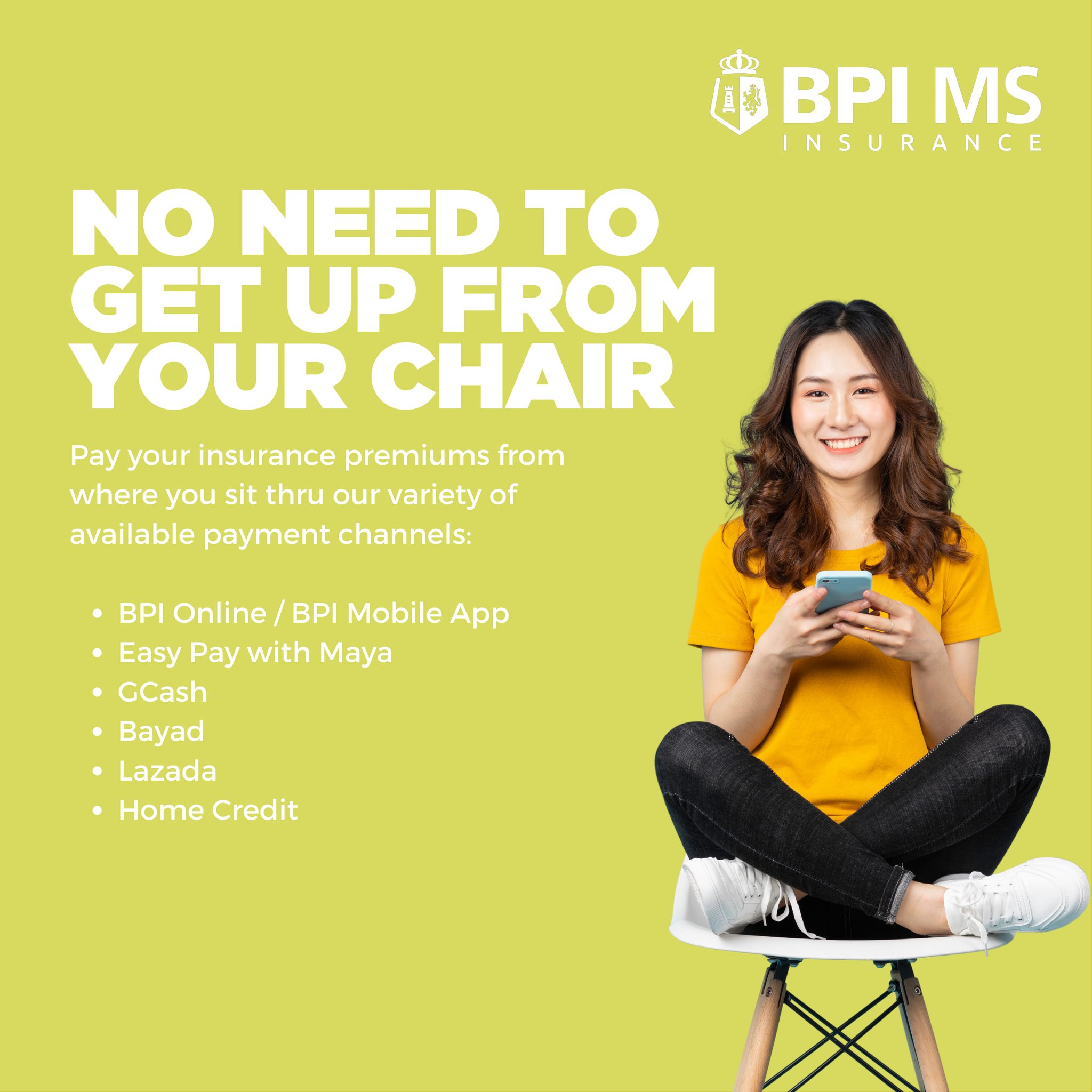 BPI clients also have the option to pay via their BPI Online account.
Enroll your BPI MS insurance policy as a biller and proceed with your bill payment.
Choose the account you'll pay from (debit from your BPI account or charge to your BPI credit card).
Enter the insurance premium amount to be paid and select the BPI MS Payment Reference Number from your list of enrolled billers.
Click Next and confirm your payment by entering the One-Time Pin (OTP) sent to your mobile number.
You'll see the confirmation message that your bill payment is successful. Keep this as proof of your insurance premium payment.
💸 Payment via GCash, Maya, or Bayad App
Do you prefer paying with your e-wallet or other apps like Bayad App? You can do so by following these steps:
Log in to your GCash, Maya, or Bayad App.
Select Pay Bills or Bills Payment.
Choose Insurance and select BPI/MS Insurance Corporation.
Enter the following details:
Policy/Reference Number: 8-digit Policy Number/16-digit Payment Reference Number
Contact Number: 11-digit Mobile Number
Amount: Insurance Premium
Email address (for GCash payments)
You'll receive an SMS or email notification upon successful payment.
How to Make a BPI MS Car Insurance Claim
Call the BPI MS Insurance contact numbers below if you need to file a claim or need to avail of the Express Roadside Assistance service:
Trunkline: (02) 8840-9000

BPI MS Car Insurance Hotline for Claims: (02) 8840-9999 or 8840-9966

Express Roadside Assistance: (02) 8687-8585 for towing or minor on-site vehicle repairs
👉 BPI MS Insurance Claim Requirements
Make sure you have the following requirements:
BPI MS Accident Report Form[3] or Notarized Affidavit
Copy of the Police Report (required for theft, total loss, or substantial Third-Party Property Damage and Bodily Injury claims)
Vehicle's Registration Certificate and current Official Receipt (photocopy)
Driver's License and Official Receipt of Authorized Driver (photocopy)
Accident scene photos (if available)
Preferred shop estimates (if available)
👉 How to Submit Your Claim Documents
Submit your claim documents by emailing them to bpimsclaims@bpi.com.ph.
Alternatively, you can proceed to any of the following offices to submit your claim documents to a BPI MS servicing agent:
BPI MS Head Office
BPI MS Branch Office servicing you
BPI MS Motor Claims Evaluation Center
BPI MS Motor Insurance Alternatives
Need more car insurance choices? Check out the following insurance companies and compare rates before you buy your car insurance:
Transportation reimbursement coverage
3 years of casa eligibility
58 casa repair shops

Dedicated claims service for OONA clients
Free legal assistance for all its car insurance packages
10 years of casa eligibility
366 casa repair shops

Value-added services like free alternative transport, overnight accommodation, etc.
Free vehicle retrieval, towing, breakdown service, and more
10 years of casa eligibility

Personalized services for both retail and corporate accounts
Headquarters in key cities in the country
10 years of casa eligibility
77 casa repair shops

10 years of casa eligibility
167 casa repair shops

Customer support in over 3,000 branches worldwide
Coverage for commercial and motorcycle vehicles
5 years of casa eligibility
36 casa repair shops

Final Thoughts
The BPI MS car insurance is backed by one of the oldest and most successful banks in the Philippines and a leading international insurance company. You can rest assured that your vehicle is in capable hands.
The claims procedure is easy and doesn't require many documents. Plus, its customer service department is responsive. You won't get overly stressed should you need to make an insurance claim. That's quality car insurance for you on and off the road!
But of course, this BPI MS car insurance review won't be complete without mentioning its drawbacks. For a premium and comprehensive car insurance coverage such as this, there are car owners who might find its insurance premiums on the pricier side.
Remember, though, that insurance premiums vary based on the type of vehicle, coverage, and add-ons. So keep this car insurance product from BPI MS on your radar when shopping for a car insurance policy!

Sources: