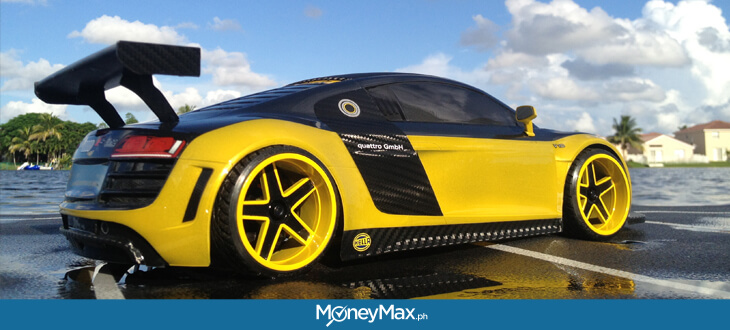 87% of Filipino car owners view their cars as a means to get from points A to B; however, Filipinos still ranked fifth worldwide when it comes to viewing their vehicle as a status symbol. It's no wonder nine out of 10 car owners intend to upgrade their vehicles once they have the extra funds, according to the Nielsen Global Survey of Automotive Demand. Upgrades are aplenty, and you can't deny the value they add to the car.
With the most basic of upgrades beginning at four digits – it's Php 1,000 to upgrade to a louder horn – it's a must to keep your vehicle in its best condition. One way is through regular maintenance, and another is through car insurance.

It's important to know that the upgrades and add-ons affect your insurance premium. The more upgrades, the higher your insurance payments. From applying for and renewing insurance to filing a claim, here are the things you need to know when insuring your souped-up car:
Application and Renewal
Insuring your upgraded car follows the same process as a regular vehicle. The typical documents you need are:
OR and car registration (CR)
Invoice
chassis and engine number
conduction sticker
license and valid ID
If you're insuring a secondhand vehicle, you would need photos of the front, rear, and side ends of your car. There are no additional documents to fill up when applying for insurance for your car's upgrades. You just need to declare the additional features on the standard application form.
It's important to inform your insurance provider for any upgrades on your car, so they can include it in the insurance coverage. If you need to make a claim and you didn't report the add-ons, these may not be covered by your insurance.
Read more: How Much Does it Cost to Insure Your Mitsubishi Vehicle in the Philippines?
Claims Process
The process for filing a claim on your styled-up car follows the standard system. First, you must submit a copy of your policy, OR of your insurance payment, the Police Report Affidavit, photographs of damages, photocopies of your valid IDs, and of course, a filled-up insurance claim form from the insurer. The OR ensures you are up-to-date with your payments, and the photographs and Police Report Affidavit ensures authenticity of the events that took place. The narrative in the police report should be detailed to come up with a fair estimate for repairs.
For specific cases, such as personal and passenger accidents and car theft, there are additional documents to submit. For a detailed list of forms to submit, click the link for a step-by-step process on how to file a car insurance claim.
Once you've submitted all the above-mentioned documents, it can take roughly one to two weeks to get the Letter of Authorization (LOA) to repair the damages.
Read more: Should You Get Car Insurance Through a Bank, Dealer, or Online Broker?
Driving safely and in style!
With the Filipino middle class expected to bump up the auto industry in the coming years, car sales will continue to grow, and that means more upgrades as well. From adding a sensor system for parking assistance to that matte finish to cruise in style, people upgrade their cars both for functional and aesthetic purposes. Even if more upgrades mean a higher insurance premium, car insurance is important. You can end up paying more for damages and repairs without insurance than your regular payments.
If you want to know more about how you can ensure the upgrades of your car, talk to a Moneymax.ph financial advisor.
Car Insurance Company
Features
OONA Insurance (formerly MAPFRE)



10 years of casa eligibility
366 accredited repair shops
PHP 5,000,000 maximum total sum insured
Overnight accommodation - Yes, up to PHP 3,000
Towing - Yes, up to PHP 5,000
Vehicle removal crane services - Yes, up to PHP 10,000

Malayan Insurance



3 years of casa eligibility
58 casa repair shops
PHP 7,500,000 maximum total sum insured
Overnight accommodation - Yes, up to PHP 1,000
Towing - Yes, up to PHP 4,000
Vehicle removal crane services - Yes, up to PHP 8,000

Prudential Guarantee



10 years of casa eligibility
PHP 3,000,000 maximum total sum insured
Overnight accommodation - Yes, up to PHP 2,000
Towing - Yes, up to PHP 5,500
Vehicle removal crane services - Yes, up to PHP 15,000

SGI Philippines



5 years of casa eligibility
36 accredited repair shops
PHP 5,000,000 maximum total sum insured
Overnight accommodation - Yes, up to PHP 2,000
Towing amount - Yes, up to PHP 5,000
Vehicle removal crane services - PHP 10,000

Stronghold Insurance



10 years of casa eligibility
167 accredited repair shops
PHP 3,000,000 maximum total sum insured

The Mercantile Insurance Corporation



10 years of casa eligibility
77 accredited repair shops
PHP 5,000,000 maximum total sum insured
Overnight accommodation - Yes, up to PHP 2,000
Towing - Yes, up to PHP 5,000
Vehicle removal crane services - Yes, up to PHP 10,000