There was at least one fatal road accident in Metro Manila per day, according to a 2013 report by the Metropolitan Manila Development Authority (MMDA). That did not include minor road accidents, which amounted to around 200 a day. From speeding and drunk driving to defects in road design and maintenance, there are many causes for road accidents. With personal safety and damage costs both major concerns during these situations, road accidents take a toll on a person's body, mind, and wallet.
Thankfully, having motor vehicle insurance can help lighten the load. MoneyMax.ph caught up with three Filipinos who were saved by their car insurance. Here are their stories:
"My insurance covered my daughters' driving accidents"
MoneyMax.ph chatted with Malou, a mother of four. "Getting car insurance is a good decision especially if you have teenagers or children learning to drive," she said.
Her daughters were involved in two separate incidents with the damage for both totaling PHP 50,000. "One of my daughters broke the bumper of our sedan, and that amounted to PHP 20,000 alone. The other daughter hit a truck, and the bumper, lights, windshield, and the left fender all broke." Fortunately, her insurance provider covered the PHP 50,000 in damages while she only paid PHP 13,000 in annual premiums.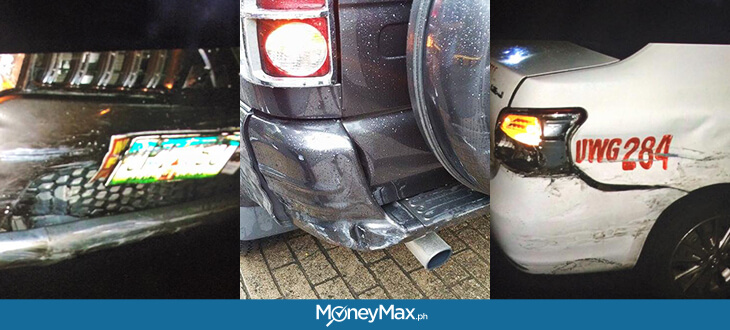 "My insurance provider covered half a million pesos"
"The damages for the three cars totaled PHP 500,000," Rowyn began, recounting the incident. "I was driving my Montero Sport when I hit a taxi which did a 360-degree turn. Then, the taxi collided with a parked Isuzu Sportiva."
With three vehicles damaged, it was a stressful and expensive ordeal for her. Thankfully, her insurance provider covered all damages, and that was a blessing for her. With her annual premium amounting to PHP 9,000, the PHP 500,000 covered by her insurance was a good deal.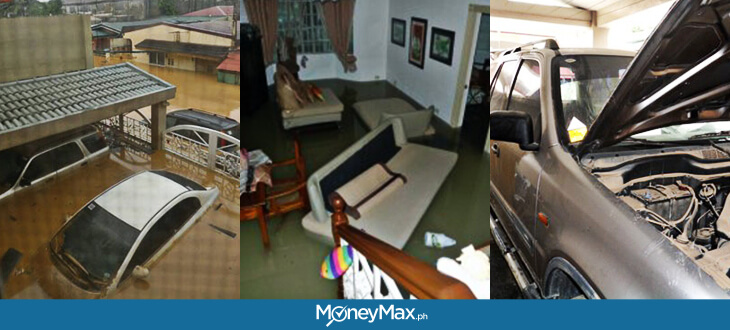 "My cars were flooded, but Acts of Nature coverage saved me money"
With the rainy season in place this month of July, Filipinos are taking precautions in the event another typhoon strikes. One precaution is insuring your car with an Acts of Nature (AoN) insurance policy. After Ondoy hit, premiums for AoN rose from PHP 12.1 billion in 2009 to PHP 13.5 billion in 2010.
MoneyMax.ph chatted with Noemi whose vehicles were covered by Acts of Nature when Ondoy hit the country.
"I was out of the house when I saw my daughter's tweet that floodwaters were entering the home," she said. "My husband and our housekeepers were trying to save as much furniture as possible by carrying them to the second floor. Thankfully, the water subsided, and even though many were damaged, they were only material possessions."
For the family's cars, all three vehicles were submerged, but only two were covered with an Acts of Nature policy. "I understood now why I was paying for a higher premium, and why the cheapest policy is not always the best. The one with the cheapest insurance wasn't covered with AoN." Noemi received PHP 320,000 from her provider to cover repairs.
Lessons Learned
Car insurance prices vary depending on the make and model of your vehicle. One thing's for sure is that when an accident happens, having insurance is advantageous. You'll save more in the long run with your annual premium than paying for damages and repairs, which can strike at any time. The experiences of Malou, Rowyn, and Noemi are a testament to the benefits of car insurance. With the Philippines expecting a series of typhoons in the coming months, it's best to take precautions and protect your assets, and insuring your belongings is the best way to start.
Get a Free Car Insurance Quote!
Looking for car insurance? Below is a list of top companies and their features. Compare your options and get a free car insurance quote from Moneymax!
Car Insurance Company
Features
OONA Insurance (formerly MAPFRE)



10 years of casa eligibility
366 accredited repair shops
PHP 5,000,000 maximum total sum insured
Overnight accommodation - Yes, up to PHP 3,000
Towing - Yes, up to PHP 5,000
Vehicle removal crane services - Yes, up to PHP 10,000

Malayan Insurance



3 years of casa eligibility
58 casa repair shops
PHP 7,500,000 maximum total sum insured
Overnight accommodation - Yes, up to PHP 1,000
Towing - Yes, up to PHP 4,000
Vehicle removal crane services - Yes, up to PHP 8,000

Prudential Guarantee



10 years of casa eligibility
PHP 3,000,000 maximum total sum insured
Overnight accommodation - Yes, up to PHP 2,000
Towing - Yes, up to PHP 5,500
Vehicle removal crane services - Yes, up to PHP 15,000

SGI Philippines



5 years of casa eligibility
36 accredited repair shops
PHP 5,000,000 maximum total sum insured
Overnight accommodation - Yes, up to PHP 2,000
Towing amount - Yes, up to PHP 5,000
Vehicle removal crane services - PHP 10,000

Stronghold Insurance



10 years of casa eligibility
167 accredited repair shops
PHP 3,000,000 maximum total sum insured

The Mercantile Insurance Corporation



10 years of casa eligibility
77 accredited repair shops
PHP 5,000,000 maximum total sum insured
Overnight accommodation - Yes, up to PHP 2,000
Towing - Yes, up to PHP 5,000
Vehicle removal crane services - Yes, up to PHP 10,000