Let's say an insurance agent who is your friend or relative wants to sell you VUL insurance. But you're unsure if getting this type of insurance is a wise investment decision.
Is a VUL worth it? What is VUL in the Philippines, anyway?
A VUL insurance policy comes with pros and cons. Before investing your money, understand what a VUL is, its benefits, and its risks. Here's an objective guide to help you decide whether to purchase a VUL plan or explore other options.
What is VUL and How Does It Work?
Variable Universal Life Insurance in the Philippines, also known as Variable Unit-Linked Insurance or VUL, is a permanent life insurance and investment rolled into one product. It provides living, death, and disability benefits plus an investment component.
👉 How VUL Works
It's crucial to highlight the VUL meaning, especially what "variable" and "permanent" in VUL means:
Variable means the investment returns vary depending on the rise and fall of the markets where the premium is invested.
As a permanent insurance policy, you're insured for as long as you keep paying your premiums. It expires only if the fund value is no longer sufficient for paying product charges. This makes it different from term life insurance,[1] which lasts for only a certain period, typically from 20 to 30 years.
VUL is a popular financial product in the Philippines because it offers financial protection whether the policyholder dies too soon or lives too long. Your beneficiaries will receive the proceeds if you pass away early. If not, you can use the investment returns from your VUL plan to fund any life goals—like a trip you've always wanted to take, a downpayment for your dream home, or even your retirement plans.
VUL Insurance Pros and Cons in the Philippines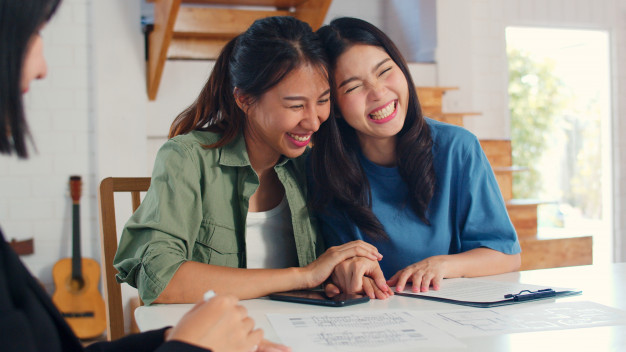 There are many advantages to investing in a VUL policy. But just like other insurance plans, VUL might not be for everyone. Check out the pros and cons of VUL below to determine if VUL insurance is a good investment for you.
Advantages of VUL Insurance
👍 Tax-Free Death Benefit Payout
The main advantage of VUL insurance over investment-only products like mutual funds, UITFs, and stocks is that the insured's beneficiaries will receive the death benefit and investment returns without paying an estate tax to the government. However, note that this tax exemption applies only to irrevocable beneficiaries.[2] As per Republic Act No. 10607, if the insured does not change the beneficiary during his lifetime, the designation shall be deemed irrevocable.[3]
In contrast, if you put your money purely into investments and pass away, your earnings will become part of your estate. Your beneficiaries won't get the proceeds until they pay the estate tax.
👍 Ability to Withdraw Cash
Unlike term life insurance, which provides only death benefits, VUL offers living benefits that policyholders can enjoy while alive.
The liquidity of VUL insurance is one of its best features. You can partially or fully withdraw the policy's fund value. In case you're wondering about the meaning of fund value, it's the investment portion of a VUL policy.
You can withdraw from a VUL investment to pay for emergencies, medical bills, college tuition, retirement, or any financial need.
👍 Additional Insurance Coverage for Health Issues, Disabilities, and Accidents
VUL insurance products in the Philippines also come with optional benefits, called riders. These riders include insurance coverage for critical illnesses and accidents and income protection for hospitalization.
Depending on the policy, your premiums may be waived due to total and permanent disability or diagnosis with a critical illness like cancer, stroke, or kidney failure.
👍 Potential to Earn Higher Investment Returns
VUL brings the same benefits as a mutual fund: diversified and professionally managed investments. These may help yield higher returns than other types of life insurance, regular savings accounts, and bank time deposits.
The premium payments are invested in various assets such as bonds, stocks, and money market instruments, locally and globally. Full-time fund managers handle the investments, too, which raises the earning potential of a VUL policy.
👍 Forced Savings
Millennials who find it hard to get into the habit of saving and investing can benefit from VUL insurance, which forces them to set aside a portion of their monthly income for premium payments. Note, however, that if there are missed premiums in the early years, substantial charges will be deducted from the funds, which in turn could cause the policy to be terminated early.
VUL insurance providers in the Philippines regularly send premium payment reminders through print and electronic billing statements. Insurance agents also personally remind their clients of any overdue payments.
👍 More Flexible Premiums
You can put extra funds into your VUL plan if you have extra funds you don't know where to invest. You can use it to top up your plan or as an additional investment to help the fund value accumulate faster.
A VUL policy is a great investment option if you regularly receive bonuses or income from your side hustles. Moreover, your VUL policy won't lapse if there's enough fund value to cover the premiums. This means you'll still be covered, and the policy will remain in force even if you can't pay your premiums temporarily.
Related reading: Should You Get Life Insurance? Consider These 8 Factors
Disadvantages of VUL Insurance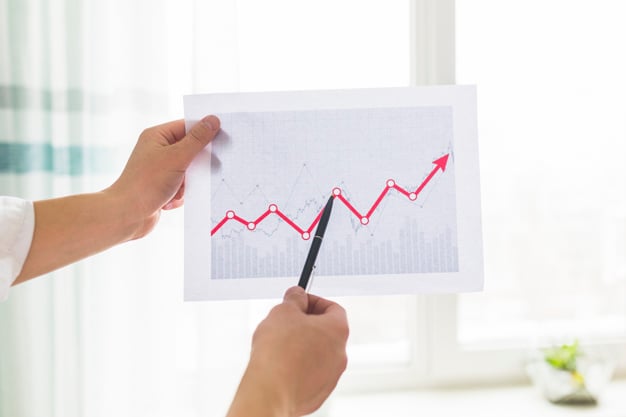 👎 Investment Risks
Like any other investment option, VUL doesn't guarantee returns. Investment markets rise and fall—these fluctuations can cause your fund value to go up or down at certain times.
In rare cases, policyholders might lose their investment when the fund value is no longer enough to pay the policy fees. When this happens, the VUL policy gets automatically terminated, and all living and death benefits end.
👎 More Expensive Than Other Life Insurance Plans
VUL charges higher premiums than term life insurance. You're paying for the personalized services of your financial advisor (which they earn as commissions) as well as the professional services of the fund manager.
VUL insurance providers charge these costs through management, policy, and annual fees. On the other hand, term insurance charges little to no fees at all.
Fortunately, you have budget-friendly options such as Singlife Protect Your Goals, which we'll discuss in more detail below.
Is VUL a Good or a Bad Investment?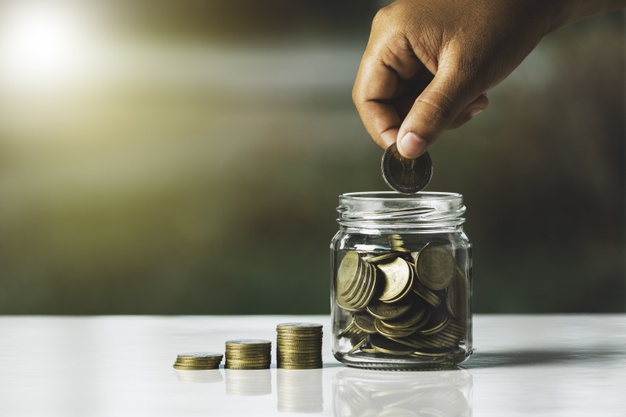 The answer depends on your financial goals, needs, and savings discipline. Now that you know its pros and cons, you can answer whether VUL is worth it or whether it's better to separate your insurance and investment.
❓ Who Should Get a VUL Policy?
VUL is an excellent choice for the following people:
First-time investors just learning the ropes of insurance and investing
Those who lack time, patience, or discipline to invest
Entrepreneurs who want their investments bundled with a life insurance policy to protect their assets
Young parents starting to build their children's education fund
❓ Which is Better: VUL or Term Insurance?
You may be wondering whether you should invest in VUL in the Philippines or get term insurance (for protection) and have separate investments (for wealth accumulation).
First, it's essential to understand that these are two different products. Use them depending on your individual preferences.
For example, avail of term insurance if you want to make investments on your own. If you want to save but don't want to monitor your investments every week, get a VUL instead.
Former Moneymax Managing Director Moritz Gastl shares this advice with those who choose to get a VUL product:
"If you go into a VUL bracket, be aware of what you're actually getting into. With VUL, you're passively investing in a mutual fund that's managed by a VUL company in the Philippines. Understand who is managing that investment—that's very important.

"Also, you need to look at what's in the basket. For example, if you invest in a VUL product and you're indirectly investing in a mutual fund, understand what this mutual fund is actually investing in. Does it invest in small and risky financial companies?

"If you're an aggressive investor, it could be the right thing to do. But if you're risk averse, then you'd rather not go in that direction."
Where to Get VUL Insurance in the Philippines?
Reputable insurance companies in the Philippines, such as Singlife, Sun Life, PRU Life U.K., FWD, and AXA, just to name a few, offer a variety of VUL products.
Generally, VUL policies allow a minimum monthly investment of ₱1,500 to ₱3,000. The premiums are paid and held for the long term, typically five to 20 years.
What is the Best VUL in the Philippines this 2023?
There are quite a few great options for VUL insurance in the Philippines. Here are some you can explore and compare:
📌 Singlife Protect Your Goals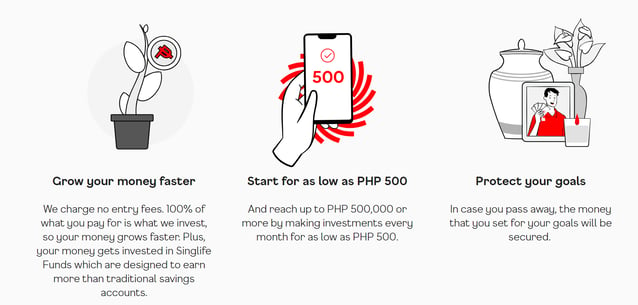 One of the best VUL plans in the market is Singlife's Protect Your Goals. Since it offers the lowest charges and the most flexibility for customers, it certainly stands out.
With Protect Your Goals, you can start small and increase your contributions whenever you want. Get this VUL plan for a low investment amount of just ₱500 monthly.
Moreover, you get to decide how long you want to stay invested. Control when you want to start, pause, adjust, or withdraw your investments.
In contrast, other VULs require at least 3x of Singlife's minimum amount for a five-, seven-, or 10-year paying period.
You maximize your savings because there are no entry fees and commissions. Your money goes entirely to Singlife investment funds, which are managed by some of the most awarded investment managers in the country— ATRAM Trust and Metrobank.
More importantly, you have peace of mind knowing you and your loved ones have Singlife insurance coverage of 125% of the premiums you've paid.
Since it's digitally accessible, you don't need to meet with a financial advisor just to avail of a Singlife VUL. Download and register for the Singlife Plan & Protect App to start.
After that, you can top up your investment 24/7. Singlife Protect Your Goals also has a convenient auto-invest feature. Just make sure to have enough funds in your Emergency Fund, another savings feature on the app.
What if you can't make payments because of a personal emergency? Fortunately, Singlife Protect Your Goals has no lock-in periods. As mentioned, you can start, pause, change, or withdraw your investments using your smartphone anytime!
Read more: Take Full Control of Your Financial Future with Moneymax and Singlife Philippines
📌 PRULink Assurance Account Plus (Pru Life U.K.)

One of the best VUL investments in the Philippines is PRULink Assurance Account Plus (PAA Plus by Pru Life). Aside from paying affordable premiums for living and death benefits, you also get the financial security of investments.
Moreover, you can power up your plan with additional riders to ensure financial security from critical illness, hospitalization, or accidents. You won't have to pay surrender charges to partially or fully withdraw your policy's fund value.
This VUL from Pru Life can be paid until age 100. The duration of the coverage is also until age 100.
This plan is eligible for applicants aged 0 to 70. The minimum annual premium starts at ₱20,000. For your 11th to 20th year, you'll receive a percentage of your annual premium, which you can use to purchase additional units and increase your policy's fund value.
Is Pru Life a good investment? Yes, because you enjoy living and death benefits while having your funds invested and managed by a team of professional fund managers. Check Pru Life VUL reviews from policyholders to see if it's the right product for you.
📌 Sun MaxiLink 100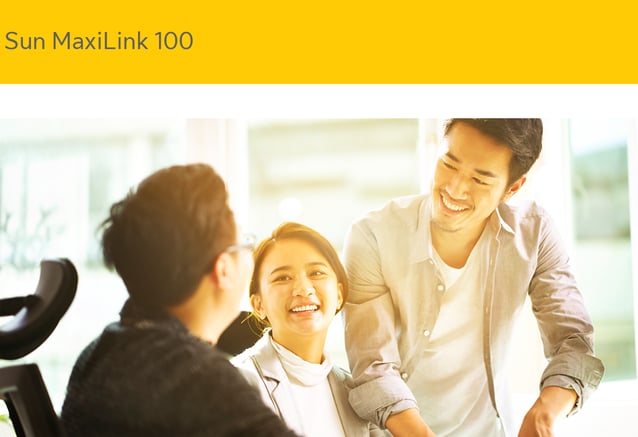 You've read Sun Life VUL reviews as part of your research. So is Sun Life VUL a good investment?
The quick answer is yes because Sun MaxiLink 100 combines the benefits of an investment and a life insurance plan, giving you security and peace of mind while you grow your money.
Until the age of 100, you get a guaranteed life insurance benefit equal to at least twice the face amount of your plan. Moreover, you can add riders for more protection against illnesses, disabilities, or accidents.
With this Sun Life VUL, you can choose from various investment fund options depending on your risk appetite and investment goals with the help of Sun Life's professional fund managers' expertise.
Can I withdraw my fund value from Sun Life? Yes, you can make a Sun Life VUL partial withdrawal. The minimum withdrawal amount should be ₱5,000.
To withdraw from your Sun Life VUL, visit any Sun Life Client Service Center or contact your Sun Life Financial Advisor. You can also make an email request regarding your Sun Life fund value withdrawal.
📌 AXA My Life Choice

Looking for an AXA review? AXA Philippines' My Life Choice offers insurance and investment in one product.
You can customize your insurance coverage—increase it from 7x up to 30x your basic annual premium. You can boost your coverage with optional benefits, depending on your main concerns: health, education, or additional life insurance coverage.
Got into an unfortunate accident? Enjoy cash benefits in case of injuries caused by accidents. In case you face permanent disablement, you won't have to pay your future basic premiums, allowing you to spend your finances and energy on recovery instead.
As for investments, you get to access local and global funds for your portfolio. There are options for every risk profile. Payment terms include seven or ten years, or even longer.
If you pay your premiums on time, make no withdrawals, and take no premium holidays, you'll receive AXA's Start-up Bonus, which you can add to your chosen AXA fund.
📌 FWD Set for Life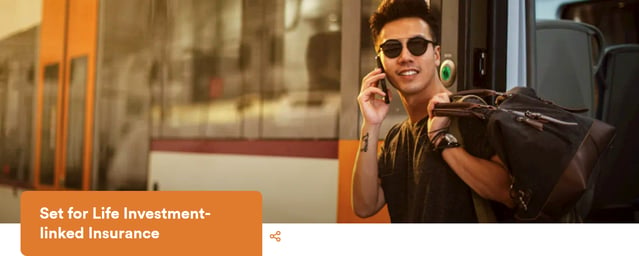 FWD Set for Life is another VUL insurance plan that offers investment and life protection until age 100. Customize your coverage with various add-ons such as LifePro, RecoveryPro, HealthPro Lite, and HealthPro.
Aside from the life insurance coverage, you can also invest your money in diverse funds that offer higher returns than traditional savings accounts.
It waives future premium payments if you suffer a permanent disability or get diagnosed with a major critical illness. In case of accidental death before age 75, your beneficiaries will receive an additional cash benefit (3x benefit if it happens on a covered Philippine holiday).
You'll also receive a loyalty bonus on the 10th year of your FWD VUL policy and every five years after.
How to Choose the Best VUL in the Philippines
To make it easier for you to narrow things down, here's a quick comparison of the products above:
Singlife Protect Your Goals
Sun MaxiLink 100
PRULink Assurance Account Plus
FWD Set for Life
AXA My Life Choice
Minimum monthly investment
₱500
As low as ₱1,000
As low as ₱2,083
As low as ₱1,667
As low as ₱1,000
Premium charges*
5%**

Yr 1: 80%
Yr 2: 65%
Yr 3: 10%
Yr 4: 10%
Yr 5: 10%
Yr 6 to 10: 5%
Yr 11 onwards: 0%

Yr 1: 100%
Yr 2: 50%
Yr 3: 50%
Yr 4 onwards: 0%

Yr 1: 90%
Yr 2: 75%
Yr 3: 40%
Yr 4 onwards: 0%

Yr 1: 40%
Yr 2: 40%
Yr 3: 40%
Yr 4: 40%
Yr 5: 40%

Minimum withdrawal***
₱500
₱5,000
₱10,000
₱5,000
₱20,000
How to access
Via the Singlife Plan & Protect App
Connect with an agent by providing your contact info on the website
Connect with an agent by providing your contact info on the website
Connect with an agent by providing your contact info on the website
Connect with an agent by providing your contact info on the website
Estimated fund growth for Yr 5 and 10, respectively****
149,666
118,375
79,314
77,946
63,257
385,123
338,167
278,175
284,254
250,229
*Any scheduled premium charges are deducted from funds even if there are unpaid premiums
**100% of customer funds are invested. 5% are held but will be returned to the customer in Years 3 and 6
***Note that providers such as AXA require surrender charges
****Withdrawable value with an annual premium of ₱25,000 at a 10% growth rate
If fund growth is your main concern, here's a visual so you can easily compare:
Based on this, if you're looking for maximum fund growth, easy access via mobile app, and a very low minimum investment, Singlife is the best choice. It's also perfect if you don't want to deal with insurance agents and would prefer to handle things on your own—the Singlife Plan & Protect App is easy to use and understand, anyway!
However, if you want higher insurance coverage, hands-on guidance from an agent, the option to add riders to your existing plan, and less temptation to withdraw from your fund (since minimum withdrawals are generally steeper), consider VUL options from Sun Life, PRU Life, FWD, AXA, and other reliable providers in the country. While these providers require higher premiums, they also offer higher death benefits.
Read more:
Alternatives to VUL Insurance
Don't think VUL suits you? Consider a strategy called BTID (buy term, invest the difference)[4] instead. It involves purchasing a term insurance plan and investing the amount you've saved from the cost difference between VUL and term insurance.
BTID is cheaper than getting VUL insurance. But you need financial discipline and diligence in monitoring market trends to invest on your own and earn high profits. If your goal is to invest and nothing more, choose from mutual funds, UITF, stocks, and other options that offer greater flexibility in timing and strategies.
Final Thoughts
Whatever insurance or investment product you choose should support your financial goals. Study your options well and compare VUL quotes.
Don't just rely on what an insurance agent tells you. Choosing the best VUL in the Philippines is a significant decision you can't make in just a snap.

Sources:
DISCLAIMER: The opinions expressed by the writer are theirs alone, and do not reflect the opinions of Moneymax and/or its affiliates or any employee thereof. Neither Moneymax or its affiliates are responsible for the accuracy of any of the information supplied by the guest writer. The opinions expressed in this blog are for general informational purposes only and are intended to provide education about the financial industry.
Nothing in this blog constitutes investment or financial advice or any recommendation that any security, portfolio of securities, investment product, transaction or investment strategy is suitable for any specific person. This material does not take into account your personal circumstances, finances, goals and/or objectives; all of which are unique to you. Readers must make an independent decision regarding investments or strategies mentioned on this blog or elsewhere on www.moneymax.ph. We strongly consider seeking advice from your own financial or investment adviser before taking any action. We do not make any representation or warranty as to the accuracy, completeness or correctness of the information set out in this article.