"Why do I travel? Why do I spend time and money to see the world?" You may ask yourself these questions one day. Well, we all have different reasons on why we travel. Even well-traveled individuals have their own reasons, too. So out of curiosity, we asked 10 travel influencers on why they see the world. Is it for fun? For food? Or maybe friendship? Let's find out #WhyTravel below.
Pepe Herrera
TV and Movie Actor
IG: @pepe.herrera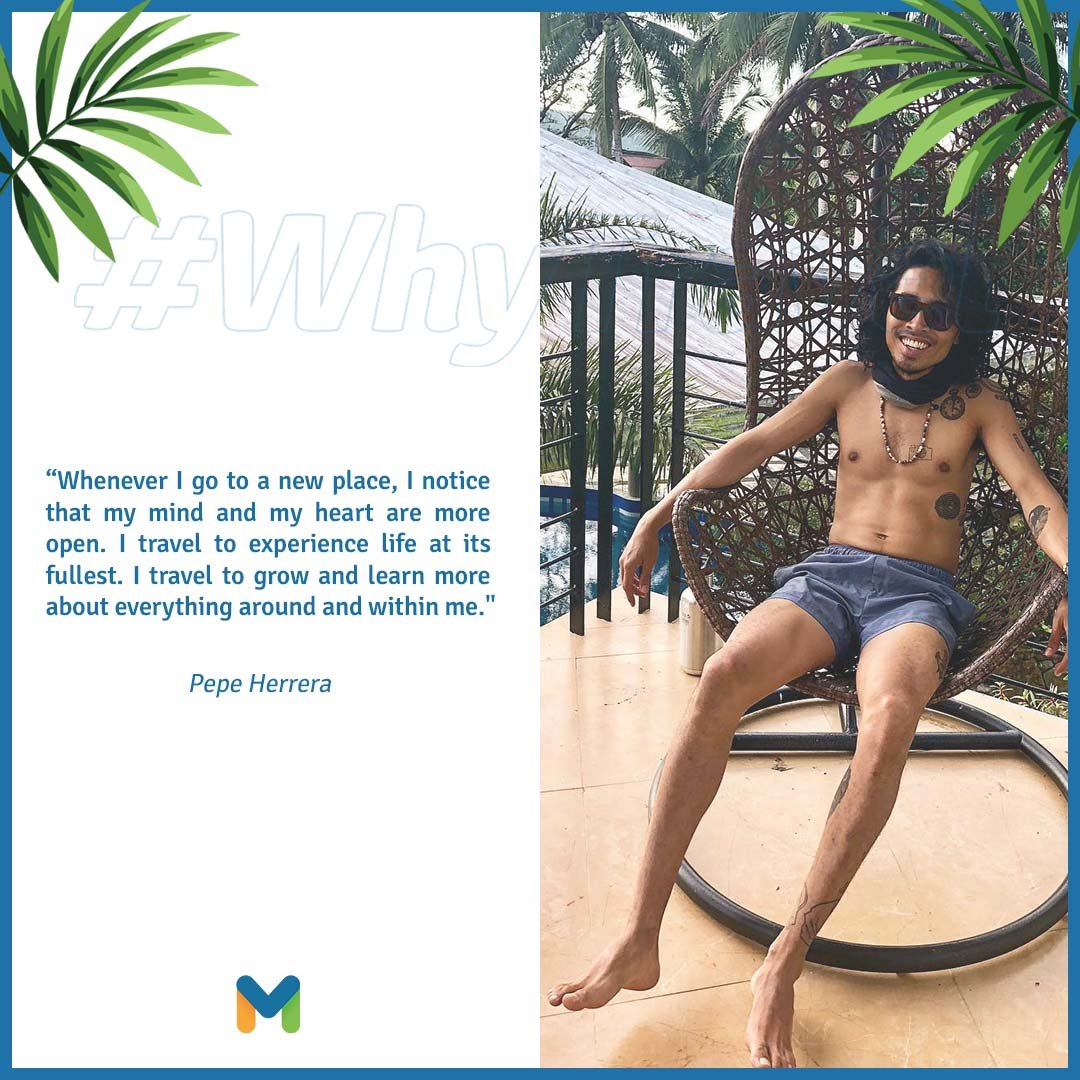 When he's not busy filming a commercial or movie, Pepe Herrera takes the time to travel both in the Philippines and abroad. When asked why he does this, Pepe shares "Whenever I go to a new place, whether inside or outside the country, I notice that my mind and my heart are more open. I travel to experience life at its fullest. I travel to grow and learn more about everything around and within me."
Jelito de Leon
Lifestyle Photographer
IG: @jelitodeleon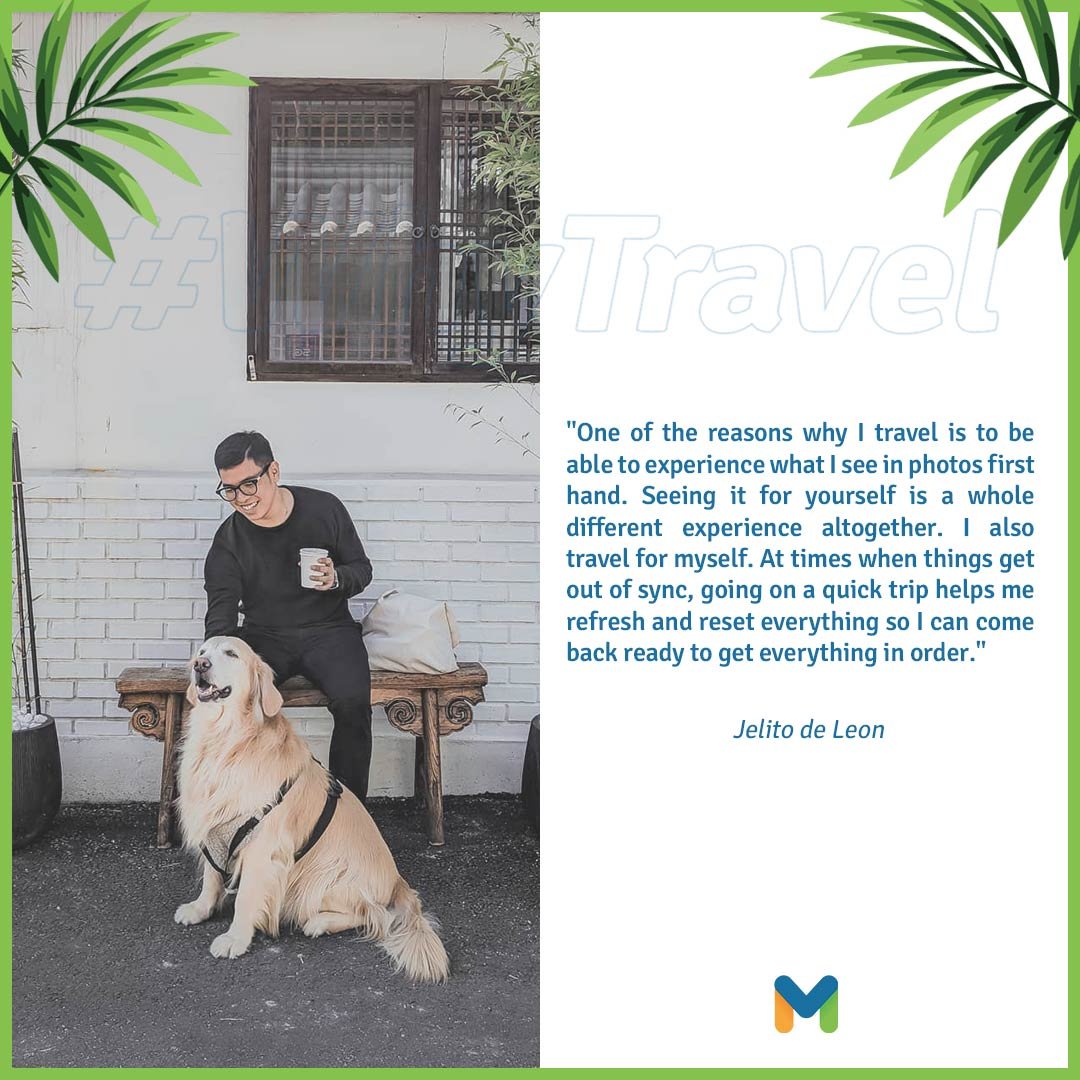 As a Lifestyle Photographer, Jelito is able to combine work and travel, allowing him to capture the best sights in the world. This, and the lessons that come with it, are the reasons why this young artist travels.
"Growing up, I've always loved looking at photos of beautiful places in the Philippines and around the world. I think one of the reasons why I travel is to be able to experience what I see in photos first hand. Seeing it for yourself is a whole different experience altogether. Another thing I love about traveling is the lessons you take home when you leave. You get to discover things about the places you visit and the people who live there. And lastly, I also travel for myself. At times when things get out of sync, going on a quick trip near or far helps me get back on track and helps me refresh and reset everything so I can come back prepared and ready to get everything in order."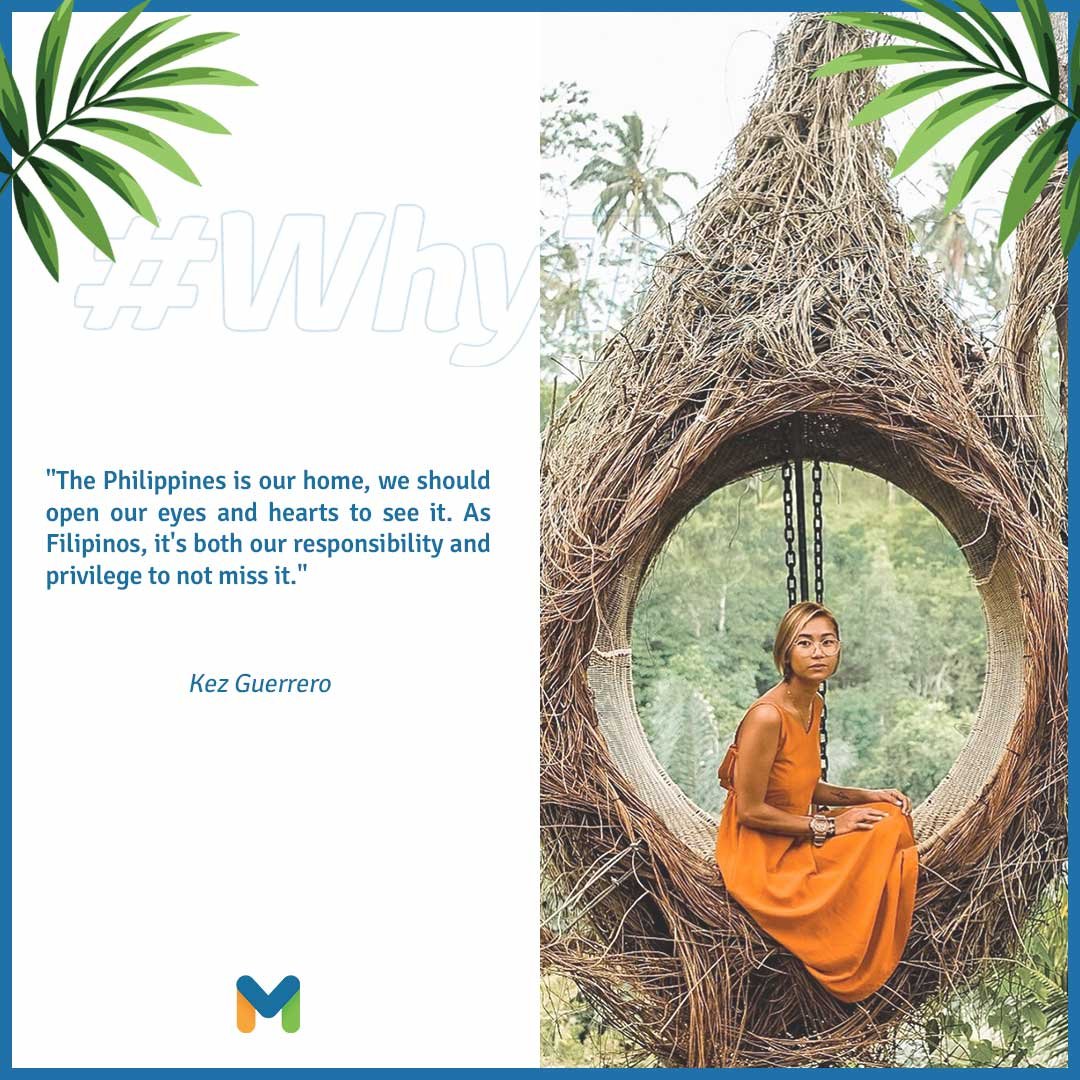 Traveling should always begin at home, especially when you're from the Philippines, a country that is rich in beautiful beaches and astonishing mountains. Kez, more known as thatislandgirl, believes in that as well. "The Philippines is our home, we should open our eyes and hearts to see it. Our country is brimming with crystal clear cyan waters, pristine white-sand beaches, astounding waterfalls, amazing mountain summit views, and such rich marine life and ecosystem; as Filipinos, it's both our responsibility and privilege to not miss it."
Wil Dasovich
TV Personality and Vlogger
IG: @wil_dasovich | YouTube: Wil Dasovich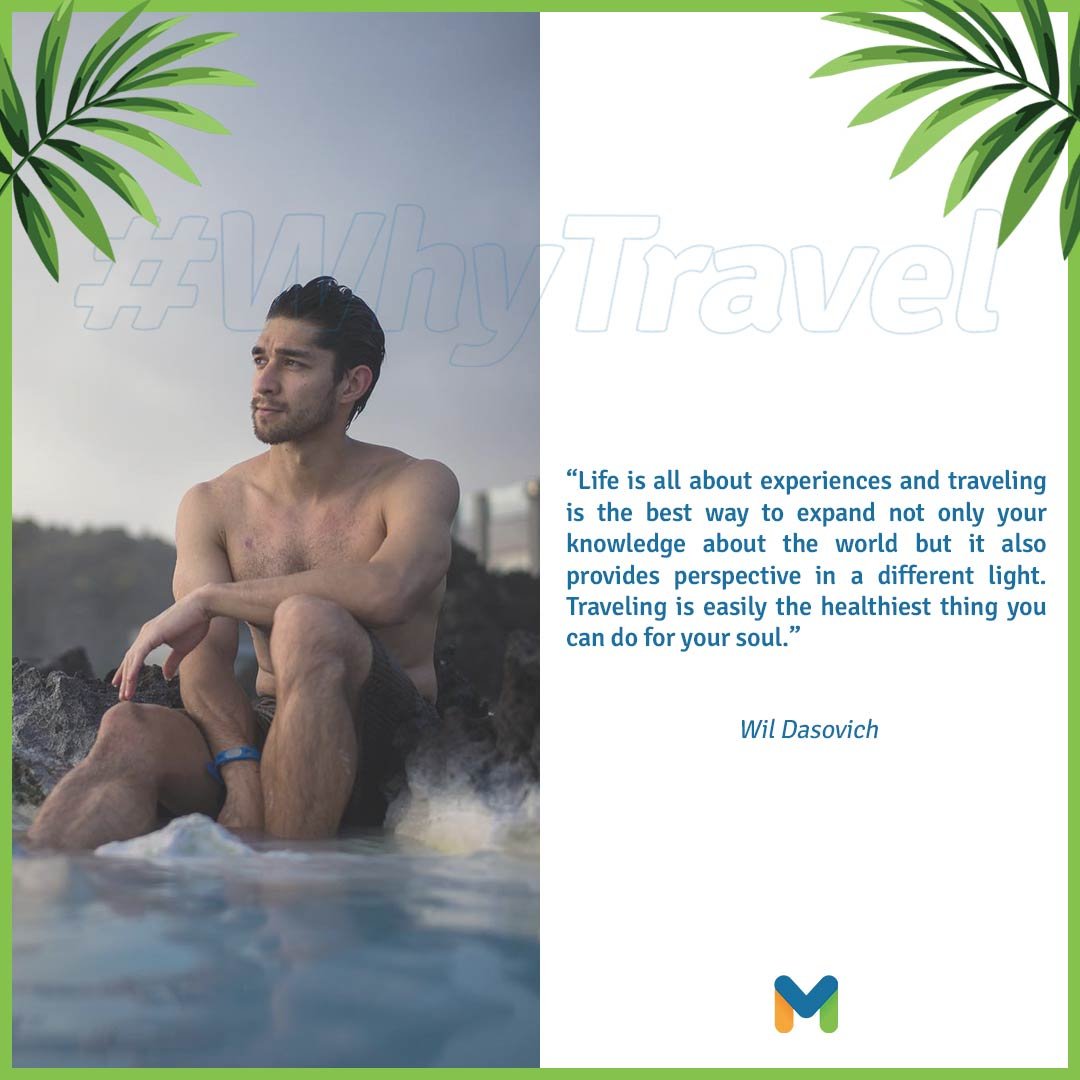 You've probably seen one or two of Wil's YouTube videos, or came across one of his Instagram posts. But when not behind the camera, Wil travels to take a break and to expand his knowledge. It's good for the soul, too!
"Life is all about experiences and traveling is the best way to expand not only your knowledge about the world but it provides perspective in a different light. Traveling is easily the healthiest thing you can do for your soul."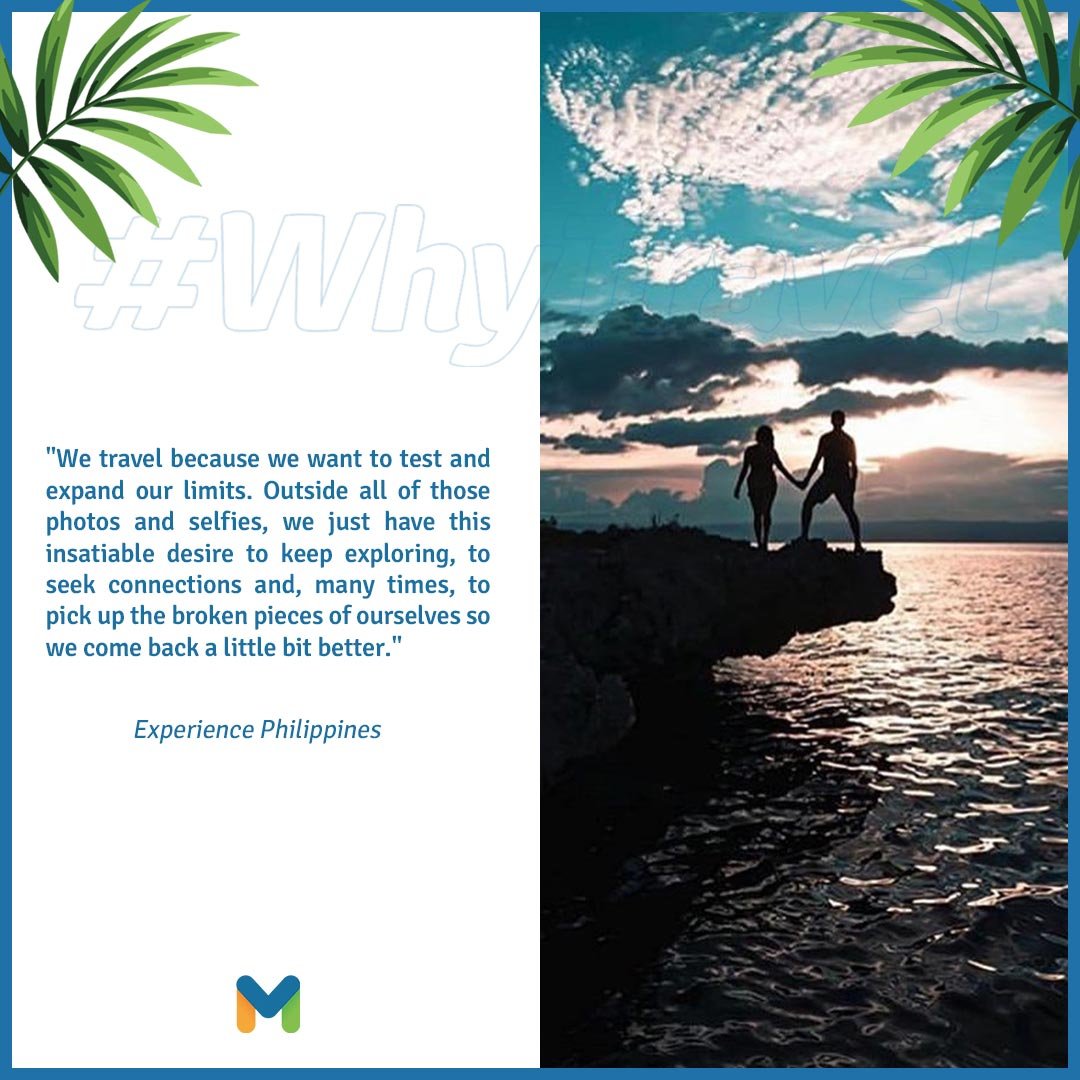 If you're not familiar with Experience Philippines then you're missing out on a lot. The travel community organizes random road trips where the destination is a secret and the activities are a surprise. Cool, right? One of their founders, Gian Gallegos, shares "I believe we travel because we want to test and expand our limits. Outside all those photos and selfies, we just have this insatiable desire to keep exploring, to seek connections and, many times, to pick up the broken pieces of our soul so we come back a little bit better."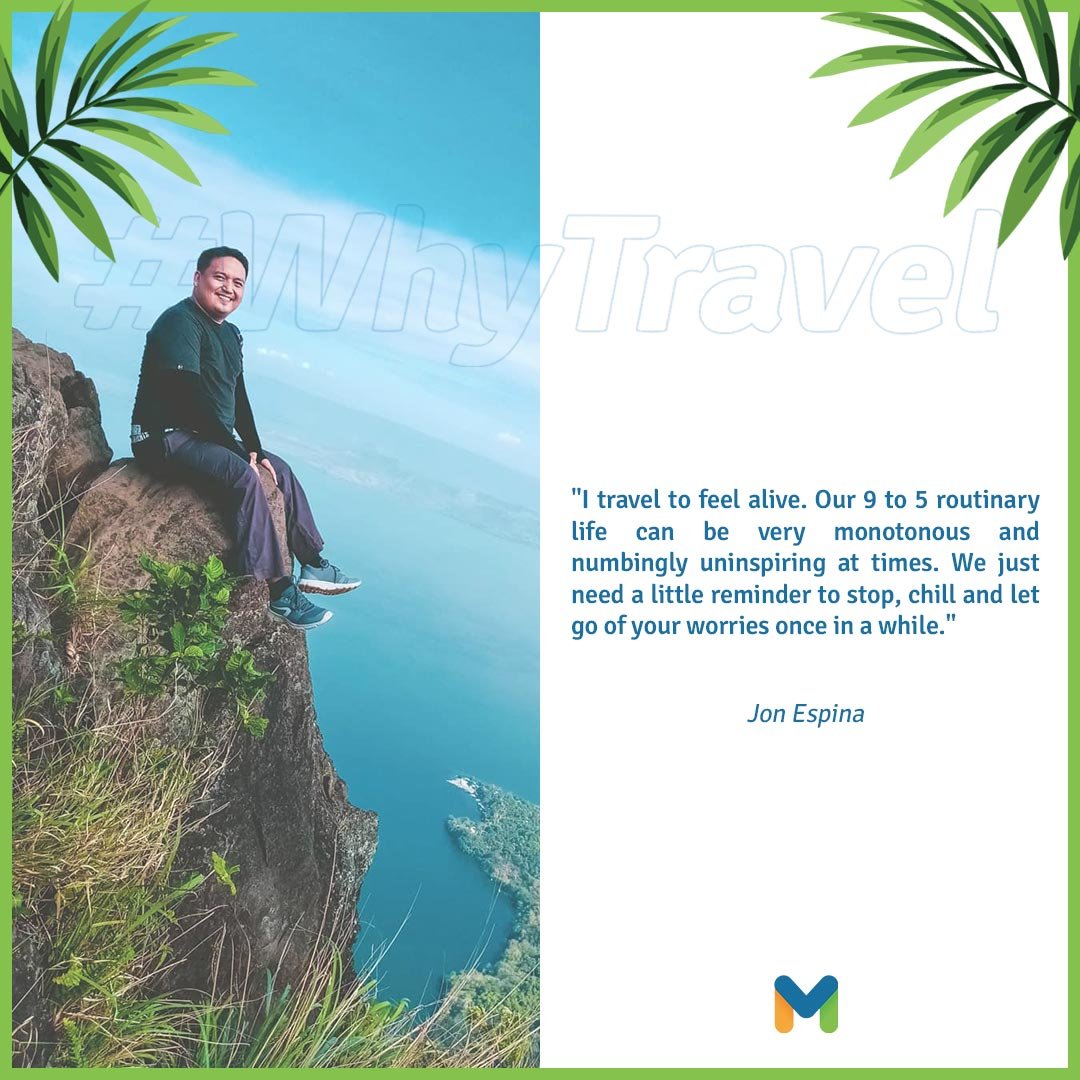 "I travel to feel alive. Our 9 to 5 routinary life can be very monotonous and numbingly uninspiring at times. We just need a little reminder to stop, chill, and let go of your worries once in a while." explains Jon when asked about why he travels. We agree and we admire Jon's keenness to see the world as a way to distress, discover, and reconnect to the world.
Read more: Best Travel Credit Cards in the Philippines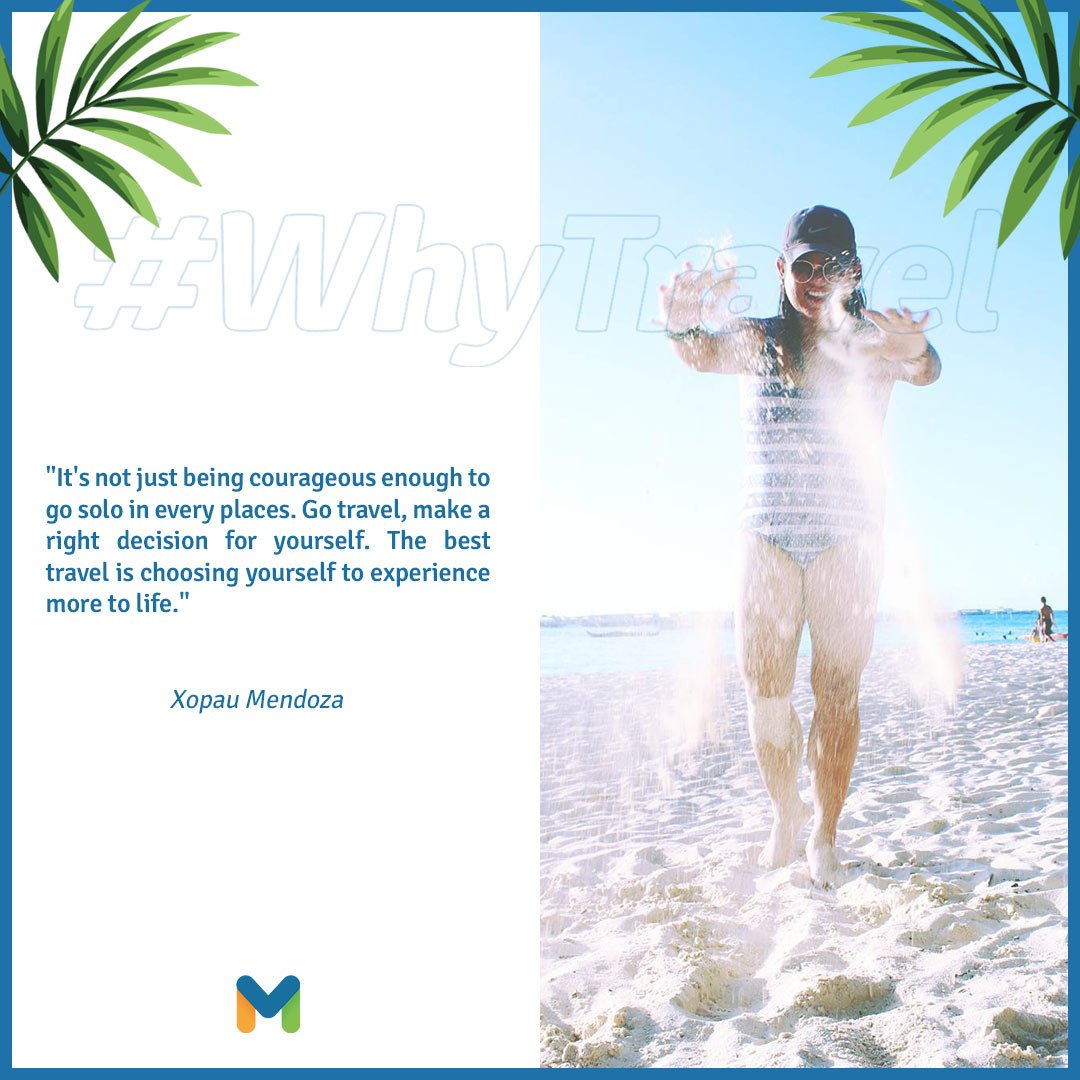 Paula, or Xopau to her followers, is a balikbayan from Saudi who went on a solo backpacking trip in the Philippines for three months. She shares "It's not just being courageous enough to go solo in every places. Go travel, make a right decision for yourself. The best travel is choosing yourself to experience more to life." Xopau is also the first Filipino traveler to be featured in History Channel.
Javy Cang
Travel Photographer
IG: @javycang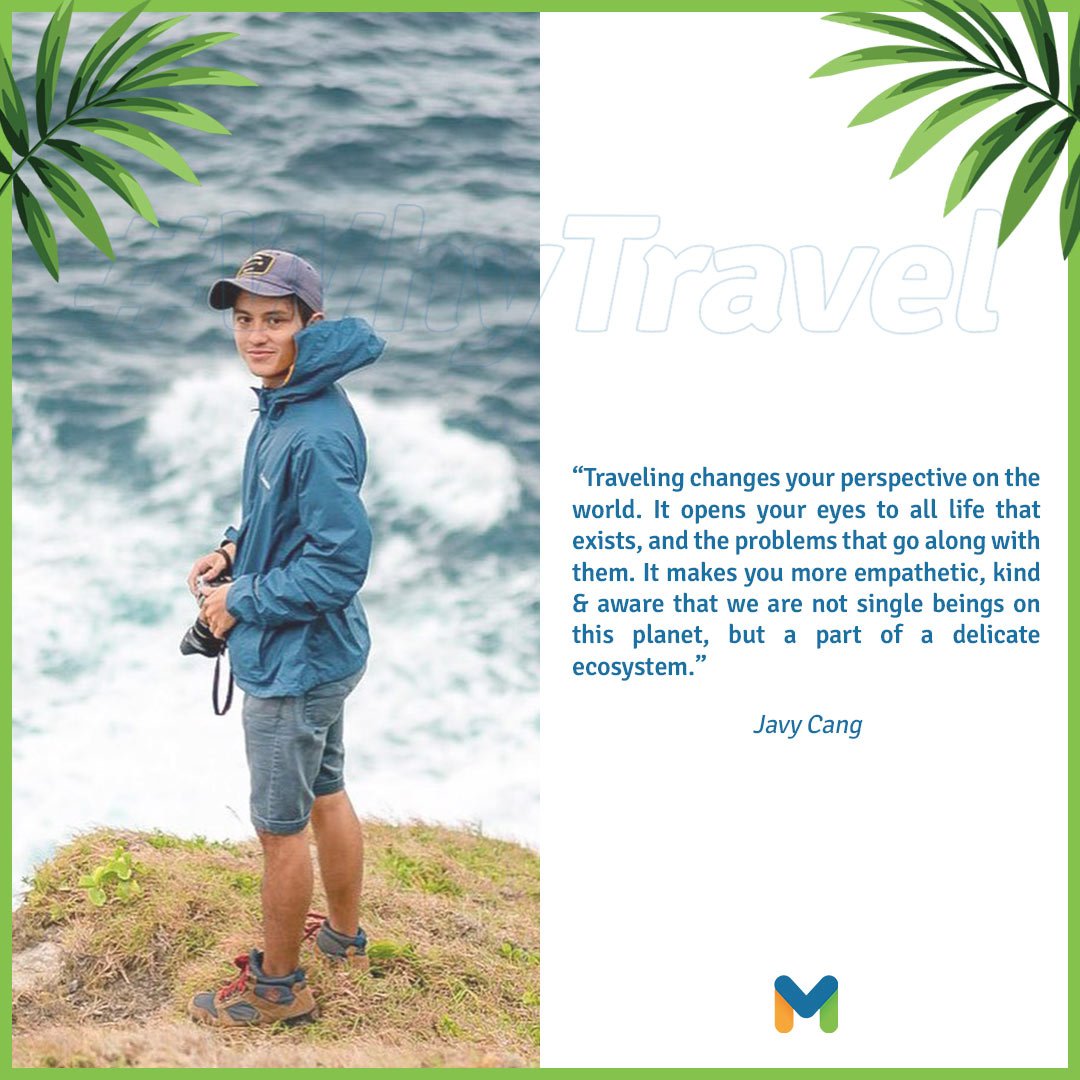 Javy travels for a purpose. Several purposes, actually. To see and photograph the world, and to be aware that there's more in the planet. This young explorer explains that "Traveling changes your perspective on the world. It opens your eyes to all life that exists, and the problems that go along with them. It makes you more empathetic, kind & aware that we are not single beings on this planet, but a part of a delicate ecosystem." We agree, Javy.
Ferdz Decena
Travel Photographer and Writer
IG: @ironwulf | Website: ironwulf.net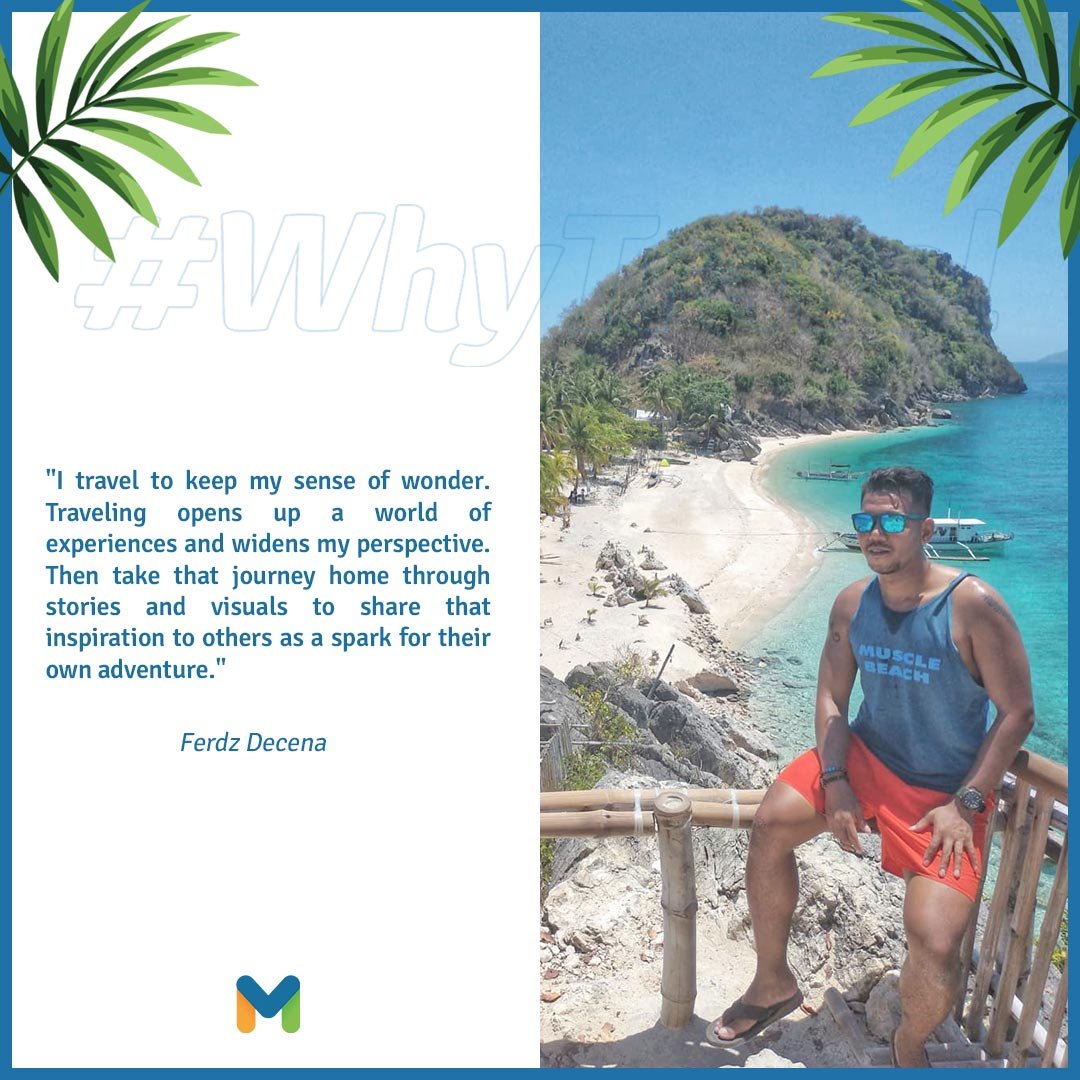 Ferdz, with no doubt, is a storyteller. His travel blog is a proof not only of his adventures but also of his stories. Ferdz has been traveling for years but he keeps on doing it because: "I travel to keep my sense of wonder. Traveling opens up a world of experiences and widens my perspective. Then take that journey home through stories and visuals to share that inspiration to others as a spark for their own adventure."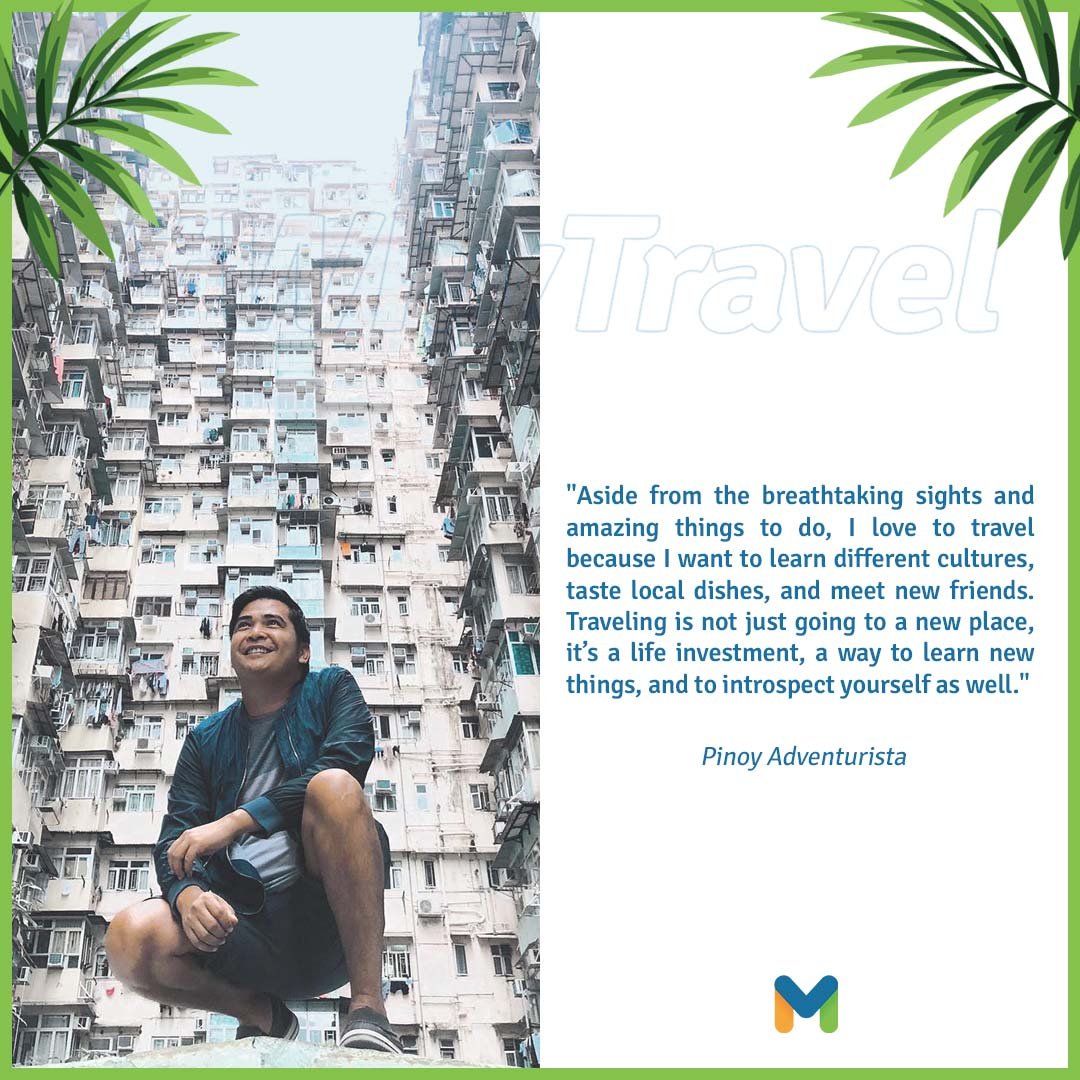 You've probably read, heck, followed Mervin or Pinoy Adventurista's travel guides. Apart from the helpful tips and tricks, Mervin also teaches us about being financially wise when traveling. So much that he considers traveling as a life investment. He shares: "We have different reasons why we want to see and travel the world. Aside from the breathtaking sights and amazing things to do, I love to travel because I want to learn different culture, taste local dishes, and meet new friends. For me, traveling is not just going to a new place, it's a life investment, a way to learn new things, and to introspect yourself as well."
How about you? Why do you travel? Bookmark this page for more features and promos from #WhyTravel and don't forget to share the good news to your friends!