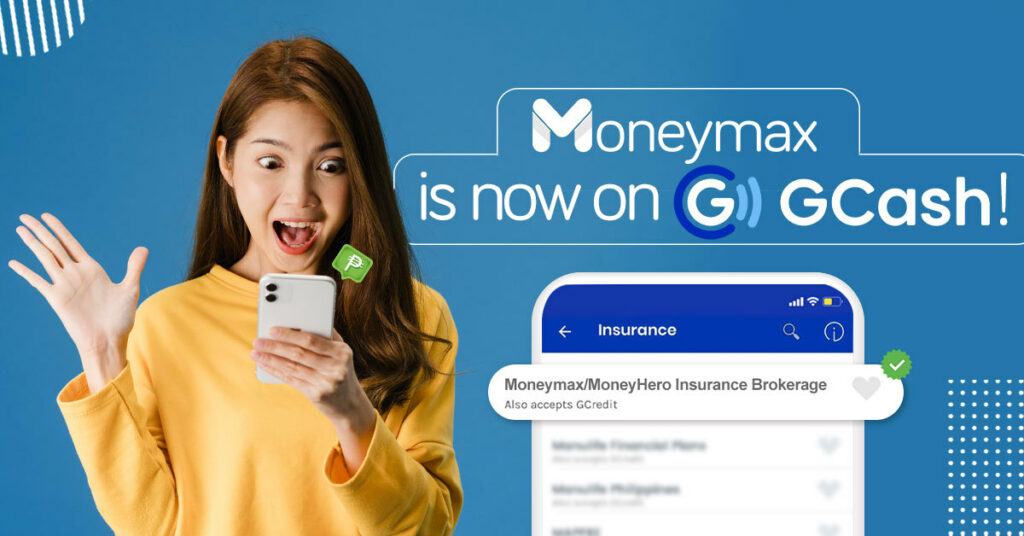 MANILA, PHILIPPINES - AUGUST 2021. Moneymax, the country's leading financial comparison platform, has partnered with GCash to make car insurance payments more convenient for its clients. Through this partnership, Moneymax customers can pay their car insurance premiums quickly and easily through the GCash app.
Offering convenient but secured online payments
GCash is the number one mobile wallet application in the country, with a user base of 40 million. Filipinos, wherever they are in the country or abroad, can access the application and make bill payments conveniently.
This partnership not only offers a hassle-free mode of payment for Moneymax clients but also provides peace of mind knowing that their payments are secured with GCash.
"GCash is the most convenient and secure mode of paying your bills and we are excited to offer this channel of payment to our customers," Munmun Nath, Co-General Manager of Moneymax shared.
"We are happy to forge this partnership with Moneymax as we continue to help Filipinos get access to more convenient, easier, and secure payment transactions through GCash, making their lives better every day," said Martha Sazon, President and CEO of GCash.
Simple steps to paying premiums via GCash
To enable Moneymax customers to pay for their car insurance premiums conveniently through the app, they can can simply log in to GCash, go to "Pay Bills," select "Insurance," and choose "Moneymax/MoneyHero Insurance Brokerage" in the list of billers. After providing the necessary information, click "Next" to complete the transaction. Payments are posted on the next business day.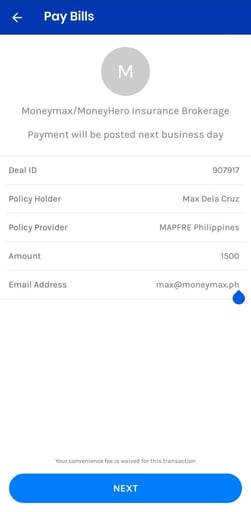 To know more about Moneymax, and how you can compare and purchase car insurance online, visit www.moneymax.ph/car-insurance. For other updates and information, follow @moneymax.ph on Facebook and Instagram, alongside @moneymaxph on Twitter.
Download the GCash App
GCash is available for both Android and iOS devices. You may download the app via the links below:


About Moneymax
Moneymax is an online comparison platform for financial products such as car insurance, credit cards, and loans. The company aims to drive financial inclusion in the Philippines by helping Filipinos make smarter decisions through financial education and comparison. Driving financial literacy is core to Moneymax's mission and it does so through its blog and social media channels.
Established in 2014 as part of Hyphen Group, Moneymax is registered with the Insurance Commission of the Philippines under the name MoneyHero Insurance brokerage. It started by offering car insurance and has branched out to banking products like credit cards and loans.
Hyphen Group is a leading fintech company in Greater Southeast Asia, reaching over 10 million consumers per month and working with more than 220 financial institutions across six markets including Hong Kong, Malaysia, the Philippines, Singapore, Taiwan, and Thailand. Learn more about how Hyphen Group connects technologies, empowers people and builds the future of finance at www.hyphengroup.io.
About GCash
GCash is the leading mobile wallet in the Philippines. Through the GCash app, customers can easily buy load; pay bills at over 600 partner billers in the app; pay at more than 7,000 online partners; send and receive money anywhere in the Philippines; pay using QR codes at over 130,000 partner merchants nationwide; save money while earning interest; and invest money at local and global funds -- all through the convenience of their smartphones.
GCash is part of the portfolio companies of 917Ventures, the largest corporate incubator in the Philippines wholly-owned by Globe Telecom, Inc. GCash was recognized by The Asian Banker (TAB) in 2021 for its outstanding digital financial inclusion programs impacting more than 40 million Filipinos in the country today.
For more information, you may contact:
Chito Maniago
Vice President, Corporate Communications and Public Affairs
Email Address: corpcomm@mynt.xyz
Twitter: @gcashofficial │ Facebook: www.facebook.com/gcashofficial
| Car Insurance Company | Maximum Total Sum Insured | Casa Eligibility | Accredited Repair Shops | Overnight Accommodation | Towing Services | Vehicle Removal Crane Services |
| --- | --- | --- | --- | --- | --- | --- |
| SGI Philippines | ₱5 million | 5 years | 36 | Up to ₱2,000 | Up to ₱5,000 | ₱10,000 |
| Malayan Insurance | ₱7.5 million | 3 years | 58 | Up to ₱1,000 | Up to ₱4,000 | Up to ₱8,000 |
| Mercantile Insurance | ₱5 million | 10 years | 77 | Up to ₱2,000 | Up to ₱5,000 | Up to ₱10,000 |
| MAPFRE Insular | ₱5 million | 10 years | 366 | Up to ₱3,000 | Up to ₱5,000 | Up to ₱10,000 |
| Stronghold Insurance | ₱3 million | 10 years | 167 | N/A | N/A | N/A |
| Prudential Guarantee | ₱3 million | 10 years | N/A | Up to ₱2,000 | Up to ₱5,500 | Up to ₱15,000 |