Life is full of surprises. When the unexpected happens, you must ensure that your wallet and piggy bank are more than ready.
This is why everyone should start saving up. Admittedly, it can feel like chore, especially if you feel like you're supposed to enjoy your hard-earned money. But remember that you're not only saving for a rainy day but also for your future.
Fortunately, the Bank of the Philippine Islands makes saving money easier with BPI #MySaveUp. Read on to learn more about it.
What is a

BPI #MySaveUp Account

?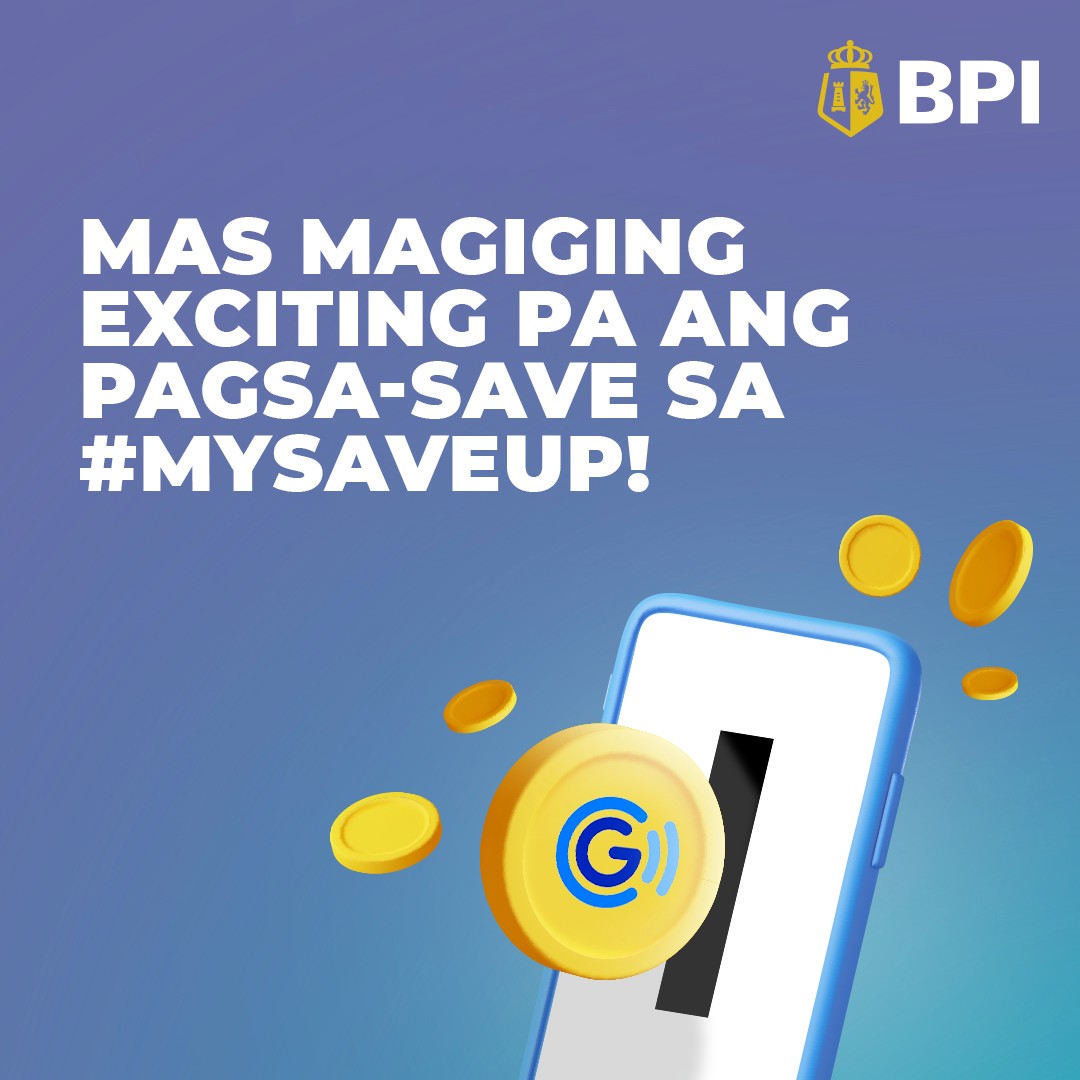 #MySaveUp by BPI is an all-digital savings account you can open exclusively with the GCash app. BPI partnered with GCash to allow unbanked Filipinos to build their savings and digitalize their financial transactions.
Since it's a digital account, you don't need to go to a BPI branch to open a BPI #MySaveUp account. Just log in to your GCash app and open one under the GSave option.
👉 BPI #MySaveUp vs

BPI #SaveUp vs BPI Regular Savings
BPI #MySaveUp and BPI #SaveUp are very similar—they require the same low initial deposit, minimum monthly average daily balance (ADB), and daily balance to earn interest. They even offer the same interest rate. However, there are some key differences.
BPI #MySaveUp can only be opened via the GCash app and is available to new and existing BPI clients. On the other hand, the BPI #SaveUp account is a digital savings account that you can open only via the BPI mobile app. It's also currently offered only to new BPI clients.
Meanwhile, similar to these two, you can open a BPI Regular Savings Account online. However, it requires a higher initial deposit and offers a lower interest rate.
Read more: Types of Bank Accounts in the Philippines: Which One is Right for You?
BPI #MySaveUp Features and Benefits
Interest rate: 0.0925%
Required initial deposit: ₱1
Required minimum monthly ADB: ₱3,000
Required daily balance to earn interest: ₱5,000
📌

Maximum Account Limit of ₱30,000
You can fund your #MySaveUp account with up to ₱30,000. Check and manage your account through the BPI app and GCash app.
📌 BPI #MySaveUp Debit Card
For only ₱150, you can get BPI Debit Mastercard. Just bring a valid ID when you apply for the debit card.
With a debit card, you can access your #MySaveUp account at any Mastercard-affiliated or BancNet ATM nationwide and abroad.
📌 Free Funds Transfer
Do you use GCash for your financial transactions? You can transfer funds from your #MySaveUp account to your GCash wallet for free via GSave.
📌 #Coins Program
Earn one #Coin for every ₱10,000 saved in your BPI #MySaveUp account by the end of the month. You also earn an additional one #Coin per month if you make at least ₱3,000 worth of valid transactions using your BPI MySaveUp account within the month. Use your #Coins to buy game cards and have the chance to win prizes every month.
Why You Should Open a BPI #MySaveUp Account
Aside from keeping your money safe, the BPI #MySaveUp Account offers many compelling benefits, such as the following:
✔️ Only ₱1 Initial Deposit
While other banks' starter savings accounts require a minimum initial deposit, you need only ₱1 to open a BPI #MySaveUp Account. But if you want to earn interest, make sure you meet the BPI #MySaveUp maintaining balance of ₱5,000.
✔️

Managing Your Account is Easy
You can monitor your #MySaveUp account in real time through the BPI Mobile or GCash app. You can also transfer money and pay your bills through the BPI and GCash apps.
✔️ It Helps Build the Habit of Saving
Since opening a BPI #MySaveUp is hassle-free (you can do so with just a few taps on the GCash app), it also gives underbanked and unbanked Filipinos access to formal banking.[1]
Related reading: BPI Jumpstart Savings Account: Features, Requirements, and Other FAQs
What are the BPI #MySaveUp Requirements?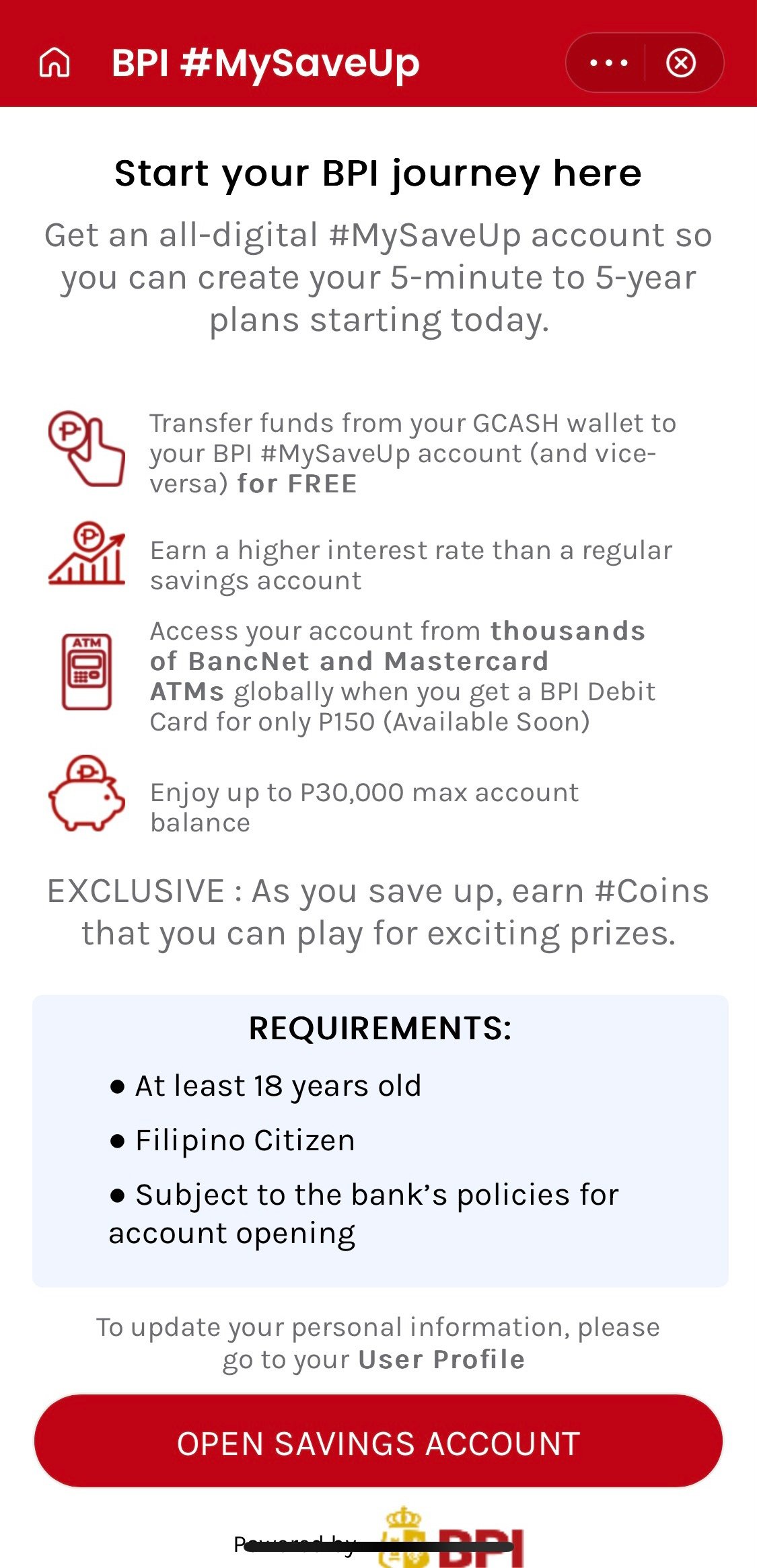 Aside from meeting the standard bank policies for account opening, you must be a Filipino citizen at least 18 years old with a fully verified GCash account to open a #MySaveUp account.
How to Open a BPI #MySaveUp Account
Follow the steps below to open a #MySaveUp account:
Log in to GCash and tap GSave.
Select #MySaveUp from the options.
Tap I Agree on the Terms and Conditions and Privacy Policy page.
Tap Open Savings Account.
Select whether to proceed using your BPI Online account or your GCash profile.

Tick the terms and conditions box and tap Confirm.
Your application will be reviewed and verified. If your account fails the verification, it will be closed within three to five working days.
How to Check My BPI #MySaveUp Account

?
View your transaction history via the BPI mobile app or BPI Online. These transactions, whether made via GSave, BPI Online, or the mobile app, will all reflect on your transaction history and Statement of Account.
How to Withdraw Money from BPI MySaveUp
If you choose not to get a debit card for your #MySaveUp account, you'll have to make an over-the-counter withdrawal at any BPI branch. A more convenient way is to digitally transfer funds from your #MySaveUp account to a BPI account that has an ATM (or any bank account that has an ATM).
BPI #MySaveUp FAQs
1. Do I need to deposit to my #MySaveUp account right away?
You must deposit funds to your account within 30 days of account opening. Otherwise, your #MySaveUp account will be automatically closed. Once it's closed, you can't access it anymore, nor can you create a new one.
2. Can my account limit be increased?
You can only put up to ₱30,000 in your #MySaveUp account.
3. What are the fees that come with the #MySaveUp account?
You'll be charged ₱300 if your account falls below the required minimum ADB for two consecutive months. If you decide to close your #MySaveUp account within one month of account opening, there will also be a fee of ₱500.
Visit the BPI website for the complete list of #MySaveUp fees and charges.[2]
4. Can I link a #MySaveUp account to the BPI app?
Yes. If you're an existing BPI client enrolled in BPI Online, your #MySaveUp account will reflect under your list of Deposit accounts.
5. How long before a #MySaveUp account is tagged as dormant?
BPI will tag any savings account with no financial activity for two years (other than the posting of interest) as dormant.
Read more: Grow Your Money with High-Interest Savings Accounts in the Philippines
Final Thoughts
Opening a savings account is easy with a BPI #MySaveUp account. As long as you have a fully verified GCash account, you can open this digital savings account in just a few taps. You can routinely and effortlessly fund your online transactions and put money aside every payday without going to the bank.

Sources: