Even if they're based abroad, overseas Filipino workers (OFWs) can still avail of benefits from the Social Security System (SSS) that Philippine-based members enjoy. On top of that, OFWs are entitled to two exclusive SSS benefits and privileges: the Flexi Fund Program and the Overseas Filipino Workers SSS Coverage Program.
1. SSS Flexi Fund Program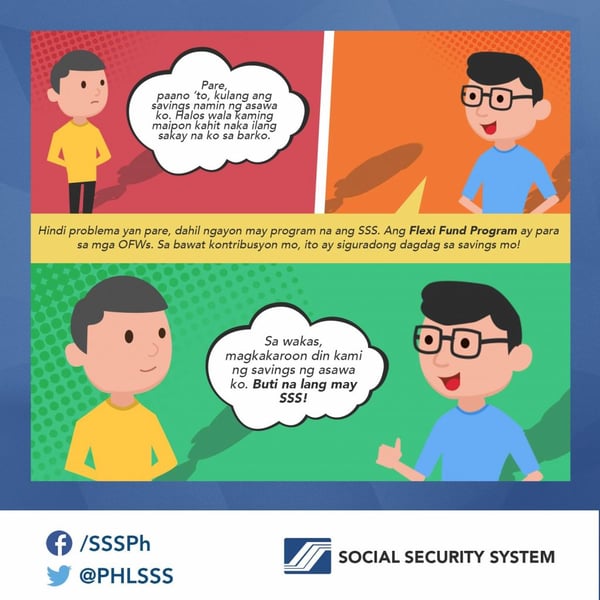 As an OFW, building your retirement fund may be the least of your priorities now because of your family obligations and debt repayments. Relying solely on the SSS pension is a bad idea, as it isn't enough to cover all your living expenses in your retirement years.
As early as possible and while you're earning from your overseas job, look for ways to supplement your SSS pensions. One of the great options is the SSS Flexi Fund Program. Launched in 2001, this program is a voluntary savings-investment plan for OFWs who want to save and earn additional income.
How does Flexi Fund work?
Under this program, SSS invests the members' funds in low-risk, stable fixed-income securities that guarantee earnings for OFW-members. Interest rates are based on 91-day Treasury bill rates[1] or SSS' short-term peso placements, whichever is higher.
Are you an enrolled member? You can add a minimum of PHP 200 to your regular SSS contributions. The amount gets credited to your own Flexi Fund account. SSS doesn't require a maximum amount and maintaining balance for Flexi Fund contributions. You can also opt to pay when you have sufficient funds for your savings.
What benefits can OFWs gain from it?
Accumulated funds are tax-free benefits that can be used for retirement, disability, or death.
OFWs can make an early withdrawal anytime for immediate financial needs.
Annual incentive benefits for OFW-members with no withdrawals and benefit claims within the applicable year.

Who can enroll in the program?
The SSS Flexi Fund is exclusive to OFWs who meet these requirements:
SSS members paying the maximum contribution under the regular SSS program
Working abroad for a foreign-based employer who recruited the OFW in the Philippines, earning in a foreign country, or living overseas permanently
How to register as a Flexi Fund member
Download and fill out the Flexi Fund enrollment form[2].
Visit the nearest local or foreign SSS branch.
Submit your accomplished enrollment form and UMID card, SSS ID, or passport.
If you're applying in a Philippine SSS branch, you also need to present an original copy and submit a photocopy of your valid Overseas Employment Certificate (OEC) or e-receipt issued by POEA.
2. Overseas Filipino Workers SSS Coverage Program
This SSS program is the government agency's regular coverage for OFWs aged 60 and below who are SSS members. The coverage for an OFW starts after the payment of the first monthly SSS contribution.
What SSS benefits can OFWs get under this program?
OFW-members can avail of any SSS benefit and loan[3] as long as they meet the qualifying conditions. To qualify for higher benefit amounts, SSS encourages OFWs to continue paying their contributions until age 60 or 65.
Here are the SSS benefits and loans available to OFW-members:
Sickness benefit
Maternity benefit
Retirement benefit
Disability benefit
Death benefit
Funeral benefit
Housing loan
House repair and improvement loan
How much is the monthly SSS contribution for OFWs?
SSS computes monthly contributions based on the OFW's monthly earnings (in Philippine Peso), as indicated during membership application.
Check how much SSS will require you to pay for your contributions. Refer to the SSS schedule of contributions below:
How to register as an OFW-member
If you're an OFW and you're not an SSS member or don't have an SSS number yet, you can apply as a new member via the My.SSS online facility or by visiting the nearest SSS branch.
If you'll register personally at an SSS branch, follow these steps:
Download and fill out a Personal Record form (SS Form E-1)[4].
Print out the accomplished form.
Submit the SS Form E-1, along with your birth certificate, to an SSS branch.
Aside from birth certificate, SSS accepts the following documents for new member registrations:
Baptismal certificate
Passport
Driver's license
PRC card
Seaman's Book
Related:
Final Thoughts
The SSS benefits for OFWs are meant to protect your income and yourself against life's uncertainties. Ensure your financial well-being even after your overseas employment and during retirement. Take advantage of these exclusive privileges from SSS as soon as you can.

Sources