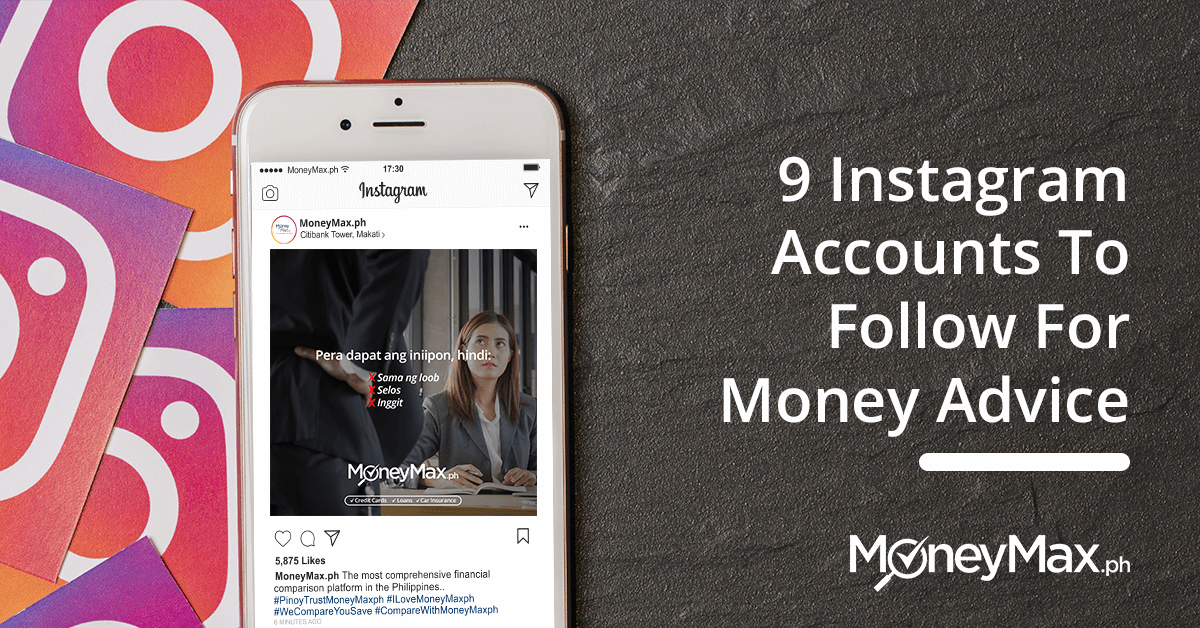 Notwithstanding our poor internet speeds, Pinoys love to spend time on social media. Facebook is the #1 social app for us, but Instagram is also becoming very popular. According to @napoleoncatcom, we have more than nine million Instagram accounts from the country. And yes, Instagram is completely free like Facebook!. If you have a Facebook account, you can easily log in to Instagram using that login.
https://www.instagram.com/p/Ban1l5AHMJ_/?taken-by=napoleoncatcom
The most popular form of content on Instagram is lifestyle and fashion. But did you know that Instagrammers can also provide great financial advice (and for free)?
So here are nine Instagram accounts that we like to follow to give us inspiration on all money matters:
1. @dailyworth
This account is focussed on providing financial advice for women. The Philippines has the fourth-highest proportion of women managers in the world with 47.6% of managers being female. If you are a working Filipina, this is a great account to follow for your daily dose of inspiration.
2. @stefanieoconnell[1]
This account is focused on providing financial advice to millennial women and their behaviors and money mistakes. Given the increase in the number of millennials in the workforce, saving and investment advice that is tailored to them can help them achieve their personal goals.
https://www.instagram.com/p/BZQrBMFnmep/?taken-by=stefanieoconnell
3. @thewealthdesigner[2]
This account aims to help you work towards amassing personal wealth and have a life of financial freedom. To achieve financial freedom, one has to be free of debt. And it is possible to do so despite a low income.
https://www.instagram.com/p/BbBiPPEFkHR/?taken-by=thewealthdesigner
4. @wisewomanwallet[3]
This account has great infographics and images to inspire you to take action and stop making excuses. One good way to change your financial habits is to work your way backward from your typical financial missteps.
https://www.instagram.com/p/BX6r00Kln2H/?taken-by=wisewomanwallet
5. @clevergirlfinance[4]
This account provides great advice on wedding planning and working towards your first home. After all, everyone deserves to have their dream wedding without shelling out a huge sum of money.
https://www.instagram.com/p/Bawu9kAn8vH/?taken-by=clevergirlfinance
6. @mintapp[5]
This is the official account of the famous personal finance website Mint, which provides great advice on credit cards. Whether you are a first-timer or regular user, you need tips on how to get most out of your credit cards.
https://www.instagram.com/p/BbFYlBZjrAn/?hl=en&taken-by=mintapp
7. @yourprettypennies[6]
This account is for all mothers who want to give the best to their children and want to know how to save and earn to make their dreams come true. Kids pick financial habits from their parents, hence you need to know how to impart good advice to your kids.
https://www.instagram.com/p/BW8HfpbFK6D/?taken-by=yourprettypennies
8. @daveramsey[7]
This is the account of famous financial coach Dave Ramsey who has been providing trusted money advice for over 20 years. What we do with our money is a big factor in what kind of life we'll live in. So don't miss out on Dave's expert financial advice.
https://www.instagram.com/p/BZeAMgjA-Uj/?taken-by=daveramsey
9. @moneymaxph[8]
Your friendly financial advisors at MoneyMax.ph is on Instagram to help you with money issues such as online scams and credit card myths. Apart from our Facebook[9] and Twitter[10] accounts, we also provide tipid tips and hugot lines on our Instagram account. So follow us for relevant financial advice!
https://www.instagram.com/p/BWwdDaGgMaH/?hl=en&taken-by=moneymaxph
Do you know any other Instagram accounts to follow for financial advice? Let us know in the comments below. Also, sign up for our newsletter to continue getting tips and advice right in your inbox.
Need car insurance? A credit card? Or a loan? Moneymax got you covered. Check our products to know more.
Sources: