Fifty-two percent of the Filipino population can now access the internet, almost doubled from 27% in 2010, according to the Nielsen Pinoy Netizen.
Read More: Centralized Credit Database in PH by 2016

This is primarily because of the boom in mobile phone technology where one can access the web a lot easier. "As mobile penetration rises and getting online becomes easier than ever, consumers are staying online for increasing lengths of time," said Stuart Jamieson, managing director of Nielsen Philippines.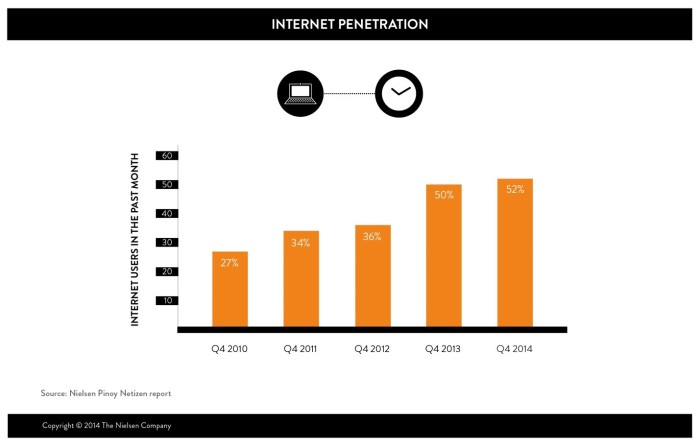 The report also stated that around 33 percent said they spent more than two hours a day online. "Filipinos are demanding fast, convenient and on-the-go access to the Internet," Jamieson said. "Mobile devices are effectively addressing this demand, and as a result, Web users are migrating away from traditional PCs to connected devices as a means of accessing information online."
95% of these Filipinos access Internet at home visiting social networking sites while 44% play online games. At the bottom end of the poll are watching TV programs (8%) and instant messaging (16%).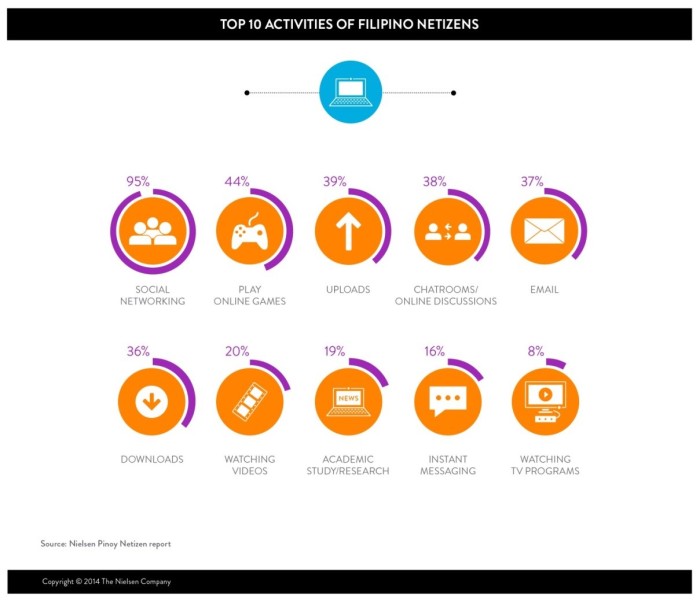 People who read this also liked:
How to Conserve Your Internet Data Bandwidth Usage
Real-Life Stories: The Curse of Internet Speed in PH
Which Unlimited Data Plan in the Philippines is the Best?